USA: Press investigated by secretive Customs agency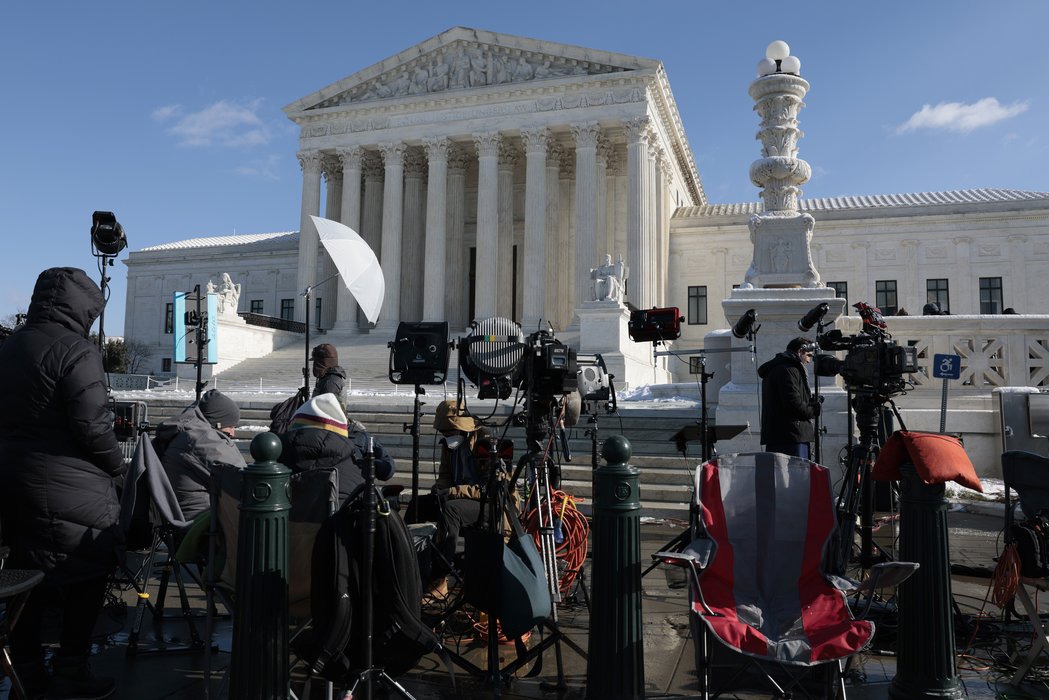 Expression
Surveillance concerns
"The Counter Network Division regularly investigated potential contacts, including journalists, as part of a process it referred to as 'vetting.' As part of this process the subject would be run through multiple databases, including a terrorism watch list" https://t.co/Wy2hhSLbXP

— Society of Professional Journalists (@spj_tweets) January 4, 2022
As many as 20 journalists were investigated by a secretive U.S. Customs and Border Protection division beginning in 2017, according to media reports. The division, known as the Counter Network Division, would identify and vet individuals, including journalists, by collecting their data from their passport applications and running the information through multiple government databases. Journalists known to have been investigated by the division include then-Politico reporter Ali Watkins, AP reporter Martha Mendoza and Huffington Post founder Arianna Huffington.
The Counter Network Division reportedly had few rules and routinely used the country's most sensitive databases to obtain the travel records and financial and personal information of journalists, government officials, congressional members and their staff, NGO workers and others. An internal review has been launched into the actions of the Customs and Border Protection unit under former President Donald Trump's administration.
In a separate development, the American Civil Liberties Union of Northern California launched a campaign against aerial surveillance by the California Highway Patrol, which they say has been used to record high-definition video of people protesting for racial justice in several cities in the state. According to the Electronic Frontier Foundation (EFF), the type of aerial surveillance used is often unconstitutional, violating the U.S.'s Fourth Amendment rights.
Attacks on journalists
In a letter to Sausalito and Marin County authorities today, @FACoalition and @SPJ_NorCal expressed our grave concerns over the arrest of Jeremy Portje and seizure of his equipment.

Read our full letter and related news coverage.https://t.co/igBlwMkft8

— First Amendment Coalition (@FACoalition) December 8, 2021
On 30th November 2021, freelance photojournalist Jeremy Portje was arrested while documenting an encampment in Sausalito, California. Portje was filming for a documentary about homelessness in Marin County when an officer stood in front of his camera and grabbed it without provocation, injuring himself in the process. According to witnesses, the officer then began assaulting the photojournalist before throwing him to ground and arresting him. In footage of the arrest, Portje can be heard saying: "Why are they doing this? Because I asked them questions?" Local authorities later announced they would not press charges.
On 25th December 2021, two journalists were arrested while covering a police eviction of a homeless encampment in Asheville, North Carolina. Blade reporters Matilda Bliss and Veronica Coit said officers targeted them after they saw them taking pictures of the removal. Despite identifying as members of the press, both were arrested and charged with second degree trespassing, which carries a penalty of up to 20 days in jail and a $200 fine. The Blade said: "Our journalists were clearly targeted first to remove those who could quickly bring the brutality that followed to the public's attention."
On a related note, in 2021 the U.S. Press Freedom Tracker documented at least 59 journalists arrested by law enforcement while doing their jobs. Journalists continued to be arrested at protests, rounded up by law enforcement in kettles and faced assaults and other press freedom violations. "There is simply no reason for police to be arresting and detaining journalists in the United States, but the fact that 56 such incidents were documented in 2021 suggests the problem has become deeply entrenched," said Joel Simon, Executive Director of the Committee to Protect Journalists. Simon continued:
"The data is all the more alarming because so many arrests took place at protests, which have become a critical form of political expression in the United States and around the world. Journalists must be able to cover protests freely, without interference from law enforcement."
Bill protecting whistle-blowers rejected
In early December 2021, a Congressional committee rejected an amendment to a bill that would have increased protections for national security whistle-blowers being prosecuted under the 1917 Espionage Act. Representative Rashida Tlaib's proposed amendment to the Protecting Our Democracy Act would, among other things, have forced prosecutors to prove that a defendant had the specific intent to harm U.S. national security, and required the national defence information at the heart of an Espionage Act prosecution be "properly classified".
Under the current framework, whistle-blowers indicted under the Espionage Act have no affirmative public interest defence and are barred from telling the jury what they disclosed or why. Although classification cannot be used to conceal misconduct, judges have stated that whistle-blowers indicted under the Espionage Act cannot challenge the classification of the documents they disclosed, as the statute does not require the information released to be properly classified.
Other developments
Freelance photojournalist Amy Harris has sued the House Committee investigating the Jan. 6 riots after it subpoenaed her phone records: https://t.co/1tIPQENZh1

— U.S. Press Freedom Tracker (@uspresstracker) January 11, 2022
On 24th November 2021, the U.S. House Select Committee to Investigate the January 6th Attack on the U.S. Capitol subpoenaed three months of phone records belonging to Amy Harris, a freelance photojournalist who was near the Capitol on the day. In response, Harris filed a suit against the committee calling for the subpoena to be quashed. According to Harris' lawsuit, Verizon notified her on 2nd December 2021 that it had received a subpoena compelling the telecommunications company to produce "all subscriber information and all call, text messaging, and other records of communications associated with Ms. Harris' phone number for a period of almost three months between November 1, 2020 and January 31, 2021." Harris's attorneys argue that providing that information would violate her rights and professional obligations.
55 media organisations spoke out in support of the journalist, calling on authorities to withdraw their subpoena for Harris' phone records. The Committee to Protect Journalists' (CPJ) U.S. and Canada Programme Coordinator Katherine Jacobsen said:
"The U.S. House committee investigating the January 6 riot at the Capitol must respect reporters' rights to keep their source material confidential, which is a cornerstone of press freedom. Subpoenaing Amy Harris's phone records violates her rights and undermines her ability to work with her sources. The committee's subpoena must be withdrawn."
In a separate development, on 23rd December 2021 lawyers for WikiLeaks founder Julian Assange filed an application to appeal to Britain's Supreme Court against a recent lower court's ruling that Assange can be extradited to the United States to face charges under the Espionage Act. Advocates for Assange said the High Court's ruling may have an impact on procedural and human rights safeguards. The Supreme Court is the United Kingdom's final court of appeal. On 24th January 2021, the High Court ruled that Assange had an arguable point of law that Supreme Court justices may want to consider, granting him the right to petition the Court for a hearing.
Report on press freedom under Biden
President Joe Biden's approach to U.S. media is a stark contrast to Donald Trump's vicious rhetoric.

However, one year into the Biden administration, press freedom advocates remain concerned.

New CPJ report by @lendownie:#PressFreedomhttps://t.co/aZ0SSPt1vZ

— Committee to Protect Journalists (@pressfreedom) January 22, 2022
On 13th January 2022, CPJ published a report titled "Night and day: The Biden administration and the press," looking into press freedom in the U.S. one year into the new government. CPJ found an almost complete reversal of the Trump administration's hostile anti-media rhetoric and a return to a more traditional relationship between the press and the White House. However, while journalists and press freedom advocates welcomed the administration's commitment to keeping the public informed, the report found that they see persistent issues. Press freedom advocates remain concerned about issues like the president's limited availability to journalists, the administration's slow responses to requests for information, its planned extradition of Julian Assange, restrictions on media access at the U.S. southern border, and its limited assistance to Afghan journalists.
Peaceful Assembly
4 students were arrested in Little Elm during a protest on campus. A taser was used on one student. @FOX4 pic.twitter.com/bqsTsnXar6

— Peyton Yager (@peytonyager) November 19, 2021
On 19th November 2021, police officers confronted students protesting sexual harassment at a high school in Little Elm, Texas. Video of the incident shows officers using tasers and pepper spray on the student protesters. According to news reports, a girl was also dragged out by her hair during the clash with police. Four students were arrested and, according to parents, several others sustained injuries. Authorities claimed some young protesters had assaulted police officers.
Amazon workers in 20 countries plan Black Friday strikes https://t.co/dIHnrzwSuY

— BBC News (World) (@BBCWorld) November 25, 2021
On 26th November 2021, Amazon employees and supporters staged walkouts and demonstrations in multiple cities to demand better pay and workplace improvements, and to call on the company to address the climate crisis. In New York City, dozens of people, including Amazon workers, marched to company founder Jeff Bezos' nearby residence to protest against Amazon's social and environmental practices. Make Amazon Pay, a coalition of workers and labour organisations, called for a labour strike by Amazon employees at the company's data centres, factories and warehouses. "The pandemic has exposed how Amazon places profits ahead of workers, society, and our planet," the coalition said in its demands document. "Amazon takes too much and gives back too little. It is time to Make Amazon Pay."
In similar protests, dozens of warehouse workers at two Amazon facilities near Chicago staged a pre-Christmas walkout on 22nd December 2021 to demand better treatment and higher wages. There were concerns of retaliation against those who participated in the protest action. One demonstrator claimed that workers were told by management that whoever participated in the walkout "might as well leave their badges," meaning that they wouldn't be coming back.
BREAKING: The U.S. Capitol Police have arrested more than 30 protesters outside the Supreme Court on charges related to blocking traffic and protesting in an illegal area. https://t.co/eh4q3MIWiu

— WUSA9 (@wusa9) December 1, 2021
Separately, on 1st December 2021, at least 33 people were arrested outside the Supreme Court for allegedly blocking traffic while demonstrating. U.S. Capitol Police said people were arrested after multiple warnings for "crowding, obstructing or incommoding in an area where protesting is prohibited." The protests were organised in response to the court hearing a challenge to abortion rights. Both women's health rights advocates and anti-abortion protesters demonstrated in front of the Supreme Court while oral arguments began in the Dobbs vs. Jackson Women's Health Organization case from Mississippi.
On 13th December 2021, more than 70 protesters were arrested in a demonstration outside the U.S. Capitol demanding social welfare legislation. Members of the Poor People's Campaign were pressing the Senate to pass an approximately $2 trillion proposal known as the Build Back Better Act, with provisions which would raise the minimum wage, establish protections for immigrants and protect voting rights. A total of 71 people were arrested for crowding, obstructing, or blocking the street, a police spokesperson said.