USA: Massive workers' strike at California university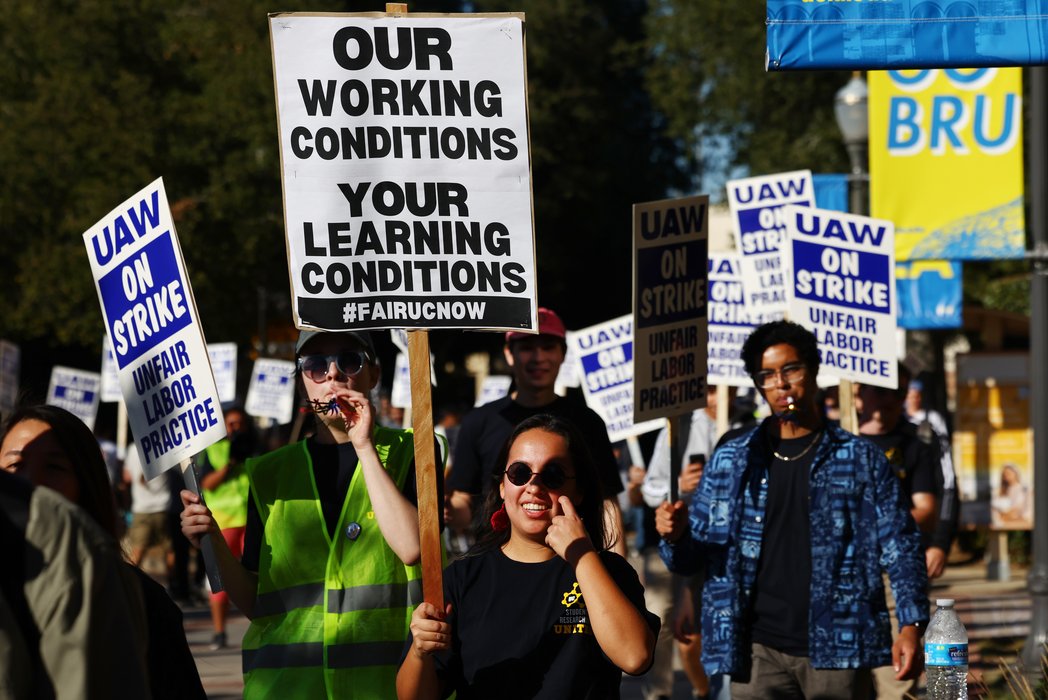 Week 3 at UC Irvine: From the library to the streets, Academic Workers demand a fair workplace!#FairUCnow #UAWonStrike pic.twitter.com/y8Kn4f9GPX

— UC Student-Workers Union UAW 2865 (@uaw2865) December 1, 2022
Peaceful Assembly
Thousands join university strike
On 14th November 2022, about 48,000 graduate students and staff at the University of California (UC) launched a system-wide labour strike at all ten campuses to demand higher wages, improved leave for parents and caregivers, childcare support and full funding for public transit. The strike was organised by United Auto Workers, which represents University of California postdoctoral scholars, academic researchers and graduate students employed as researchers, instructors, teaching assistants, tutors and readers. According to a union survey, most UC graduate students spend more than a third of their income on rent and their average income is around $24,000 a year.
About 48,000 people joined the strike, participating in walkouts, picketing demonstrations and building occupations. On 27th November 2022, postdoctoral scholars and academic researchers reached a tentative agreement with UC that would elevate their pay to among the highest in the nation. However, news outlets reported they would not return to campus yet in solidarity with some 36,000 graduate student employees who remained on strike. The mobilisation continued into December 2022.
War in Ukraine leads to protests

On 11th October 2022, protesters gathered outside the Embassy of the Russian Federation to protest the war on Ukraine. Counter-protesters also demonstrated, and both events took place peacefully. However, one woman, reportedly a Russia supporter, was arrested for assaulting an officer. On Twitter, a widely-shared video showed a woman arguing with an officer and spitting on them before being restrained and arrested.
On 14th October 2022, anti-war groups organised picket lines at the offices of U.S. senators and representatives in more than 40 cities across 20 states, calling on lawmakers to push for a ceasefire in Ukraine. They also demanded a revival of anti-nuclear treaties and other legislative actions to prevent nuclear war. The demonstration was part of a month of action. "Anyone paying attention should be worried about the rising dangers of nuclear war, but what we really need is action," said Norman Solomon, co-founder of protest organiser group RootsAction. Polling released by Reuters/Ipsos in October 2022 showed that 58% of Americans fear the U.S. is headed toward nuclear war.
Climate protests
Water protectors and ordinary people stop traffic on the DC beltway on Indigenous People's Day, calling on @POTUS to #DeclareEmergency and end fossil fuel extraction on #Indigenous land.#A22Network #ClimateEmergency #StopLine5 pic.twitter.com/mjqYebBsWV

— Declare Emergency (@DecEmergency) October 10, 2022
On 10th October 2022, at least seven people were arrested for protesting on a major highway outside Washington D.C. to call on President Biden to declare a climate emergency and end fossil fuel extraction on Indigenous land. Climate activism group Declare Emergency organised the demonstration, with protesters dressed in neon vests and holding signs while blocking the road. All those arrested were reportedly charged with obstructing or hindering the free passage of another in a public place or on a public conveyance and failing to obey a law enforcement officer who attempted to prevent a disturbance to the public peace.
Four climate activists were arrested in Washington D.C. on 16th November 2022 after staging a sit-in at the Department of Transportation against an offshore oil export facility. The department was expected to analyse proposals for offshore oil terminals in the Gulf of Mexico. Several arrests also took place at climate protests staging civil disobedience actions at the end of September 2022.
Further protests
On 12th October 2022, protesters stormed a Los Angeles City Council meeting to demand the resignation of council members following an audio leak of council president Nury Martinez and other officials making racist remarks. Demonstrators also staged protests outside Martinez's house. Martinez resigned but protests continued as two other council members who had participated in the conversation remained in their seats despite public pressure. On 29th November, protesters again disrupted a city council meeting to call for their resignation.
On 25th October 2022, an event organised by a conservative student group at UC David was cancelled after clashes occurred between protesters and counter-protesters outside the venue. About 100 people took part in the demonstrations, including people dressed in attire of the far-right group Proud Boys. The university said groups fought among themselves, used pepper spray, knocked over barricades and removed traffic cones.
On 8th November 2022, three University of Central Arkansas (UCA) students were arrested for trespassing and refusal to disperse during a demonstration at a Conway School Board meeting. They had joined school students in protesting anti-trans policies adopted by the Board a month earlier. Before the November meeting, some Conway High students walked out of the building to stand outside with signs and pride flags. A handful of high school students who participated in the protest said they were later suspended for insubordination.
On 14th November 2022, nine people were arrested after a protest and counter-protest outside the New York City Hall ended in hostilities. The incident happened around a "Let Women Speak" rally organised by women's groups that do not accept trans women. The counter-protesters argued that the rally incited hatred against the transgender community. Police said more than 100 people were involved in the two demonstrations. A counter-protester who was at the event said police officers seemed to target people in the crowd at random, and that at least one person was thrown on the ground by the officers.
Association
Tonight, Illinois voters have spoken.

Congratulations, Illinois. You are and always will be a workers' rights state. pic.twitter.com/szSGV8pDjW

— Vote Yes for Workers' Rights (@ILWorkersRights) November 9, 2022
In the October 2022 mid-term elections, Illinois voters approved an amendment to the state constitution that ensures the right of workers to organise and bargain collectively. Labour unions are celebrating the passage of Amendment 1, which also bans right-to-work policies that allow employees to opt out of joining a union or paying union dues even if the workplace has unionised.
Expression
After breaking a Harvard admissions scandal story in 2019 for @BostonGlobe, editor Joshua Miller was subpoenaed on Oct. 11 to testify in the connected criminal bribery case: https://t.co/LMOpf2Tnq6

— U.S. Press Freedom Tracker (@uspresstracker) November 18, 2022
On 11th October 2022, Boston Globe journalist Joshua Miller said he was subpoenaed for testimony as part of a Harvard University admissions scandal criminal case in Boston. In April 2019, Miller, now the Globe's politics editor, broke a story of bribes allegedly paid to Harvard's fencing coach by a Maryland businessman. The newspaper's counsel challenged the subpoena. In a written declaration submitted to the court, Miller stated that testifying would force him to disclose confidential sources he felt "duty-bound to protect" and could have a negative impact on future reporting.
On 18th October 2022, the University of Chicago Institute of Politics (IOP) had to send staff home after receiving a bomb threat over an event on ongoing protests in Iran. Ahead of the event, the institute received phone calls and emails that falsely accused one of the panellists, Iranian American journalist Negar Mortazavi, of having links with Iran's government. The panel discussion, titled "Taking it to the Streets: The Power of Iranian Women Now," was moved online for safety.
On 22nd October 2022, an independent journalist was harassed while documenting a protest in University Park, Texas. The protest was organised by an anti-rights group, whose members have reportedly assaulted the same journalist at other demonstrations in the past. In a video he posted on Twitter, Monacelli shows a woman protester following him before a man comes up and shoves him. University Park Police intervened and later said the man in the video was cited for assault. Monacelli told the Press Freedom Tracker that one individual at the protest also used an anti-Semitic slur against him.
In late October 2022, tech billionaire Elon Musk finalised his purchase of Twitter and announced several major changes, including mass staff layoffs and the withdrawal of long-time trust and safety policies. Activists around the world expressed concerns about the effect of the changes, which they said could have important consequences for protest movements, journalists and activists. User privacy and the unmitigated spread of disinformation are also prominent worries.
On 31st October 2022, journalist Derek Myers, editor-in-chief of news website Scioto Valley Guardian, was charged with wiretapping after the outlet published a recording of witness testimony from a trial in Waverly, Ohio. The outlet had been covering a high-profile murder trial and using a laptop to livestream testimony and exhibits. Police confiscated the Scioto Valley Guardian's streaming equipment along with Myers' mobile phone. The Pike County Sheriff's Office subsequently charged Myers with interception of wire, electronic or oral communications, a fourth-degree felony which can carry a penalty of up to 18 months in prison. Myers turned himself into custody on 1st November and was released after paying a $20,000 bond.
Positive development
On 26th October 2022, the Committee to Protect Journalists (CPJ) welcomed a decision by U.S. Attorney General Merrick Garland ensuring more protection for journalists' phone and email records. The decision codified a policy revising Department of Justice regulations to restrict federal prosecutors' ability to obtain journalists' phone and email records in government leak investigations, with narrow exceptions. "This is an important step to protect press freedom in the United States," said CPJ U.S. and Canada Programme Coordinator Katherine Jacobsen. "These significant restraints to the Justice Department's ability to subpoena journalists' source material send a powerful message about the importance of reporters' ability to protect their sources. CPJ and other press freedom organisations have long been advocating for this decision—it is heartening to see the Justice Department commit to these changes."