USA: bills restrict freedom of expression in the classroom; massive protests in Puerto Rico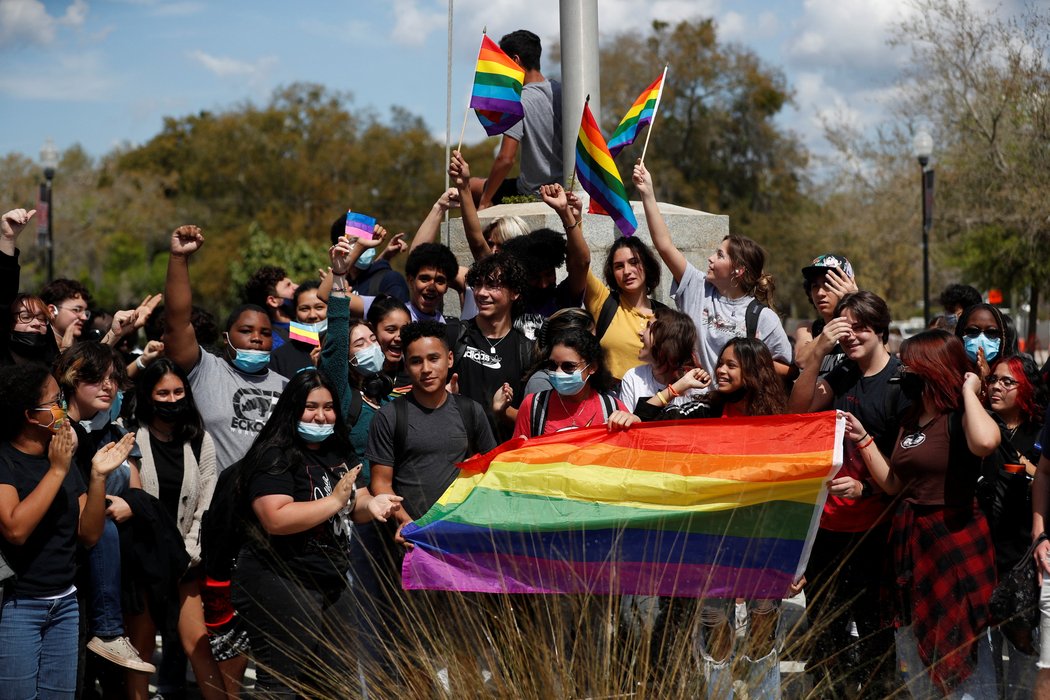 Peaceful Assembly
"By Wednesday, the day of the biggest protests so far, only 18% of teachers showed up to work, according to the Puerto Rico Department of Education. 42 of the island's 96 fire stations shut down in protest." via ⁦@edmyayala⁩ & ⁦@PatriciaMazzei⁩ https://t.co/as8eZXH6Sq

— Charo Henríquez (@charohenriquez) February 11, 2022
Labour protests in Puerto Rico
On 4th February 2022, thousands of teachers across Puerto Rico left their classrooms to demand higher wages, improved working conditions and better pensions. Videos showed streets crowded with protesters who rejected a fiscal plan allowing modest salary increases for teachers and other public employees, approved by the federal control board that oversees the island's finances. The teachers said the increase in base salaries was well below their demands. "We are tired, tired of not being recognised," said Joalice Santiago, a Spanish and science teacher to fourth and fifth graders. "It's about time that teachers rise up and explain to the world the value of their profession."
Firefighters and police officers also protested for decent wages. Following several days of protests, on 10th February 2022 Puerto Rico's Governor announced higher increases in the base salaries of teachers and firefighters.
Protesters detained
BREAKING: Rep. Jamaal Bowman (D-NY) was arrested Thursday alongside at least 20 others during a voting rights protest, for blocking one side of the North Barricade of the U.S. Capitol building. pic.twitter.com/sF7hcLkN1a

— The Hill (@thehill) January 20, 2022
On 4th February 2022, at least four people were arrested at a protest at the Idaho Capitol Mall to draw attention to the lack of affordable housing and other challenges facing the unhoused in the state. Idaho State Police arrested three people, including one of the protest organisers, on outstanding drug-related warrants and a fourth for a probation or parole violation. People experiencing homelessness staged protests and organised an encampment in the area for weeks. A 2019 ruling found that people experiencing homelessness cannot be cited or arrested for sleeping outdoors on public property if there isn't available shelter space.
Separately, on 20th January 2022 around 30 people, including Rep. Jamaal Bowman, were arrested outside the U.S. Capitol building during a protest over voting rights. U.S. Capitol Police arrested Bowman and other demonstrators that were on a hunger strike in support of voting legislation. Several other members of the Congressional Black Caucus, including Reps. Al Green, Sheila Jackson Lee and Hank Johnson, were arrested in 2021 at protests in support of voting rights.
Protests against police brutality
Roughly 150 cars drove through the streets of downtown Minneapolis Friday night Feb. 4, 2022 blasting their horns and holding signs to protest the shooting death of Amir Locke who was shot by Minneapolis police Wednesday morning. pic.twitter.com/qGLMUZ2iDs

— Renee JonesSchneider (@reneejon) February 5, 2022
In early February 2022, hundreds of people demonstrated in downtown Minneapolis and near the homes of elected officials demanding justice for the fatal police shooting of Amir Locke. The killing occurred as officers were exercising a "no-knock" search warrant at Locke's apartment, which authorises police to enter private property without first alerting occupants or announcing their presence. Locke was not named in the warrant issued in relation to a criminal case, and Minneapolis police acknowledged it was unclear how or whether he was connected to that investigation. About 500 demonstrators assembled in below-freezing temperatures demanding an unconditional ban on no-knock warrants, the dismissal and arrest of officers involved in the shooting, and the resignation of the mayor and police chief.
Two weeks earlier, people protested in North Carolina after a judge granted the release of police body-camera footage showing the aftermath of the killing of Jason Walker, an unarmed Black man who was shot by an off-duty police officer in January 2022.
In a separate development, a slide show designed to train officers in Portland on policing protests included content that encouraged use of violence against demonstrators, suggesting they would end up "stitched and bandaged". The slide show was made public through a lawsuit related to the abusive behaviour by officers towards peaceful protesters during racial justice protests in 2020. The slide show included various strategies and weapons for containing protests, including an "escalated force" model and notes that certain strategies do not "work with anarchists or radical groups who refuse to negotiate with police." The Portland police, according to their own data, documented more than 6,000 instances of the use of force during the protests. This drew a rebuke from the Justice Department who deemed the city out of compliance with a previous settlement agreement on how the Portland Police Bureau uses force and conducts officer oversight.
Other protests
On 23rd January 2022, thousands of people marched in Washington in protest at COVID-19 vaccine mandates and vaccine passports. Protest organisers with the Children's Health Defense said vaccine mandates are "un-American." Several people gave speeches or performed, including some in the entertainment industry, athletes, doctors and journalists.
On 21st January 2022, thousands of people gathered in Washington D.C. for the March for Life in support of rolling back abortion rights. Attendees expressed hopes that the Supreme Court will allow states to impose tighter restrictions on abortion and overturn the 1973 Roe v. Wade ruling that affirmed the constitutional right to an abortion in the U.S.
Surveillance in NYC
Our latest research in NYC that shows how the NYPD's investment in facial recognition technology reinforces racist policing tactics such as stop and frisk. We have put that data in an interactive online tool.

See it for yourself 🧐 https://t.co/l6Pga1wuxj pic.twitter.com/97S1EWT9Eu

— Amnesty International USA (@amnestyusa) February 23, 2022
A report published by Amnesty International in February 2022 mapped out more than 25,500 CCTV cameras spread out across New York City. The organisation said facial recognition software, widely used by the city's law enforcement based on images from such cameras, may amplify racially discriminatory policing and threaten the right to protest. Their research found greater levels of facial recognition exposure in non-white neighbourhoods. Amnesty highlighted the case of Black Lives Matter activist Derrick 'Dwreck' Ingram, whose apartment was besieged by NYPD officers in August 2020 after he was targeted with facial recognition technology at a protest.
Expression
A dangerous trend unfolding at the state level: Lawmakers in Kansas and Iowa have cut journalists' access to the state senate floors, and a proposal in Utah would follow suit. https://t.co/kH7HBW74Ob

— Freedom of the Press (@FreedomofPress) February 7, 2022
In a break with decades of precedent, journalists covering the state Senate in both Iowa and Kansas were confined to designated media galleries, rather than working from the Senate floor. In Iowa, Senate Republicans said that the Senate struggled with the changing definition of "media" when considering journalists' access to the chamber. "As non-traditional media outlets proliferate, it creates an increasingly difficult scenario for the Senate, as a governmental entity, to define the criteria of a media outlet," a spokesperson said. Senate Democrats said they oppose the change and vowed to introduce a measure to overturn it.
In Kansas, Republican lawmakers claim to have changed the rules because of lack of space. In an editorial, The Kansas City Star called the move "the latest front in [the Republican party]'s war on the press," writing that journalists' access to legislators in order to ask follow-up questions and fact-check is vital for accuracy and transparency.
Investigation into journalistic sources closed
Officials in North Dakota may have violated the law by issuing a search warrant and improperly seizing a reporter's phone in January 2022. A North Dakota police investigator obtained a search warrant for the phone records of Tom Simon, a Williston-based reporter for Coyote Radio 98.5. The journalist had covered a series of closed-door meetings about a school board's handling of the departure of a former superintendent, which led the school board president to call for an investigation into Simon's sources.
A judge signed a search warrant for the seizure of Simon's mobile phone and a second warrant was issued to Verizon Wireless for his phone records. However, under the state's shield law, police cannot seize a journalist's work product without a court hearing to determine if the "failure of disclosure of such evidence will cause a miscarriage of justice." No such hearing was held in Simon's case. When notified about the possible violation, the state Attorney General immediately ordered the phone returned, and a letter was sent to Verizon telling them to immediately disregard the request. The police investigation has since been closed.
Bills to ban LGBTQIA+ topics from classrooms
Florida's #DontSayGay bill is part of a much larger trend in the U.S., censoring both what teachers can say and what students may learn. #EdScare https://t.co/u6x6CvehPq

— PEN America (@PENamerica) March 9, 2022
On 15th February 2022, civil society group PEN America warned that a slew of bills moving through state legislatures that target the LGBTQIA+ community represent a "national assault" on the U.S. education system and the free speech of teachers and students. This includes several bills prohibiting and punishing teachers for discussing sexual orientation or gender identity, and others banning materials dealing with gender and sexuality or that centre LGBTQIA+ characters. According a report published by PEN America, more than 150 "educational gag order" bills were introduced or pre-filed in 38 states since January 2021. Twelve have become law in ten states.
In one example, the group highlighted Kansas's House Bill 2662. Proposed to protect "parents' rights", the restrictive legislation aims to ban "racially essentialist doctrines" and also proposes to make a change to the state's obscenity law, making it a class B misdemeanor for a teacher to use any material in the classroom depicting "homosexuality."
Association
On 9th February 2022, lawmakers with the Democratic party introduced a resolution to allow House staffers to unionise after congressional employees announced a plan to organise a union for aides on Capitol Hill. The resolution, which has 130 sponsors, would give House staffers protection to organise and bargain collectively as a union. The Senate would have to pass separate legislation for staffers in the upper chamber to unionise. "Like all Americans, our tireless Congressional staff have the right to organise their workplace and join together in a union. If and when staffers choose to exercise that right, they would have Speaker Pelosi's full support," said a spokesperson for House Speaker Nancy Pelosi.