US Supreme Court issues rulings on freedom of expression and association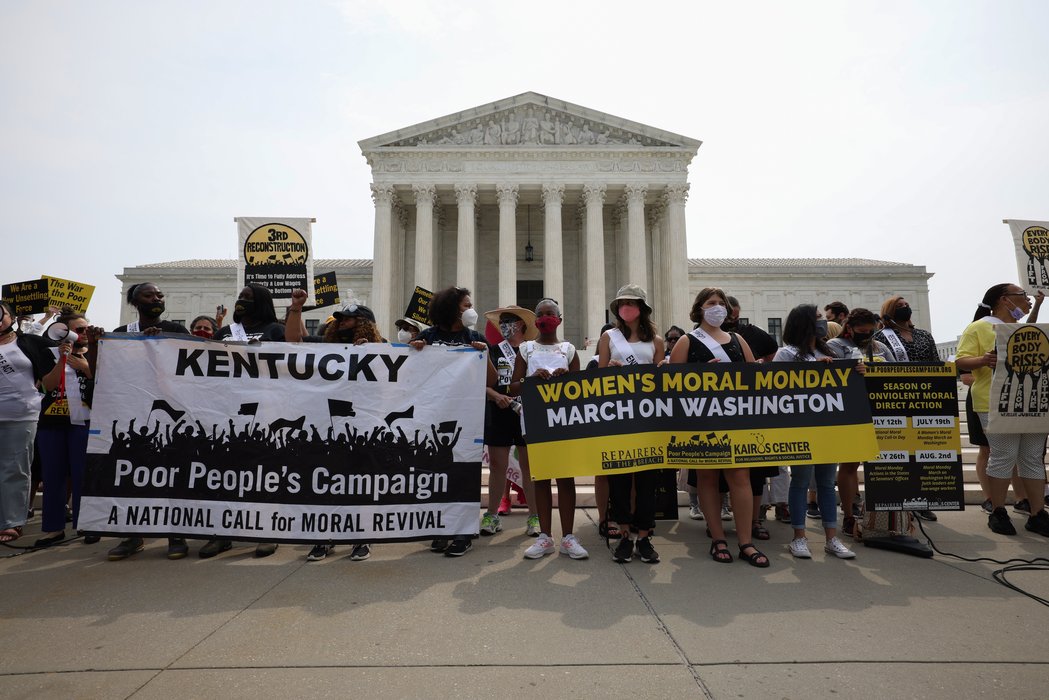 Association
On 1st July 2021, the U.S. Supreme Court struck down California's law requiring non-profits to identify their large donors with the state. By a vote of 6-3, the court ruled that the law subjected donors to potential harassment, chilling their speech in violation of the First Amendment. Intended to fight fraud, the California law required tax-exempt groups to disclose the names and addresses of all donors who gave more than $5,000 or 2% of the organisation's total donations. Critics of the ruling argue it will help rich donors abuse campaign finance laws and that such intimidation has not happened. The case was brought by the Americans for Prosperity Foundation, a tax-exempt charity founded by the Koch brothers. A diverse array of civil society organisations, including the American Civil Liberties Union and the NAACP Legal Defense Fund, also urged the court to block California's disclosure rule.
Peaceful Assembly
Throughout June 2021, thousands of people in Minneapolis protested against police violence following the killing of Winston Smith Jr. by law enforcement on 3rd June 2021. Smith, a father of three, was killed by U.S. Marshals while they attempted to arrest him on a warrant for illegal possession of a firearm. A few days later a protester, Deona Knajdek, was killed when a car rammed into a crowd of anti-racism demonstrators, injuring at least two others. The driver was charged with second-degree murder and assault with a deadly weapon.
HONOR THE TREATY. HONOR THE PLANET. 🌎🌱💦
100+ Indigenous activists & water protectors were arrested yesterday for protesting the #Line3 station that illegally trespasses onto Indigenous land, fueling climate chaos. Over 200 activists remain camped out in the call to #StopLine3. https://t.co/Hdq37ox38F

— CODEPINK (@codepink) June 8, 2021
On 23rd June 2021, Jesse Jackson, Rev. William Barber II and about 20 other activists were arrested for obstruction during a Poor People's Campaign demonstration at the U.S. Capitol. The Poor People's Campaign held the demonstration in response to a filibuster used by Republicans to block a voting rights bill in Congress. The bill, known as the "For the People Act", would strike down hurdles to voting, while also curbing the influence of money in politics and limiting partisan influence over the drawing of congressional districts.
On 26th June 2021, advocates held protests along the Rainbow Bridge to demand the opening of the U.S./Canada border. The protest was organised following a decision to keep the border closed over health concerns. Demonstrators said the closing is hurting families and business. "As American citizens, we were just disheartened to hear that the border was not going to open up on June 22. When the decision through the Department of Homeland Security was to extend that closure another 30 days, it's another 30 days that families don't know when they're going to reunite," said one protester with family in Canada.
Thousands of people participated in protests and other events across the country in June 2021 to mark LGBTQI+ Pride month. Organised by the Reclaim Pride Coalition, a demonstration in New York City on 27th June 2021 drew thousands who marched with rainbow flags and signs saying, "Liberation and Justice". Many in the crowd chanted "No Justice, No Peace," and other slogans, some critical of the New York Police Department. The theme of the march was: "None of us are free until all of us are free". Other events were held in San Francisco, Chicago, Washington, D.C. and Atlanta.
Expression
The Supreme Court hears a case today over whether schools can punish students for off-campus speech.

At the center is a 14-year-old girl who was suspended from her cheer team after posting swears on Snapchat.https://t.co/EyLl9SMqbj

— NPR (@NPR) April 28, 2021
On 23rd June 2021, the Supreme Court ruled that a school can't regulate most off-campus speech by its students in a case involving a student who was sanctioned for lashing out at the school on social media after not making the varsity cheerleading team. In its 8-1 ruling, the court said, "While public schools may have a special interest in regulating some off-campus student speech, the special interests offered by the school are not sufficient to overcome B.L.'s interest in free expression in this case". Justice Stephen Breyer, writing for the majority, however, said a school could intervene in some cases, such as speech that involves bullying or threats to teachers or students.
On 7th June 2021, a freelance journalist on assignment for the Los Angeles Times said he was detained, strip-searched and charged with trespassing while covering a protest against the construction of Line 3 in Minnesota. Alan Weisman, one of hundreds of people arbitrarily arrested by police that day, said he was strip-searched and had his phone, voice recorder, notebooks and prescription medications confiscated by police. Under Minnesota law, he faces a fine up to US$3,000. "It was very clear that I was a journalist," Weisman said, noting that he had a notebook in his hand and was conducting interviews at the time. He said that the officer did not give him any warning before the arrest or issue any commands to leave the area.
Went to visit a friend at the Capitol & walk into the #PoorPeoplesCampaign protest over the #FILIBUSTER. Next thing I know, Rev. Jesse Jackson & Pastor Dr. William Barber II are getting arrested! pic.twitter.com/x6YRw2IUCI

— Shardé M. Davis, Ph.D. (@DrShardeDavis) June 23, 2021
From 5th June 2021, environmental defenders in northern Minnesota organised the demonstration Treaty People Gathering against the Line 3 tar sands pipeline being built through Anishinaabe treaty land and the Mississippi headwaters. The protest was joined by over 2000 people, around 200 of whom camped on the place where company Enbridge willdrill to lay the pipe. At least 100 people were arrested during the protests, including Indigenous protesters. On 10th June 2021, nearly 250 people were arrested when protesters blocked the entrance of a pump station at the site. Also on 10th June 2021 demonstrators in New Jersey rallied outside Bank of America, which funds Enbridge, in solidarity with Minnesota protesters and Indigenous peoples. The event was organised by Sunrise Morris County, a local chapter of the national environmental justice organisation Sunrise Movement.
In a related development, on 21st June 2021, at least eight climate change protesters demonstrating in front of Sen. Ted Cruz's home, some of whom belong to the Sunrise Movement, were arrested for trespassing.
On 13th June 2021, thousands of teachers and other educators held protests across the country in opposition to the movement against teaching about racism in class. There were demonstrations in at least 22 cities for a National Day of Action to raise awareness about moves to limit students' exposure to critical race theory, an academic framework that holds that racial discrimination is systemic, woven in the country's foundations and legal system. Thousands of educators mobilised against what they call "anti-history" bills which would limit what they can teach about racism, signing a pledge declaring that they "refuse to lie to young people about U.S. history and current events — regardless of the law". Critical race theory is not taught in any public school system, but it has become a prime target for many Republican-led states, including Florida and Tennessee.