Union leader arrested amid protests in South Korea while restrictive press law revisions shelved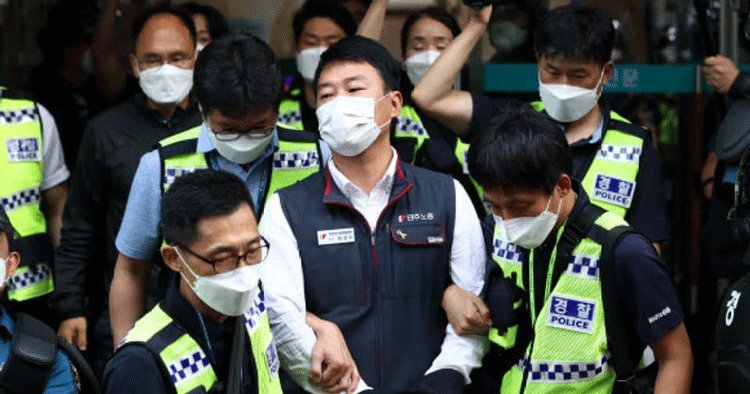 In recent months, protests have been carried out by a major labour union in South Korea calling on the government to improve labour conditions and for a minimum wage hike. The protests were deemed illegal by the authorities, who attempted to disrupt them. The government arrested a union leader in September 2021 for allegedly violating social distancing requirements by organising the rally. A restrictive press law proposed by the government has been shelved.
Peaceful Assembly
Union leader arrested for holding labour rights rally
(2nd LD) Umbrella labor union holds street rally despite virus concerns https://t.co/abMaom1viH

— Yonhap News Agency (@YonhapNews) July 3, 2021
In July 2021, South Korea's major umbrella labour union held a rally in central Seoul despite the government's warning of a stern response. Citing super-spreader concerns, the government refused to grant a permit for the rally despite the union's repeatedly expressed commitment to the COVID protocol.
On 3rd July 2021, around 8,000 members of the Korean Confederation of Trade Unions (KCTU) gathered in the Jongno district, ignoring the government's call to cancel the assembly for fear of affecting the fight against COVID-19. They had planned to hold it in the western Seoul area of Yeouido but changed the venue just ahead of the rally as police blocked KCTU members' entry into Yeouido.
Protesters marched down the Jongno streets starting at around 2 p.m., demanding a revision to the labour act. They called for the abolition of non-regular employment, halts to job cuts, hikes in minimum wages and measures to prevent industrial accidents.
Marchers wearing masks also blocked some of the main streets in the central district of Jongno, holding up signs with slogans such as "Stop restructuring!" and "Let's go! General strike!" After the rally, only three attendees tested positive for COVID-19, with little evidence to tie their infections to the rally.
This morning Korean riot police raided KCTU headquarters, dragging out union president YANG Kyeung-soo. He is currently being interrogated. This is an outrageous, unacceptable attack on the democratic union movement and IndustriALL demands YANG Kyeung-soo's immediate release. pic.twitter.com/jw3VCcmPI2

— IndustriALL (@IndustriALL_GU) September 2, 2021
In September 2021, the South Korean government arrested Yang Kyeung-soo, president of the million-member KCTU for allegedly violating COVID-19 social distancing requirements by organising the rally.
He was arrested on 2nd September in a predawn raid of his Seoul office, where he had taken flight from threats of an arrest. The raid was conducted by approximately 2,000 law enforcement officers including 100 investigation officers and 41 police units from the Seoul Metropolitan Police Agency.
According to the International Commission of Jurists (ICJ), the arrest was made pursuant to charges for organising public rallies in violation of Article 49 of the Infectious Disease Control and Prevention Act, Article 16 of the Assembly and Demonstration Act (ADA) and Article 185 (General Obstruction of Traffic) of the Criminal Code. On 15th September, the Seoul Central District Court dismissed Yang's application to review the lawfulness of his arrest.
The arrest came ahead of a general strike the KCTU had been organising for October 2021 and was made 20 days after the Seoul Central District Court issued an arrest warrant for Yang.
IndustrialAll and the ITUC, two global labour union federations, condemned the arrest as "wrong and disproportionate."
Ian Seiderman, ICJ Legal and Policy Director, said: "The circumstances of his arrest and detention – the show of force during the arrest, the extended pre-trial detention, the criminalisation of violations of public health regulations – suggest that Yang Kyeung-soo may have been selectively targeted for prosecution because of his leadership role in labour activities and for organising a general labour strike".
Labour union rally, strike across country for better working conditions
On 20th October 2021, tens of thousands of labour union members took to the streets across South Korea to demand better working conditions for irregular workers and a minimum wage hike. This was despite repeated government warnings that the rally was illegal and violated COVID-19 restrictions.
The Korean Confederation of Trade Unions (KCTU) said some 80,000 members joined rallies across 13 cities. A one-day strike involving 550,000 members also took place across the country.
In Seoul, 27,000 people took to the streets. The police deployed about 12,000 officers to set up "bus walls" and fences to prevent people from gathering at Gwanghwamun Plaza, where most rallies take place. Nearby subway exits were also blocked off. This forced the union members, many clad in pink and white, to march towards Seodaemun Station instead. They were seen waving flags and chanting for better labour rights.
An estimated 2,500 union members gathered in front of Gwangju city hall, while 2,800 rallied in front of Changwon city hall. Another 1,000 people gathered in the centre of Chuncheon city. The police said they would pursue legal action against the organisers.
South Korean workers channel "Squid Game" to protest their real-life economic woes https://t.co/Ox7eOkVJvV

— CBS Evening News (@CBSEveningNews) October 21, 2021
The workers also sought to seize an opportunity presented by the huge popularity of Netflix's "Squid Game" to draw attention to their demands for better employment conditions. Many wore costumes inspired by the gruesome show that was itself inspired by the dire economic conditions facing many South Koreans.
Irregular workers do not receive the full benefits under South Korea's labour laws. They include temporary workers and contract workers. As at August 2020, irregular workers accounted for 36.1 per cent of the total number of salaried workers.
Expression
Restrictive amendments to Press Law shelved
The final vote on a proposed bill that many fear could undermine press freedom in South Korea was postponed in late September 2021. The ruling Democratic Party of Korea (DPK) postponed for the second time a vote on the Press Arbitration Law Amendment Bill that it planned to push through the National Assembly's plenary session following opposition from political parties, media and human rights organisations.
The government says it has to revise the law due to the sharp increase in "fake news" put out by media outlets that it claims are deceiving the general public. Critics charge that the amendments are designed to muzzle the media and will give the government wide-ranging powers to restrict freedom of the press.
The criteria for determining the intent of the media outlet is vague, meaning that the government could levy the charge of "fake news" against any story that it dislikes. This would effectively pressure media to withdraw reports that are critical of the government's policies and actions. The bill also called for punitive damages that amount to up to five times the actual loss caused by the false news report.
🇰🇷 ARTICLE 19, @hrw, @jinbonet, and @opennetkr call on President Moon Jae-in, the National Assembly, and members of the Consultative Committee to reject the proposed amendments to the Press Arbitration Law in #SouthKorea to protect media freedom.https://t.co/gY5idXoUnO

— ARTICLE 19 Asia (@article19asia) September 16, 2021
On 15th September 2021, civil society groups Article 19, Korean Progressive Network Jinbonet, Open Net Association and Human Rights Watch called on President Moon Jae-in, National Assembly members, and the consultative committee reviewing the bill to reject proposed amendments to the law.
The group stated that the Press Arbitration Law amendment bill's vague language and disproportionate damages against media outlets could limit a wide range of expression, including critical news reporting and coverage of unpopular or minority opinions. Media outlets may be compelled to self-censor to avoid publishing reports that may trigger unwarranted lawsuits.
The bill defines "false or manipulated" reporting as "the act of reporting or mediating false information or information manipulated to be misconstrued as facts," and authorises the court to assess compensation "up to five times the damages" if such reporting causes property damage, infringes on personality rights or causes emotional distress. Because the bill would permit awarding damages even if the falsity is not material, those subject to critical reporting could seek to recover punitive damages on the grounds of emotional distress for even minor factual errors.
The bill also creates a presumption that an allegedly "false or manipulated report" was made "with intention or gross negligence" in several broad and vaguely defined circumstances, including when "retaliatory or repetitive" false or manipulated reports have been made.
The law does not specify what would constitute a "retaliatory" report, raising the risk of arbitrary application of the law. In addition, the presumption of guilt may force journalists to choose between revealing their sources to counter the presumption or paying heavy damages. 
Irene Khan, the UN special rapporteur on freedom of opinion and expression, warned that Korea's controversial media bill, if passed, will not only be "seriously detrimental" for freedom of press in the country, but also impact its international standing. https://t.co/xP31kPUPnV

— Korea JoongAng Daily (@JoongAngDaily) September 24, 2021
Irene Khan, UN Special Rapporteur on the promotion and protection of the right to freedom of opinion and expression wrote a letter to the government in early September 2021 raising concerns on the revisions to the law and recommended that the South Korean government revise it in accordance with international human rights law.
Rival political parties have agreed to form a special parliamentary committee to discuss the revisions further.