UN rights committee questions Tonga on freedom of expression for children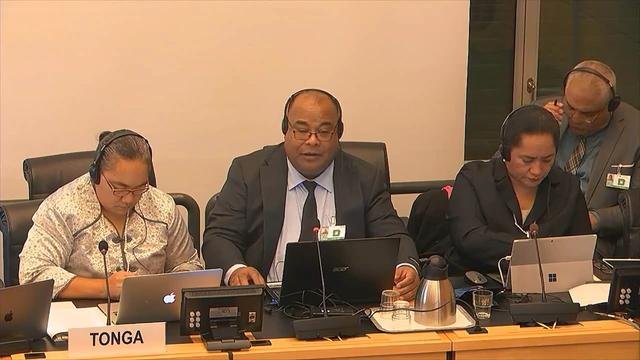 Expression
Child rights committee calls on state to encourage freedom of expression
On 14th May 2019, during the state review, the UN Committee on the Rights of the Child (CRC) questioned Tonga about the situation of freedom of expression for children in the country.
In its state report to the Committee, the government stated that while freedom of expression, is protected under the Constitution "children are required to listen and obey and not question the words of elders. They are not expected to intervene in the discussions of older family members". Further "results collected from focus group discussions found that many people in society, including children, struggle with the concept of freedom of expression".
During the state review, the CRC member and Co-Rapporteur for Tonga, Clarence Nelson asked the state delegation to explain its declaration that "children struggled with the concept of freedom of expression" and to outline the measures taken to encourage children's enjoyment of freedom of expression and child participation in society.
While Nelson acknowledged that cultural challenges existed, he stated that the government had to overcome them so that "children might play a full role in the Tongan society". He also questioned if there was any awareness among Tongan children of climate change and asked if the state delegation "believed the government should encourage the participation of children in climate change-related actions, such as the strikes that had recently taken place".
Better press freedom rankings but media still faces challenges
On #WorldPressFreedomDay, @RSF_Asia-Pacific looks at the region's press freedom situation according to #RSFIndex2019 (/180):
7th: New Zealand 🇳🇿
21st: Australia 🇦🇺
22nd: Samoa 🇼🇸
38th: Papua New Guinea 🇵🇬
45th: Tonga 🇹🇴
52nd: Fidji 🇫🇯
80th: Bhoutan 🇧🇹https://t.co/IBqCfpVxCy

— RSF_Asia-Pacific (@RSF_AsiaPacific) May 3, 2019
In April 2019, the latest press freedom index by Reporters Without Borders (RSF) showed that Tonga had improved its ranking by six places to 45 out of 180 countries. Their report stated that "independent media outlets have increasingly assumed a watchdog role since the first democratic elections in 2010".
However, RSF also stated that politicians have not hesitated to sue media outlets, exposing them to the risk of heavy fines and that some journalists "are forced to censor themselves due to the threat of bankruptcy". RSF highlighted that the re-election of Prime Minister Samiuela 'Akilisi Pōhiva's party in November 2017 was accompanied by growing tension between the government and journalists. This was particularly so at the state radio and TV broadcaster, the Tonga Broadcasting Commission (TBC), where two senior editors were sidelined under pressure from the government, as previously documented by the CIVICUS Monitor.  According to RSF, in 2018, the government "gained full control over the TBC, suppressing all vestiges of editorial independence".