UN calls on Mongolia to protect human rights defenders, journalists and revise draft NGO law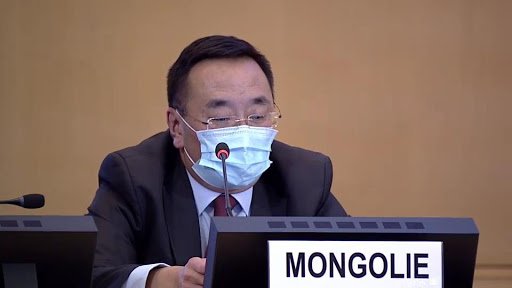 Mongolia's human rights record was examined by the UN Human Rights Council's Universal Periodic Review (UPR) Working Group on 4th November 2020. There were recommendations to:
Finalise and adopt as quickly as possible the draft act on the protection of human rights defenders and protect human rights defenders against attacks, threats and intimidation (Ireland, Switzerland, France and Germany);

Strengthen the national human rights institution (Georgia, India, Kazakhstan and Armenia);

Continue its efforts in the fight against torture and put in place an effective and independent complaints mechanism to investigate allegations of torture (France, Indonesia, Maldives, Poland, Romania, Spain and Botswana);

Protect freedom of expression; ensure that journalists, media workers as well as civil society activists are able to practice their activities freely without any fear for punishment in accordance with international standards, including by decriminalizing defamation, and ensure independent investigations of attacks against journalists and media workers (Estonia, United Kingdom, Australia, Czech and Republic);

Strengthen the independence of the judiciary (France, Iraq, Japan, Peru, Czech Republic, USA, Brazil and Egypt);

Revise the draft law on NGOs to ensure its provisions on registration and financing comply with international standards (Germany);

Prevent discrimination and violence against LGBTI persons, continue training of lawyers and law enforcement officers on offences related to hate crimes against LGBTI persons (Iceland, Luxembourg, Netherlands, Switzerland, Australia and Thailand).
Expression
Laws inconsistent with international obligations
Ahead of the UPR review numerous civil society groups raised concerns about restrictions to freedom of expression in Mongolia. The Globe International Center - Mongolia highlighted in their report the need to "harmonise national legislation regarding freedom of expression with the International Covenant on Civil and Political Rights".
Among the issues raised was that the Parliament of Mongolia passed the Amendment to the Law on Telecommunications on 30th May 2019, but it does not guarantee the independence of the regulatory body.
Concerns were also raised that the amendments to criminal law had reintroduced defamation in Para 14.8 for the 'distribution of obviously false information during the election' and outlines it as a criminal offence. Critics have observed that the law is broad and fails to define the term 'false information' giving the state the power to file charges against journalists without making any efforts to verify the authenticity of the information being reported. Defamation is also criminalised in Article 6.21 titled 'Libel of the Law on Administrative Offence'.
Journalists face risks for undertaking their work
The Globe International Center also raised concerns in their report about the safety of journalists. Of 300 journalists surveyed, 67 percent reported that they or their family members had faced pressure, intimidation and harassment at least once in their careers. For 58 percent, their professional equipment was damaged; 36 percent experienced legal pressure from the courts and law enforcement officials and 18 percent were physically attacked.
Further, it reported that no action has been taken towards implementing the relevant provisions of the National Anti-Corruption Programme that pledged to provide legal protection to confidential sources and whistleblowers.
Reporters Without Borders (RSF) said in October 2020 that existing regulation still lacks basic legal protections for confidential sources and current defamation laws lead to journalistic self-censorship or harsh fines.
Association
Challenges in registering religious groups
In a submission to the UN by the European Centre for Law and Justice (ECLJ) it noted that some religious organisations faced bureaucratic harassment and barriers to registration.
According to ECLJ, the national government provides little detail on the procedure for registering religious groups and therefore leaves many decisions, such as length of registration process, up to the local authorities. Because part of the registration is done at the provincial level, some organisations have little to no problem, while others have reported that the government inconsistently applies regulations and frequently changes requirements with little to no notice. As a result, some religious organisations face greater difficulty obtaining registration than others, simply based on their location.
Moreover, some religious organisations have reported that their applications were rejected completely, and that they were not afforded a way to appeal the decision.
Lack of protection for human rights defenders
Amnesty International reported to the UN that human rights defenders in Mongolia were under attack on many levels and often labelled by pro-government actors as "undesirables", "troublemakers", "foreign agents" or "opponents of the state". The organisation noted reports of discrimination, intimidation, harassment, police intimidation and stigmatisation against human rights defenders.
The climate of impunity for harassment and attacks on HRDs is exacerbated by the lack of comprehensive legal protection of HRDs and mechanisms to hold the perpetrators of attacks against them to account. The government is currently considering a draft Law on the Legal Status of Human Rights Defenders.
Arrests of election candidates
In June 2020, Mongolia's ruling party registered a resounding victory at the general elections to remain in power for another term. The Mongolian People's Party (MPP) won 62 out of the 76 seats in the parliament. The main opposition in the house — the Democratic Party — won 11 seats, while the rest were taken by coalitions and independent candidates.
According to a report, six candidates were arrested prior to the election on allegedly politically motivated charges, according to their lawyers. Four of the detained politicians were candidates from the country's opposition Democratic Party and the remaining two are independent candidates. Among those arrested were former Finance Minister Sangajav Bayartsogt and Bayanjargal Byambasaikhan, chairman of the Business Council of Mongolia, who are implicated in a large mining deal involving foreign investment.
Peaceful Assembly
Protests against China's suppression of language
The stakes are rising fast: #Mongolians protest visit of #China diplomat as language dispute simmers https://t.co/1xvgxfSDrf

— Sophie Richardson (@SophieHRW) September 16, 2020
In mid-September 2020, protesters rallied in Mongolia's capital Ulaanbaatar to protest against a visit by the Chinese government's top diplomat, State Councillor Wang Yi, amid accusations that Beijing is suppressing native language and culture in ethnic Mongolian regions of China.
About 100 mostly peaceful protesters gathered on Sukhbaatar Square in front of Mongolia's Government Palace and chanted "let's protect our native language" and "Wang Yi go away".
They were responding to a policy forcing elementary and secondary schools in China's Inner Mongolia region to adhere to a national curriculum in Chinese language, politics and history. China said the policy was designed to promote national unity. However, the policy has led to school boycotts and accusations by human rights groups that Beijing is trying to destroy Mongolian culture.