Truckers strike for higher wages in South Korea while trial of activist continues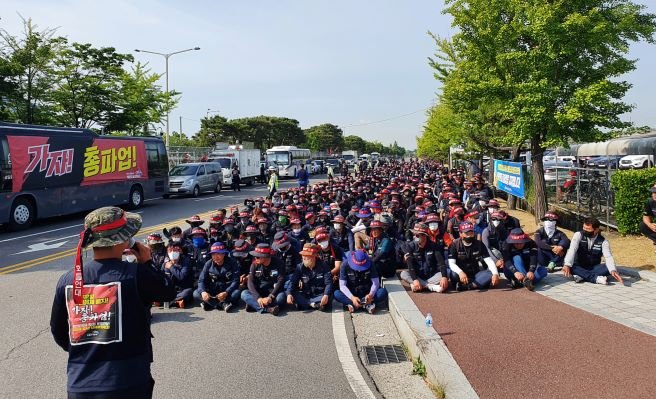 South Korea's civic space continues to be rated as 'narrowed' by the CIVICUS Monitor. On 10th May 2022, Yoon Suk-yeol - who won the elections in March 2022 - was sworn in as South Korea's new president. During his inauguration speech, Yoon spoke of strengthening South Korea's democracy and mentioned 'freedom' 35 times.
Ahead of his inauguration, in April 2022, 116 global civil society organisations called on Yoon to withdraw his pledge to abolish the Ministry of Gender Equality and Family. During his campaign, Yoon and his party, the People Power Party (PPP), actively stirred up and capitalised on the anti-feminist backlash. In particular, Yoon made abolishing the Ministry of Gender Equality and Family a central pledge of his campaign, saying that there is no systemic gender discrimination in South Korea.
However, in June 2022, it was reported that Yoon appeared to be backtracking on the campaign pledge to abolish the Ministry of Gender Equality and Family. While this is a positive development, it is certainly not an about-face from the new conservative administration. Of particular note is that the new president has dropped his liberal predecessor's explicit commitment to appoint women to a share of presidential cabinet posts and is likely to roll back similar quotas from other parts of the public sector.
In recent months, truckers organised an eight-day strike for better wages, resulting in at least 44 arrests. Activist and North Korean defector Park Sang-hak remains on trial for releasing propaganda leaflets along the inter-Korean border. The Supreme Court also made a landmark judgement on reversing convictions on same-sex sexual acts in the military.
Peaceful Assembly
Truckers strike around wages for eight days with 44 arrested
On 7th June 2022, South Korean truckers went on strike after talks with the government failed to make progress over their demands for higher pay. The strike triggered delays in the shipment and delivery of steel, cement, petrochemicals, tyres and other items, with some factories forced to halt production.
The strike represented the first major industrial action under newly-elected President Yoon Suk-yeol, a pro-business conservative who previously vowed to deal "strictly" with labour disputes.
Protesting against soaring fuel prices and demanding minimum pay guarantees, about 6,600 truckers, or 30 per cent of the Cargo Truckers Solidarity union members, were on strike on 11th June, halting trucking activities at petrochemical complexes in Ulsan and slowing steel product deliveries for steelmaking giant POSCO.
On 12th June, about 100 unionised truckers gathered at the main gate of an enormous Hyundai Motor factory complex in Ulsan, a union official said. The truckers demanded an extension of subsidies, set to expire in 2022, that guarantee minimum wages as fuel prices rise. On 13th June, similar protests were happening across the country.
At least 44 people were arrested during the strike for committing "illegal activities" such as "interfering" with normal vehicle operation. Most of them were later released except for two who were formally arrested.
After a fifth round of negotiations, representatives of the truckers and Transport Ministry officials reached a deal on 15th June, ending the strike. The Cargo Truckers Solidarity union said the ministry agreed to seek to extend the current rules on minimum wage guarantees and consider increasing fuel subsidies for truckers.
South Korea is a major supplier of semiconductors, smartphones, automobiles, batteries and electronic goods. The strike has deepened uncertainty over global supply chains already disrupted by China's strict COVID-19 curbs and Russia's invasion of Ukraine.
Expression
Indicted activist resumes leafleting campaign critical of North Korea
South Korean activist says he has resumed flying anti-North leaflets https://t.co/SdnYsVzHjy

— SDG (@sdeeng1990) April 28, 2022
Activist and North Korean defector Park Sang-hak remains on trial after being indicted in January 2022 on charges of breaking a law that banned the spreading of propaganda leaflets along the inter-Korean border.
As previously documented, South Korea's parliament passed amendments to the Development of Inter-Korean Relations Act that bar any scattering of printed materials, goods, money and other items of value across the heavily fortified frontier. It also restricts loudspeaker propaganda broadcasts. Prosecutors are said to have indicted Park on charges of attempted violation of the Development of Inter-Korean Relations Act as they could not confirm whether his balloons actually arrived in North Korea. Under the revised law, the act of sending propaganda leaflets across the border is banned and violators can face up to three years in prison or a maximum fine of 30 million won (USD 25,000).
Park Sang-hak became the first person to be indicted under the new provisions. His group - Fighters for Free North Korea (FFNK) - had sent 10 balloons loaded with 500,000 leaflets and 5,000 one-dollar bills to North Korea at the end of April 2021.
On 28th April 2022, Park said he had resumed his leafleting campaign after halting such activities for a year following his arrest. His group floated 20 huge balloons carrying leaflets critical of North Korea's nuclear programme and the Kim family's hereditary rule across the tense Korean border.
Park said the balloons also contained pictures of South Korea's incoming conservative president, Yoon Suk-yeol, to show North Koreans the difference between the South's election system and the North's father-to-son successions. He said small books and USB sticks, which carry information about South Korea's economic and cultural development, were also put in the balloons.
In June 2022, the Fighters for Free North Korea launched air balloons carrying medical supplies near the inter-Korean border.
Association
Landmark judgement on same-sex sexual acts in military 
The criminalization of consensual same-sex sexual acts in South Korea's military has long been a shocking violation of human rights, but the recent ruling should pave the way for military personnel to freely live their lives without the threat of prosecution. pic.twitter.com/PFSza2fdpw

— Amnesty International USA (@amnestyusa) April 24, 2022
On 21st April 2022, the Supreme Court of Korea reversed a lower court's convictions of two soldiers under Article 92-6 of the country's Military Criminal Act, which punishes consensual sexual acts between men in the military with up to two years' imprisonment under an "indecent acts" clause.
According to Amnesty International, the two soldiers were sentenced respectively to three months and four months (plus one year probation) in prison in 2017, when military authorities pursued an investigation to identify and punish soldiers suspected of having sex with men. As a result, more than 20 soldiers were charged under Article 92-6 of the Military Criminal Act for allegedly engaging in consensual same-sex sexual acts.
The Court reasoned that if same-sex sexual acts took place off base, while the soldiers were off duty and by mutual consent, the Act does not apply. It further reasoned that criminalisation of these acts would unreasonably violate soldiers' rights to sexual autonomy and deny their rights to non-discrimination, equality and dignity, as well as their right to pursue happiness guaranteed in the Constitution.
The decision also reversed the Supreme Court's own precedents which confirmed convictions of consensual sexual acts between men without examining whether the acts took place on or off duty and whether the acts were mutually consented.
As previously documented, South Korea's LGBT+ movement continues to face pressure from conservative Christian anti-LGBT+ groups.