Tragic death of long-term political prisoner, systematic violations of fundamental freedoms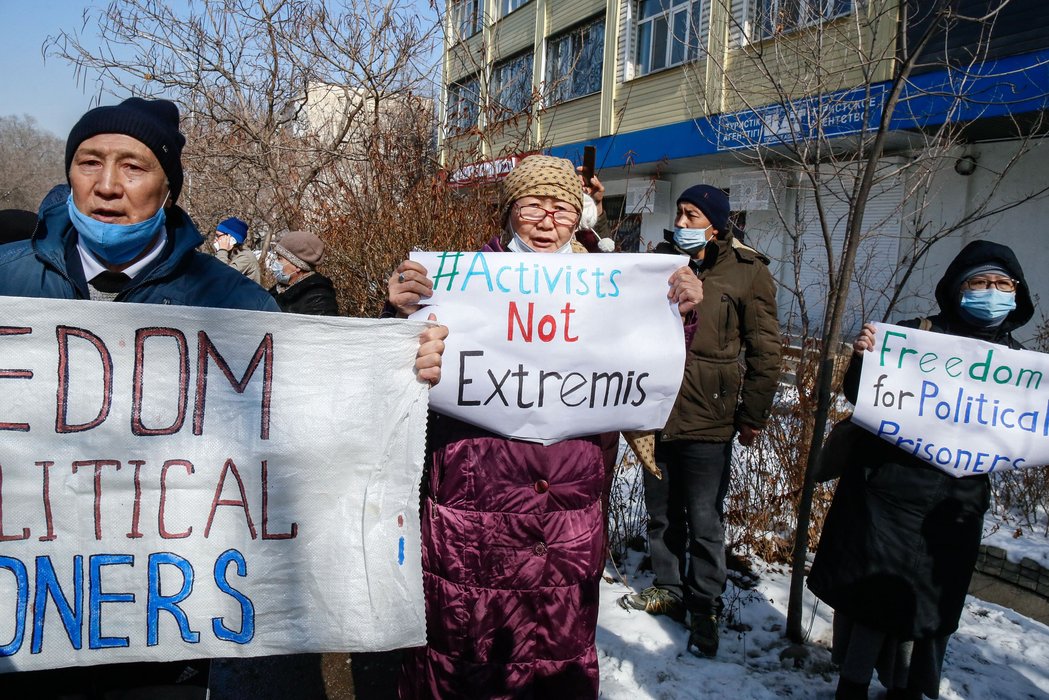 Introduction 
This update covers developments on the freedoms of expression, association and peaceful assembly in Kazakhstan from August to December 2021 and was prepared by International Partnership for Human Rights (IPHR) and Kazakhstan International Bureau of Human Rights and Rule of Law (KIBHR) as part of their cooperation with the CIVICUS Monitor. It is based on KIBHR's monitoring of the situation in the country.
Expression
Civil society and media representatives voiced concerns over draft legislation which claims to fight against cyberbullying and protect children's rights online but could in fact be used as a tool to censor unwanted content and persecute citizens exercising their right to freedom of expression on social media. On 15th September 2021, the lower house of Parliament approved on its first reading amendments to legislation on children's rights, which require social networks and messengers to register with the Kazakhstani authorities, open representations in the country and quickly respond to requests to remove ''unlawful'' content, or otherwise face being blocked. According to KIBHR, the legal amendments largely mirror similar legislation that is already in force in countries like Russia and Uzbekistan. A civil society petition launched calling for the abolition of the legislation gathered over 10,000 signatures. In order to enter into force, the proposed amendments would need to be approved by both houses of Parliament and signed by the president.
During the reporting period, freedom of expression continued to be restricted in Kazakhstan, especially through silencing of journalists and other media professionals with the use of criminal and administrative charges and other legal means. Numerous new cases aimed at silencing independent and critical voices were reported. For example, well-known blogger Ermek Taychibekov was sentenced to seven years of imprisonment on charges of "inciting discord'' (under Article 174 of the Criminal Code) after criticising the country's leadership by stating that "Russophobia is a state ideology". In another case, Yevgeny Bunin,creator of a database on victims of internment camps in the Chinese Xinjiang region, was barred from entering Kazakhstan for five years. Additionally, a criminal case was opened against Amangeldi Batyrbekov, editor-in-chief of the media outlet Saryagash-info for allegedly slandering a judge in social media posts (under Article 411 of the Criminal Code). Slander against a judge remains a criminal offence although the general offence of slander was removed from the Criminal Code in 2020. 
Peaceful Assembly
Freedom of peaceful assembly remained seriously restricted in Kazakhstan.Although it was hailed as progressive by the authorities, a new law on assemblies, adopted in 2020, restricts the right to peaceful protest and is in violation of international standards. People are still denied this right in practice, especially when attempting to voice concerns about politically sensitive or controversial issues, and are frequently penalised with fines and administrative detention when peacefully protesting. A few of the starkest examples of such cases from the reporting period are described below:
Uralsk-based activist Marua Yeskendirova was twice sentenced to 20 days of administrative detention for "violating the order of organising assemblies" when attempting to hold peaceful protests. In both cases she had submitted notifications to local authorities of her intention to hold a demonstration, which they rejected.
Members of an unregistered party named "El Tiregi", who held a rally in the capital against forced vaccinations on 7th September 2021, were surrounded by special forces. Around 25 people were detained. Representatives of El Tiregi had filed notifications of their intention to demonstrate, but the mayor's office (akimat) did not respond. Most of those detained on the day of the rally were later released, but several were sentenced to 15 days' administrative detention. The party leader, Nurzhan Altaev, was detained the day before the rally and locked up for 15 days in relation to an earlier peaceful protest held in June 2021.
Authorities have continued to swiftly halt any demonstrations outside the Chinese diplomatic representations in Kazakhstan. In the capital Nursultan, police detained 10 people who had gathered in front of the embassy demanding the release of their relatives in the Xinjiang internment camps. They were all fined for violating the rules for holding assemblies.
Association
The number of strikes in Kazakhstan increased sharply in 2021. Recently, courts have begun cracking down on strikes, especially those taking place in the oil sector, and have declared them illegal. For instance, a court in Zhetibay in Mangystau region declared a strike among workers of the company West Oil Software, who were demanding higher wages, illegal after a complaint from their employer. The employer later agreed to partially meet the requirements of the workers. Another strike for higher wages among oil sector workers from the company Techno Trading Ltd in Zhetybai also ended with a local court declaring it illegal, and finding 87 workers guilty of participating in an illegal strike.
During the reporting period, the authorities continued to crack down on supporters of the opposition movements the Democratic Choice of Kazakhstan and the Street Party, both of which have been banned as "extremist'' by a court, although they do not advocate or endorse violence. For instance, in a high-profile court case in October 2021, 13 defendants were convicted because of their alleged involvement in a banned organisation (under Article 405 of the Criminal Code), with some receiving non-custodial restriction of freedom sentences of up to one year, and four activists receiving prison sentences of five years each. There were also a number of other cases against alleged supporters of the two banned movements during the reporting period.
In a welcome development, several individuals recognised as political prisoners by human rights groups were released. Almat Zhumagulov and Kenzhebek Abishev, whose cases have been covered in previous Monitor updates, were released after the remainder of their prison sentences were converted into non-custodial restriction of freedom sentences.The two activists were sentenced to lengthy prison terms in 2018, following a case which was widely seen to be politically motivated. 
Additionally, Kazakhstan's longest serving political prisoner, Aron Atabek, was released on parole in October 2021 after serving 15 years behind bars. Shortly after his release, he tragically passed away. Atabek was released due to his rapidly deteriorating health, which was highlighted by the National Prevention Mechanism following a visit to him in prison. Atabek himself attributed these health issues to years of torture and ill-treatment. After he arrived in Almaty, he was diagnosed with pneumonia and COVID-19 and was hospitalised, after which he fell into a coma for several days. During this period, doctors did not allow his daughter to see him in hospital as she could not present a birth certificate proving how she was related to him. The news of Atabek's death was published on 24th November 2021. Atabek was imprisoned following the Shanyrak uprising in an Almaty suburb in 2006, when he assisted impoverished citizens facing forced evictions during negotiations with the authorities. The events led to the death of a police officer. Following a flawed and politically motivated trial, Atabek was convicted of killing the police officer, despite inconsistent evidence and evidence which was allegedly extracted under torture. Atabek was sentenced to 18 years' imprisonment in a "strict regime" prison. During his time in prison, Atabek was repeatedly subjected to torture and ill-treatment, which included being held in solitary confinement for prolonged periods of time.