Thousands protest as Constitutional Tribunal imposes a near ban on abortion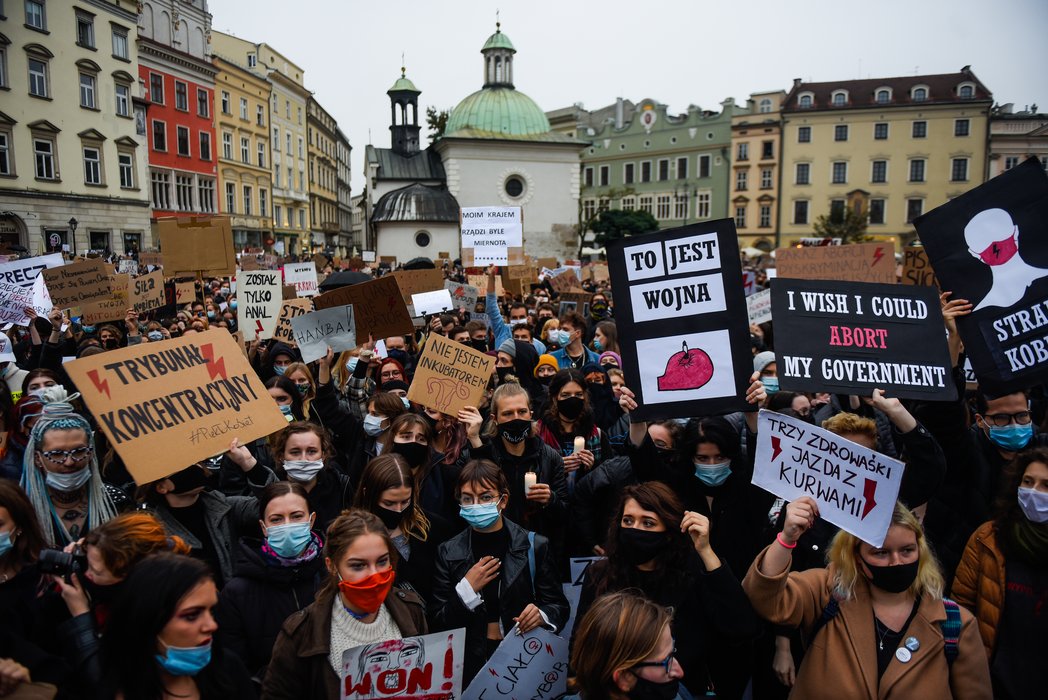 Background
Due to the growing infection rates of COVID-19, from 10th October 2020, public gatherings in Poland were restricted to a maximum of 150 participants. A week later, from 17th October 2020, public gatherings in the capital, Warsaw, were restricted to no more than 25 participants. The government announced that, if the situation continues to escalate, it may declare a state of emergency. As of 26th October 2020, a state of emergency had not yet been announced. However, further restrictions were introduced, e.g., from 26th October 2020 the maximal legal number of participants allowed in a public gathering is five.
On 24th October 2020, President Andrzej Duda tested positive for the coronavirus. On the same day health authorities reported a near-record 13,628 COVID-19 cases over the previous 24 hours and a death toll of 179 people.
Peaceful Assembly
On 22nd October 2020, the Constitutional Tribunal of Poland ruled that access to abortion care on the grounds of "severe and irreversible foetal defect or incurable illness that threatens the foetus' life" is unconstitutional. The motion was filed in 2019 by over 100 conservative lawmakers, who have celebrated the ruling. According to the Tribunal, abortions based on foetal abnormalities violated the dignity of human life, the principle of non-discrimination and the respect for human life (all enshrined in the Polish constitution), rights which a foetus acquires at conception.
The court's decision outlaws almost all abortions accept in cases of rape or incest, or if the mother is in lethal danger due to her pregnancy.
The Tribunal's decision was as a result of a majority vote in the supreme court. Only two judges out of the fifteen - Piotr Pszczółkowski and Leon Kieres - submitted a dissenting opinion. It is important to highlight that fourteen members of the tribunal were elected by the ruling majority, some in violation of the Polish constitution, which brings the independence of the tribunal into question.
Ahead of the ruling, International Planned Parenthood Federation European Network (IPPFEN), CIVICUS and Human Rights Watch (HRW) penned a letter to European institutions, calling on the EU to urgently intervene and highlighting concerns about breaches of judicial independence and the erosion of human rights.
🇵🇱🚨 We are deeply concerned by the upcoming ruling by Poland's Constitutional Tribunal on the country's abortion law. It may be the first serious threat to Polish citizens' lives that is posed by the collapse of the rule of law in their country.

🆕👉🏼https://t.co/C9NPt86MzF pic.twitter.com/w7tD0YlIoi

— IPPF European Network (@ippfen) October 16, 2020
This isn't the first time that Poland's abortion laws are in the spotlight. The Catholic Church and lay Catholic groups, such as the ultra-conservative Ordo Iuris, have long pressured the governing Law and Justice (PiS) party to tighten the law on abortion. In 2016 an estimated 100,000 people, mostly women, took to the streets to protest such a move. At the time, the government retreated from making changes to the law. 
Amnesty International, Human Rights Watch (HRW) and other human rights organisations condemned the court's ruling, stating that it is a step backwards for reproductive rights.
"This judgement is the result of a coordinated systematic wave of attacks on women's human rights by Polish lawmakers and represents their latest attempt to ban abortion in Poland. Legal prohibitions on abortion do not prevent abortion or reduce the rates of abortion; they serve only to damage women's health by pushing abortions underground or forcing women to travel to foreign countries to access abortion care they need and to which they have a right. Although all women may be affected by this cruel judgement, marginalised groups of women who cannot afford to travel will disproportionately suffer the consequences of the judges' actions today,"- Esther Major, senior research adviser at Amnesty International.
International Planned Parenthood Federation European Network said that this ruling will only increase the suffering of women:
"On this sad day, as we mourn the extinguishing of Polish women's remaining sliver of access to abortion care, we call on EU Member States to back this measure aimed at protecting EU values, and to strongly condemn such blatant violations of human rights in Europe. Today's decision in Poland is a stark illustration of what ordinary people stand to lose," said IPPFEN's Irene Donadio.
Poland's abortion laws were already among the strictest in Europe and it is estimated that about 100,000 women seek a termination abroad each year to get around the tight restrictions.
Maciej Kalisz, lawyer at the Polish Helsinki Foundation for Human Rights (HFHR) told CIVICUS Monitor that less than 40 abortions per year are based on the current legal grounds of rape, incest and the endangerment of the mother's life.
Protests erupt following decision
Following the Tribunal's decision, people in Poland have staged protests since 22nd October 2020. Protesters held signs in the streets stating, "You have blood on your hands" and "Fight the virus, not women". Other Polish cities, including Krakow, Lodz and Szczecin have also seen protests during the evening of 22nd October 2020.
However, protesters have been met with the use of excessive force. Police in Warsaw used tear gas and pepper spray against hundreds of people protesting outside the home of the unofficial leader of the country, Deputy Prime Minister Jaroslaw Kaczynski. The protesters went to Kaczynski's home to express their disappointment over the court ruling effectively banning abortion in Poland. Videos document how in one instance how a police officer drags a protester by the feet and hits him with a gas cylinder, while a woman trying to stop this is elbowed in the face.
Kolejne osoby są pojedynczo wyciągane siłą z tłumu. Policja dalej używa gazu. pic.twitter.com/2NIjFmJzo0

— Marcin Terlik (@MarcinTerlik) October 22, 2020
kilka godzin po użyciu gazu przez policję, chroniącą domu gnoma na Żoliborzu wyglądam tak jak na obrazku. kurestwo strasznie piecze.
ps. dzięki chłopaku, który ubrałeś mi bluzę, kiedy nic nie widziałam:) @strajkkobiet pic.twitter.com/ufxgCMW5dc

— Klementyna Suchanow (@KSuchanow) October 23, 2020
According to the police, 15 people were detained.However, activists on the ground note that 17 people have been arrested thus far. In one case reported on social media, a protester was detained in the middle of the night after returning home from a peaceful protest in Poznan.
🇵🇱Russian-style police detentions in the heart of the EU: Poland.

Yesterday - Wiktor Joachimkowski was detained in the midst of the night after returning home with some friends from a peaceful #ProChoice-protest in Poznan.

MPs had to intervene to give him legal assistance. pic.twitter.com/4NBxWi6MEi

— Rémy Bonny 🏳️‍🌈🇪🇺 (@RemyBonny) October 26, 2020
Kalisz told CIVICUS Monitor that about 200 protesters will face administrative fines for not complying with anti-COVID sanitary laws, and about 125 protesters will face criminal fines for participating in an illegal gathering. Those who face administrative fines will have to pay up to 30,000 Zlotys (the equivalent of 6,700 Euros or 7,800 USD). Criminal fines are financially less threatening. Both fines may be imposed at the same time, however this depends only on the police's goodwill who will report to Sanitary Inspections which can issue harsher fines.
On 25th October 2020 broadcasts and videos on social media show young women entering churches and confronting priests. A woman stood near the altar in a Warsaw church with a sign that read: "Let's pray for the right to abortion." People spray-painted several churches with the phone number of an organisation aiding women seeking abortions. According to the RMF FM broadcaster, in the southern city of Katowice police used tear gas against protesters as they began to push the police toward the anti-abortion group All-Polish Youth during a demonstration.
In addition, one parish priest in Warsaw gave far-right activists permission to defend his church from protesters. As a result, they began physically removing women from the premises. 
Tymczasem w poznańskiej Katedrze... ✊#Strajkobiet#Kościół pic.twitter.com/i5l8wbhLIp

— Grupa Stonewall (@GrupaStonewall) October 25, 2020
Protesters target Catholic churches across Poland in the fourth straight day of upheaval against a near-total ban on abortionhttps://t.co/5xGDtE3OEu

📸 Janek Skarzynski pic.twitter.com/r4D2OWvUUe

— AFP news agency (@AFP) October 26, 2020
Support for the protests has also come from a variety of groups including miners, taxi drivers, farmers and trade unions. The following protests took place in various other parts of the country:
In Nowy Dwór Gdański, Northern Poland, local farmers joined the protests by driving their tractors slowly at the head of the march. They carried slogans such as "We want choice, not PiS-terror".

A major coal miners' union, Sierpień '80, issued a statement in support of the protesters.

Due to COVID19 restrictions on public gatherings some of the pro-abortion protesters also protested using their cars to block traffic and beep their horns. Several hundred cars took part in such a protest in Kraków and were joined by some taxi drivers. Taxi's also took part in a similar protest in Warsaw. 
#Poland : protesters from the farmers' movement, and also workers affected by anti-Covid measures have been joining women's groups to fight against the clerical fascist #PiS government https://t.co/8DeiMpOIcp

— AK (@jadranqc) October 25, 2020
As of 28th October 2020, large protests have continued for seven straight days in cities across the whole country. The Women's Strike, organiser of the protests, has vowed that protests will continue in the coming weeks. The Prime Minister announced that the military will be deployed to the streets on 28th October, officially for COVID-19 reasons.