Thousands march in Toronto and other cities to protest US muslim travel ban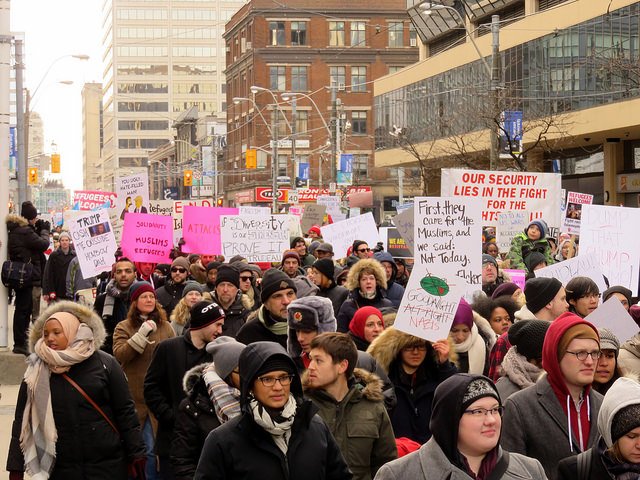 Peaceful Assembly
Thousands of people gathered on 4th February in front of the United States' consulate in Toronto and marched through the streets to protest against US President Donal Trump's executive order seeking to ban immigration for people from seven mainly Muslim countries. The rally was also organised in response to the recent shooting at a Quebec City mosque that left six people dead.
In a joint statement, over 150 organisations, including environmental groups and teacher and postal worker unions, endorsed a National Day of Action against Islamophobia and White Supremacy. Similar protests took place across the country in Montreal, Ottawa and Vancouver.
In another positive development, Media Sonar, a Canadian company that sells social-media-monitoring tools to police departments, was blocked by Facebook from accessing its data. Last year, the American Civil Liberties Union had revealed that Media Sonar had been selling its services to police in California and encouraging them to track protesters using hashtags like #BlackLivesMatter and #DontShoot. According to the online news outlet Motherboard, the Royal Canadian Mounted Police and Toronto's police department also used Media Sonar's services to identify indigenous protesters and then shared their identities with other law enforcement agencies. There are also reports that the company is exporting its wares to police departments in other countries.
Engadget:"Facebook bans known protest-tracking tool for law enforcement" Facebook has blocked Media Sonar from acc… https://t.co/h6SmfjH8pK

— kristoferkawas (@kristoferkawas) January 20, 2017
Expression
Following a deadly attack at a Quebec mosque on 30th January, Canadian police tightened security around mosques, and extended a deadline for religious and community centers to apply for extra federal money to enhance security. The Royal Canadian Mounted Police and other law enforcement agencies also reached out to Muslim groups, asking those with security concerns to contact their local police forces.