Tens of thousands of South Korean women protest against 'spycam porn'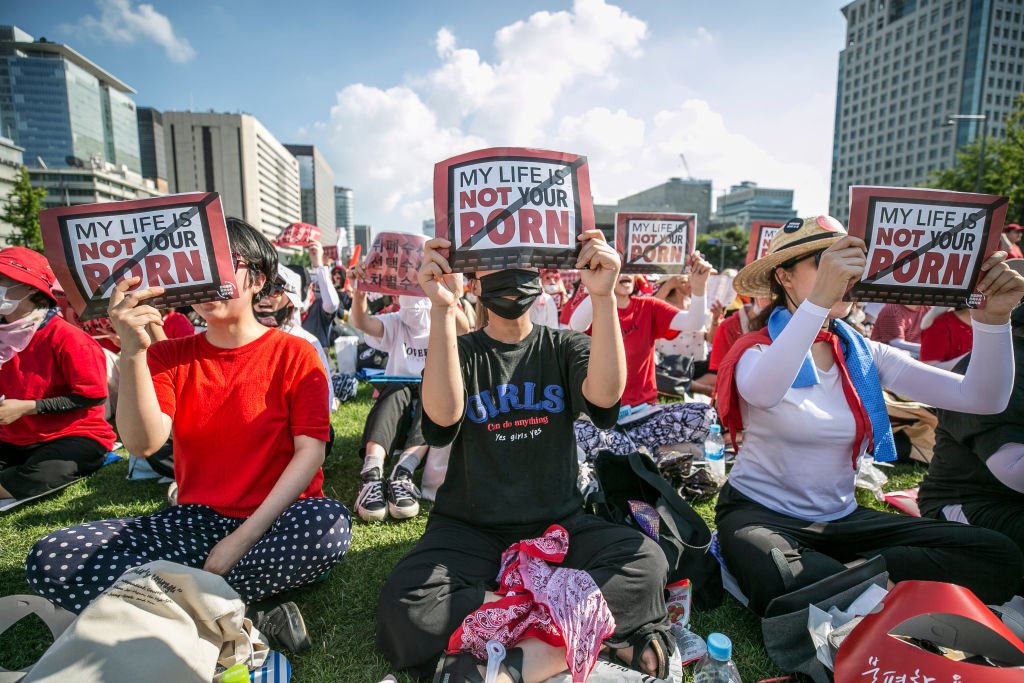 Peaceful assembly
Thousands protest against spy cameras and biased police investigations
On 19th May 2018, at least 12,000 women gathered at Hyehwa Station in Seoul to protest biased investigations into the widespread use of spycam pornography in South Korea. The spy cameras are often used to capture women and sometimes men undressing, going to the toilet, or in changing rooms which are then posted online at pornographic sites. This demonstration was organised by an online café on the Daum web portal (called "Protest to Denounce Biased Investigations into Illegal Photography").
They were protesting against the police's reaction to a spycam case at Hongik University, chanting slogans such as "Male victims get swift investigations, but female victims are refused an investigation," "Let's have fair investigations" and "The same punishment for the same crime".
A woman surnamed Ahn was arrested for secretly filming and distributing the footage of a nude male model. Ahn was arrested just 12 days after the photos were posted on an internet community site. This led café members to argue that the press and police jumped on the case so quickly because the victim is male.
According to statistics from the National Police Agency (NPA), cases concerning spy cameras have risen in recent years. An overwhelming majority of the suspects are male and the majority of the victims are female. Between 2012 and 2017, out of the nearly 30,000 male suspects investigated by police, less than 3 percent were arrested for investigation.
Over 200,000 people have signed an online petition on the presidential website, arguing for a ban on spycam sales and stricter punishment of criminals.
The protests have continued since May 2018 and on 3rd August 2018 another massive protest -- which organisers placed at approximately 70,000 - took place on the streets of Seoul.
"The pent-up anger among women has finally reached a boiling point." Another round of mass protests planned in South Korea against #molka, or spycam video plague - men secretly filming women in schools, offices, trains, toilets, changing rooms @AFP https://t.co/DA5mbwlwuF

— Hawon Jung (@allyjung) August 3, 2018
Activists protest acquittal in rape case
Hundreds of South Korean women have gathered in front of the Seoul Western District Court to stage an impromptu protest against today's court verdict that acquitted ex-presidential contender Ahn Hee-jung of sexually abusing a female aide, chanting "Justice is dead." pic.twitter.com/d8FotdYrKK

— Hawon Jung (@allyjung) August 14, 2018
On 14th August 2018, hundreds of South Korean women gathered in front of the Seoul Western District Court to stage a protest, denouncing a court ruling that found former South Chungcheong provincial Governor An Hee-jung not guilty of sexually abusing his former secretary Kim Ji-eun.
The 54-year-old politician was indicted in April 2018 on charges of forcing Kim to have sex with him four times and molesting her multiple times between the middle of 2017 and early 2018 in Seoul and while on overseas business trips. The Seoul court said that there was not sufficient evidence to prove An used his position to have sexual relations with Kim.
A joint statement from a coalition of women's rights groups said that, "the verdict will be interpreted as a signal that female aides working for powerful figures in politics, economy or other fields should remain silent even when they are sexually abused."
As documented previously by the CIVICUS Monitor, South Korea's #MeToo movement has spread across the nation, especially after female prosecutor Seo Ji-hyun revealed publicly in January 2018 that she had been sexually harassed by a senior prosecutor in 2010. The #MeToo movement in South Korea has been pushing for a review of defamation laws. Korea's libel law has been criticised because the law works in favour of powerful and high-profile people, The threat of harsh criminal sanctions, especially imprisonment, severely undermines women speaking out about sexual harassment.
Police only slapped with a fine for excessive force at protest
great sadness at passing of farmer union leader & food security defender Bro Baek Nam-gi; in coma since brutal attack by riot police Nov '15 pic.twitter.com/9QJ8EEaovZ

— Hidayat Greenfield (@HidayatIUFAP) September 25, 2016
Three South Korean police officers received only a fine despite being convicted of 'neglect of duty' in connection with the death of Baek Nam-gi, a farmer who sustained fatal injuries after being hit by a water cannon during a protest in 2015.
On 5th June 2018, the Seoul District Court fined Shin Yoon-gyoon, the former chief of Seoul's fourth riot battalion, 10,000,000 Korean Won (USD 9,300). Two other officers, Choi and Han, who operated the water cannon truck were fined 7,000,000 Won (USD 6,500) and handed eight-month suspended prison sentences. 
According to Amnesty International, the way in which water cannons were being used did not meet international law and standards. The water cannon was operated at too close a distance and at too high a strength and was aimed in a manner that struck the head of Baek Nam-gi. Further, police officers operating the cannon did not stop after he fell to the ground. Instead, video footage shows police continuing to direct the water cannon at his limp body as other protesters attempted to drag him away.
Arnold Fang, East Asia Researcher at Amnesty International said:
"Baek Nam-gi's tragic and completely avoidable death underscores why South Koreans deserve both laws and policing that fully safeguard their human right of peaceful assembly without subjecting them to unnecessary physical risks."
According to the organisation, the Korean National Police Agency has since made the decision to adopt measures to better guarantee the right of peaceful assembly, as recommended by the country's Police Reform Committee, but the proposed changes have yet to be put into legislation.