Targeting of LGBT+ people, anti-Chinese racism and privacy concerns in South Korea amid COVID-19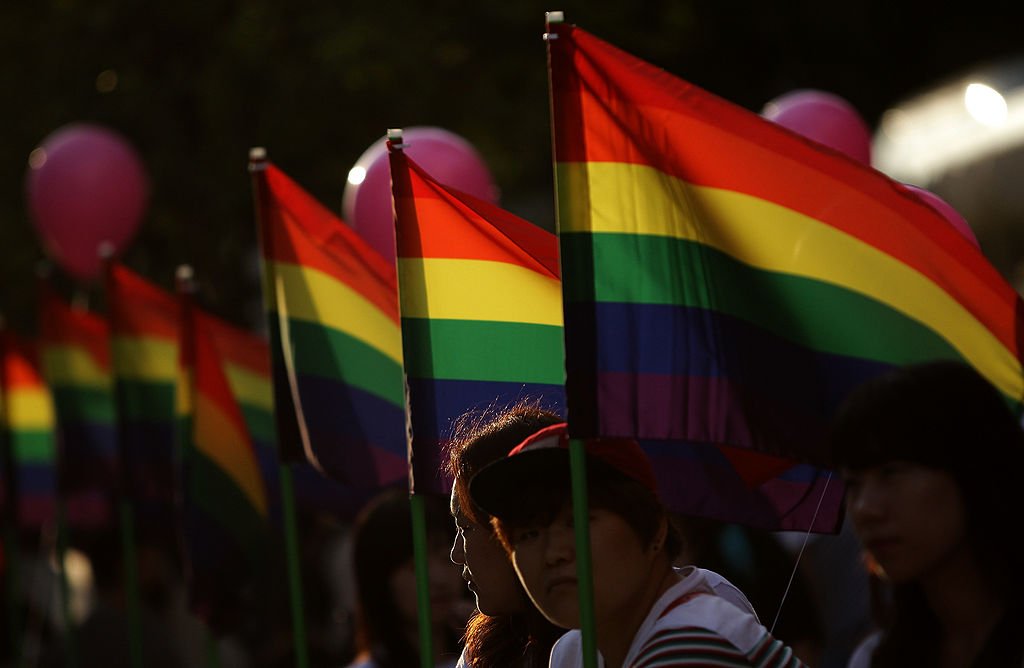 South Korea saw a huge spike in the number of infections in February 2020, after a religious group in the city of Daegu was identified as a virus cluster. The government reacted by launching a massive testing campaign. As part of making tests freely available, drive-through clinics were set up throughout the country. The huge number of tests meant South Korea's infection numbers grew quickly, but also that authorities were able early on to effectively find those who were infected, isolate and treat them. Restrictions had been lifted across the country on 6th May.
On 15th April, South Koreans went to the polls to elect members of parliament, wearing masks and plastic gloves as part of strict safety measures in one of the first national elections held amid the coronavirus pandemic. South Korea reimplemented strict lockdown measures in the capital Seoul on 28th May following the biggest spike of new coronavirus infections in nearly two months.
Surveillance guidelines were revised in March 2020 after the National Human Rights Commission criticised the detailed logs of patient travels and contacts were made public. There have been increased reports of homophobia and online harassment of the LGBT+ community after LGBT+ friendly nightclubs were linked to the spread of the coronavirus. Anti-Chinese racism has also increased.
Association
Coronavirus resurgence in South Korea reignites homophobia
On 15th May 2020, Reuters reported a marked backlash against the LGBT+ community after news reports of LGBT+ friendly nightclubs being linked to the spread of the coronavirus (COVID-19). The night clubs, located in Itaewon, were estimated to have exposed approximately 5,700 people to the virus and initial descriptions of the clubs as "gay clubs" by the media led to a lot of online hate against the LGBT+ community.
As previously documented, South Korea's LGBT+ movement continues to face pressure from conservative Christian anti-LGBT+ groups. The emergence of what has been termed the Itaewon cluster was seized on by some conservative media commentators, with the church-operated newspaper Kookmin Ilbo highlighting the fact that a man who tested positive had visited a gay club. The reports triggered a number of homophobic comments on social media.
This particular response must be seen in the context of the larger trend of attacks on the LGBT+ community, where queer festivals have been targeted, and moves have been made to attempt to remove protections for sexual minorities.
Chingusai, which represents gay men, and the Solidarity for LGBT+ Human Rights of Korea said:
"Sexual minorities are concerned about exposure to domestic violence and discrimination in the workplace once their identities are disclosed during self-quarantine or after a test result returns positive."
In this particular context, hate against the LGBT+ community has hindered the effectiveness of government response as individuals feel wary of coming out and getting tested. To overcome this, the South Korean government has promised full anonymity and protection to those being tested to assure them of their physical safety.
Coronavirus brings out anti-Chinese racism concern
'No Chinese allowed': Racism and fear are now spreading along with the coronavirus https://t.co/rVN68S1lbv

— MarketWatch (@MarketWatch) February 8, 2020
With the onset of the coronavirus there have been growing concerns about anti-Chinese racist sentiment building in South Korea. Though both nations have had a historically turbulent relationship, both China and Korea have deep economic ties, with China being South Korea's largest trading partner in terms of imports and exports.
The spread of the coronavirus however, has led to a strong anti-China sentiment within South Korea that culminated in January 2020 with half a million South Koreans signing a petition to the president demanding a total ban on Chinese visitors. Reports of "No Chinese" signs popping up in cities, and a growing anti-Chinese troll culture has hindered the South Korean government's efforts to treat the disease as a public health crisis and not a matter of nationality.
Expression
Government revises guidelines on pandemic surveillance after privacy concerns raised
'More scary than coronavirus': South Korea's health alerts expose private lives | South Korea | The Guardian https://t.co/3KqgeSsMYL

— Guardian news (@guardiannews) March 6, 2020
Ever since the first onset of the coronavirus, the South Korean government has looked to deploy existing technologies to trace the spread and aid in its containment. The final surveillance infrastructure is essentially built upon the three pillars of electronic transaction data, mobile phone location logs and surveillance camera footage.
Amendments made to the Infectious Disease Control and Prevention Act to enable real time tracing has further equipped the administration with the legal backing to engage in this exercise. In addition to permitting real time tracing, there was also the addition of language to mandate the public's right to be informed, which has been actualised in the form of regular texts informing citizens of infections in their localities.
At the same time concerns around privacy had also been raised. While anonymised, movement histories in some cases are sufficiently detailed for the public to probe into and reveal the patients' identities. According to Human Rights Watch this led to the doxing of individuals. There were also reports that some people suspected of testing positive for COVID-19 based on information sent out by public health alerts experienced hate speech or harassment.
Against this backdrop, the country's National Human Rights Commission (NHRC) called for new guidelines on pandemic surveillance. It claimed that the logs of patient travels and contacts were "unnecessarily specific," causing psychological injury to the patients and discouraging self-reporting among those with symptoms. Crucially, the NHRC condemned the indiscriminate publicising — rather than collection — of personal data. It recommended aggregating all patients' footprints over time and redacting individual-specific information on age and gender.
In response to these developments, the Center for Disease Control and Prevention (KCDC) released new guidelines for patient data collection and disclosure on 14th March. Three updates were notable. This includes that logs should be time-limited from one day before the symptoms occurred until the date of quarantine (or if asymptomatic, one day before the quarantine); the range of contacts traced should be determined based on the patient's symptoms, exposure conditions, and timing; and "personally identifiable information" — including work and home addresses — should be excluded in public disclosures.
University rejects permit for banner with the phrase "sexual minority"
The acrimonious relationship between South Korea's LGBT+ community and religious conservatives once again came to a head at the Soongsil University when University authorities rejected a permit for a banner with the phrase "sexual minority". This move was in direct opposition to the recommendations of the National Human Rights Commission of Korea (NHRCK) which recognises protections for sexual minorities.
The University administration, in turn, explained that since it was a Christian institution, permitting such events would go against the Christian spirit. In response, the group that had made the banner (named "Stranger") successfully petitioned the NHRCK against a move they termed discriminatory. However, the University has yet to respond on whether it will follow the NHRCK's directive.