Students, youth, lead calls for democracy in Eswatini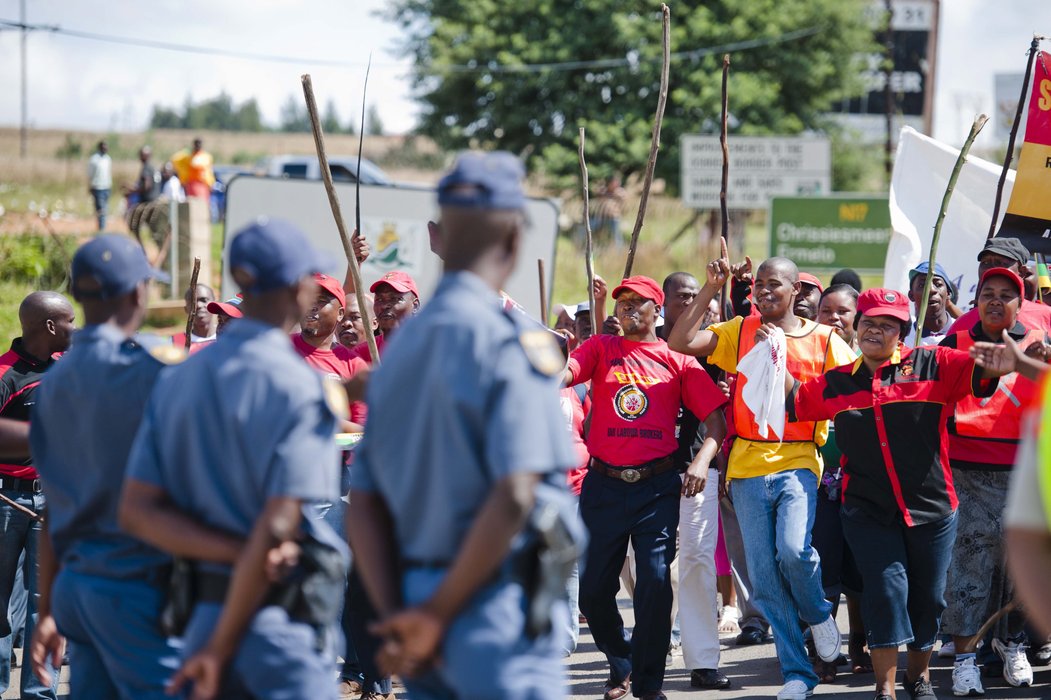 Pro-democracy protests flare up in Eswatini https://t.co/XtfCcOgjmG pic.twitter.com/pSMwKxR2FA

— Reuters Africa (@ReutersAfrica) October 14, 2021
Peaceful Assembly
Pro-democracy protests continue
On 10th September 2021, various representatives of the Political Party Assembly and other citizens of the country gathered in large numbers outside the offices of the United Nations to deliver a petition. The group called for an end to the monarchy and for democratic reforms in the country. Subsequently, the UN issued a statement on its social media page, expressing its continuous support of the people of Eswatini and that it is "working to help restore peace to the nation".
In early October 2021, protests flared up again in Eswatini, resulting in the deployment of the military in several parts of the country. Citizens across the country continue to call for democratic reforms and the release of the two Members of Parliament, Bacede Mabuza and Mthandeni Dube, who were arrested in July 2021.
In August 2021, High Court Judge Dlamini dismissed the MPs' bail application on the basis that they had failed to provide sufficient evidence against the charges. On 14th September 2021, the same judge, who is also said to be King Mswati's sister-in-law, dismissed their second bail application. They have appealed to the Supreme Court and their trial, which was initially scheduled for 15th October 2021, has now been delayed to begin in November 2021.The two MPs were arrested on 25th July 2021 for calling for reforms in Eswatini's political structure, where the country would operate in a multiparty democracy in which citizens elect the Prime Minister.
Students, youth, actively mobilise in protests
Since the eruption of the civil unrest that began in June 2021, young people have played an important role in demanding accountability and democratic reforms in Eswatini. Throughout September 2021, students from high schools and universities across the country held demonstrations and delivered petitions to parliamentary representatives. During the protests, more than five schools and universities participated in mobilising students to call for elections and the right to elect the country's Prime Minister.
On 19th September 2021, students of William Pitcher College mobilised and made their way to the Ministry of Labour and Social Welfare, to demand a refund in fees paid for hostels that were unused due to the ongoing pandemic. However, the army was deployed on the evening of the protest action, resulting in students being brutalized, with at least ten of them needing medical attention for injuries sustained.
Following the continued active participation of students in the protests, in mid-October 2020, the military was also deployed to schools across the country as students staged pro-democracy demonstrations and boycotted classes in protest for several weeks. The student protests later led to the indefinite closure of all schools across the country.
Amnesty International South Africa condemned the deployment of the military to the schools. Executive Director Shenilla Mohamed said:
"Soldiers are not trained to deal with public order policing and this is where we see a total violation of rights that takes place. Soldiers are trained to kill. The deployment of them in eSwatini is not a good sign and it is not something as Amnesty International we support."
On 18th October 2021, the United Nations Secretary General released a statement expressing concern on the ongoing developments in the country, including the deployment of armed security forces to schools, reports of use of excessive force in response to student demonstrations and the indefinite closure of schools. The Secretary General urged the government of Eswatini to allow citizens to exercise their civil and political rights in a peaceful manner, including the rights of children.
By mid October 2021, over 80 people had been killed in the nation wide protests which began in June 2021.
Residents from Nhlangano protest over killing of cannabis farmer
On 3rd September 2021, a police officer in Nhlangano shot and killed Sihle Dludlu, an unarmed young civilian who was making a living through cannabis farming. According to some reports, Dludlu's death sparked protests by residents of Nhlangano, who demanded justice but were however dispersed by the police using teargas. As reported by Swaziland News, many poor Swazis earn a living through cannabis farming, but are often harassed by police as cannabis is yet to be legalised in the country. 
King Mswati 111 and the armed forces have shut down internet access in Eswatini amid growing protest for Democratic change.The army have been deployed to the streets to deal with protestors. @SABCNews @Newzroom405 @mwelimasilela pic.twitter.com/wrDuXrkvJu

— Maxwell Dlamini (@Maxwell_Dlamin) October 15, 2021
Expression
Government blocks Internet
Following the sustained protests, the government shut down the internet on 15th October 2021 for several hours. In an article published by the Swaziland News on 18th October 2021, Information Minister Princess Sikhanyiso wrote a letter to Mvilawemphi Dlamini, the Chief Executive Officer of the Eswatini Communication Commission, directing him to facilitate the suspension of social media platforms including Facebook, among others, in what she described as the protection of State security".
The internet had previously been shut down in late June 2021 when the pro-democracy protests began, as previously documented.
King Mswati III warns against using social media
In early September 2021, King Mswati III warned citizens to refrain from discussing "irrelevant issues" on social media, and rather use the various digital platforms "to add value into their lives". In his address during the launch of the E1 Billion ($ 67,249,151) Reconstruction Fund, King Mswati pointed out to citizens that they must be careful on how they use social media, and that he is happy to see Swazis using digital communications, but that he was concerned that many Swazis were posting irrelevant content that is not beneficial to them. He further made reference to first world countries saying that their citizens use social media for their financial benefit, and encouraged fellow Swazis to take inspiration from that and be encouraged when they see their fellow citizens succeeding, instead of using social media to accuse others of corruption.
In its 2020 Poverty and Equity Brief, the World Bank ranked Eswatini as "having high levels of poverty for its middle-income status". Furthermore, the COVID-19 pandemic has worsened the socio-economic situation in the country, with "increased unemployment and restricted activity especially in the informal sector where most of the poor are employed. As a result, poverty levels are projected to increase".
King Mswati III bans critics' music groups from National Stations
In September 2021, King Mswati issued a directive to State-owned radio stations to stop playing music produced by gospel groups owned by Members of Parliament (MPs) Mduduzi Magawugawu Simelane and Timothy Myeni, who are critical of his regime.
When the announcement was made by the Eswatini Broadcasting and Information Services, it was unclear who had issued the order, because the media in Eswatini is prohibited from publishing articles that implicate King Mswati in any wrongful conduct. However, Magawugawu later confirmed with the media that the directive was issued by the King.
Magawugawu is a very prominent pro-democracy activist and member of parliament who has been calling for democratic reforms in Eswatini. During the civil unrest, Magawugawu went into hiding and in August 2021, a warrant of arrest was issued against him.
Association
Swazis boycott Umhlanga ceremony as protests continue
On 4th September 2021, Eswatini held its annual reed dance, a ceremony where the King picks his new bride. According to reports however, a majority of the youth boycotted the event as part of their demonstration in calling for political reforms in the country.
Clan rejects new king imposed by King Mswati
In September 2021, King Mswati III deployed heavily armed police and soldiers at Lusaseni, Ngudzeni to compel the Mamba Clan to accept a relative of King Mswati as their new King. Prior to this, the Mamba Clan, who recognise themselves as independent from the Kingdom of Eswatini, announced King Bhokweni II as successor to King Maja. However, King Mswati was not pleased with this and ordered that the grandson of King Maja, who is a relative of King Mswati, be appointed as the new King, since he is of royal blood.
At present, the Mamba Clan refuses to accept the new King forcefully appointed by King Mswati.