States call on Timor-Leste government at UN to ensure laws do not restrict freedoms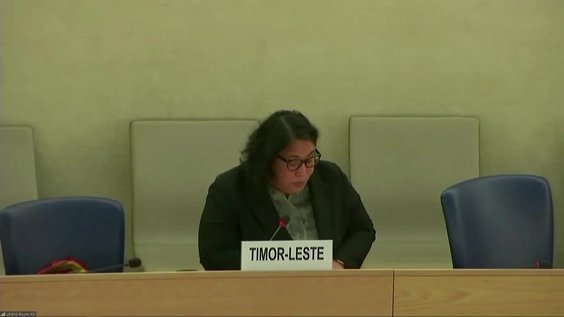 The civic space rating for Timor-Leste published by the CIVICUS Monitor in December 2021 remains 'obstructed'. Civil society raised concerns on human rights and civic space issues during the third cycle of the Universal Periodic Review of Timor-Leste on 27th January 2022. The government will have to come back to the council to respond to the recommendation made at the next session.
In a report to the Human Rights Council, human rights organisations CIVICUS, FORUM-ASIA, La'o Hamutuk, Judicial System Monitoring Program (JSMP), and HAK Association raised a number of civic space issues. There were concerns about the government's attempt in 2021 to reintroduce criminal defamation provisions into its penal code, which was removed in 2009, provisions in the proposed cybercrime law and the failure to revise the Media Law to bring it into line with international human rights law and standards. 
There were also concerns about reports of restrictions on the right to peaceful assembly and the arbitrary arrests of protesters, including students. The groups called on Timor-Leste to mandate protections for human rights defenders, and to revise and amend laws to ensure compliance with international human rights standards.
Among the recommendations related to civic space made by states were the following:
Ensure that the proposed Criminal Defamation Law, Cyber Crime Law and Data Privacy and Protection Law do not unduly restrict the right to freedom of expression, both online and offline (Canada);

Refrain from passing new laws that could unduly restrict freedoms of expression or association (United States of America);

Revise the Media Law to ensure that it is in line with international standards and best practices related to the exercise of the right to freedom of expression (Uruguay);

Continue to guarantee freedom of expression (France);

Ensure a safe, secure and enabling environment, in law and in practice, for human rights defenders and journalists to carry out their work without fear of acts of intimidation or reprisals (Uruguay);
On 19th March 2022, presidential elections, the fifth since independence in 2002, were held in Timor-Leste which featured more candidates than ever before: 16 in total, including four women. However, all the candidates failed to secure more than 50 per cent of the vote, triggering a runoff between the two top vote-getters, scheduled to be held on 19th April.
The two are Jose Ramos-Horta of the National Congress for Timorese Reconstruction (CNRT) who received 46.6 per cent of the vote, a commanding lead over a fellow former independence fighter, incumbent President Francisco "Lu Olo" Guterres of the Revolutionary Front for an Independent Timor-Leste (Fretilin), who got 22.1 per cent.
Peaceful Assembly
Civil society groups call for review of restrictive protest law
In its submissions for the UPR, civil society groups highlighted the implementation of current laws that affected the right to protest. Article 5 of the Law No.1/2006, prohibits demonstrations within 100 metres of public buildings. In the capital, Dili, the density of buildings effectively prevented demonstrations because of this rule. Police have reportedly used the 100-metre rule to restrict protests. This law, at times, led to unnecessary use of force against protesters, and arrests. Organisations also raised that while most of the response to the COVID-19 pandemic was appropriate, the government had used emergency powers to limit peaceful assemblies, as well as consultation on policies.
Expression
Threats to freedom of expression highlighted at UN review
During the UPR human rights review, civil society reports highlighted the fear of reprisals and various forms of self-censorship under current and proposed national legislation, including the Media Law, criminal defamation draft law and a draft Cybercrime Law. Civil society organisations also emphasised that reinstating the criminalisation of defamation would threaten freedom of expression, both in online and offline spaces.
As previously documented, the government introduced plans to revive the criminalisation of defamation in 2020. Further, a draft Cybercrime Law, aimed at the prevention of dissemination of 'falsehood, slander and defamation' was sent for the Ministers' consideration in early January 2021 and consultations are underway. Civil society have raised concerns about how the draft laws would curtail freedom of expression and silence criticism against the government.