Sri Lanka authorities crack down on protests, stifle critics and accused of torturing detainees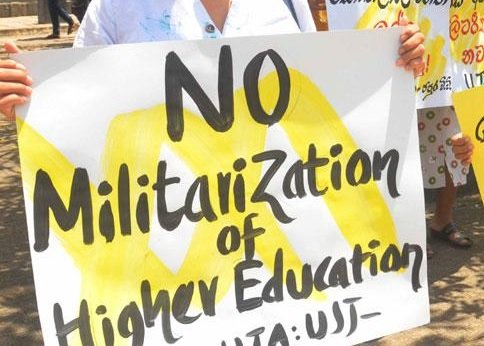 On 30th August 2021, President Gotabaya Rajapaksa declared a state of emergency. He said it is needed to control food prices and prevent hoarding amid shortages of some staples. However, Opposition legislators said the declaration was not needed as there were adequate laws to maintain essential supplies and raised concerns that the tough emergency rules may be misused to stifle critics.
The emergency law enables authorities to detain people without warrants, seize property, enter and search any premises, suspend laws and issue orders that cannot be questioned in court. Officials who issue such orders are also immune from lawsuits.
On 13th September 2021, UN High Commissioner on Human Rights Michelle Bachelet updated the Human Rights Council on Sri Lanka. She noted that "surveillance, intimidation and judicial harassment of human rights defenders, journalists and families of the disappeared has not only continued, but has broadened to a wider spectrum of students, academics, medical professionals and religious leaders critical of government policies". She also noted that several peaceful protests and commemorations have been met with excessive use of force and the arrest or detention of demonstrators. She also raised concerns about the use of the Prevention of Terrorism Act to arrest and detain people.
In recent months the authorities have cracked down on protests and activists advocating for education rights, intimidated individuals critical of the government and detained them under the draconian Prevention of Terrorism Act (PTA). There have been reports of political prisoners tortured in custody and concerns about amendments to the NGO law.
Peaceful Assembly
Arbitrary arrests, reprisals against activists advocating for education rights
Sri Lanka university students block p'ment road in protest of defence uni bill: ECONOMYNEXT – State university students in Sri Lanka have blocked the road to the parliament complex in Sri Jayawardenapura, Kotte, in… https://t.co/BpivxjcKcr #FinancialChronicle #Srilanka #LK pic.twitter.com/ydhikfbmRJ

— Financial Chronicle (@ChronicleLK) August 3, 2021
According to human rights groups, in a statement published on 28th September 2021, there has been ongoing persecution and reprisals by Sri Lankan authorities against student leaders, labour union leaders, teachers, academics and others involved in recent protests against education policies in the country.
Key demands of the protests advocating for education rights since July 2021 include addressing long-standing salary anomalies of teachers and principals and seeking the withdrawal of the Kotelawala Defence National University (KDNU) Bill that protesters contend promotes the privatisation and militarisation of education and threatens the future of free education and the university system in Sri Lanka.
Five activists remain in detention due to their participation in a peaceful protest on 3rd August 2021 near the parliament. They include: Koshila Hansamali Perera of the People's Movement for Free Education; Chameera Koswatte from the Workers Struggle Centre; Amila Sandeepa, President of the Jayewardenepura University Students' Union; Wasantha Mudalige, Convenor of the Inter University Students' Federation (IUSF); and Heshan Harshana, a student leader from Rajarata University. They are accused of "damaging public property", "causing injuries to fingers of a policeman" and "violating COVID-19 regulations".
Convener of the IUSF Wasantha Mudalige and 3 others further remanded until October 5 https://t.co/7BUkZY2v6p #LKA #SriLanka #KDUbill

— Sri Lanka Tweet 🇱🇰 💉 (@SriLankaTweet) September 21, 2021
Lawyers for the activists have argued that the allegations are baseless, politically motivated and a clear misuse of the law. Bail has been denied despite lawyers arguing exceptional circumstances due to the COVID-19 pandemic, upcoming university examinations and underlying health conditions. According to the human rights groups, four of the activists currently detained tested positive for COVID-19 after two weeks in an overcrowded quarantine facility.
On 6th August 2021, Thalangama police submitted before the Kaduwela Magistrate's Court the names of a further eleven people who were involved in the 3rd August protests, including student leaders Udara Sandaruwan and Indika Vidanapathirana, academic Mahim Mendis, trade union leaders Dammika Munasinghe, Chathura Samarasinghe and Amila Sandaruwan, and activists Sujith Kuruwita, Dhanushka Kumarasinghe, Ven. Galwewa Siridamma Thero, Ven. Tampitiye Sugathananda Thero and Ven. Thenne Gnanananda Thero.
Although no arrest warrants have been issued, those named have suffered intimidation and threats from police including through multiple visits to their homes, threatening telephone calls and the intimidation of family members. As a result, some have gone into hiding and have been unable to carry on their usual work or to continue to protest.
The human rights groups called for "an end to the repression, arbitrary arrests and intimidation against protestors advocating for education rights and peacefully expressing their dissent to government policy".
Teachers arrested for protest on wages
Forty-four arrested after protest by striking Sri Lankan teachers in Colombo - WSWS https://t.co/KL3uL5KliC

— Nethmi Fernando (@NethmiFernando_) August 12, 2021
Sri Lankan police arrested 44 people, including 36 teachers, following a protest for higher wages outside the presidential secretariat in the capital Colombo on 4th August 2021.
Around 2,000 teachers participated in the demonstration which assembled outside the secretariat after travelling by motorcade from the suburbs of Welisara, Kadawatha, Moratuwa and Pannipitiya. The protest was held in defiance of a court order obtained by the police banning the event.
The teachers were arrested by Colombo Harbour police who detained them for a day, when they were brought before a magistrate. In court, police opposed any release, spuriously arguing that those arrested broke quarantine regulations, participated in an unlawful assembly and violated thoroughfare laws.
The magistrate ruled, however, that the police had failed to justify why they should not be released. Those arrested were released on 100,000 rupees (USD 500) personal bail. It is not yet clear whether the police plan to initiate charges.
Following this, the Teacher-Principal Trade Union Alliance said that the government had attempted to intimidate teachers and principals through the police. The alliance claimed that the Horana Police Headquarters Inspector of Police had sent a letter dated 4th September to Divisional Secretaries of Horana, Ingiriya, Madurawala and Millaniya to obtain details about the venues of meetings, rallies and protests held from 25th July to 5th August 2021, names of organisers, number of attendees and details of teachers and principals who contracted and succumbed to COVID-19 after the date on which the protests were held.
Detention under anti-terror law for holding a vigil 
#Valaichenai District court on Tuesday (27) issued an order extending remand of 10 #Tamils, including 2 women till August 13, who were arrested under #PTA on May 18th in the eastern coastal village of #Kalkudah for holding a memorial event to remember the war dead. #SriLanka pic.twitter.com/YRelU7jDC6

— JDS (@JDSLanka) July 27, 2021
On 29th July 2021, the Valaichenai District court issued an order to extend the remand to 13th August of ten Tamil men and women arrested under the widely-condemned Prevention of Terrorism Act (PTA), which has long enabled prolonged arbitrary detention and torture.
The group was arrested on 18th May in the eastern coastal village of Kalkudah for holding a vigil to mark the thousands of Tamil civilians who were killed in the final months of fighting between the Sri Lankan government and separatist Liberation Tigers of Tamil Eelam (LLTE) in 2009. Those who attended the memorial event lit a flame of remembrance and laid flowers on the beach.
At the time of the arrests, Sri Lankan Police Spokesman DIG Ajith Rohana claimed the group was arrested for commemorating the Liberation Tigers of Tamil Eelam (LTTE).
Expression
Intimidation of individuals critical of COVID-19 measures
According to the International Commission of Jurists (ICJ), the Sri Lankan government has continued to harass and threaten journalists, government officials, doctors and social media users with legal action for criticising the State response to COVID-19.
Former Spokesperson of the Health Ministry Dr. Jayaruwan Bandara was summoned by the Criminal Investigation Department (CID) on 31st August 2021 regarding comments he made in a television interview on the high prices of COVID-19 tests and the general handling of the pandemic.
Najith Indika, a former student leader & currently a doctor at #Awissawella District Hospital was visited by CID officers on Saturday(14), after he shared his distressing personal experience on social media about treating Covid patients, as #SriLanka's deaths rise sharply. pic.twitter.com/9tOVAMF5cd

— JDS (@JDSLanka) August 15, 2021
Previously, Dr. Najith Indika was also questioned by the CID for posting critical remarks on Facebook about the crisis at the Avisawella Hospital due to the increasing number ofCOVID-19 patients.
A journalist, Chamuditha Samarawickrema had also been summoned to the Colombo Crime Division (CCD) in July 2021 and was told he was under investigation over several statements made during the Paththare Wisthare programme broadcast on Hiru TV about the government's quarantine and vaccination programme.
In April 2020, and subsequently in June 2021, the police authorities announced that they would arrest those who spread false or derogatory statements about officials combating the spread of the COVID-19 virus pursuant to provisions in the Computer Crimes Act (CCA) and the Police Ordinance and Penal Code.
Ian Seiderman, ICJ's Legal and Policy Director, said: "The government's intimidation of people who raise questions about measures to respond to COVID-19 serves to undermine, not advance, efforts to stop the spread of the pandemic. The Sri Lankan government seems to be misusing regulations adopted to combat COVID-19 as yet another means to restrict freedom of expression and information. This is a continuation of practices spanning far earlier than the beginning of the COVID-19 pandemic."
Police summon social activist for comments on the 2019 Easter attacks probe
Social activist Shehan Malaka was instrumental in organizing the recent black flag campaign that was proposed by the Catholic Church of Sri Lanka to protest against the investigations into the Easter attacks.https://t.co/VKMF9tLe9S

— Asitha Rajapakse (@Indubio_abstine) August 23, 2021
Social activist Shehan Malaka Gamage was summoned before the Criminal Investigation Department (CID) on 23rd August to reportedly record a statement with regard to recent comments made to the media on the 2019 Easter attacks.
Gamage had been outspoken over the investigations into the Easter attacks and had claimed on Facebook that there was a political link behind the attacks and that the government should therefore conduct an inquiry into the matter.
He was questioned by the Criminal Investigation Department (CID) for five days. Church officials accompanied Gamage to the CID on all five days and slammed the probe by the police.
"Investigations should be directed in the right direction without trying to silence those who demand justice for the Easter Sunday attacks," said Father Silva before going to the CID with Gamage on the morning of 30th August.
Gamage was also instrumental in organising the recent black flag campaign that was proposed by the Catholic Church of Sri Lanka to protest against the investigations into the Easter attacks.
Court allows lawyers to access remanded poet Ahnaf Jazeem
#SriLanka: Freedom Now Files UN Petition on behalf of Poet Ahnaf Jazeem: 480 days without charges #FreedomOfSpeech @ifjasiapacific @CPJAsia https://t.co/on0ck1njjo via @LankaBrief pic.twitter.com/zUV6sBwriS

— sunanda deshapriya (@sunandadesh) September 9, 2021
On 5th August 2021, the Supreme Court ordered the police to allow the right of access to lawyers and to ensure attorney-client privilege to arrested poet Ahnaf Jazeem, who is currently being held at the Colombo Remand Prison. The Supreme Court order follows months of allegations and concerns raised by his legal representation about denial of access.
On various previous occasions, Jazeem's legal counsel has alleged that they were denied meaningful access and confidentiality when meeting Jazeem. In particular, on 12th June, the Terrorism Investigation Division (TID) had produced Jazeem at the Colombo Magistrate's Court although his lawyer, Jayasekera, said at the time that he was not notified of the date beforehand, which deprived the legal representative from making any submissions before the Court in defence of Jazeem.
As previously documented, Ahnaf Jazeem, a 26-year-old poet and teacher, has been under remand on terrorism charges since 16th May 2020. He was arrested under Sri Lanka's draconian Prevention of Terrorism Act (PTA) in connection with a Tamil-language poetry anthology called Navarasam, which he wrote and published in July 2017, as well as other unsubstantiated claims of exposing his students to "extremist" content with the intention of turning them into followers of "extremist ideology".
Jazeem had also allegedly been subjected to torture and cruel, inhumane and degrading treatment in detention by being handcuffed to a chair, handcuffed while sleeping, as well as being detained in unhygienic and suffocating conditions. He has also been bitten by a rat and suffered from urethral stones, a skin rash and psychological breakdown.
On 7th September, Freedom Now filed a petition with the UN Working Group on Arbitrary Detention on behalf of Jazeem. The petition argues that Sri Lanka's detention of Jazeem is related to the legitimate exercise of his right to freedom of expression.
Journalist detained under anti-terror law for providing information to Indian embassy
[1/2]🇱🇰 @DonSenadheera's defense and political journalist Keerthi Ratnayake was unfairly ordered to spend 90 days in jail under the Prevention of Terrorism Act for providing intelligence information to the #SriLanka's Indian embassy.@RSF_inter calls for his immediate release. pic.twitter.com/VmFe4cs02H

— RSF (@RSF_inter) August 27, 2021
According to the Committee to Protect Journalists (CPJ), journalist Keerthi Ratnayake, a former army intelligence officer and regular freelance contributor to the London-based, Sri Lanka-focused news website Lanka-e-News, was summoned to the Kollupitiya Police Station in Colombo in western Sri Lanka on 14th August to answer questions about information he had provided to the Indian embassy in Colombo concerning a possible terrorist attack on the embassy.
Following his arrest, Ratnayake was asked to lead police to his home. Police from the Colombo Crime Division (CCD) then raided his home and seized his personal laptop, mobile phone and other devices. He was not allowed to talk with family members or consult with lawyers.
Ratnayake was then taken to the CCD headquarters in Dematagoda, where he was kept until 19th August and then handed over to the Colombo Criminal Investigation Department (CID) for investigation, extending his detention order to 90 days under the Prevention of Terrorism Act. During his detention at the CCD, he was questioned by a team of CID officers and a team of Terrorism Investigation Division (TID) officers. Further, the CID police are reported to have raided the house of a friend of Ratnayake and taken some of their computers.
Sandaruwan Senadheera, editor of Lanka-e-News, told CPJ via messaging app that he believed Ratnayake was arrested and held by the police because of his critical articles for the website given that he has been questioned about his journalistic activities, which have nothing to do with the warning he gave to the Indian embassy.
Association
Political prisoners tortured in custody
The International Truth and Justice Project (ITJP) released a report in September 2021 detailing incidents of torture by Sri Lankan police and military against political prisoners. The ITJP took statements from 15 ethnic Tamilians who had been illegally detained and tortured since the government of former defence chief Gotabaya Rajapaksa took power in 2019. All the victims are now in the UK, having been released after their families paid bribes to authorities. The report recounts in detail experiences of beatings, burnings, asphyxiation and gang rape at the hands of Sri Lankan security forces.
The most recent cases involved people who had participated in the P2P protest in 2021, as well as commemoration events for the dead and disappearance protests. Several said they had worked as volunteers for Tamil political parties. Six victims described being abducted in white vans, which have been used by the security forces for decades to arrest and abduct.
The report notes that almost half of the victims were under the age of 25, meaning they were just children when the Sri Lankan civil war ended in 2009 and so could not have been members of any armed group. In fact, only three of the victims were ex-members of the Liberation Tigers of Tamil Eelam (LTTE), the main group fighting against the government during the war. None of the victims was formally charged with any crime prior to or during their detention, although all but five of the victims had been involved in peaceful protests for democratic rights before they were abducted.
Yasmin Sooka, a rights lawyer who co-authored the report, said: "We are dealing with a country where torture is savage, and there is no inclination on the part of the government to do anything about it. What you have is a kind of tacit approval, really, of those at the highest levels who condone what is happening."
Ministers threatens to kill ethnic Tamil political detainees
According to Amnesty International, Sri Lanka's State Minister for Prison Management and Prisoners' Rehabilitation, Lohan Ratwatte, forcibly entered a state prison in Anuradhapura on 12th September 2021 and held Tamil prison inmates incarcerated under the Prevention of Terrorism Act (PTA) at gunpoint and threatened to kill them The government minister in charge of Sri Lanka's prisons subsequently submitted his resignation following a public outcry.
Yamini Mishra, Amnesty International's Asia-Pacific Director, said: "These dumbfounding reports go to show that our ongoing concerns regarding Sri Lanka's treatment of prisoners, especially the authorities' torture and other inhumane and degrading treatment of PTA detainees, are all too valid. They also demonstrate the level of impunity for criminal behaviour that is indulged at the highest levels of government. There must be a prompt, impartial and effective inquiry and the Minister must be held to account for his actions.
Revisions to NGO law proposed
In August 2021, President Gotabaya Rajapaksa, in his capacity as the Minister of Defence, has adviced the drafting of a bill enabling the introduction of a new piece of legislation in place of the Voluntary Social Service Organisations (Registration and Supervision) Act No. 31 of 1980.
According to the Cabinet's decision, it has been found that the provisions of the existing Voluntary Social Service Organisations (Registration and Supervision) Act, which is the main legislation for the registration of voluntary organisations, does not cover the present requirements. The Cabinet also referenced the Easter terror attack to justify the need for new legislation which would ensure financial transparency and accountability.
The National Peace Council (NPC), an independent and impartial national non-government organisation, said the sudden decision to draft new legislation to replace the existing legislation covering NGOs in Sri Lanka is 'concerning and ill-timed'
"The National Peace Council finds it very concerning as the government has so far had no discussion with NGOs such as ours on these matters, nor shared or made public the draft legislation that the Legal Draftsman will work on. The draft legislation has the potential to impact upon civil society independence and role as part of the system of democracy," the organisation said.
Civil society in the past has been wary of proposed amendments to the laws regulating NGOs that could impact on freedom of association. In 2018, the government had also proposed amendments to the law inconsistent with international law and standards, but backed down after criticism from civil society.
Human rights groups call for release of lawyer and activist Hejaaz Hizbullah
11 rights organisations urge Sri Lanka to release Hejaaz Hizbullah 'immediately and unconditionally' @amnesty @hrw @SLcampaign @ICJ_org @forum_asia @article19org @FrontLineHRD @IBAHRI @IMADR_Geneva @CIVICUSalliance https://t.co/SpOpWKC5MK pic.twitter.com/IaQzkaTGWm

— Tamil Guardian (@TamilGuardian) July 30, 2021
In July 2021, human rights organisations expressed deep concern at the ongoing detention of lawyer and minority and civic rights activist Hejaaz Hizbullah, who had been held under Sri Lanka's notorious Prevention of Terrorism Act (PTA) for 15 months.
Hejaaz Hizbullah was arrested on 14th April 2020 under the PTA. He was accused by the police of aiding and abetting Inshaf Ahamed (who was involved in the 21st April 2019 bombings), an accusation that has since been withdrawn. Since Hejaaz Hizbullah has been in detention the allegations against him have changed several times.
Hejaaz Hizbullah is a vocal critic of the government. He is a minority rights advocate in a climate increasingly hostile to Sri Lanka's religious and ethnic minorities. He is also one of the lawyers who challenged the dissolution of the parliament in 2018 in the Sri Lankan Supreme Court.
Rights groups say that since the Sri Lankan authorities have so far been unable to show any evidence of wrongdoing, it appears he is being targeted solely for exercising his right to freedom of expression. They called for Hejaaz Hizbullah's immediate release and for the charges against him to be dropped.
Government drops case against former Navy commander linked to disappearances
The Sri Lankan Attorney General's Department in August decided not to proceed with charges against Wasantha Karannagoda, a former Navy commander, over his alleged role in the abduction of 11 Tamil youth in 2008 and 2009.
The Sri Lankan Navy is alleged to have been behind the forcible disappearance of youth known as the "Navy 11", allegedly in an abduction racket spearheaded by members of the Sri Lankan Navy. Senior military commanders are implicated.
In August 2018 the Criminal Investigation Department (CID) of the police arrested Lt. Commander Chandana Prasad Hettiarachchi, alias "Navy Sampath", as the main suspect. The CID accused then Chief of Defence Staff Admiral Ravindra Wijeguneratne of shielding one of the main suspects, and the court also ordered his arrest. In February 2019, former Commander of the Sri Lanka Navy, Admiral Wasantha Karannagoda, was named as the 14th suspect in the case. He was accused of having known about the enforced disappearance by naval personnel he had command over, and choosing to take no action.
President Gotabaya Rajapaksa appointed a Presidential Commission of Inquiry into "political victimisation" under the previous government. Many state officials facing trial over human rights violations have complained of being "politically targeted" by the previous government and have sought the Commission's support in absolving them from ongoing court cases. As a result, the Commission has intervened in cases that are pending before courts, especially where military members are implicated.
Senior Superintendent of Police Shani Abeysekera, who led on the 'Navy 11' case and other major human rights investigations, received death threats and was imprisoned for a year and half, until the Court of Appeal found that the case against him was "fabricated."