Social leaders and journalists at increased risk during COVID-19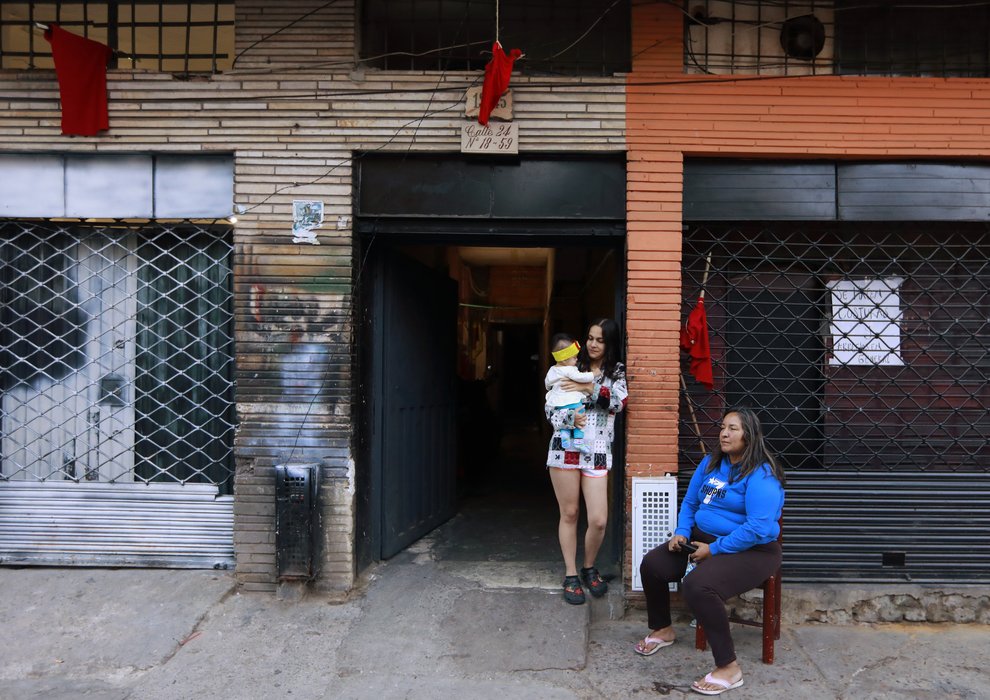 In response to the coronavirus (COVID-19) pandemic, Colombia's government declared a sanitary emergency and banned public gatherings on 12th March 2020. On 22nd March 2020, a new decree established a nationwide mandatory quarantine which was subsequently extended into May 2020. Despite the obligatory isolation measures, several protests have taken place since the beginning of the public emergency – often mobilised by people denouncing the lack of food, financial aid and access to medical services. More on these demonstrations is detailed in the "Assembly" section of this update.
Human rights organisations report that violence against defenders, social leaders and indigenous and ethnic communities has increased during the quarantine. On 19th March 2020, the Colombian National Protection Unit suspended some meetings of the country's Risk Assessment and Protection Measures Recommendation Committee (CERREM, from its Spanish acronym). The body is responsible for granting protective measures to people under threat, including union leaders, human rights activists, politicians and journalists. Over 100 civil society organisations signed a letter detailing the vulnerability of social leaders and urging the government to review protection measures during the COVID-19 crisis. More on this is found in the "Association" section of this update.
Association
The massacre of social leaders continues unabated
Nos solidarizamos siempre con el Cauca y Nariño en esta ola de violencia por la que están atravesando y exigimos al gobierno, al ministerio público y a la comunidad internacional mayor presencia en tiempos en que la pandemia confina a la comunidades al igual que los violentos. https://t.co/iPS4RkHOcV

— Indepaz (@Indepaz) April 23, 2020
In the first four months of 2020, the killing of human rights defenders in Colombia has continued unabated. The total number of people assassinated varies depending on the reporting institution because organisations keeping track of the killings use different verification methods and definitions to identify social leaders as such.
The Institute for Peace and Development Studies (Indepaz), which collects information from community organisations, registered 95 murders of social leaders and human rights defenders in the first four months of 2020. In addition, Indepaz has said that 24 former guerrilla members were killed in the process of returning to civilian life. Meanwhile the civil society organisation Pacifista! registered the killing of 27 social leaders in the same period based on information provided by local news media, partner organisations and communities. Pacifista! has developed an interactive map to track the cases and provide information on the social leaders murdered and the circumstances of the crimes.
On 24th April 2020, the UN High Commissioner for Human Rights Office in Colombia mentioned that at least 13 human rights defenders were reported to have been killed in the first four months of 2020 in the Cauca department. The report also states that "a growing number of armed groups, as well as criminal groups fighting for the control of illicit economies in this territory, are behind most of the attacks, which have been increasing in recent months".
COVID-19 pandemic aggravates the situation of social leaders
The restrictions imposed by the government and by communities themselves amid the pandemic have intensified the risks for social leaders. "Violence did not go into quarantine," say Colombian defenders. On 23rd March 2020, two members of the Indigenous Buenavista Embera community in the Valle del Cauca department were shot and killed near their homes. Two others were seriously injured in the attack.
In the department of Putumayo, violence against social leaders, ex-guerrillas and indigenous peoples has also increased, as armed groups continue disputes for social control over territories during the pandemic. Eight human rights organisations (CODHES, Wola, CEJIL, Comisión Colombiana de Juristas, Comisión Intereclesial de Justicia y Paz, Corporación Claretiana, Colectivo de Abogados José Alvear Restrepo and Amazon Frontline) have issued a public statement detailing several violent incidents since late March 2020 and appealing for state action to guarantee the life and integrity of Putumayo residents and the protection of migrants and human rights defenders.
In addition to increased territorial disputes, rights defenders and journalists reliant on protection schemes have been left more vulnerable as security protocols have been thrown into disarray. For instance, an important security measure for those who live with high levels of risk is the ability to vary their movements. With mandatory quarantine, defenders have no means to do so and attackers know that they will be in their homes most of the time, increasing their vulnerability to targeted attacks.
On 4th May 2020, over 100 civil society organisations and groups signed a letter identifying 36 cases requiring urgent attention from Colombia's National Protection Unit (UNP) and urging the government to protect activists and communities threatened by armed groups during the COVID-19 crisis. As reported by the Foundation for Press Freedom (FLIP), since 19th March 2020 at least some of the sessions of the Committee of Risk Evaluation and Recommendation of Measures (CERREM), the entity charged with evaluating applications and risk under the National Protection Unit, have been suspended.
Peaceful Assembly
Ongoing national strike
#Bogotá, here we go again! Septima blocked, thousands on their way to the centre. Gathering at Parque Nacional right now #21eElParoContinua #ParoNacional21E pic.twitter.com/SWkFAKq3vP

— Lukas Kapunkt (@LukasKapunkt) January 21, 2020
As previously reported on the Monitor, since 21st November 2019, thousands of Colombians mobilised to protest economic reforms, the rise in violence against social leaders and other social issues. "On that day some acts of vandalism were committed, which the national government tried to use as an excuse to criminalise social protest and adopt measures to restrict freedoms, including a curfew. In response to this, citizens went out to demonstrate freely," said Alexandra González Zapata, coordinator for democracy and social protest at the Solidarity Committee with Political Prisoners Foundation and a member of the Campaign to Defend Freedom.
Mass strikes continued throughout December 2019, as protest leaders requested talks with the government. The Comité Nacional de Paro (Colombian National Strike Committee - CNP) initially made 13 demands on 26th November 2019, with asks that included the withdrawal of tax and pension reforms, measures to implement the Havana peace deal and the dissolution of the anti-disturbance police force, ESMAD. This list was eventually expanded to a 114-point petition on issues related to fiscal, economic, trade and environmental demands. However, the CNP called for new protests in 2020 as conversations with the Ivan Duque government failed to reach an agreement.
On 21st January 2020 around 20 demonstrations took place across Bogotá and other cities such as Cali, Medellín and Barranquilla. In three areas of Bogotá there were clashes between police and protesters, leaving eight people injured and three detained according to the city hall.
A national strike scheduled for 25th March 2020 had to be suspended due to the restrictions imposed in response to the COVID-19 pandemic.
Human Rights Watch reports abuses during demonstrations
Between November 2019 and February 2020, Human Rights Watch (HRW) conducted research on violations during mass demonstrations in Colombia, interviewing 26 victims and their relatives, human rights lawyers and government officials, revision of videos, medical reports and criminal complaints.
The research found that in several cases the police used excessive force against protesters, including beatings and improper use of weaponry. Evidence from the research also showed that 213 people were arbitrarily detained and 1,662 others were "transferred" to administrative detention centres in connection to the national strikes that began in November 2019. According to HRW, the Attorney General's Office was investigating 72 cases of possible abuse by police officers during the protests. The Defence Ministry also stated that the military justice system was investigating 32 alleged cases of abuses connected to the protests.
Although most of the protests were peaceful, the human rights organisation said, some protesters attacked police officers with rocks and looted and burned public and private property. According to the police, 271 officers were injured while policing demonstrations between 21st and 23rd November 2020. In addition, 76 stations and 69 buses of the public transportation system in Bogota and Cali were vandalised by protestors, as well as a number of ATMs, banks, public facilities, and police stations.
Hunger and unemployment bring people to the streets during pandemic
#LoMásLeído en Bogotá:
Bogotanos hicieron cacerolazo para exigir ayudas en medio de la cuarentena.https://t.co/nhN87DETMm pic.twitter.com/BPTZBAXjGT

— elespectador (@elespectador) April 16, 2020
Amid the national lockdown in response to the COVID-19 pandemic, hundreds of people have taken to the streets in Colombia to demand food and aid. Hunger, they say, does not go into quarantine. The first protests, at the end of March 2020, were mobilised by informal workers and other low-paid workers who have been severely affected by the emergency measures. In the Suba district of Bogotá, dozens protested the lack of food and aid. According to news reporters, the demonstration was mobilised by the construction workers' union whose members say they have lost their source of income and have not received the support promised by local authorities.
On 15th April 2020, demonstrations took place in five of the hardest-hit sectors of Bogotá, with protesters again demanding government aid and denouncing the lack of food during this health crisis. Some protesters blocked roads and, in many neighbourhoods, people joined cacerolazos – a traditional form of protest by banging on pots, pans and other utensils. In Medellín, which also had protests, some demonstrations turned violent with incidents of looting of trucks carrying food.
Similar protests and cacerolazos have extended into April and May 2020. Colombians have also voiced their support and indignation on social media using hashtags such as #ElHambreNoTieneCuarentena. Around the country, thousands of people have reportedly draped red cloth on their windows to signal their need for food aid.
Expression
Journalists threatened and forced to flee
Nos sumamos a la preocupación de las organizaciones ante nuevas amenazas de muerte a periodistas. Solicitamos al estado de #Colombia evaluar esta amenazas de muerte a cuatro periodistas de investigación y establecer medidas de protección adecuadas: https://t.co/NAnzGh5QVa

— Edison Lanza (@EdisonLanza) March 20, 2020
On 13th April 2020, journalist Eder Narváez Sierra received death threats after reporting on two killings in Caucasia, Antioquia. Narváez is the regional correspondent for Teleantioquia TV based in Medellín and is the founder and editor of local news website NP Noticias. According to the Committee to Protect Journalists (CPJ), the reporter received WhatsApp messages warning him "not to talk so much" or he would be killed. The threatening messages were sent by someone claiming to be the commander of Los Caparrapos, an armed group involved in cocaine trafficking, extortion and illegal gold mining. As informed by CPJ, Narváez speculated that his report may have angered the criminal group because it included the names and photos of the murder victims. On 19th April 2020, the journalist had to leave town to protect his life after receiving further threats.
On 20th March 2020, Edison Lanza, Special Rapporteur for Freedom of Expression of the Inter-American Commission on Human Rights, joined the Fundación para la Libertad de Prensa (FLIP) in requesting the Colombian state to protect four journalists who have received death threats for their investigation into corruption in the last general elections. According to FLIP, the National Protection Unit has failed to assess the journalists' case and implement security measures despite information that criminal groups had planned for their killing.
Colombian press freedom foundation FLIP informed that four journalists received threats in February 2020. Julieth Cano, correspondent of Noticias Caracol in Cúcuta, received a threatening text message on 4th February 2020. She has reportedly been subjected to intimidation for several months in relation to her coverage of the situation on the Colombia-Venezuela border. On 5th February 2020, Jairo Tarazona with RCN Radio received a package containing a piece of paper allegedly signed by the paramilitary group Águilas Negras (Black Eagles). The correspondence sent to his office contained a pamphlet with his name along with that of Ignacio Gómez, assistant editor of Noticias Uno, and José Luis Mayorga of the Reporters Without Borders Agency. According to FLIP, these three journalists have also previously received messages declaring them "military objectives".
Wilfer Moreno was forced to flee the department of Arauca after receiving a threatening call from a man who identified himself as the commander of armed group ELN on 13th February 2020. Moreno is a journalist with local television CNC Arauca and was told he should stop reporting for 72 hours from 14th February 2020, when the group had announced it would conduct an "armed strike". The reporter recorded the call in which the harasser declares him a "military objective" and gives him an hour to leave town.
On 24th January 2020, María Eugenia Durango, a journalist with the Ituango radio station, received a WhatsApp message warning her that she had 24 hours to leave town. The journalist had been working on security issues in the municipality of Ituango, north of the Antioquia department.
National and international journalists under surveillance
Surveillance tools meant to thwart Marxist rebels in Colombia were used by an army intelligence unit there to spy on political opponents, government officials, journalists and human-rights activists last year https://t.co/AT3VsYchxy

— Maria Elena Salinas (@MariaESalinas) May 5, 2020
On 1st May 2020, Colombian news weekly Semana published a report alleging that Colombian military intelligence officials carried out an extensive monitoring operation targeting more than 130 individuals, including more than 30 national and international journalists. Reporters' profiles are said to have included personal information on family, friends, sources, deduced political leanings, places visited and more, according to FLIP. Also on 1st May 2020, the Ministry of Defence announced 11 officials had been dismissed in connection with complaints of irregular use of military intelligence. The Prosecutor General's Office has an ongoing investigation into surveillance claims.
Protection for journalists at risk
The foundation for press freedom FLIP issued a statement requesting that the country's protection mechanism resume sessions of CERREM, finding alternative ways to conduct meetings and guarantee the protection of the lives and integrity of journalists. The Committee to Protect Journalists' Natalie Southwick, Central and South America Programme Coordinator, also expressed concern and stated: 
"At a moment of increasing deadly violence against human rights defenders and journalists across Colombia, the state cannot use the coronavirus as an excuse to abandon its responsibility to protect its most at-risk citizens".