Slow progress on human rights reforms as new government approaches 100-day mark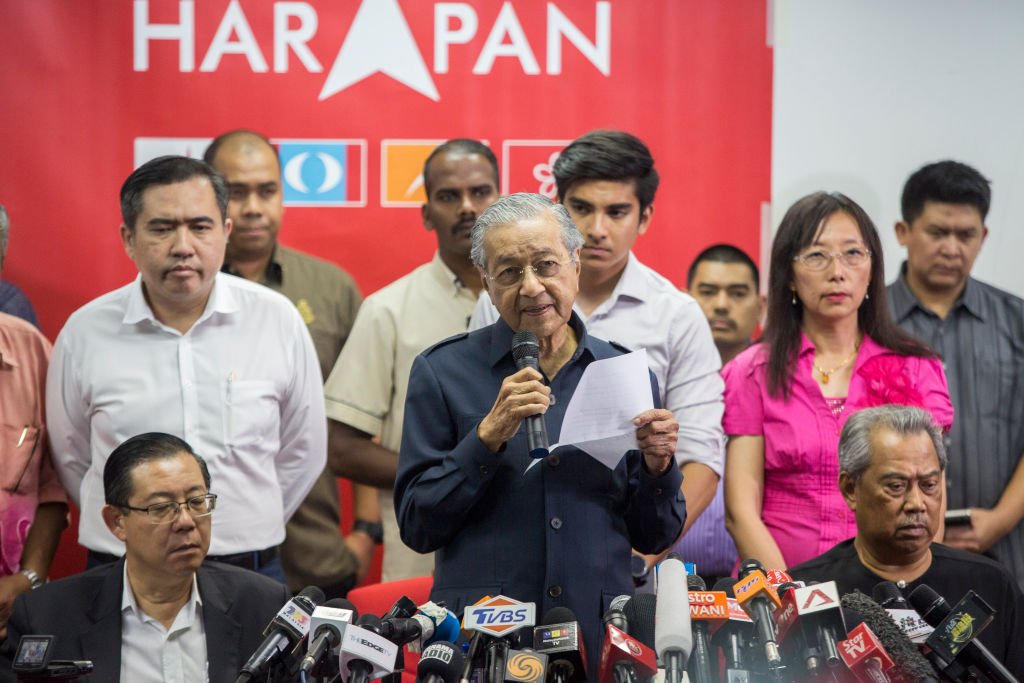 Malaysia held its 14th general election on 9th May 2018. Despite allegations of electoral fraud and manipulation by the authorities as well as the shortest allowable campaign period, it led to a shocking victory for the opposition Pakatan Harapan (Alliance of Hope) coalition after six decades of being ruled by the Barisan Nasional (National Front) coalition. The opposition won 113 seats in the 222-member parliament. On the evening on the 9th May, current Prime Minister Mahathir Mohammed, who led the opposition coalition, told reporters "we are seeking to restore the rule of law".
During the campaign period, the new ruling coalition released a manifesto, pledging to review and abolish legislation that undermine fundamental freedoms. Following the elections, civil society organisations (CSOs) called on the incoming government to honour the mandate it has been given, by implementing a comprehensive program of legislative and institutional reform and strengthen human rights protections in Malaysia. Over the decades of rule by the outgoing regime, authorities had frequently violated fundamental freedoms through the implementation of an array of restrictive laws.
CSOs welcomed the new government's quick formation of the Institutional Reforms Committee, which was tasked with making recommendations to the new government on priorities for legislative and structural reforms. Numerous CSOs met the committee in May and June 2018 and made submissions on a range of human rights issues. In early August 2018, Minister in the Prime Minister's Department Liew Vui Keong said the Institutional Reforms Committee had completed its report, and the cabinet will be discussing it soon.
Despite commitments to undertake legislative and institutional reforms, progress has been slow as the government reaches its 100-day mark on 17th August 2018.
Expression
Lawyer investigated for article on the monarchy
At centre of sedition probe, Fadiah gets support from rights activists https://t.co/6ebfBvoj4Z

— Aliran (@aliranmalaysia) July 13, 2018
On 10th July 2018, lawyer and activist Fadiah Nadwa Fikri was summoned by the police under section 4(1) of the draconian Sedition Act and Section 233 of the Communications and Multimedia Act, over an article that she had written allegedly 'questioning the royal institution'.
On 12th July, Fadiah was questioned again by the police under section 9 (1) of the Peaceful Assembly Act, following a solidarity gathering held outside the Brickfields police station in Kuala Lumpur on 11th July, when she was being questioned by the police.
Condemning the probe on Fadiah, a group of CSOs stated that:
"This first investigation was spurious enough, and the use of the archaic, draconian Sedition Act was certainly uncalled for. The fact that the police would take this a step further and thereafter open yet another investigation into what was, clearly a peaceful gathering of concerned citizens, defending their constitutional right to free speech is most deplorable."
Government backtracks on repeal of security law
On 22nd July 2018, the Prime Minister announced that the government will repeal repressive laws, in particular the Security Offences (Special Measures) Act 2012 (SOSMA) which allows for detention without charge or access to court for up to 28 days. Since its inception in 2012, the security law has been used extensively by the police against criminal suspects with more than 1,600 people in detention. Human rights groups had raised fair trial concerns and allegations of torture or ill-treatment around the use of the law.
However, on 7th August, the government backtracked on this promise, when the Deputy Home Minister stated that the security law was needed to tackle serious crimes such as organised crimes and terrorism, but will be reviewed given past abuses of the law.
Curbs on student activism
'Way too long' say students, NGOs of 5-year UUCA abolishment plan https://t.co/lFMuEyDF6x pic.twitter.com/i0OgrCnDzx

— malaysiakini.com (@malaysiakini) August 2, 2018
A report by human rights advocacy group Fortify Rights, issued on 28th June 2018, showed that the fundamental rights of students to express and discuss political opinions has been stifled on Malaysian university campuses for five decades.
The new report exposed the laws and rules that the government and universities have used to restrict students' basic rights specifically, the Universities and University Colleges Act 1971, or UUCA, and the University (Discipline of Students) Rules 1999, which contain explicit provisions to prevent students from involvement in political parties, organisations, or activities considered detrimental to the interests of the University.
On 1st August 2018, Deputy Education Minister Teo Nie Ching said that the government was looking to abolish the UUCA in the next five years, as promised in the Pakatan Harapan manifesto. She said that the Ministry had taken steps to set up a 12-person committee from various backgrounds to review the UUCA.
However, a coalition of university student groups and NGOs has questioned the five-year deadline saying the time frame is too long. In a statement, the Coalition for Academic Freedom-Institute of Higher Learning (GPA-IPT) said the abolishment of the Act should be carried out "without delay" and without excuses.
"Five years is a long period of time and we see this as an excuse for Pakatan Harapan to avoid fulfilling its promise. The long period would cause students to be shackled under the administration of the universities and the government."
Sedition cases dropped
Zunar, Surendran, Sivarasa Freed of Sedition Charges over Sodomy II Remarks https://t.co/8FXUkfks36 via @The True Net#News #Thetruenet #Socialmedia #Public #Zunar #N_Surendran #R_Sivarasa #acquitted #discharged

— thetruenet (@thetruenet) July 30, 2018
On 30th July 2018, the courts acquitted political cartoonist Zunar, human rights lawyer Surendran and parliamentarian Sivarasa Rasiah, who had been charged under the Sedition Act.
Political cartoonist Zunar, whose real name is Zulkiflee Anwar Ul Haque, had been on trial for nine tweets he posted following a controversial court ruling in 2015, upholding the conviction and five-year prison sentence of opposition leader Anwar Ibrahim. Zunar's satirical cartoons have been sharply critical of the previous government.
Surendran had been charged with sedition in 2014 for comments he made in a YouTube video, criticising former Prime Minister Najib Razak while parliamentarian Sivarasa Rasiah was charged in 2015 for his claims of a political conspiracy between the government and the judiciary, against Anwar.
The draconian anti-sedition law has been increasingly used since 2013 to silence, harass or jail hundreds of government critics including human rights activists, journalists, academics, lawyers and opposition politician.
Anti-Fake News law to be repealed
Good news for #mediafreedom in #Malaysia! Bill to repeal the draconian Anti-Fake News Act has been tabled in Parliament! https://t.co/zIiRVROtZF

— Sarawak Report (@sarawak_report) August 8, 2018
A bill to repeal the controversial Anti-Fake News Act 2018 was tabled in Parliament on 8th August 2018. The repeal of the bill was one of the many reforms the new government has committed to in their manifesto.
The Anti-Fake News Act entered into force in April 2018 and was criticized by CSOs as a tool to curb dissent and free expression. Under the Act, fake news is defined as "any news, information, data and reports, which is or are wholly or partly false, whether in the form of features, visuals or audio recordings or in any other form capable of suggesting words or ideas." Anyone convicted can be jailed for six years or fined up to RM500,000 (USD 128,000), or both.
On 30th April, Danish citizen Salah Salem Saleh Sulaiman became the first person to be prosecuted under the law. He was charged with spreading false news after he posted a video on YouTube, criticising the police response time, following the shooting of a Palestinian lecturer on 21st April 2018. Mahathir Mohamad, Malaysia's new Prime Minister, was also investigated under the new law.
Portraits of LGBT activists removed 
LGBT activists Nisha Ayub & @PangKheeTeik's portraits removed from George Town Festival exhibition https://t.co/kvdERgZzfv

Zealots have been using their photos, & civil rights activist @sitikasim's in the exhibition, as criticism against the PH govt. pic.twitter.com/NkXkmDWMXF

— Zurairi A.R. (@zurairi) August 8, 2018
On 8th August 2018, the portraits of two lesbian, gay, bisexual and transgender (LGBT) activists, Nisha Ayub and Pang Khee Teik, posing with the Malaysian flag, were taken down, at an exhibition in Penang, after a directive from the government "of no promotion of LGBT culture".
One of the activists, Nisha Ayub said "this was not the action of the government of the New Malaysia she had voted for, and expressed concern over what message such a move was sending to the public, especially members of the already marginalised community in Malaysia".
At least 50 CSOs criticised the directive saying:
"The order to remove the portraits was arbitrary and unconstitutional, as it violates multiple rights under the Federal Constitution. This includes Articles 5 and 8 of the Federal Constitution, which guarantee the right to live with dignity and freedom from gender-based discrimination. Article 10 of the Federal Constitution protects the freedom of expression, association and assembly of all persons regardless of sexual orientation and gender identity."
The organisations stated that, there has been an increase of discrimination, threats and violence towards LGBTIQ community after the elections. 
Peaceful Assembly
Indigenous community blockade cut down by company
"We thought they were here to talk, but suddenly, they got out of their vehicles, took out their chainsaws and started destroying the blockade"#Malaysia #Temiar #OrangAsli #landrights #indigenous #plantation https://t.co/3xK6BBQ0su

— Zashnain Zainal (@bedlamfury) August 5, 2018
On 4th August 2018, a plantation company tore down a blockade set up by the Temiar indigenous activists in Gua Musang, in Kelantan state. The incident occurred despite a visit by Rural Development Deputy Minister, Sivarasa Rasiah to the blockade on 2nd August, in which he promised to help resolve the dispute between villagers and the plantation company.
The blockade had originally been set up in February 2018 by the indigenous community to guard their customary land from incursions by loggers and plantation workers. On 29th July 2018, however, the villagers claimed that the plantation company had parked several vehicles including four-wheel drives and a timber hauler in front of their blockade, hence blocking cars and volunteers from reaching the villages.
Indigenous activists have faced sustained intimidation and threats of physical violence in their efforts to protect their land. According to the community, the past attempts by the company to remove the blockade have included bringing firearms to the site and threats of physical violence.
Protesters acquitted by the courts
Maria Chin, 2 others freed over #KitaLawan rally - https://t.co/jGF3P4drA7

— Maria Chin Abdullah (@mariachin) August 3, 2018
On 3rd August, activist Mandeep Singh and parliamentarians Maria Chin Abdullah and Sim Tze Tzin were acquitted by a court for taking part in peaceful protests in 2015. The trio has been charged under Section 4(2)(c) of the 2012 Peaceful Assembly Act for participating in "street protests".
The protests (known as the 'KitaLawan' rallies) saw thousands gathering in the capital, Kuala Lumpur to protest opposition leader, Anwar Ibrahim's second sodomy conviction and the impending implementation of the goods and services tax. Numerous opposition politicians and activists were arrested and then held in custody for several days, after the protests.
Association
Malaysian reformist politician Anwar Ibrahim was freed from prison after receiving a royal pardon. New Prime Minister Mahathir Mohamed requested the pardon, and said he will eventually step aside for Anwar. pic.twitter.com/ipwzt1YYMj

— AJ+ (@ajplus) May 16, 2018
Prisoner of conscience Anwar Ibrahim freed
On 16th May 2018, opposition leader and prisoner of conscience, Anwar Ibrahim received a royal pardon and was released from prison. He had been sentenced to five years imprisonment in February 2015, on 'sodomy' charges, widely perceived as politically motivated.
Amnesty International Secretary General, Salil Shetty, said:
"Anwar should never have been jailed in the first place, and his long overdue release is an important step towards the restoration of justice and human rights in Malaysia after so many years of political persecution by previous governments…this day should go down as a landmark moment for human rights in the country, but the new government must not stop here. Rather, this should be the first of many more positive changes."