Several civil society protests banned; journalist sentenced to prison for criminal defamation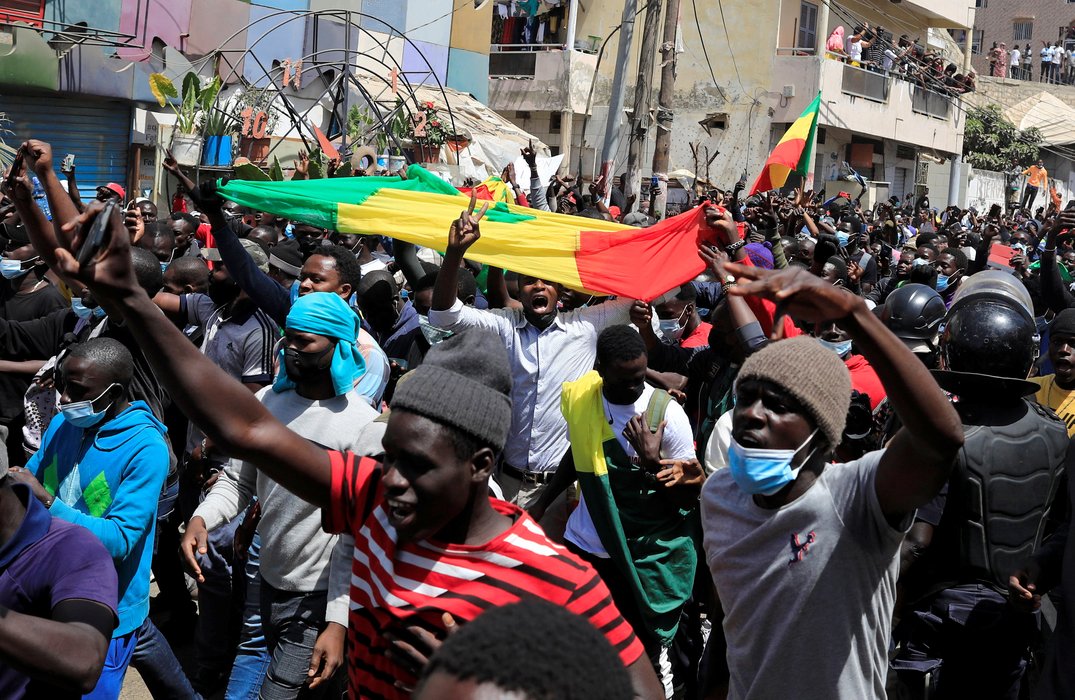 Répression d'une manifestation contre la vie chère à Dakar https://t.co/mpgBb05k1D #Senegal pic.twitter.com/WMxVe9w6KY

— AllAfrica Fr (@AllAfricafrench) September 13, 2021
Peaceful Assembly
Protests against the high cost of living: several protests banned, protesters arrested
Authorities in Dakar have banned several civil society protests against the high costs of living and the rising costs of basic goods. A protest planned for 10th September 2021 by the movement Noo Lank ('We refuse' in Wolof) was banned by the prefect of Dakar using grounds of risks to 'disturb public order', 'spread of COVID-19' and 'obstruction to free movement'. 
On 12th September 2021, several protesters were arrested during a protest against the high cost of living in Guédiawaye, including leader of FRAPP-France Dégage (Front for a Popular and Pan African Anti-Imperialist Revolution) Guy Marius Sagna, who were released later that day. Several civil society actors had called for the protest, including movements Noo Lank, Y'en a Marre and And Taxawu Askan Wi (ATAW). Local authorities had banned the protest. Despite another ban by Dakar's prefect, several people attempted to gather on 17th September 2021 among a heavy deployment of security forces in the capital, who reportedly arrested about ten protesters. 
On 30th September 2021, trade union confederation Confédération des syndicats autonomes (CSA) protested against the negative impact of the COVID-19 pandemic on the working conditions and the purchasing power of workers in Senegal. Contrary to earlier attempts by civil society to protest against the high cost of living, this protest was authorised by authorities.
Sénégal : Les femmes marchent pour le climat ,Ce Samde 23 Octobre 2021 https://t.co/d4t6PiWtLr pic.twitter.com/Zm05wxJglS

— TerangaNature (@TerangaNature) October 22, 2021
Women protest against climate change ahead of COP 26
On 23rd October 2021, ahead of the UN Climate Change Summit (COP 26) in Glasgow taking place from 31st October to 12th November 2021, dozens of women, including rural women coming from the regions of Thiès, Saint-Louis, Diourbel, Ziguinchor, and Kédougou, marched in Dakar to protest against climate injustice. The protest, organised by the environmental CSO Vacances Vertes, also aimed at raising awareness on the adverse effects of climate change on the African continent, and the position of rural women who will be exposed in particular to the negative impact of climate change. 
Civil society protest to demand respect of activists' rights
On 15th October 2021, a collective of civil society groups and political parties organised a protest to demand a fairer justice system and respect for the rights of activists, gathering about one hundred protesters in Dakar according to a report by Radio France Internationale (RFI). The protesters also gathered against the arbitrary detention of Guy Marius Sagna, who was released the day before the protest after having been sentenced to a suspended three months prison sentence (see under Association). Authorities reportedly gave permission to hold the protest just hours before the start of the action.
#Senegal La peine de prison contre le journaliste @MadiambalD pour #diffamation est incompatible avec les normes internationales sur la liberté d'expression. @FatouJagneS @silviachocarro
https://t.co/AyFNLfJq6f pic.twitter.com/uL9np5ZNSP

— ARTICLE 19 Sénégal (@article19wafric) July 2, 2021
Expression
Journalist sentenced to three months in prison for defamation
On 17th June 2021, the Dakar Criminal Court convicted Madiambel Diagne, director of Avenir Communication, publisher of Le Quotidien newspaper, of criminal defamation and sentenced the journalist to a prison sentence of six months, of which three months was suspended, a fine of 500,000 CFA francs (890 USD) and 5 million CFA francs (8,900 USD) in damages. Diagne was sued by magistrate Souleymane Teliko over allegations the former made during the 'Grand Jury' programme on Radio Futurs Media on 29th March 2021. Diagne alleged that Teliko had wrongfully claimed travel expenses for a mission to Chad, while this had reportedly already been paid for by the Chadian government. Diagne has appealed the decision.
In response to the judgement, freedom of expression advocates Article 19 and Media Foundation for West Africa (MFWA) renewed their calls for the decriminalisation of press offences in Senegal. As reported previously on the Monitor, President Macky Sall signed the new press code, criticised for some of its restrictive provisions, into law in January 2021, three years after its adoption. The press code provides for prison sentences of up to two years for defamation and up to three years for publishing "fake news" liable to "prejudice public decency" or "discredit public institutions", among other problematic provisions. Alfred Nkuru Bulakali of Article 19 Senegal and West Africa commented: 
"Prison sentences against journalist Diagne in this case are disproportionate. They will not only deprive the journalist of his liberty but also the public of the right of access to information. Custodial sentences have a dissuasive and intimidating effect on other journalists, who may opt for self-censorship, fearing judiciary reprisal and prison."
Association
On 14th October 2021, a court in Dakar sentenced Guy Marius Sagna of FRAPP-France Dégage to a suspended prison sentence of three months for 'spreading false news' and 'discrediting an institution' over a Facebook post in which Sagna criticised the gendarmerie. He was arrested on 2nd October 2021. 
Sagna had been arrested several times before for his activism. As previously reported on the Monitor, the activist was arrested during a protest against the rise in electricity costs in November 2019 and charged with 'participation in an unauthorised gathering', 'provocation of gathering' and 'rebellion'. He was released on bail after spending three months in detention.