Separate protests denounce surveillance, arrest of former president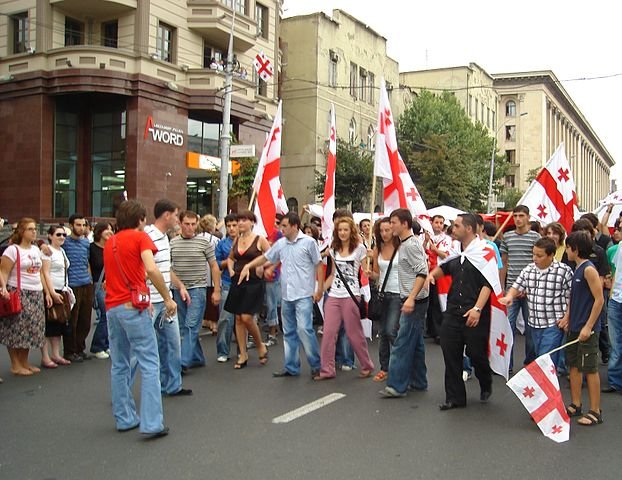 Peaceful Assembly
Protest against mass surveillance held in Tbilisi
On 16th September 2021, several activists and representatives of the political party "Girchi - More Freedom" were detained by the authorities during a protest which erupted after a major scandal was exposed that month.
According to Caucasian Knot, video evidence was published showing that the secret services were surveilling the movements of several representatives of the Georgian Patriarchate. Following the leakage of this information, people took to the streets chanting slogans against the government and the secret services and denouncing the government's failure to protect the right to privacy. Later, however, two protesters were accused of destroying a car, hooliganism and verbal aggression against law enforcement officials and were detained.
Following the leaks in the media, the CSOs representatives made public statements calling on authorities to investigate the surveillance videos and for the media outlets to adopt a responsible attitude towards the leaked content as it was very sensitive.
#FreeSaakashvili protests held in front of Rustavi prison
Former Georgian President Mikhail Saakashvili was arrested and detained in early October 2021 upon his return to the country. The arrest of the former president, who served between 2004 and 2013, followed his trial in absentia on charges around corruption. After his arrest, several of his supporters organised protests demanding his release.
Saakashvili returned to Georgia around the time that local elections in the country were being held, urging supporters of the party he led in the past to run in as many elections as possible to express their opposition to the current government and to later rally in the centre of Tbilisi to protest against the country's governance. Immediately after his arrest, Mikhail Saakashvili declared a hunger strike. More demonstrations in front of the Rustavi prison took place after the elections demanding the release of the former Georgian, with protesters saying that the sentences against Saakashvili were politically motivated.
Suspects in brutal murder of 22-year-old Nika Kvaratskhelia arrested #Georgia #Kvaratskhelia #Feedc https://t.co/j7J8EkMvBs

— Front News ENG (@FrontNewsENG) October 7, 2021
Expression
Creator of social platform shot dead
Nika Kvaratskhelia, the creator and co-founder of the Georgian Feedc online platform, was shot dead in Tbilisi near his rented apartment on 16th September 2021, with some sources indicating that the murder was related to a heated argument he had had with an unknown person. Authorities later announced that they had detained and opened criminal charges against two suspects in relation to the murder.
The Georgian social media "Feedc" is a location-based platform for sharing local news developed by former students. The platform aims to offer the clients various types of information and enable its users to watch TV channels and participate in educational programmes. The posts are accessible to everyone who is in the town of a user within a radius of 5 km.