Secret whistle-blower hearings, overreach of security laws and arrest of protesters in Australia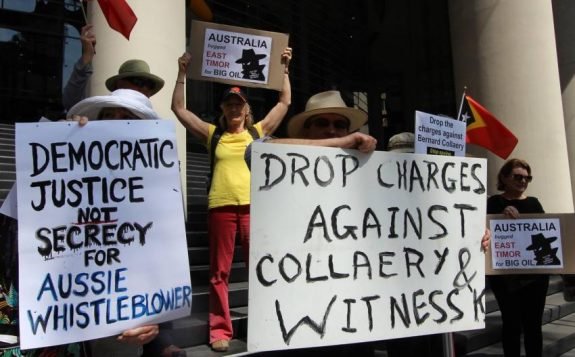 There has been a lack of progress by the Australian government to address concerns raised by civil society about restrictions to fundamental freedoms that led to the downgrade of the country's civic space rating in December 2019 by the CIVICUS Monitor.
Instead, over the last few months concerns have been raised by civil society over the prosecution of the lawyer of a whistle-blower that would be held in secret. Further, the Australian Human Rights Commission has warned of overreach with the Australian Security Intelligence Organisation Amendment Bill 2020 while human rights groups have raised concerns to the UN about problematic national security laws that undermine civic freedoms. Arrests of protesters have also continued to occur in various cities in Australia.
Expression
Hearing of whistle-blower's lawyer to be held in secret
Government lawyers have invoked cabinet confidence in an attempt to stop Bernard Collaery and his team from viewing a briefing to the prime minister relevant to the Timor-Leste spying case saying 'it is not in public interest'.https://t.co/T1exnXLR9i

— NSW Council for Civil Liberties (@NSWCCL) October 1, 2020
As previously documented, in 2019 former spy and whistle-blower Witness K and his lawyer were charged under section 39 of the Intelligence Services Act with disclosing secret information about the bugging of Timor-Leste government buildings in 2004, an operation that gave Australia the upper hand in talks to carve up resources in the Timor Sea. Witness K decided to plead guilty after "six years of seclusion, harassment and questioning" but his lawyer, Bernard Collaery is fighting the charges.
Human rights groups have condemned the prosecution for exposing government wrongdoing, saying this case, combined with sweeping new laws criminalising unauthorised disclosures, could have a chilling effect on officials who see government corruption or wrongdoing and want to do something about it.
After a lengthy delay due to the coronavirus pandemic, the case is to resume. Worryingly, in June 2020, the Australian Capital Territory supreme court ruled that essential parts of Bernard Collaery's trial will be held in secret. The hearing was triggered by the intervention of the attorney general, Christian Porter, who invoked the National Security Information Act (NSI Act), a suite of powers introduced in 2004 to better control how sensitive information is dealt with by the courts. Transparency campaigners, former judges, lawyers and academics have all voiced concern that the NSI Act is failing to properly balance open justice with the need to protect classified and sensitive information.
On 30th September 2020, government lawyers invoked cabinet confidence in an attempt to stop Bernard Collaery and his team from viewing a briefing to the prime minister relevant to the Timor-Leste spying case. Collaery was attempting to obtain five documents – all briefings to departmental secretaries and ministers – from the Australian government.
Human rights commission warns of security bill overreach
As previously documented, in a plan by the Morrison government to overhaul national security laws, in May 2020, Home Affairs Minister Peter Dutton introduced a new bill - the Australian Security Intelligence Organisation Amendment Bill 2020 - that will amend the controversial questioning and detention powers held by the Australian Security Intelligence Organisation (ASIO).
Human rights groups have raised concerns about the said amendments, saying they excessively increase ASIO's powers, are not necessary and that personal freedoms could be under serious threat.
In July 2020, the Australian Human Rights Commission called for a redraft of the bill to amend ASIO's powers and to include stronger oversight and other human rights safeguards.
Human Rights Commissioner Edward Santow said:
"Our security and law enforcement agencies need robust powers to maintain national security and protect the Australian community from terrorism, but this bill goes much further than necessary in restricting basic human rights."
According to the Commission, the bill could result in children as young as 14 having their human rights limited without reasonable justification under international human rights law. The bill would expand ASIO's questioning powers while limiting oversight of those powers, including by limiting the subject's right to legal representation during questioning and enabling prescribed authorities to remove, at their discretion, a lawyer deemed to be "unduly disrupting" questioning.
Problematic national security laws that undermine civic freedoms
In a submission to the Human Rights Council ahead of the review of its human rights record in January 2021, Human Rights Watch (HRW) reported that since 2015, problematic national security provisions and sweeping law enforcement powers have been introduced that infringe on the rights of all Australians.
These measures include efforts to weaken encryption and metadata protections in the name of protecting national security. New laws have increased the penalties for unauthorised disclosures of information that is having a "chilling effect" on freedom of expression. Some of these measures are overly broad and vague, and contradict the recommendation accepted by Australia in 2011 to "ensure that its legislation and methods to combat terrorism are in accordance with the International Covenant on Civil and Political Rights". These broadly drafted national security laws can be used to intimidate lawyers, journalists and whistleblowers.
HRW also reported that since 2015, the government has required telecommunications companies and internet service providers to retain metadata for at least two years. Law enforcement and intelligence agencies now have unprecedented access to stored metadata in the interest of "national security."
In December 2018, the Australian parliament rushed through legislation undermining encryption and cybersecurity, allowing law enforcement and security agencies to order technology companies to facilitate access to encrypted data and devices. The law is overly broad, lacking adequate safeguards to protect individuals from misuse by government officials.
Academic freedom under pressure
UNSW faces backlash after deleting Twitter post critical of China's crackdown in Hong Kong - "Law academic @PearsonElaine says safeguarding the human rights of people in Hong Kong 'is not something that should be controversial'" https://t.co/82lDGhYQgE @UNSW

— Sophie McNeill (@Sophiemcneill) August 3, 2020
In August 2020, the University of New South Wales deleted social media posts promoting the comments of a prominent academic and activist calling for international pressure on China in response to human rights violations in Hong Kong.
The tweets were linked to an online news story published on 31st July 2020 by the university quoting Elaine Pearson, an adjunct academic at the institution and the Australian director of Human Rights Watch (HRW). Pearson said she did not write the piece but was approached by a member of the university's media team to give her views on recent developments in Hong Kong and how the international community should respond.
The following day the post was deleted from Twitter after an apparent backlash from Chinese students. Posts on social media platform WeChat indicate multiple students made complaints to the university and requested a response from the Chinese consulate. According to HRW, UNSW briefly removed the article from its website twice, and then reinstated it, shifting it from the university's main news page to the UNSW Law page.
After criticism for removing the tweet, the vice-chancellor of the university, Prof Ian Jacobs, apologised for it and wrote that the university had an "unequivocal commitment to freedom of expression and academic freedom" and the tweet "should not have been removed".
In an article by Pearson she said HRW has been tracking Chinese government threats to academic freedom in Australia and other countries since 2015, including detailing episodes like this involving other scholars. She raised concerns "that other academics and students from China or who write about China may be afraid to raise their voices".
HRW has also documented that families in China have been harassed and questioned because of activities of their relatives in Australia. Pearson called on universities to protect the academic freedom of all students and scholars and not cave in to pressure from those with little apparent regard for academic freedom's importance.
Peaceful Assembly
Police arrest Black Lives Matter protest organiser and five others
#BREAKING: Protest organiser Paddy Gibson among three arrested even before sparsely-attended banned Black Lives Matter protest could begin https://t.co/RjmvugAkXp

— The Australian (@australian) July 28, 2020
In July 2020, Australian police arrested six people and ordered about 50 others to disperse after they gathered in Sydney for a Black Lives Matter protest. The march was planned to highlight the deaths of Aboriginal people in custody, building on momentum from global rallies for racial justice and against police brutality. Police had said the gathering was unauthorised and in breach of coronavirus prevention measures.
Among those arrested were protest organiser Paddy Gibson who was picked up in a park known as The Domain before the rally. New South Wales state Assistant Police Commissioner Mick Willing said Gibson and the other protesters were issued with fines of 1,000 Australian dollars (USD 710) for breaking pandemic crowd restrictions.
Gibson had organised the demonstration with the family of David Dungay, an Indigenous man who died in 2015 while being restrained in a Sydney prison after repeatedly saying, "I can't breathe." The demonstrators had gathered more than 100,000 signatures on a petition calling for his prison guards to be charged.
Arrests of anti-lockdown protesters
Australian police made dozens of arrests in September 2020 amid anti-lockdown protests attended by hundreds nationwide.
On 3rd September 2020, police arrested a woman in Australia for promoting an anti-lockdown protest during the pandemic. Footage shows officers handcuffing pregnant Zoe-Lee Buhler, 28, in her home in Victoria in front of her partner and children. On 5th September, 15 people were arrested in Melbourne after about 300 people marched in defiance of tough measures. Protesters chanted "freedom" and "human rights matter" amid a heavy police presence. Fourteen people were arrested across New South Wales.
The following week, on 13th September, another 74 people were arrested as anti-lockdown protesters massed in Melbourne. Police said, "many protestors were aggressive and threatened violence towards officers". On 19th September, police arrested 16 anti-lockdown protesters in Melbourne's south-east in which demonstrators were chased by police on horseback. About 50 to 100 demonstrators began protesting at the State Library but moved to Elsternwick Park where they were pursued by police.