Second-worst country in the EU for LGBTI persons, index shows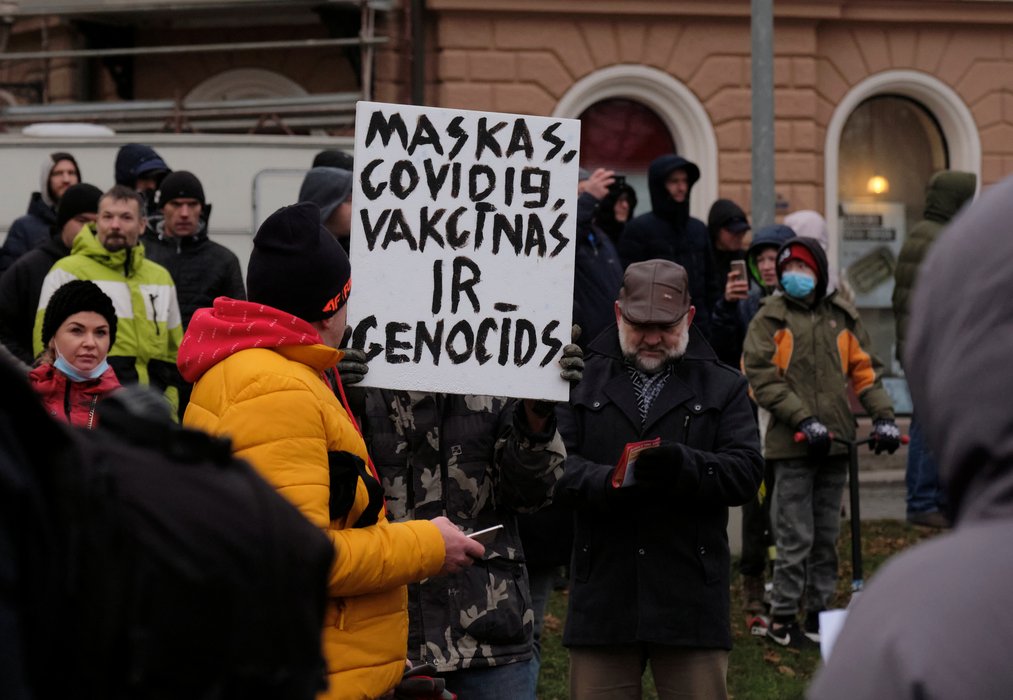 Association
ILGA-Europe's rainbow index (published on 17th May 2021) reported that Latvia is the second worst country in the EU to be an LGBTI citizen, scoring just 17% in terms of equality, ahead only of Poland at 13%. The report mentioned bias-motivated hate speech in the public space, including from parliamentarians such as MP Jānis Lesalnieks, who retweeted a post of an "LGBT-Free zone" sign in Latvian, similar to those used in Poland. The use of open homophobic language by senior politicians is reported to have fueled an unprecedented increase in hate speech against LGBTI people, especially in the last year, resulting in a hostile environment for the LGBTI community. ILGA-Europe's report also notes that a September public opinion poll found that 38% of Latvians had negative attitudes towards LGBTI people. LGBT House Riga, a support organisation, said:
′′Latvia's greatest value is a person - regardless of sexual orientation, gender identity, ethnicity. This is what our politicians need to know and stop creating an environment where someone is more valuable than anyone else. We want to be a country where everyone can realise their potential by contributing to the common development of society. Western European practice shows that more inclusive legislation gives you the opportunity to create a much more inclusive society. It's time to change and take a progressive course, being united, not broken."
More recently, a majority of the Saeima Criminal Policy Sub-Committee rejected proposals to define hate crimes against sexual minorities. Efforts to define hate crimes against sexual minorities in law by Saeima deputy Andrejs Judins (New Unity Party) were met with sharp criticism from Juris Rancāns (New Conservative Party) who questioned the validity of the proposals and said that there was hysteria in relation to hate crimes because of sexual orientation.
Despite this setback, LGBT CSO, MOZAĪKA, commemorated International Day against homophobia, transphobia and biphobia on 17th May 2021. Support was shown by raising rainbow flags at several embassies and companies in Riga.
Human rights belong to everyone, everywhere – no matter who you are or who you love. The Netherlands stands as ally with all #LGBTI persons worldwide. #NLinLV is proud to raise the Rainbow Flag today 🌈 #IDAHOT #equality #fromthehaguewithlove @lgbt_mozaika #LGBTinLatvia pic.twitter.com/dE66R9vO8I

— Embassy of the Netherlands in Latvia (@NLinLatvia) May 17, 2021
Proposals from NGOs included in national recovery planning
On 27th April 2021, the Latvian government approved their national recovery plan for submission to the EU Commission. The plan includes proposals made by CSOs following successful advocacy efforts by Civic Alliance Latvia (CAL). The proposals aim to reduce inequalities and ensure equal treatment in access to investment, and compliance with principles of socially responsible procurement. The proposals, which include two horizontal requirements to ensure equality, and one special programme for NGOs, are outlined below:
Equal access to investment for all, which proposes to include all associations and foundations as recipients of recovery investment, and ensure equal treatment of different sectors and economic actors. The plan also includes provisions for associations and foundations focused on digitalisation and inequality reduction to receive direct investments.

Socially responsible public procurement, which gives preference to those who employ people from underrepresented communities, such as people with disabilities, the long-term unemployed, young people and others, through public procurement.

Funding for NGO support will be channeled to NGOs themselves, meaning that NGOs will play a central role in decision-making processes for a programme worth more than 2.3 million euros. The initiative aims to strengthen the representation of NGOs in decision-making and the monitoring of public interests.
The Latvian Civic Alliance has called for the inclusion of NGOs as an equal strategic partner of the government in all future steps and processes related to the further refinement, discussion and implementation of the recovery plan.
👏Thanks to the work of @alianse, recommendations from NGOs have been included in the recovery plan #Latvia

These include:
➡️Equal access to investment for all
➡️Socially responsible public procurement
➡️Funding for NGO support channeled to NGOs
👉https://t.co/QJreUawagp

— European Civic Forum (@ForCivicEU) May 14, 2021
Directors of NGOs recognised for of their outstanding service
On 20th April 2021, the President of Latvia and Chapter of Orders awarded state honours to outstanding individuals. The Order of Three Stars was awarded to 63 individuals, the Order of Viesturs to 16 individuals and the Cross of Recognition to 39 individuals. This year's winners include Iluta Lāce, Director of Association Resource Centre for women, 'Marta', and Inese Vaivare, director of LAPAS. This positive news is a sign that NGOs are finally recognised as key actors for national growth and development in Latvia.
CSOs celebrate Democracy Week
From 1st to 9th May 2021, Civic Alliance Latvia celebrated Democracy Week, marking the convening of the Constitutional Assembly and Labour Day (1st May), followed by 4th May 2021 - the Day of Restoration of Independence, and ending on 9th May 2021 - Europe Day. The open citizens' initiative brings together civil society activists, NGOs and all those interested in getting involved in a programme of events and discussions throughout the week. Kristīne Zonberga, Director of Civic Alliance Latvia commented that:
"Democracy is the best form of public administration. And democracy cannot exist without a strong civil society. But democracy is not a matter of course, it must be nurtured." 
Peaceful Assembly
On 20th March 2021, several hundred activists from Tautas Varas Fronte (People's Power Front) gathered in Riga centre to protest COVID-19 restrictions. Police stopped several people gathering in larger groups due to assembly restrictions and the requirement to observe a two metre distance. The gathering was declared unauthorised following Riga City Council's recent move to end the activities of the People's Power Front" foundation led by the activist Valentīns Jeremejevs, who was previously detained on suspicion of distributing false news about COVID-19.