Rights curtailed under COVID-19 regulations, police crack down on outdoor gatherings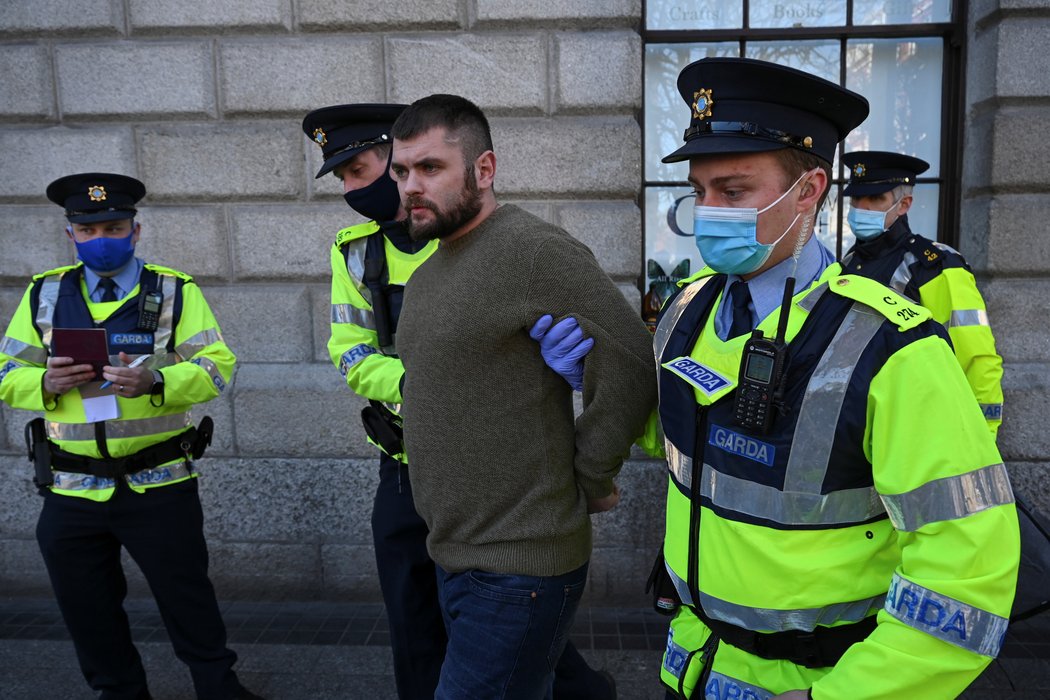 Association
Renewal of lockdown powers raises concerns
On 18th May 2021, the government announced their decision to seek an extension of emergency COVID-19 powers until 9th November 2021, via the introduction of the Health and Criminal Justice (Amendment) Bill 2021. This Bill would allow the Minister for Health to extend the provisions of various Acts that enable COVID-19 lockdowns until 9th November 2021 and then indefinitely on a quarterly basis thereafter. Extensions would be granted by way of a simple resolution of both houses of parliament, the Dáil and the Seanad.
Civil society groups and opposition parties raised concerns on this proposal, which was seen as a move to sideline democratic oversight and grant extraordinary power to the Minister. The Irish Council for Civil Liberties (ICCL) appeared before the parliamentary Health Committee to speak on the issue and was not the only organisation red flagging the sidelining of civil liberties and human rights in relation to Ireland's use of pandemic related emergency powers. This was also highlighted by the Irish Human Rights and Equality Commission. ICCL's Executive Director Liam Herrick argued:
"The extraordinary ministerial powers in the Health Act concentrate far too much power in one pair of hands. The refusal by the Government to accept modest amendments calls into question the Government's good faith in relation to an urgent return to normal democratic practice. The extension also raises questions about the temporary nature of these restrictions."
As a result of these concerns, the Minister relented and introduced an amendment. The amendment allows for an extension till November 2021 but only a single three-month renewal to February 2022 thereafter, if need be. Amendments to shorten the timescale till July/September 2021 proposed by the opposition were not accepted by the government. 
We're before the Justice Committee today to talk about human rights during the pandemic.

We'll discuss
▶️emergency legislation
▶️police powers
▶️impact on marginalised groups
& lots more besides.

Here's our statement: https://t.co/y5NRhg2uWO

— ICCLtweet 🏳️‍🌈 (@ICCLtweet) June 22, 2021
CSOs raise concerns about vaccine inequality
In April 2021, the government announced plans for a domestic 'green cert' or vaccine bonus to access services. However, these plans were later dropped after CSOs raised the alarm on vaccine inequality and discrimination. ICCL highlighted that a digital certificate for COVID-19 vaccination cannot and should not lead to any type of discrimination. Executive Director Liam Herrick said that anything that allows discrimination in terms of access to goods and services, or employment "raises an obvious question ... discrimination". Herrick continued, explaining that "it also puts people in a position of being forced indirectly to take a vaccine, which raises questions of bodily integrity and the principle of consent to the vaccine programme." Despite having welcomed the discussion on green passes, the Restaurants Association of Ireland also expressed concerns, underlining the risk of creating a "two-tier system" and questioning how the green cert would be policed. The Irish Small and Medium Enterprises Association and the Association of Garda Sergeants and Inspectors were among other organisations that raised concern. Organisations later welcomed the dropping of the proposals for a domestic vaccine 'green cert'.
Peaceful Assembly
Police mishandle crowds in Dublin and other parts of the country
The bank holiday weekend in June 2021 saw large numbers of people gathering in Dublin, resulting in at least 33 arrests as police took the decision to break up large gatherings across the city due to "public safety concerns". Police also took the decision to seal off Dawson Street in Dublin on 5th June 2021, where 19 people were arrested. On 6th June 2021 there was discord between gardaí and people gathering outdoors in both Dublin and other cities in Ireland, with further arrests (14 in Dublin, 8 in Cork). Both the large crowds and the policing response were widely condemned on social media for the second night in a row. Ministers have also disagreed regarding the handling of the crowds, with Minister Heather Humphreys defending the Garda's response to the disorder, and Minister Eamon Ryan stating that public order incidents like the ones in Dublin city centre over the weekend should be managed in a more "thought-through way".
ICCL continues to call for guidelines on safe conducting of protests
For several months, ICCL has been calling for guidelines that would allow people to "protest in a pandemic-safe manner", for example, by holding protests "across various locations". Most recently the curtailment of a proposed rally in support of Palestine organised by the Ireland and Palestine Solidarity Campaign (IPSC) sparked further calls for facilitation of peaceful protest. Despite organisers planning a "socially-distanced protest", they were contacted by the police who warned them that if the protest exceeded 15 people they would intervene and organisers could be prosecuted. Following legal advice, this triggered the IPSC to cancel the protest. IPSC chairperson, Fatin Al Tamimi said:
"People are angry here and they want to do something, they want to go on to the streets but unfortunately it looks like it's not allowed."
ICCL executive director Liam Herrick commented:
"ICCL has consistently called for explicit protection of the right to protest in Covid regulations. In the absence of clear law on this issue, the Garda have a discretion in how they interpret the regulations regarding events alongside the constitutional right to protest. However, this does not mean that the Garda have authority to permit or prohibit specific protests."
The ongoing restrictions raise a number of questions regarding the right to peaceful assembly. The government has also been accused of "mixed messaging" over criminal sanctions for those gathering outside to socialise in urban areas. 
Thread 👇🏾So many of you have been asking why we were forced to cancel our Rally for Palestine on Saturday. We were acting on advice of our legal team in light of the developments described below and had little choice, even though our rally was to be masked and socially distant 1/

— IPSC (@ipsc48) May 13, 2021
CSOs call for a rights impact assessment of COVID-19 regulations
At the end of May, ICCL called for a rights analysis of the coronavirus restrictions. The call expressed a need for a rights impact assessment to determine if COVID-19 legislation enabling further restrictions in the future should be renewed. In particular, ICCL highlights the significant expansion of powers in relation to criminal sanctions that may have resulted in disproportionate penalties when it comes to exercising of fundamental rights.
Ahead of the publication of our report on human rights during the pandemic, we spoke to the Oireachtas Health Committee yesterday. We urged an immediate review of the emergency legislation: https://t.co/9BnggOWEIR

— ICCLtweet 🏳️‍🌈 (@ICCLtweet) May 26, 2021
This also comes in light of the government's mandatory quarantine regulations for returning travellers, which has been challenged in several High Court cases that questioned the proportionality of the system, particularly for those who are fully vaccinated. ICCL has called on the government to scrap the system if rights cannot be guaranteed and allow for exemptions for medical and other compassionate reasons.
Rights in the pandemic
On 3rd June 2021, ICCL launched a report 'Human Rights in a Pandemic'. The report evaluates the government's response to the pandemic from a human rights perspective. Whilst ICCL highlights how society's strengths came to the fore, with a sense of community and solidarity which was encouraged by the government during the first wave, they also identified serious shortcomings. 
Today we publish a report on human rights during covid. We find govt did well protecting rights to life & health, but

▶️Democratic failings re emergency powers
▶️Over-reliance on police powers
▶️Some groups suffered much more than others

Read on: https://t.co/DhreiQfMIr

— ICCLtweet 🏳️‍🌈 (@ICCLtweet) June 3, 2021
Protests against Climate Action Bill
On 11th June 2021, farmers across the country staged protests over the Climate Action Bill and the EU reform of the Common Agricultural Policy (CAP). The bill aims to make Ireland climate-neutral by 2050 on a 'net carbon' basis. Protests were staged in 30 towns in Ireland, with farmers driving through the streets with their tractors and handing out pamphlets which read "Stand up for farming". The Irish Farmers Association said that it is concerned that climate polices are being adopted "without any assessment of the economic and social impact they will have on farmers and rural Ireland". IFA President Tim Cullinan said:
"Unless there is a change in the current direction of the CAP and changes to the flawed Climate Action Bill, farming in Ireland, as we know it, will cease to exist".
However, despite the protest, the bill was passed on 16th June 2021.
Thanks to all the towns that gave us such a warm welcome today for our Day of Action #StandUpForFarming. Many thanks also to @GardaTraffic for their help in co-ordinating our event across 30 towns. pic.twitter.com/m7liqervA1

— Irish Farmers' Association (@IFAmedia) June 11, 2021
Expression
Online Safety and Media Regulation Bill threatens expression
Representatives from Digital Rights Ireland, the Irish Human Rights and Equality Commission and ICCL have raised concerns over the proposed Online Safety and Media Regulation Bill, which is currently being scrutinised by the Committee on tourism, culture, arts, sport and media. The Bill aims to tackle the spread of harmful online content, but critics argue that it is so "vague and arbitrary" that it "seriously damages" users' constitutional rights.
In a Committee hearing on 26th May 2021, ICCL Executive Director Liam Herrick said:
"ICCL is concerned about what this vagueness will mean for legal accessibility, foreseeability, the safeguarding of the right to freedom of expression and communication, and the potential chilling effect resulting from this vagueness due to self-censorship and prior restraint".
Sinéad Gibney, chief commissioner of the Irish Human Rights and Equality Commission (IHREC), agreed that there should be a more precise definition of harmful online content and stressed the need for the Media Commission and its commissioners to be independent.
TJ McIntyre, chairperson of Digital Rights Ireland, said the Bill would create "a national regime for controlling content" on a wide range of platforms in a manner that was "essentially unprecedented in Irish or European law". McIntyre also questioned whether aspects of the Bill were compatible with the EU's forthcoming Digital Services Act.
Whilst the intention to reduce the harm that children and adults experience online was welcomed by experts at the hearing, as it stands the Bill could seriously damage freedom of expression by allowing the Media Commission to "police" individuals' speech on all social media and private communication channels, thus running the risk of substantially restricting the voices of internet users.