Restrictive "false'' information and NGO laws adopted, intimidation of government critics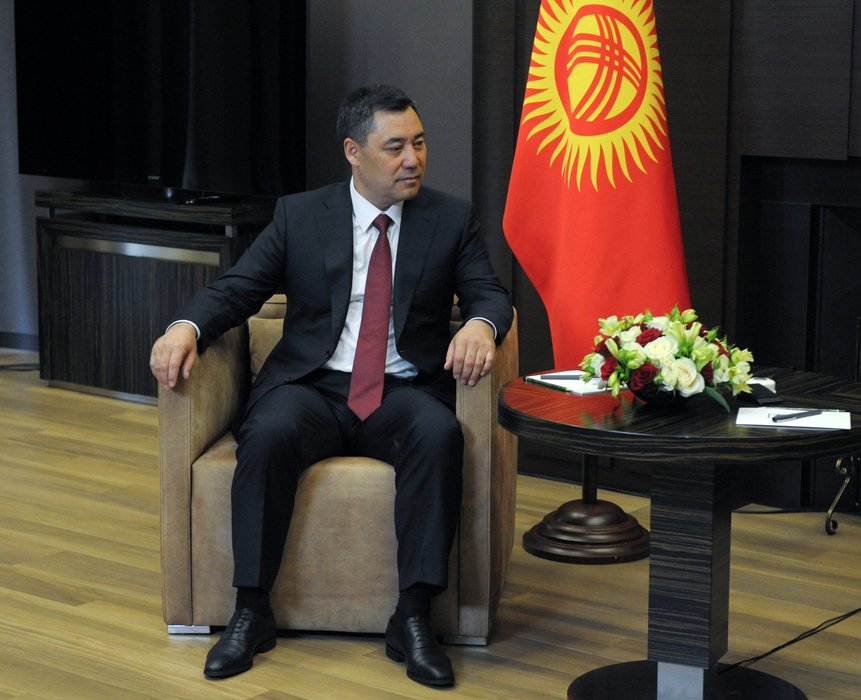 Introduction 
This is an update on the protection of the freedoms of expression, association and peaceful assembly in Kyrgyzstan from the end of April to the beginning of September 2021, prepared by International Partnership for Human Rights (IPHR) and the Legal Prosperity Foundation (LPF) as part of their cooperation with the CIVICUS Monitor.
Developments during the period covered by this update reinforced concerns about a worsening climate for free speech and narrowing civic space in Kyrgyzstan.
A new controversial constitution put forward after current President Sadyr Japarov's rise to power last autumn entered into force in May 2021. It significantly expands the president's powers without adequate checks and balances. Other sweeping reforms of the country's legislation were also initiated in rushed processes that did not allow for comprehensive consultations with civil society and others affected.
Two laws that impose excessive restrictions on freedom of expression and association were adopted: a law on the protection against ''false'' information, which critics described as a censorship tool to protect government officials from criticism, and a law introducing a new financial reporting scheme for NGOs, which civil society fears might be used to interfere with the activities of NGOs. Both laws were rushed through parliament in summer after their consideration had been stalled for a month and thereafter signed by the president. A third problematic law, which restricts trade union activity in violation of international standards, was passed by parliament but vetoed twice by the president following widespread domestic and international criticism. As of the beginning of September 2021, it remained under consideration in parliament.
The pattern of intimidation and harassment of government critics by the authorities continued. Two activists who have protested against the new constitution and other policies implemented during Japarov's period in office were facing criminal charges, which they and their supporters consider politically motivated. Dozens of opposition politicians, civil society activists, human rights defenders (HRDs) and others who have publicly challenged the new constitution and other initiatives of the authorities learned that they had been subjected to wiretapping earlier this year as part of the investigation into the October 2020 events, when mass protests against the outcome of the parliamentary elections resulted in the change of government. At the beginning of September 2021, police specifically referred to an activist's criticism of the country's leadership as the ground for her detention. However, following an outcry, she was released.
An investigation conducted by the prison service into the death of human rights defender Azimjan Askarov in prison last year was closed in May 2021 after concluding that no one could be held responsible for his death. Following a complaint to court, the investigation was re-opened as of September 2021. However, serious concerns about its impartiality remain.
During the reporting period, citizens continued to hold peaceful assemblies on different issues of concern to them. These assemblies took place without interference by law enforcement authorities, but activists who have protested against the policies of the current authorities were targeted as part of the pattern of intimidation and harassment of government critics.
These and additional developments are described in more detail below.
Overall developments
As covered in the previous update, in a referendum held on 11th April 2021, citizens voted in favour of a new controversial constitution that significantly strengthens presidential rule without providing for adequate checks and balances. The Venice Commission,the Council of Europe's independent advisory body on constitutional matters, and the OSCE's Office for Democratic Institutions and Human Rights (ODIHR) concluded that the new constitution grants the president an "overly prominent role and prerogatives (…) over the executive and the other branches of power'', which "creates a real risk of undermining the separation of powers and the rule of law''.The new constitution entered into force in May 2021. Current President Japarov has dismissed criticisms of the new constitution, and insisted that Kyrgyzstan ''will remain a democratic country" and that there will be no politically motivated persecution under his rule. However, as covered below (see Expression), recent months have seen increasing intimidation and harassment of government critics.
Kyrgyzstan's president has adopted a new constitution handing him expansive powers at the expense of parliament https://t.co/l11sKlJd5Y

— Eurasianet (@eurasianet) May 5, 2021
In another concerning development, an inventory of the country's legal framework initiated by the president was carried out in a rushed fashion, with critics raising the alarm that hundreds of laws were being re-assessed without sufficient time for comprehensive expert reviews and consultations with those affected by the laws. The Public Council under the Ministry of Justice, an advisory body that includes civil society representatives, called for an extension of the timeframe of the inventory to ensure that assessments can be carried out within longer, more reasonable periods of time and for broad public consultations to be held with civil society and other relevant stakeholders. A reform of the country's criminal law was likewise implemented in a hurried manner, leaving no time for thorough discussions or assessments of the human rights impact of this reform. Civil society expressed concerns that this reform will erode recent progress in the area of criminal justice, re-introduce a more punitive, repressive approach and weaken the protection of victims of human rights violations. (For more information about these developments, see this recent IPHR-LPF briefing paper)
As covered previously, in October 2020, a political crisis evolved in Kyrgyzstan following mass protests against the official results of the parliamentary elections held that month. The election results were later cancelled and the outgoing parliament has remained in office since then and has continued to actively pass laws, although international experts have stressed that a caretaker parliament is only allowed carry out limited functions pending new elections. Following the adoption of a revised election law in August 2021,the president finally called for new parliamentary elections for 28th November 2021, using prerogatives granted to him under the new constitution.
At the end of April 2021, a water dispute led to the worst clashes in years between Kyrgyzstani and Tajikistani armed forces on the disputed border between the two Central Asian countries, resulting in dozens of people being killed and injured, whilehundreds were left homeless. In response to this crisis, Kyrgyzstani civil society organisations mobilised efforts to provide emergency assistance to victims and coordinated actions with Tajikistani NGOs in this regard. 
Expression
New controversial law on ''false information'' adopted
A new law on the protection from ''false'' information was approved by parliament on 28th July 2021 and signed by the president on 23rd August 2021.
The initial version of this draft legislation was passed by parliament in an expedited process in June 2020 but subsequently vetoed by then President Sooronbay Jeenbekov, who sent it back to parliament for revision in August 2020. The revised version of the draft law, which was supported by the presidential administration, was first put to vote in parliament on 30th June 2021 but did not receive the required two thirds majority to pass. However, in a move that experts criticised as violating parliament's internal regulations, the law was put up for a new vote on 28th July 2021, when it obtained the required support.
Media watchdogs have raised the alarm that the new law violates freedom of expression and is in violation of Kyrgyzstan's constitution and international standards. The amendments made during the revision of the draft law failed to address key concerns raised by civil society. The Media Policy Institute, a Kyrgyzstani NGO that conducted a thorough analysis of the revised draft law, concluded that it de facto introduces censorship and constitutes an instrument for protecting high-ranking officials from criticism.
The new law sets out a broadly worded ban on disseminating "false" information on the internet and obliges the owners of internet sites and pages to promptly remove any content based on complaints from individuals who allege that the content in question has tarnished their honour, dignity or reputation. If the owners of online resources fail to do so, access to these resources might be blocked. The exact procedure by which this will be done is yet to be determined by the government, but it appears that such measures can be initiated without court sanction, even if they can be appealed to court. Complainants also have the right to request compensation for the publication ofallegedly false information through the court system. 
Free speech in Kyrgyzstan threatened by "false information" law.

President should veto legislation, protect media freedom.https://t.co/i0crYr7gcm pic.twitter.com/mRipVhHnG5

— Human Rights Watch (@hrw) August 4, 2021
The adoption of the new law is particularly worrying as it comes against the background of a law enforcement campaign against social media users, which was implemented during the COVID-19 pandemic, with bloggers being summoned, questioned, warned and pressured to ''publicly apologise" for posting allegedly ''false'' information. Those targeted in this campaign include bloggers critical of those in power in relation to the pandemic and other issues. Medical professionals have also been targeted after drawing attention to the lack of appropriate means of protection against COVID-19 at medical facilities.
Intimidation and harassment of government critics
As described in detail in a briefing paper published by IPHR and LPF in September 2021, the climate for free speech in Kyrgyzstan has recently deteriorated, and civil society activists, journalists, lawyers and other critical voices have been subjected to increasing intimidation and harassment. In particular, those targeted include individuals who have spoken out against the new constitution and other controversial measures adopted since the October 2020 political crisis and Sadyr Japarov's rise to power. They have been under surveillance, summoned, questioned and detained by law enforcement authorities, with some of them being criminally prosecuted in apparent retaliation for their critical views. 
После прихода Жапарова усилилось давление на всех, а Конституцию протолкнули. Доклад международных правозащитниковhttps://t.co/XrvSIPlfmj pic.twitter.com/aeUG98mDSx

— Kloop (@kloopnews) September 8, 2021
As covered in the previous update, on 15th March 2021, law enforcement authorities searched the home of civil society activist Tilekmat Kurenov in Bishkek and detained him. This development came only a few days after he had organised a peaceful rally against the new constitution outside the parliament building in the capital. Kurenov faced criminal charges because of Facebook posts. After first being held in custody, he was transferred to house arrest in late April 2021. On 20th August 2021, a local Bishkek court sentenced him to 18 months in prison for calling for the violent overthrow of power and attempted vote buying. The activist disputed the charges and his family said they would appeal the sentence. In addition to protesting against the new constitution, Kurenov has regularly published social media posts critical of the current authorities. He founded a movement opposing government extraction plans for the Jetim-Too iron ore field and has been involved with the opposition Turan party and its election campaigning.

As also covered in the previous update, on 16th March 2021, law enforcement authorities searched the office of Zhenish Moldokmatov, leader of the Turan opposition party and a vocal critic of the policies of Japarov's administration, who was also involved in organising the 9th March 2021 rally against the constitution. Later, in May 2021, he was also detained and criminally prosecuted.The day before he was detained, Moldokmatov had published a video appeal to President Japarov together with Tilekmat Kurenov, calling for a thorough investigation into the renewed hostilities at the Kyrgyzstan-Tajikistan border and for the resignation of the heads of the State Committee for National Security and the minister of interior because of their actions in relation to the hostilities. At the time of writing, the activist remained in pre-trial detention pending trial, having undergone heart surgery at the beginning of September 2021. His heart problems reportedly deteriorated as a result of a hunger strike which he held to protest against his prosecution in the summer. Already facing charges of organising mass riots (Criminal Code article 264) in connection with the post-election protests in October 2020, Moldokmatov was recently charged with additional offenses relating to these events.
There are overall serious concerns about the thoroughness and impartiality of the ongoing investigations into the October 2020 events, during which prominent opponents of Sadyr Japarov appear to have been selectively targeted for prosecution. These concerns were reinforced by the fact that, as part of the investigation, police wiretapped dozens of opposition politicians, civil society activists, human rights defenders and others who have publicly challenged the new constitution and other political measures initiated since Japarov's coming to power.In August 2021 it was revealed that a local judge in Bishkek had issued a decision sanctioning the monitoring of the phone conversations of these individuals during the period of 6th January to 10th February 2021. A number of those targeted, including, among others, Reform party leader Klara Sooronkulova, lawyer Nurbek Toktakunov, human rights defender Rita Karasartova and lawyer Saniya Toktogazieva, issued an open appeal protesting against being wiretapped, calling this a ''flagrant violation'' of their rights and ''persecution of dissent''. They pointed out that while most of those singled out for wiretapping were individuals who had prominently criticised current state policies, some of them had not even taken part in the October protests. The police and the local court, whose judge sanctioned the wiretapping, dismissed the criticism, claiming that the measure had been taken lawfully. 
Kyrgyzstan Wiretapped Activists, Lawyers, MPshttps://t.co/DSh3JPCvh0

— The Diplomat (@Diplomat_APAC) September 5, 2021
In another recent case, the authorities specifically referred to an activist's outspoken views as grounds for her detention. On 10th September 2021, law enforcement officials detained opposition activist Orozayym Narmatova at Osh airport as she was on her way back to Russia, where she lives, and carried out a search of her family's house. Narmatova previously supported current President Japarov but has been highly critical of him after his rise to power last autumn. In a press release issued on the day of the activist's detention, the police accused her of ''voicing unfounded criticism of the country's political leadership in order toincrease the potential for protests'' among both labour migrants abroad and people living inside Kyrgyzstan. The police argued that her critical stance facilitated the ''incitement of regional hostility'' and the ''violent seizure of power" and said that a criminal case had been opened against her. Narmatova's detention caused a public outcry, with human rights defenders concluding that she was targeted for her legitimate exercise of freedom of expression. In response, the police changed course and released the activist on 11th September, claiming that she had only been questioned as a witness as part of an investigation under way. The Ombudsperson subsequently demanded that the policeexplain their actions in this case. 
#Kyrgyzstan: Police detain activist for criticizing government. Narmatova is a member of "Butun Kyrgyzstan" & became vocal in her criticism of President Sadyr Japarov whom she accused of nepotism during assemblies with Kyrgyz labor migrants in Russia https://t.co/T2OBbxSIKi

— Steve Swerdlow (@steveswerdlow) September 12, 2021
Activists and journalists critical of the government have also increasingly faced online threats, originating both from so-called social media trolls using fake accounts and from real government supporters. Those in power, including President Japarov, have failed to unequivocally condemn online harassment, and no effective measures have been taken to investigate such incidents, resulting in a climate of impunity for the perpetrators. In a statement issued on 3rd May 2021, marked as World Press Freedom Day, Kyrgyzstani media organisations stressed that journalists working with independent media outlets currently "face unprecedented levels of intimidation and harassment on social media" in the country. In the statement they said:
"High ranking public politicians do not only fail to condemn attacks on journalists by their supporters but also do not themselves refrain from making ambiguous statements about journalists and other citizens who lawfully exercise their constitutional right to express their opinion".
Propaganda of ''traditional'' values
As covered in the previous update, authorities have stepped up efforts to promote so-called traditional values. A presidential decree from January 2021 instructed state bodies to adopt measures aimed at promoting ''traditional'' values in the education system and other areas. In August 2021, a government working group was set up to elaborate on a draft action plan for the implementation of the January decree.
Civil society representatives have raised concerns that the efforts to promote ''traditional'' values might result in undue restrictions on freedom of expression and other fundamental freedoms and undermine equality and non-discrimination, in violation of Kyrgyzstan's international obligations. Policymakers and activists opposed to liberal principles often invoke the alleged defence of such values to justify restrictions and attacks on civil society actors who advocate for universal human rights, including the rights of women and sexual minorities.
Association
Tightened control over NGOs
On 17th June 2021, parliament passed a new criticised NGO law on third reading after the consideration of it had been stalled in the law-making body for almost a year. The following week President Japarov signed the law , which had first been initiated by a Member of Parliament in December 2019. Although the new law directly affects civil society organisations, its adoption was not preceded by any broad or inclusive consultation process with NGOs.
Representatives of civil society and the international community have seriously criticised the new provisions. As highlighted in a joint statement issued by IPHR and Kyrgyzstan's NGO Coalition against Torture in July 2021, the law introduces new unjustified, burdensome and discriminatory financial reporting obligations for NGOs and might impair their operating ability. It requires NGOs to prepare and submit annually a report about their sources of funding, how they spend these funds, as well as their acquisition and use of property for publication on the website of the state tax service. This will increase an already heavy reporting burden for NGOs, especially small organisations with limited staff and resources. The new requirements only apply to NGOs, not to other non-profit or commercial organisations, making them discriminatory in nature. The failure of NGOs to comply with the new reporting obligations may result in penalties, including the closure of organisations. 
Concerns Rise as Kyrgyzstan Enacts New NGO Controls @Diplomat_APAC https://t.co/m1lEWNllVa

— IPHR (@IPHR) July 19, 2021
As the details of the new reporting scheme are yet to be determined by the government, there is a high level of uncertainty for NGOs as to how the requirements will be implemented in practice. There are fears that the new requirements might be used to put pressure on NGOs who challenge public policies and seek accountability for corruption and human rights violations. These concerns are reinforced by the fact that the proponents of the law have sought to discredit and stigmatise NGOs defending fundamental rights by accusing them of threatening national security and undermining so-called traditional values – the promotion of which President Japarov has made a government priority (see more under Expression). For example, during a parliamentary discussion held on 11th March 2021, two MPs advocating for the adoption of the new NGO law accused NGOs of organising ''gay parades'' and other activities that allegedly undermine ''Kyrgyz values'' and pose a threat to the state. In another example, during a rally held in support of the current authorities in Bishkek on 28th April 2021, the participants lashed out against NGOs, calling them "provocateurs" and saying "we do not want the West's NGO people to walk freely in our country".
Restrictive trade union law vetoed twice by president
As covered in the previous update, in March 2021, parliament passed a new draft trade union law, which labour organisations and human rights groups criticised for undermining independent trade union activity in violation of international standards. The president heeded the criticism by vetoing the law in May 2021 and returning it to parliament for revision. However, in a hasty process, parliament revised the law and approved the amended version in June 2021, failing to address key concerns and to ensure adequate consultation with trade union representatives. Trade unions called on President Japarov to veto the law again, and the International Labour Organization (ILO) regretted that the revised law did not address the concerns it had previously raised, "in particular the central concern related to the imposition of a trade union monopoly''. In a welcome development, it was reported in late August 2021 that President Japarov had re-vetoed the revised trade union law and sent the law back to parliament for reconsideration a second time.
KYRGYZSTAN: Controversial trade union law vetoed-IndustriALL https://t.co/kbC6njseUP

— LabourStart (@labourstart) June 1, 2021
Struggle for justice for deceased defender
The authorities have to date failed to ensure an impartial and effective investigation into the death of human rights defender Azimjan Askarov, who died in prison in July 2020 after being denied adequate medical attention and urgent release. An investigation into the defender's death conducted by the prison service was closed in May 2021, ending with the conclusion that no one could be held responsible for his death, taking into account the challenging epidemiological situation in the country at the time of his passing and the surge in the COVID-19-related cases of pneumonia, from which he died. The Bir Duino Human Rights Movement filed a complaint in court against the decision to close the investigation, and following appeals, a local Bishkek court ruled in August 2021 that this decision was unlawful and unfounded. As a consequence, the prison service reopened its investigation as of September 2021. Later that month, Bir Duino reported that the General Prosecutor's Office had accepted a request to transfer the investigation to the State Committee for National Security which, unlike the prison service, was not directly overseeing the defender's treatment in prison. 
There may yet be hope for justice for #Askarov, as investigation into circumstances of his death in custody in #Kyrgyzstan are now with GKNB, an unlikely ally of #HRDs - but at least it's not the prison service investigating itself: https://t.co/a8aXzr4x9z

— Syinat Sultanalieva (@SyinatS) September 28, 2021
In a joint statement issued in connection with the first anniversary of Askarov's death, Human Rights Watch, the Committee to Protect Journalists, Front Line Defenders, IPHR and the Bir Duino Human Rights Movement called on the Kyrgyzstani authorities to comply with their international human rights obligations and promptly conduct an effective, independent and impartial investigation into Askarov's death, grant compensation to his family for the rights violations he suffered, and posthumously ensure his legal rehabilitation.
"I am asking for your help to clear my husband's name"...
A message from Khadicha, wife of Azimjon Askarov. Today marks a year since #Askarov's tragic death and it's more urgent than ever to continue fighting for justice on his behalf.
Video courtesy: Marina Shupac pic.twitter.com/hmPGj2S90h

— IPHR (@IPHR) July 25, 2021
Peaceful Assembly
During the reporting period, citizens continued to actively exercise their right to freedom of assembly and held a series of peaceful assemblies on different issues of concern to them. Among others, peaceful protests were held to protest against the adoption of the law on the protection against "false" information (see more on this law under Expression); to call for an end to violence against women (see also the previous update on a rally on this issue held in April 2021 whose participants were attacked); to express support for activists Tilekmat Kurenov and Zhenish Moldokmatov, who were both prosecuted on charges believed to be retaliation for their criticism of the current authorities (see more on their cases under Expression); and to demand payment of promised compensation to medical workers for frontline work during the COVID-19 pandemic. 
Small protest in Bishkek against bill on spread of 'false' information that critics fear threatens freedom of speech in #Kyrgyzstan https://t.co/8UpwWLXg21

— Joanna Lillis (@joannalillis) June 30, 2021
On 15th May 2021, around 1,000 people gathered for an assembly in Bishkek to – paradoxically – call on people not to participate in rallies. The participants did not make any calls to the authorities.
As covered in the previous update, while peaceful rallies in most cases take place without interference in Kyrgyzstan, activists involved in peaceful protests against the new controversial draft constitution and other measures initiated since the October 2020 political crisis have been subjected to intimidation and harassment.