Response to coronavirus saves lives, but complicates daily life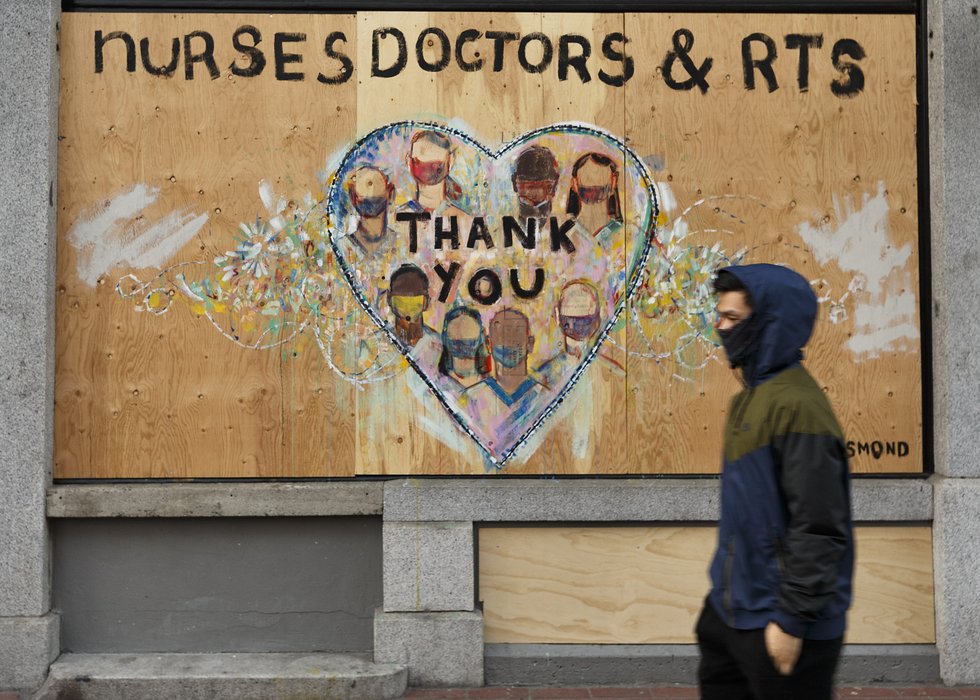 In response to the coronavirus (COVID-19) pandemic, several provincial governments in Canada introduced state of emergency legislation in March 2020, with measures that range from banning public gatherings to restrictions on movement. Canadian civil society organisations have highlighted that some measures adopted by provincial and local governments in response to COVID-19 may threaten fundamental civil freedoms.
For example, the premier of Alberta announced that quarantine measures would include "using technology like smartphone apps" to track those under orders to stay home. But civil liberty advocates warn that that this type of search violates the Canadian Charter of Rights and Freedoms and should be limited and temporary. On 20th March 2020, an order issued by the Nunavut government gave the Royal Canadian Mounted Police (RCMP) and other authorities permission to conduct warrantless searches of homes. In this context, there were reports of Nunavut RCMP knocking on people's doors to ensure that they are following mandatory self-isolation orders. "If the focus becomes about punishment then you will end up driving people to avoid getting caught as opposed to complying with the behaviour," said the head of the Canadian Civil Liberties Association (CCLA). Following criticism from civil society, Nunavut's measures were amended on 24th April 2020.
Association
"Busy is normal for us...the fear is not being protected w/ the appropriate PPEs to do our job of caring for #COVID19 patients " OHS standards must be respected Meghan Gillman ER. Nurse @ontarionurses on @CBCNews Safety is not negotiable @CFNU says Merci for speaking up Meghan pic.twitter.com/vB3PAWF0N2

— Linda Silas (@linda4workers) April 1, 2020
At the end of March 2020, dozens of nurses in Ontario, Manitoba and Alberta invoked their right under the country's labour laws to demand safety equipment while treating coronavirus patients after hospitals limited access to N95 masks and other Personal Protective Equipment (PPE), according to the Canadian Federation of Nurses Unions. Citing workplace safety laws that allow employees to refuse to work if they feel it is unsafe, nurses said they require PPE while working on the frontlines of the crisis. Responding to the nurses' demands, two provinces, Alberta and Ontario, agreed to include healthcare workers in the decision-making process on when equipment is used. In a related story, almost the entire staff at an adult disability care home in Ontario walked off the job on 9th April 2020 over concerns about the lack of PPE while responding to a coronavirus outbreak at the facility. The action came after management announced that ten residents and two employees had tested positive for COVID-19.
On 9th April 2020, the Alberta Medical Association (AMA) filed a lawsuit against Alberta's provincial government for violating doctors' rights and for breaching their employment contract by unilaterally ending their agreement and changing compensation rules. A lawyer representing the doctors said, "the Supreme Court of Canada has ruled that the Charter's Freedom of Association protection requires either: the right to strike, or if you're an essential service (as doctors are) and you can't strike, access to an independent, third-party resolution process." By preventing doctors from negotiating their compensation, the province "has crippled the AMA's ability to meaningfully bargain on behalf of physicians," the lawyer said.
Peaceful Assembly
The Amalgamated Transit Union delivered a list of "safe service" demands to cities across Canada this week that it argues is necessary to protect municipal bus drivers from the pandemic.https://t.co/hdH2yoBGkP

— ATU Canada (@atu_canada) April 17, 2020
Essential workers have staged protests and walkouts in response to unsafe working conditions and the lack of safety equipment in the context of COVID-19. Doctors in Calgary staged a small protest calling on the government to provide urgently needed safety equipment to frontline workers in the province's homeless shelters. "The shelters are doing everything they can to keep people safe, but we need public health measures immediately," said one of the doctors. In Toronto, bus drivers and other transit workers conducted protests and walkouts over safety concerns as multiple employees tested positive for the virus. In Hamilton, about 50 waste collectors stopped working and called on the city to provide hand sanitiser and more facilities to wash their hands.
The government's response to the coronavirus also triggered small protests against the stay at home orders and other actions that affect daily life. In Vancouver, a small group of people holding signs with messages such as "All work is essential" and "lockdowns hurt the poor," held a rally to encourage the government to open businesses. In Toronto, about 100 people gathered downtown to call on the province's premier to "open up Ontario." In Windsor, people held a sit-in at a bus station to demand that bus services resume. "We are performing civil disobedience to show the mayor that this is not okay and that people deserve access to transit, because it is an essential service," said one of the protesters. In Quebec, about two dozen people protested outside a long-term care centre to call on the government to end its temporary ban on visitors at these facilities.
On 18th April 2020, police arrested 14 people for allegedly entering an East Vancouver school during a demonstration to ask for more emergency housing for underserved community members during the COVID-19 outbreak. Protesters had gathered in front of the school to call on the province to use hotels and other available buildings to house the homeless and others staying in shelters, when several people entered the school without permission. Police reportedly used riot gear to forcibly remove the protesters from the school.
Despite a government order to stay at home because of COVID-19, on 15th March 2020 about a hundred people gathered at Place du Canada in Montreal to participate in an annual event calling for an end to police brutality. The event's organisers, the Collectif Opposé à la Brutalité Policière (Collective Opposed to Police Brutality), say they chose to ignore the order and were met by police officers who used loudspeakers to describe the protest as an "unlawful assembly" and order the protesters to "disperse and leave the area". However, no arrests were registered.
On 8th March 2020, thousands of people marched in Toronto to mark International Women's Day and to call on the authorities to respect Indigenous land rights, support education funding, and to address the climate crisis. Organised by a coalition of community groups, students and trade unions, the theme of this year's event was "The World is on Fire and We Are Rising." One of the event's organisers said that the march was a celebration of women's role in fighting for change. "This is what is bringing thousands and thousands of people together on this beautiful day," she said.
Expression
In a case previously reported on the Monitor, an Ontario court has ruled that police violated a man's freedom of expression when they searched his bag and took his swimming goggles as he attempted to enter a park to participate in a protest in Toronto. Luke Stewart was awarded $500 in damages after the court found police had no right to search him before he entered the park. "The freedom to engage in the peaceful public expression of political views is central to our conception of a free and democratic society," the ruling said. "Freedom of expression requires zealous protection."