Refugees in Norway threatened by their home governments; BLM protests draw thousands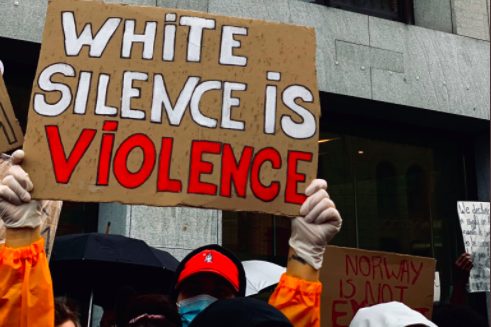 Expression
A recent report commissioned by the Norwegian Ministry of Education and Research finds that refugees and immigrants in Norway experience extensive control, pressure and threats from their home countries' governments. The report investigates political pressure and control of five groups of migrants: Eritreans, Ethiopians, Uighurs, Chechens and Turks. It found that the authorities from these countries of origin are demanding that their citizens living in Norway should refrain from opposition activities and speaking out against their governments.
These foreign authorities use a wide range of methods to intimidate immigrant groups in Norway, including exclusion from religious, cultural and social contexts in Norway, threats of arrest or loss of rights for refugees or their families still living in the country of origin, smearing a migrant's reputation within their new community in Norway or to the Norwegian authorities and the denial of documents and service at the country's consulate or embassy in Norway. As a result, freedom of expression and association of migrants from these groups in Norway is severely limited, even after they have escaped the authoritarian regimes of their home countries.
Peaceful Assembly
Following mass protests against racism in the US, after the death of George Floyd, a Black man, by a Minneapolis police officer, Black Lives Matter protests have spread across the globe, including in Norway.
About 12,000 people gathered on the 5th June 2020 in Oslo in front of the Norwegian parliament to protest systemic racism. Protests took place in other cities also.
The protests were organised by Arise, Streamy and the African Student Association at the University of Oslo. On its Facebook, Arise states that the situation for black people in Norway is similar to that in the US.
"In Norway...we sadly know that racial profiling is still happening to our youths in particular, police brutality against black people in Norway and arrests with no apparent cause still happen, and we have a disproportionate amount of our Brothers in prison."
Oslo, Norway #BlackLivesMatter #BLM pic.twitter.com/Ze77MLUf30

— sofie⁷🦦 (@sofiebakkenn) June 5, 2020