Raids on trade unions and arrests of unionists as South Korea's human rights record is reviewed by the UN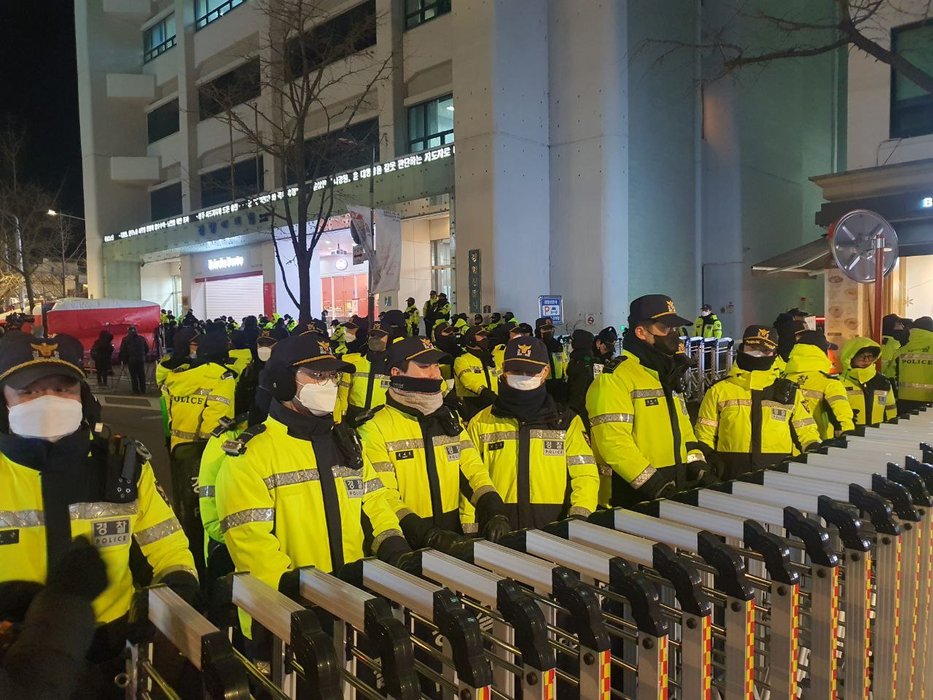 South Korea's civic space is rated as 'narrowed' by the CIVICUS Monitor. Among the civic space concerns documented previously are the disruption of union protests, restrictions and investigations of civil society groups working on North Korea, concerns around press freedom and the right to privacy.
In January 2023, South Korea's human rights record was reviewed by the UN Human Rights Council. The recommendations made by states related to civic space include to review the National Security Act, in particular its article 7, to make it compliant with international human rights standards; ensure freedom of the press and guarantee freedom of expression (Paraguay); replace criminal defamation and libel laws with civil laws; guarantee that the right to freedom of association and peaceful assembly is exercised by all persons, and to stop arbitrary interference in the functioning of trade unions, and the disproportionate use of force on all persons enjoying the right to peaceful assembly.
In recent months, the authorities raided a number of trade unions for allegedly violating the national security law and indicted an activist over alleged contacts with North Korea. The Presidential office has also sued reporters for criminal defamation for their reporting. There have been protests around an order forcing striking truckers back to work and around a plan to resolve the forced labour row with Japan.
Association
Authorities raid trade unions for allegedly violating security law
South Korea spooks raid trade union offices

"We condemn the attempt to suppress criticism of the government through Yoon Suk-yeol-style anti-communism, and make it clear this will never be tolerated" - Korean Confederation of Trade Unions https://t.co/4FCaRTh0Xg

— Alex Gordon #JoinAUnion (@alexgordon4me) January 28, 2023
In January 2023, the authorities raided trade unions in the capital Seoul raising concerns about suppression of the labour movement.
The offices of the Korean Confederation of Trade Unions (KCTU) were targeted by the police and National Intelligence Service (NIS) on 18th January 2023 alleging that current and former KCTU members had violated the National Security Act.
According to reports, the authorities conducted a search and seizure operation on the administration office of the KCTU and the office of the Korea Health and Medical Workers' Union (KHMWU), both in Seoul. The NIS and police also searched the home of an individual in Damyang, South Jeolla Province, a member of a Kia Motors union branch who served as vice chairman of the Korean Metal Workers' Union (KMWU), and a peace shelter in Jeju's Bonggae neighborhood headed by a former member of the KMWU.
The following day, police raided the offices of construction unions affiliated with Korean Confederation of Trade Union (KCTU) and the Federation of Korean Trade Unions (FKTU). On 20th January 2023, dozens of NIS agents again raided the 13th floor of the KCTU head office building for hours.
South Korea's spy agency said the operation was part of an investigation into whether some members had violated the National Security Act by having contact with North Korean agents overseas, possibly in Cambodia and Vietnam, and receiving orders from them.
It was reported that union officials had physically prevented the authorities from entering the KCTU head office, demanding that the raid and any seizure of property be conducted in the presence of a lawyer. A scuffle reportedly broke out between the police and union officials during the confrontation.
In a statement, the KHMWU said the government forces searched its offices for several hours despite its intention to cooperate: "We strongly condemn the public security suppression of the labour movement."
ITUC Deputy General Secretary Owen Tudor denounced the raids: "We stand firmly with the Korean labour movement in the face of this overt aggression and intimidation by the government."
On 28th March 2023, it was reported that four current and former executives of KCTU were arrested for making contact with North Korean spies overseas. The Suwon District Court issued arrest warrants for the four suspects for violating the National Security Act.
On 30th March, The KCTU said it would file a complaint against the head of the national spy agency and three other agency officials for allegedly leaking information regarding the criminal probe facing the union. The union accused the NIS officials of leaking information to conservative media outlets about criminal charges facing KCTU members when their offices were raided.
South Korea remains officially at war with North Korea and, under a controversial and archaic National Security Act, possession of publications or other materials produced in the North can be a criminal offence. The law has been widely criticised, including by the United Nations, which says it is a "seriously problematic" challenge to freedom of expression in South Korea. Local media reported that the raids were prompted by alleged violations of the Security Act.
Activist indicted over alleged contacts with North Korea
On 1st February 2023, a local court indicted a civic organisation activist on charges of making alleged contact with "North Korean spies."
Prosecutors in the country's northern Jeolla province said Ha Yeon-ho had been charged with violating the National Security Law for meeting with North Korean agents on several occasions in cities such as Hanoi and Beijing between 2013 and 2019.
Ha, who leads the Jeonbuk People Movement based in the province, has rejected the allegations, claiming that the "investigation is suppression."
Ha's indictment came after the South Korean National Intelligence Service launched an investigation last year into a number of "progressive figures" in Jeolla, southern Gyeongsang province and Jeju Island.
Expression
Presidential office sues reporters, ex-spokesman over reports
In February 2023, the presidential office filed a complaint of libel against a former spokesperson for the Defence Ministry, accusing him of making a false claim that its decision to relocate President Yoon Suk Yeol's residence to Yongsan, central Seoul, was linked to a fortune teller whom the opposition party suspects the president of having ties with.
The office also sued two other reporters for libel -- from News Tomato and Hankook Ilbo -- for writing about the ex-spokesman's claim without fact-checking.
Defamatory libel is a criminal offence in South Korea. It is the first time Yoon's presidential office is seeking criminal charges against a journalist since his term started in May 2022.
Articles 307-312 of South Korea's Penal Code describe various "crimes against reputation," including defamation, defamation through printed materials and insult. The publication of "false factual statements" which damage the reputation of others carries a penalty of up to seven years' imprisonment and fines of up to 50 million won (USD 38,600). Truthful statements can also be the basis of criminal liability if the court finds that they were not "in the public interest," with a possible sentence of up to three years in prison or a fine of up to 20 million won (USD 15,300). These provisions have frequently been used to charge individuals criticising government officials.
Peaceful Assembly
Protests by labour groups around 'back to work' order
Thousands protest in South Korea in support of truckers https://t.co/dloYVKY0rz pic.twitter.com/cneHJuTG9A

— CTV News (@CTVNews) December 3, 2022
Thousands of demonstrators representing organised labour marched in South Korea's capital on 3rd December 2022 denouncing government attempts to force thousands of striking truckers back to work after they walked out in a dispute over the price of freight. The marchers, mostly members of the Korean Confederation of Trade Unions, accused President Yoon Suk Yeol's conservative government of labour oppression and ignoring what they described as the truckers' harsh working conditions and financial struggles, worsened further by rising fuel costs.
On 29th November 2022, the government issued a 'back-to-work order' for some 2,500 drivers of cement trucks, saying that their walkout was rattling the national economy and arguing that the strikes themselves were illegal. A failure to comply without "justifiable reason" is punishable by up to three years in jail or a maximum fine of 30 million won (USD 22,400). Critics say the law infringes on constitutional rights because it doesn't clearly define what qualifies as acceptable conditions for a strike.
Thousands rally against plan to resolve forced labour row with Japan
South Korea plans fund to compensate forced labor victims (from @AP) https://t.co/sYgMeKmDw7

— Hyung-jin Kim 김형진 (@hyungjin1972) January 12, 2023
Thousands of people took to the streets in March 2023 to protest against South Korea's plan to end a wartime forced labour dispute with Japan, many voicing anger at what they deem a "foolish" and "humiliating" move.
The administration of President Yoon Suk Yeol announced on 6th March 2023 that it would compensate victims of forced labour with donations from a Seoul-based foundation. The government's move is aimed at improving ties with Japan, which sank to historic lows after the ruling triggered diplomatic and trade rows.
But this goes against a 2018 Supreme Court ruling for Japanese companies to pay damages directly to 15 people forced to work in their factories during the 1910-1945 Japanese colonial period until the end of World War II.
Thousands turned up in front of the Seoul City Hall on 11th March 2023, holding signs to demand the withdrawal of the forced labour deal and a "trial of the Yoon government's humiliating diplomacy". The turnout exceeded organisers' expected 6,000, with opposition politicians lambasting the Yoon administration on stage and attendees holding signs that called for Yoon's resignation.
World War II forced labour victims lashed out at the plan. Two of them, Madam Yang Geum-deok and Madam Kim Sung-joo, both in their 90s and seated in wheelchairs, voiced their objections in front of the National Assembly. As teenagers, both had been forced to work for 17 months, unpaid, in a factory owned by Mitsubishi Heavy Industries in Nagoya, Japan.
During the colonial era, around 780,000 Koreans were recruited into forced labour by Japan. Japanese troops also forced Korean women into sexual slavery.