Questions raised around death of fisheries observer; concerns about media independence in Kiribati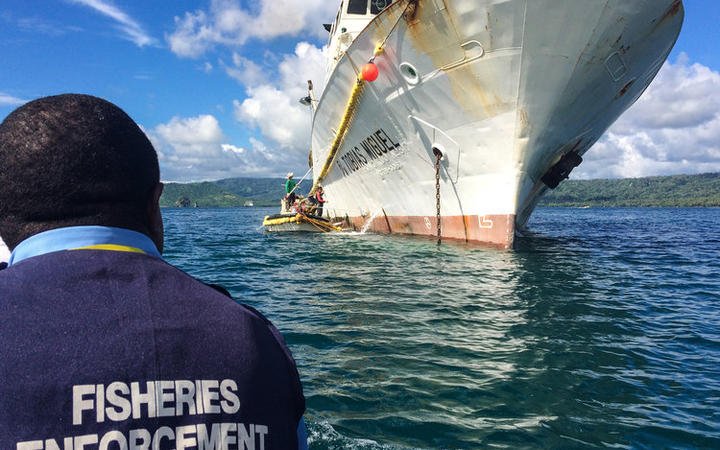 Two new reports raises questions about the untimely death at sea of Kiribati Fisheries Observer Eritara Aati Kaierua as well as around media independence in Kiribati and the failure to decriminalise defamation.
Association
Independent review around death of fisheries observer raises questions
NEW REPORT. Death at Sea. Independent Case Review of Kiribati Fisheries Observer Eritara Aati Kaierua https://t.co/d1BqD8G7ts @hratsea @TaiwanNews886 @TunaFFA @wcpfc @IPNLF @NZStuff @ABC @radioaustralia @pacifical_tuna @APO_Observer @WWFNewZealand @9BRi @globalcompact @BHRRC

— Human Rights at Sea ™️ (@hratsea) May 19, 2021
An independent case review was published by the non-governmental organisation, Human Rights at Sea (HRAS) in May 2021 around the untimely death at sea of Kiribati Fisheries Observer Eritara Aati Kaierua. Eritara was 40 years old at the time. The review has been undertaken on behalf of the family due to concerns they have consistently raised with the Kiribati authorities about the conduct of the investigation.
As previously documented, Kaierua was employed through a regional observer programme of the Western and Central Pacific Fisheries Commission (WCPFC), a Regional Fisheries Management Organisation (RFMO). His last journey saw him leave Pohnpei, in the Federated States of Micronesia, on board a Taiwanese purse seiner, the Win Far 636, as it set out to ply the Pacific for tuna. A few weeks into the voyage, the father of four was dead on the floor of his cabin with a massive blunt trauma to the head, his log book open beside him.
An initial pathologist's report said the independent fisheries observer had died of "severe traumatic brain injuries" and police in Kiribati, where his body was brought, opened a murder investigation. But over a year later, his wife Tekarara is still waiting for answers from the investigation she was promised.
According to HRAS there remain significant unanswered questions over aspects of the investigation into the circumstances surrounding his death. According to the review, post-mortem results are yet to be made available to immediate family members and their legal representatives; that reasonable enquiries to Kiribati authorities remained unanswered; and apparent shortcomings in the crime scene management procedures of the Kiribati Police Service have raised doubts over the reliability of the evidence used to determine the cause of death.
Further, crucial IT device evidence has not been adduced, the crime scene of the vessel was released at the request of the owners to continue fishing in surrounding waters, and forensic evidence has been lost through lack of in-country resources and delay.
HRAS recommended the timely disclosure of information be made available on written request to immediate family members and their legal representatives and for the legal representatives themselves to assess if additional evidence is required and/or to be requested and/or submitted for the conduct of the investigation.
The NGO also called for transparency and equality of arms to be maintained and that, where forensic expertise falls outside such a capability, arrangements be continuously maintained with external subject matter experts which are promptly put into effect to protect the integrity of the evidential chain of custody.
According to the Association of Professional Observers, there have been over a dozen cases of observers dying on the job since 2009 alone, including three involving Kiribati nationals.
The Pacific is the world's most lucrative fishing ground, supplying about 60 percent of the world's tuna. Most of the fishing is done by foreign fleets, who pay a fee to island countries to fish in their economic zones. These Pacific Island countries run observer programmes that employ observers, who spend weeks and sometimes even months alone on these ships collecting data about what's hauled on board and are obliged to report any violations they see.
Expression
Concerns about media independence and defamation laws
AVAILABLE NOW: Pacific Human Rights Situational Analysis Report 2020 proudly presented by @UNOHCHR & @SPC_CPS. The report analyses situation of human rights across 16 Pacific Islands Countries (PICs) in the region and can be accessed here: https://t.co/x4UARSWYeR #PacificPeoples pic.twitter.com/SSGovYGMDt

— Pacific Community (@spc_cps) July 26, 2021
In July 2021, the Office of the High Commissioner for Human Rights (OHCHR) and the Pacific-Community-SPC Human Rights and Social Development Division (SPC-HRSD) published a new report analysing the situation of human rights across 16 Pacific Island countries.
The report highlighted that in Kiribati although there are no government restrictions on media, concerns have been raised about the lack of transparency with respect to the registration of media organisations as well as the lack of local independent media. The law requires registration of newspapers and also permits the government to cancel registrations or fine newspapers for certain offences.
According to the report, Kiribati operates two main newspapers on a weekly basis: one run by a private agency owned by a member of parliament, and the other a state-owned corporation, the government owned Broadcasting and Publications Authority. Together, they provide most local news content, while the regional SKY Pacific pay television channel provides regional news coverage. The National Broadcasting Authority is the only major radio station, broadcasting three times daily, while two shortwave band FM stations concentrate mainly on the urban capital vicinity.
The report also noted that no action has been taken by the government to decriminalise defamation and include it under the Civil Code in accordance with international standards although this had been recommended during the Universal Periodic Review and UN Human Rights Council in 2015.