Protests staged in support of Russia and Ukraine stoke division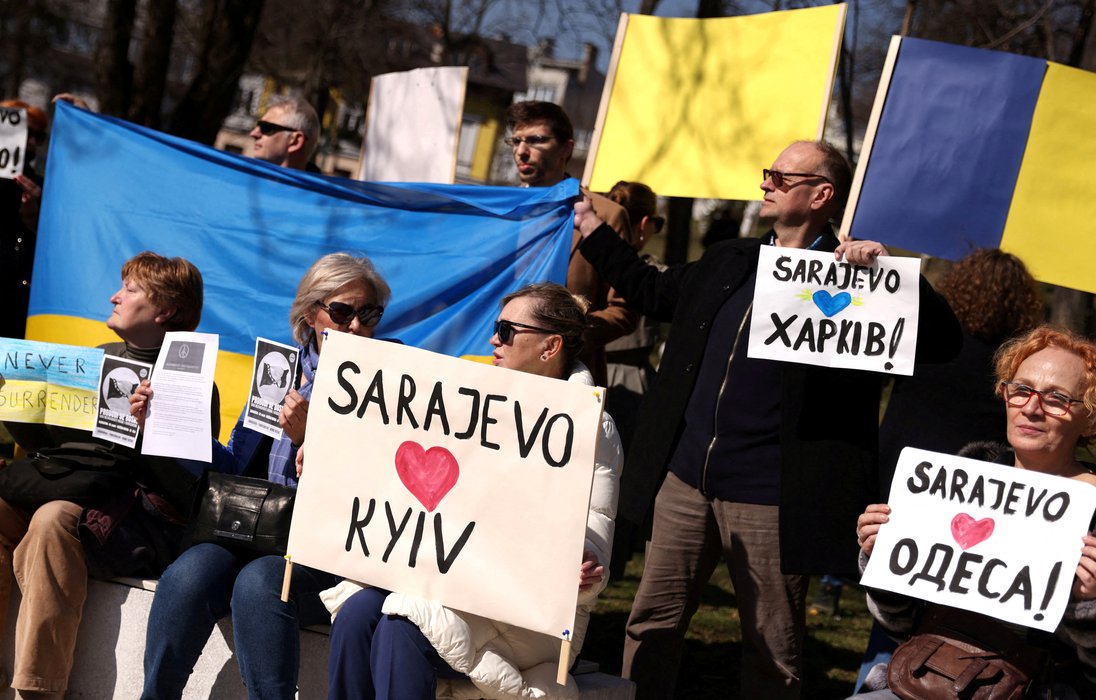 Association
An open letter signed by 88 Bosnian CSOs was sent to more than 200 institutions and individuals involved in the negotiations regarding the future of Bosnia and Herzegovina, requesting to be included in these negotiations which should be held, according to them, exclusively in government institutions.
According to the paper "Regulating the financing of Civil Society Organisations from public budgets in FBIH" published by the association Sarajevski Otvoreni Centar (Sarajevo Open Center) under the initiative for monitoring of EU integration, the complex administrative structure of Bosnia and Herzegovina makes it impossible to know the exact number of registered associations and foundations, to effectively control the fulfilment of their legal obligations and to effectively allocate funds to them.
As a result of the work of the association Sarajevski Otvoreni Centar, Dino Redžović, District Public Prosecutor at the District Public Prosecutor's Office in Trebinje, became the contact person for all LGBTQI+ people who need help reporting hate crimes based on sexual orientation and/or gender identity.
Peaceful Assembly
Several gatherings were held in Bosnia since the beginning of Russia's invasion of Ukraine.
In February 2022, people in Sarajevo protested in support of Ukraine just after the beginning of the act of aggression.

On 2nd March 2022, doctors at the General Hospital in Sarajevo protested in support of the Ukrainian people.

On 4th March 2022 a rally supporting Russia was held in Bratunac, a town located in Republika Srpska, organised by the Bosnian Serb Eastern Alternative Association, whose President Vojin Pavlović is a member of the Serbian Radical Party. On the same day, students from the United World College in Mostar walked in solidarity with Ukraine. Parallel gatherings were also held on 12th March 2022, with Bosnian Serb nationalists rallying in Banja Luka in support of Russia, while citizens and organisations in Tuzla marched in support of the Ukrainian people. The gathering in Banja Luka was organised by the Bosnian Serb branch of the Russian 'Night Wolves' biker group which is fully supportive of Putin's actions and which had also taken part in the occupation of Crimea and the fighting in Donbass. They also organised a rally in Trebinje on 5th March 2022 to support Russia.
Pro-Russian protests were held today in Banjaluka, the center of Bosnia's Serb-majority entity and organized by local members of the Night Wolves — a motorcycle club that participated in the occupation of Crimea, often referred to as "Putin's Angels." pic.twitter.com/6r4SOmcNWr

— Una Hajdari (@UnaHajdari) March 12, 2022
Separately, other protests also took place:
In January 2022, several members of the informal group ReSTART gathered in front of the Delegation of the European Union to Bosnia and Herzegovina demanding that international officials be more engaged in talks with the civilian population. After a few days, members of the same group protested in front of the Croatian Embassy while negotiations were being held in Neum to find an agreement on electoral reform. Protesters demanded the continuation of negotiations within state institutions and called on politicians to stop endangering citizens for the sake of their personal interests. The day after, members of ReSTART gathered in front of the hotel in Neum where negotiations were being held asking for the suspension of all negotiations and for legal action against negotiators whom they accused of not working in the interest of Bosnia and Herzegovina. Another protest was held in February 2022 in front of the Parliamentary Assembly of Bosnia and Herzegovina in Sarajevo, again in protest at the development of the negotiations.

In February 2022, a protest was held in front of the BBI bank in Sarajevo by citizens of several cities demanding truth about the death of Dzenana Gadzun, a young girl who died during a routine procedure in a local private clinic in Sarajevo.
Okupljanje prevoznika iz Republike Srpske uoči protestne vožnje u Banjaluci pic.twitter.com/GVv9CBsc3J

— TV N1 Sarajevo (@N1infoSA) March 9, 2022
Expression
Despite legislation that prohibits the honouring of war criminals, Bosnian Serb Army veterans of the Veterans' Association of East New Sarajevo installed a new plaque in East Sarajevo that honours their former military commander Ratko Mladic. The East Sarajevo mayor argued that the association did not need any permit to install it since it is an organisation of special interest which is allowed to freely mark places and important dates.
In Transparency International's Corruption Perceptions Index for 2021, published in January 2022, Bosnia and Herzegovina ranked 110/180, the worst country in the Western Balkans together with Albania. In particular, it mentioned that the country has reached its lowest score since 2012 and that "journalists face verbal threats, lawsuits and physical attacks, and the government continues to manipulate the media". The hostile environment against journalists and media, in particular those attempting to cover cases about corruption, war crimes and migration was confirmed in the Amnesty International Report 2021/2022, published in March 2022.
Incidents against journalists
According to media reports, by the end of March 2022, BHRT would lay off a large number of employees in order to compensate for the unpaid debts of RTRS (Radio Television of Republika Srpska) which are causing a huge financial crisis.