Protests resume ahead of snap elections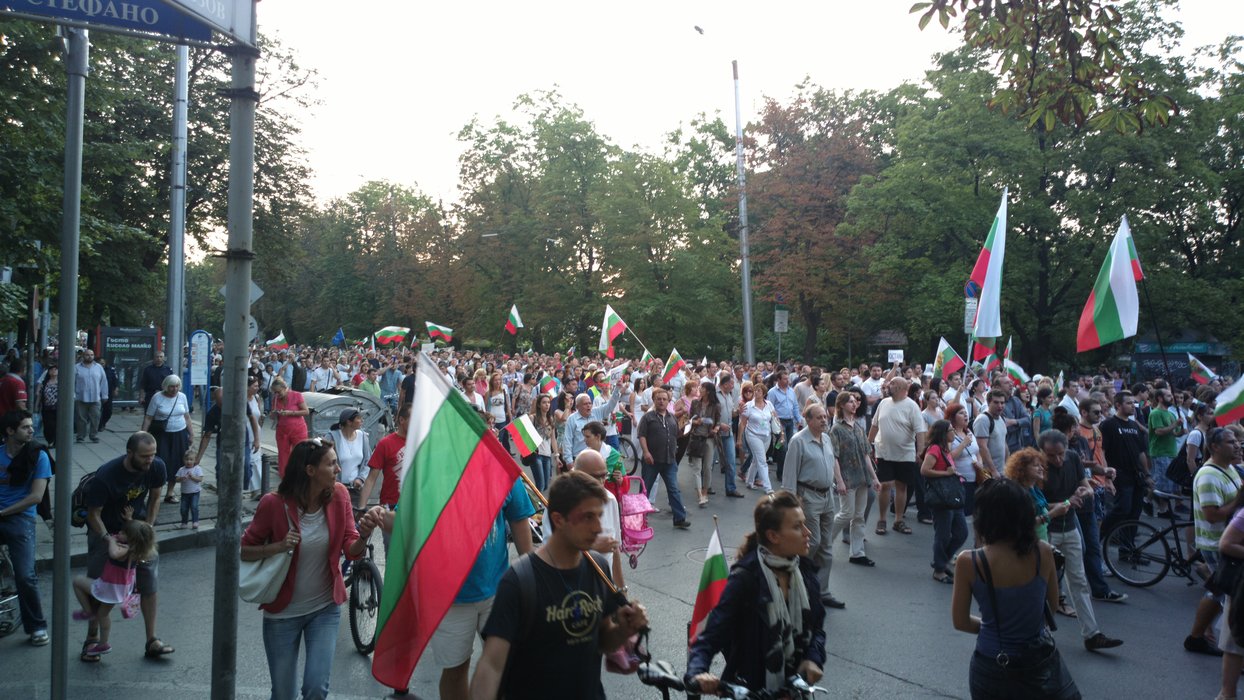 Key opposition leaders and established civil society members have called for #protests against Ivan Geshev! We perceive him as a tool of the #Mafia. #Resign #Ostavka #Bulgaria

— Dr Radosveta Vassileva (@radosveta_vass) June 2, 2021
Peaceful Assembly
Protesters resume calls for resignation of chief prosecutor ahead of elections
In June 2021, more protesters occupied the entrances of the central courthouse in Sofia in a bid to bar the country's chief prosecutor, Ivan Geshev, from his office for what they considered was his failure to investigate widespread corruption. The protesters had accused Geshev of protecting interest groups since Summer 2020 when mass protests erupted across the country, as previously documented.
The protests resumed in June 2021 after a list of names of Bulgarian oligarchs who were banned from entering US territory due to corruption was published. The protesters also called on the European chief prosecutor, Laura Kovesi, to support punishing those guilty of the high-level corruption.
These latest protests took place in the middle of the electoral campaign for snap elections which were slated for July 2021.
Expression
Regional court finds that deportation of journalist was a violation of rights
On 20th July 2021 the European Court of Human Rights found that Bulgaria had violated the European Convention on Human Rights by expelling a Turkish journalist and other refugees and migrants in 2016. According to the Court, the Bulgarian authorities failed to examine the possible consequences of their decision and neglected to consider the danger of exposing those who were deported, including to torture and persecution on political grounds, at a time when persecution had intensified in an operation to punish those who were guilty of organising the coup in 2016.
The journalist was denied a translator and a lawyer and was taken into custody by the Turkish authorities. He was later sentenced to seven-and-a-half years' imprisonment in December 2019, for membership in a terrorist organisation led by cleric Fethullah Gulen, the person who was claimed to have been behind the attempted coup. The European Court of Human Rights ordered the Bulgarian government to pay 15,000 euros in compensation.
Media experts urge government to prioritise safety of journalists
In June this year, the International Press Institute (IPI) joined the Media Freedom Rapid Response (MFRR) and other groups in writing to the interim government urging them to prioritise the improvement of media freedoms in the country. The organisations also urged the interim government to investigate threats and attacks on journalists.
Association
Freedom of association for national minorities is still limited in Bulgaria, and for several years ethnic minorities have faced challenges including the denial to register civil society organisations. In June 2021, the Committee of Ministers of the Council of Europe examined judgments by domestic courts which found that between 1999 and 2015, the courts refused to register CSOs to recognise "the Macedonian minority in Bulgaria" on the basis of national unity arguments.
The Committee's analysis also revealed challenges related to the inconsistent application of legal requirements and highlighted the need for a more precise legal framework.