Protests over women's rights: "There is a war on women."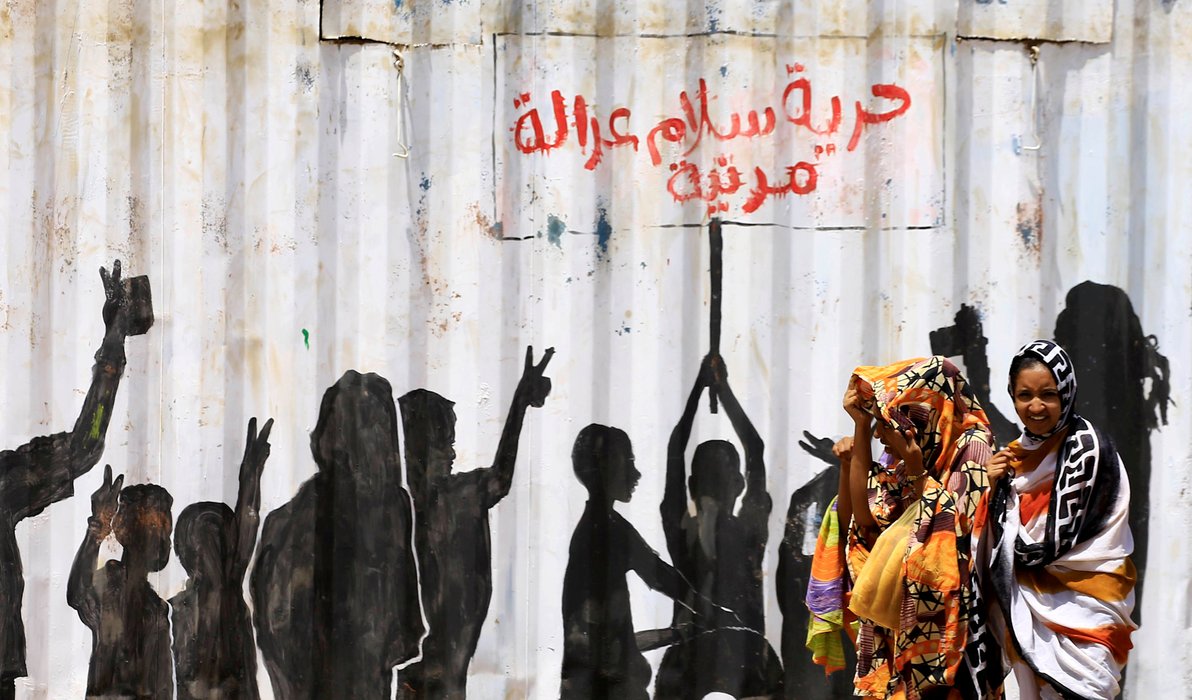 Association
Attacks against WHRDs
Violations against women human rights defenders (WHRDs) continue. One of the violations taking place in this reporting period is that of Waad Bahjat, women's rights defender and blogger. On 9th November 2020, Bahjat was arrested by a policeman while she was in her car outside a petrol station in Khartoum broadcasting on Facebook live to document an incident in which several women were reportedly harassed by policemen and military men. Bahjat was charged with defamation, "insulting a public servant", "publishing false news" and "public annoyance". While in detention, Bahjat was allegedly subjected to threats and ill-treatment, including cuts and bruises on her shoulders and arms.
The Observatory for the Protection of Human Rights Defenders called for Sudanese authorities to guarantee the physical integrity and psychological well-being of Bahjat and put an end to any kind of harassment against her, including at the judicial level. As documented by Frontline Defenders, on 31st March 2021the Criminal Court of Khartoum sentenced Bahjat to six months' suspended imprisonment, and a fine of 10,000 Sudanese pounds (approximately 22 Euros). In adherence to the Sudanese Penal Law, the woman human rights defender remains under the supervision of the Sudanese police.
#Sudan: Waad Bahjat has been handed a 6-month suspended prison sentence for her work defending women's rights.

📢We call for the end of the judicial harassment against her and for all charges to be dropped!

👉https://t.co/uaJGFLm1fV pic.twitter.com/rWr9vMck2z

— The Observatory (@OBS_defenders) April 8, 2021
Peaceful Assembly
On January 2021 demonstrations organised by women's rights groups demanded that the new Sudanese government ratify the Convention on the Elimination of All Forms of Discrimination against Women (CEDAW). News sources note that the rally was called for by 60 feminist organisations, with protesters chanting: "The entire world, except us. You make us feel ashamed."
On 9th April 2021, hundreds of women took part in a protest against gender discrimination and violence, organised by over 50 local organisations. The protests come after a 13-year-old girl was killed by her father for wanting to attend private school. The father was arrested after thousands of people campaigned on social media. Speaking to The New Arab, Yosra Akasha from Strategic Initiative for Women in the Horn of Africa (SIHA) said:
"We believe that there is a war on women in Sudan now. This war is reinforced by the lack of protection for women and the violence that they endure not only on the streets, but also in their own homes...The government has an obligation to end all forms of discrimination, but we are still governed by the same laws as during Bashir's era and the current government has not since ratified the conventions that protect women's rights."
During the protest, several protesters were assaulted. In one incident, one of the protesters was injured after being driven over by a vehicle. The driver also verbally and physically attacked protesters.
On 27th April 2021 the Sudanese government ratified the UN's CEDAW convention, however with reservations to articles 2, 16 and 29/1 without further details. However civil society organisations have raised concerns over the reservations, stating that this defeats the purpose of ratification, since cabinet failed to endorse three fundamental articles of the convention which pertain to equality between men and women in matters including marriage, divorce and parenting.
Other protests staged
During a protest in February 2021 over the rising cost of living in the Darfur region and other parts of Sudan, police used tear gas to disperse protesters.

During April 2021, protests were staged over the drinking water crisis.

Sit-in protests demanding improvement to health services and against the regular attacks facing doctors were also staged. The protests relate to the condition in mortuaries where the decomposition of 190 bodies has led to the emission of unpleasant odours and the flow of blood and bodily fluids.
Lethal force used against protesters
As documented by Human Rights Watch (HRW) following an investigation, protests erupted in October 2020 in Kassala two days after the prime minister, Abdallah Hamdok, dismissed the governor of Kassala state, Saleh Amar. During the protests Sudanese authorities used excessive lethal force against protesters, killing seven protesters and injuring 25.
"Sudan's transitional authorities should make clear that security forces are not above the law by promptly and strictly holding to account all those who violate it. The people of Sudan should be able to exercise their right to peaceful protest without fearing for their lives."- Ida Sawyer, deputy Africa director at Human Rights Watch.
Expression
World Press Freedom Day on 3rd May provided another occasion for human rights groups in Sudan to call for more press freedom and the immediate end to the repression of journalists. In a statement, the founding committee of the Sudanese Journalists Union (SJU) criticised the operation of the National Press and Publications Council as repressive. As reported by Radio Dabanga, the press council still grants or refuses to grant licences for newspapers, can still impose huge fines on publishing houses, and often hinders the establishment of new newspapers or restricts media outlets' ability to 'open up' since the revolution.
Crackdown on journalists
In a statement, the International Federation of Journalists (IFJ) demanded the immediate release of four journalists who were arrested by security forces on 12th February 2021.
Amin Hassan Omar, former general director of Radio and TV Public Authority, was arrested in Khartoum, Sudan's Capital.

Khuwailid Abdel-Azim and his colleague Saleh Muhammad Ahmed were also detained in the capital city.

Yasser Al-Attar, journalist and social media activist, was arrested by a police unit in eastern Sudan.
They are accused of "incitement of acts of violence, sabotage, and looting across the country". Just two days earlier, Hussein Khojaly, editor and owner of Alwan newspaper, Al Masaa Radio and satellite TV channel Omdurman, was accused of committing "crimes against the state" and detained.
"We condemn these repressive measures in the strongest terms and press the Sudanese government to release our colleagues immediately and without delay,"- Sudanese Journalists Union (SJU).
"The IFJ is deeply concerned over the increasing number of arrests of journalists for simply doing their job. We call on the Sudanese authorities to release all the imprisoned colleagues immediately."- IFJ General Secretary, Anthony Bellanger.