Protests over government plans to withdraw from Istanbul Convention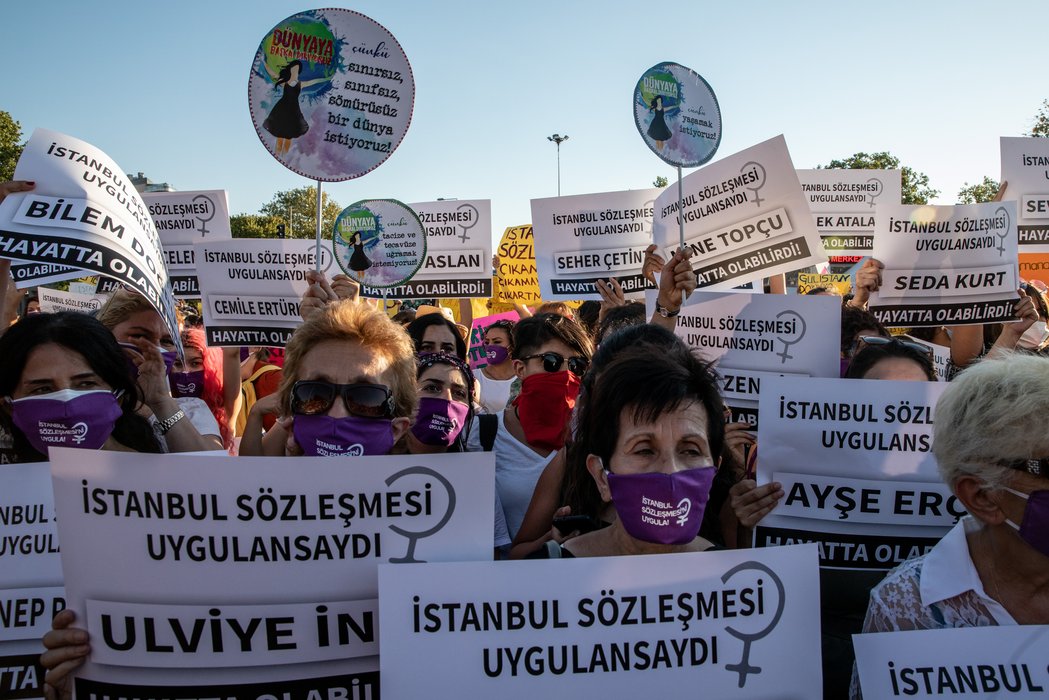 Association
The Constitutional Court has ruled in favour of protecting freedom of association in the case of Hakan Yılmazöz, a student who was convicted by a local court of "being a member of a terrorist organisation". The conviction was related to his participation in an event organised by an association. The Constitutional Court stated that in this case Yılmazöz'sright of association was violated and that "taking part in the event of an association cannot be cited as criminal evidence for membership of a terrorist organisation."
In a separate development, according to the Homophobia and Transphobia Based Hate Crimes Report 2019 issued by the Kaos GL Association, many attacks on LGBTI+ people occur in public spaces and are carried out by multiple perpetrators. However, very few of the victims (in 26 incidents out of 150) have reported the attacks due to the perception that "the police are careless", they "do not believe that reporting will work", "not wanting to be subjected to discrimination by the police", or they want "to avoid being exposed to the family or media". As a possible recommendation, it is pointed out that hate crime legislation needs to be adopted. It is important to mention that according to ILGA Rainbow Europe 2020, Turkey has ranked at the bottom of the Rainbow Europe scale together with Azerbaijan and Armenia.
Kaos GL Association has published the Human Rights of LGBTI+ People in Turkey 2019 Report 🔽https://t.co/z99XEsvtjQ pic.twitter.com/I0KR5RWdc4

— Kaos GL (@KaosGL) August 11, 2020
Withdrawal from Istanbul convention
There have been recent debates about the Turkish government's intention to withdraw from what is commonly known as İstanbul Convention, formally the Convention on Preventing and Combating Violence Against Women and Domestic Violence.
Former President of the Group of Experts on Action against Violence against Women and Domestic Violence (GREVIO), Professor Feride Acar, states that this decision is related to Turkey's "inability to accept gender equality". She states that this move could also taint Turkey's reputation in the international community and especially before the Council of Europe and its Human Rights Commissioner. This news comes at a time when Turkey faces even more violence against women due to the COVID-19 pandemic. Namely, digital violence as a form of harassment against women has become more present. For instance, there was a recent case of public officials revealing the locations of women's shelters, which has led to further distrust in institutions.
Speaking to the CIVICUS Monitor on the recent developments in Turkey, Elif Ege from Mor Çatı, a civil society organisation founded by Turkish feminists 30 years ago to fight violence against women, says that the situation of gender rights has deteriorated.
"The convention tries to prevent gender-based violence on the basis of gender equality, recognising women as equal citizens. The groups and parties that suggest withdrawing from the Convention say that we can create our own domestic laws. But the Convention itself was already created by the efforts of feminists from Turkey. If we withdraw from this Convention, it means that we do not believe in gender equality."
Amnesty International states that a withdrawal from the Istanbul Convention will have dire consequences for women and girls in Turkey.
"There is a bitter irony to the fact that the Turkish authorities are considering withdrawing from a Convention bearing the name of its most iconic city. This discussion is deeply worrying, coming at time when COVID-19 measures, such as lockdown, have led to a spike in reports of violence against women and girls with many women and girls trapped at home with their abusers or unable to easily access safety and support services."- Amnesty International's Women's Rights Researcher, Anna Błuś.
There is a bitter irony to the fact that the Turkish authorities are considering withdrawing from a Convention bearing the name of its most iconic city. Turkey should take immediate action to better protect & promote the rights of women and girls. https://t.co/1aohVbg99O

— Amnesty International (@amnesty) August 6, 2020
The government's intention to withdraw from the Convention has sparked protests (see Peaceful Assembly). Women's organisation's also created a petition, with over 450,000 signatures, calling on the government not to withdraw from the convention. A decision on the wtihdrawal is set to be made on 18th August 2020.
HRDs convicted
Human Rights Watch (HRW) has condemned the conviction of four Human Rights Defenders (HRDs) on 3rd July 2020. Eleven HRDS were on trial on charges that they were connected to several outlawed organisations. The following sentences were handed down:
Taner Kılıç, Amnesty International Turkey's honorary chair, who was first detained in 2017, was sentenced to six years and three months in prison for membership of a terrorist organisation.

Three other HRDs, who were charged with aiding and abetting a terrorist organisation, received a sentence of 25 months. They are: İdil Eser, Amnesty Turkey's former director; Özlem Dalkıran, a rights activist and member of NGO Citizens' Assembly; and Günal Kurşun, member of the Human Rights Agenda Association.

The remaining activists were acquitted.
"In three years, the police and prosecutors have produced not a shred of evidence of criminal activity by any of the 11 rights defenders who stood trial. Four have been convicted for their legitimate human rights work in another trial which demonstrates how any independence in Turkey's justice system has collapsed under political pressure."- Hugh Williamson, Europe and Central Asia director at Human Rights Watch.
Outrageous verdict at the #Buyukada trial - four of the 11 defenders see convictions in a case that should never have been brought.

This is a shameful day and a verdict that even with a cursory knowledge of the case, can only be described as a travesty of justice. pic.twitter.com/NrXDx7PSiP

— Milena Büyüm (@MilenaBuyum) July 3, 2020
Peaceful Assembly
The followings protests took place during the reporting period:
Ahead of the People's Democratic Party's (HDP) "March for Democracy", governorship boards restricted the right to assembly and demonstrations in Bursa, Bingöl, Adana, Van, Hakkari for 15 days stating it is due to the risk of COVID-19 transmissions. However, the "March for Democracy" went ahead, resulting in several detentions. Police also made use of rubber bullets and tear gas against protesters.
#HepBirlikte Denizlerin Hakkari'de kurdukları Devrimci Gençlik Köprüsü'nde, onların izinde... pic.twitter.com/x7Wh7U7TJb

— HDP (@HDPgenelmerkezi) June 14, 2020
In the wake of mounting hate speech and discrimination against LGBTI+ persons in Turkey (see previous monitor update), it has been announced that this year's Pride Week will be held digitally. As the organisers state, the message of existence and respect towards the LGBTI+ community is even more important this year.
"This threat has been in Turkey for decades. It is not a current issue. I think that the violence, which has especially increased in the recent period, is closely related with the statements of the politicians."- Ali Yıldırım from the İstanbul LGBTI+ Pride Week Committee.
Thousands of women protested in various cities in Turkey against femicide and the government's intention to withdraw from the Istanbul Convention. In late July 2020, the body of Pınar Gültekin was found in Muğla, who had been missing since January 2020, sparking outrage across the country. During protests in Izmir, police detained 12 women. As a consequence of their attendance at a protest in Dersim, five students have been dismissed from their dormitories and stripped of scholarships and loans.
İstanbul'da binlerce kadın #pınargültekin için toplandık

İstanbul Sözleşmesi'ni uygulatacak, kadın cinayetlerini durduracağız! #İstanbulSözleşmesiYaşatır pic.twitter.com/e819zd1ThP

— Kadın Cinayetlerini Durduracağız Platformu (@KadinCinayeti) July 21, 2020
During August 2020, police detained at least 30 women who protested with banners which stated, "Istanbul Convention Saves Lives".
"Women will not forgive violence"

"Apply the Istanbul Convention"

In #Turkey, thousands of women have taken to the streets of several cities to protest against gender-based violence & demand the country remain a signatory to @CoE's #IstanbulConvention https://t.co/3JQJrczk2N

— Lotte Leicht (@LotteLeicht1) August 7, 2020
Locals living in the neighbourhood of Çavuşçugöl in Turkey protested against a company that wants to extract coal in their living environment, which could pollute the nearby water basins and thus threaten their health and wellbeing. Citizens are planning on bringing a lawsuit against the company.

Hundreds of lawyers have come together in front of an İstanbul Courthouse in Çağlayan to protest a proposed bill that would "split bar associations." They state that the law, which changes the structure of bar associations, "aims to silence some of the few institutions still speaking out against the government's record on rule of law and human rights". Lawyers also attempted to protest in Adana, but the police intervened and dispersed the crowd by using pepper gas. In Ankara heads of some 60 regional bar associations were allowed to have a symbolic march, resulting in a 24-hour standoff between police and protesters. Despite the protests, parliament passed the contested law.
On the proposed bill, Human Rights Watch said:
"Turkey's prominent bar associations play a key role in defending fair trial rights and scrutinising human rights at a time when flagrant violation of rights is the norm in Turkey...The government's move to create multiple bars and dramatically cut leading bars' representation at the national level is a clear divide-and-rule tactic to diminish the bar associations' authority and watchdog role."- Hugh Williamson, Europe and Central Asia director at Human Rights Watch.
At the beginning of July 2020, the Ankara governor's office banned all demonstrations and protests in the province for two weeks, citing the fight against COVID-19 as the main reason. The ban came just a day before lawyers planned a "Great Defence Meeting" in the province in defiance of the government's plan to decentralise bar associations. The heads of the Antalya, Bursa and Urfa Bar Associations criticised the ban decision, stating that it is against the law and the Constitution.
Expression
Amid the COVID-19 pandemic, authorities in Turkey have made use of criminal law provisions to target people who critically discuss the pandemic online. This observation was made by Amnesty International (AI), according to which a total of 1,105 social media users were targeted by the authorities in the last 65 days for being involved in propaganda for a terrorist organisation that included "sharing provocative Coronavirus posts." Five hundred of these users were reportedly detained and questioned.
Furthermore, during the COVID-19 outbreak in the spring of 2020 (more precisely in the period between 17th March and 15th June) around 92 journalists were prosecuted according to the June 2020 Press Freedom Report by the Press in Arrest platform. At least 60 of these journalists were prosecuted during June, which is a worrisome development.
In relation to this, it is important to mention that according to a monitoring study (Turkey Free Expression Trial Monitoring Report) by the Media and Law Studies Association (MLSA) and the International Press Institute (IPI), the majority of the convictions of journalists in Turkey emanated from their work publications. This indicates that the Turkish judiciary is often prone to linking journalism with terrorism. The report states:
"On a global scale, Turkey still has one of the highest number of journalists in prison. The violation of the right to fair trial continues, as well as the judges' unconstitutional practices which are also in contradiction with international legal standards."
92 journalists & media employees welcome #Eid behind bars in #Turkey, apart from loved ones. Prisons are reporting #COVID19 deaths; precautions are insufficient. Journalists who are imprisoned for practicing their profession must be released!

➡️Full list: https://t.co/W4nc99Dpi2 pic.twitter.com/OvFCoCe3bB

— MLSA (@mlsaturkey) July 31, 2020
A report (Blocked Web 2019 – Unseen part of the Iceberg) published by the Freedom of Expression Association (İFÖD), found that Turkey made the highest number of applications to Twitter for content removal in 2019. Furthermore, the Turkish courts banned access to around 130,000 URL addresses, 7,000 Twitter accounts, 40,000 tweets, 10,000 YouTube videos and 6,200 Facebook posts in 2019.
The practice of suspending broadcasts of pro-opposition outlets has continued, with the TV station TELE1 and Halk TV being suspended from broadcasting for five days in July 2020. The decision was condemned by the International Press Institute (IPI), a global network of editors, media executives and leading journalists for press freedom. The Committee to Protect Journalists also condemned such censorship:
"The Radio and Television Supreme Council should not function as a censorship tool for the government, and Turkey should learn to tolerate the existence of whatever critical voices are left in the broadcast media." - CPJ Europe and Central Asia Program Coordinator Gulnoza Said, in New York.
As previously reported on the Monitor, President Erdogan has stated that his party will draft a bill to "either completely ban or control social media", which poses a further threat to the freedom of expression in the country. Following this statement, the Justice and Development Party (AKP) submitted an official law proposal on social media to parliament, which passed the social media bill in late July 2020. According to the bill, social media companies will be obliged to have a representative and "encouraged to store users' data" in Turkey. Furthermore, social media companies will be obliged to have an office in Turkey and their representatives will be held accountable in legal affairs. Companies which refuse to open an office will be penalised with bandwidth restrictions of up to 90 percent.
What has changed in #Turkey's internet law?👇 pic.twitter.com/OxH8gN3u3U

— Free Web Turkey (@FreeWebTurkey) July 29, 2020
Reporters Without Borders condemned the amendments to the law, stating that such a law will only further stifle free expression.
"After being politically weakened, it is deplorable that the sole response President Erdogan has found is to nationalise the management of international digital platforms in order to silence the fierce criticism he has been receiving on the Internet – the only refuge left for outspoken journalists." - RSF Turkey representative Erol Onderoglu.