Protests over COVID-19 response; journalist detained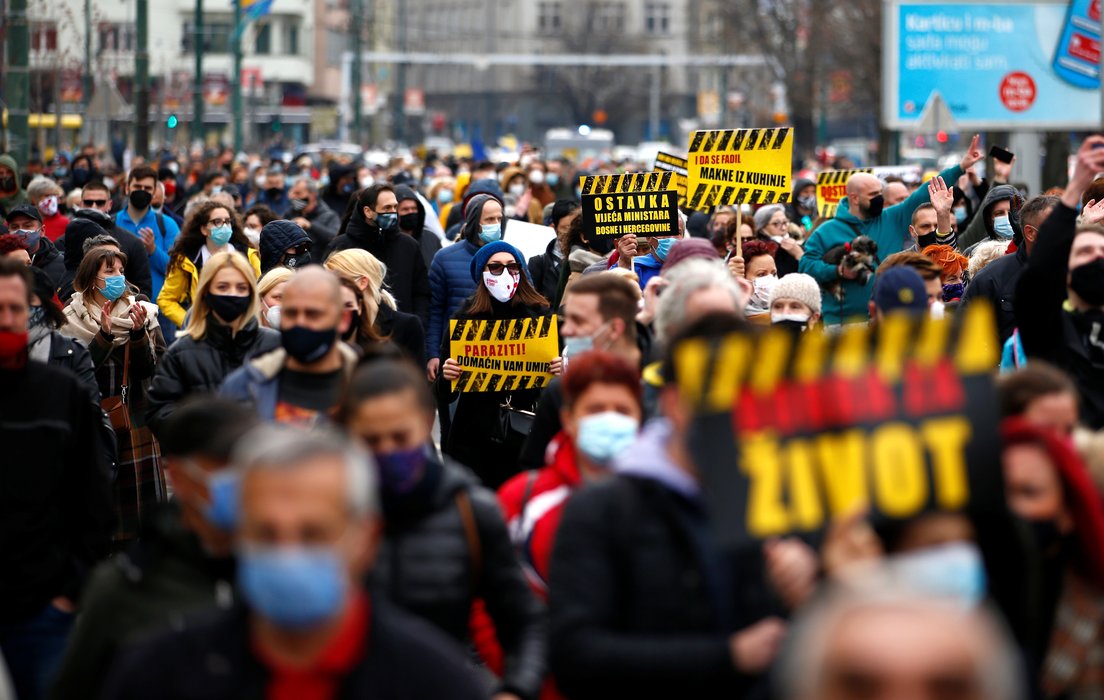 Peaceful Assembly
Protests to express revolt over COVID-19 measures were again noted in this reporting period. Hospitality workers in the Sarajevo canton protested on 8th March 2021 over concerns that closure of the business sector due to the pandemic was increasing the unemployment rate.
On 6th April 2021, citizens of Sarajevo gathered in front of the governmental building, voicing their concerns regarding the lack of vaccines provided by the government. The protestors demanded more vaccines and urged the authorities to resign from their positions due to the 'demonstrated incompetence during the pandemic'. As no action was taken within 10 days, as announced, on 17th April 2021 another mass protest took place in Sarajevo, addressing the same demands.
A leaked document by a Slovenian media portal, claimed to be the non-paper on the Western Balkans (an unofficial document), sparked protest. A few members of the Faith, Nation, State political movement (Politički pokret "Vjera Narod Država") protested against the non-paper, which addressed a change of the borders in the Balkans and disintegrating BiH, in front of the Embassy of Slovenia in Sarajevo on 18th April 2021. The document is alleged to be connected to the Prime Minister of Slovenia, Janez Janša.
Expression
On 6th March 2021, a journalist covering topics of human rights and migrant and refugee rights, was arrested under the accusation of "disturbing public order and peace and belittling an official in the performance of official duties and tasks". The journalist, Nidžara Ahmetašević was released from detention the same day.
I strongly condemn the violent arrest of #humanrights defender & journalist Nidžara Ahmetašević @AhNidzara today in Sarajevo & call on the authorities to carry out a prompt & independent investigation into the conduct of the law enforcement officers. #Bosnia Herzegovina

— Commissioner for Human Rights (@CommissionerHR) March 6, 2021
Within the reporting period, Reporter without Borders (RSF) published its annual World Press Freedom Index which notes "a dramatic decline in media freedom since the beginning of the pandemic in BiH. However, BiH ranking remains at 58th on the Index.