Protests on migrant worker conditions and discrimination against indigenous people in Taiwan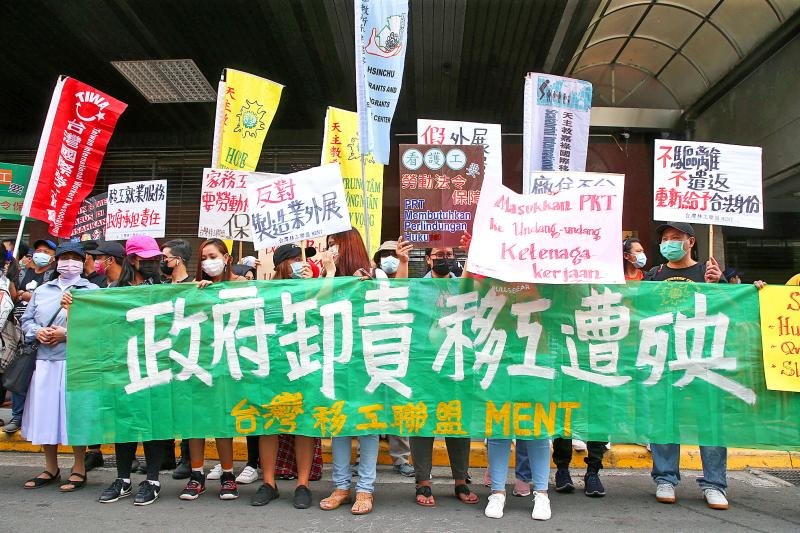 In recent months, there have been protests by migrant workers and migrant rights NGOs against poor working conditions. There were also protests linked to the Black Lives Matter movement highlighting discrimination against indigenous people. At the end of June 2020, one of the few Pride marches was held in Taiwan. The country dropped one place in the Reporters Without Borders (RSF) press freedom index in April 2020
On 29th June 2020, a senior cabinet official reported that the Executive Yuan will release a national human rights action plan that will detail Taiwan's progress on human rights protections, including on how it plans to operate a Human Rights Committee under the Control Yuan that will begin operations in August 2020. On 22nd April 2020, the Transitional Justice Commission, established in 2018 to redress human rights abuses and other atrocities before Taiwan became a democracy, was extended for another year.
Taiwan's handling of COVID-19 has been seen to be exemplary. As of 29th June 2020, Taiwan, with a population of 23.8 million, has recorded only seven deaths linked to the virus, with 447 confirmed cases.The Taiwanese government acted quickly to control its borders. It activated a Central Epidemic Command Centre (CECC) to coordinate cooperation across different government ministries and agencies. The CECC also partnered with police agencies, local officials and telecom companies to enforce quarantine with the support of mobile phone tracking.
Peaceful Assembly
Migrant workers and workers' NGOs protest against poor working conditions
On 4th May 2020, scores of migrant workers and workers' rights advocates protested outside the Ministry of Labour in Taipei to mark International Workers' Day, calling on the government to guarantee safer working conditions for migrant workers.
According to the Migrants Empowerment Network in Taiwan (MENT), an alliance of migrant workers' groups which organised the demonstration, some employers have barred their workers from going outside due to the COVID-19 pandemic, while other workers have been unable to return to their jobs in Taiwan or visit their home countries.
At the rally, demonstrators carried banners reading: "Say no to human trafficking, overcharging, slavery" and "We are workers, not machines". Among the demonstrators' demands were government regulations to ensure the separation of factories and workers' living quarters.
Hope Workers' Centre representative Hsu Wei-tung said the proximity of the two spaces meant that if a fire were to break out at a factory, it would spread to the workers' housing area as well.
As previously documented, migrant workers often face incidents of ill-treatment by migrant brokers and beatings and rape by employers. Derogatory terms have also been used against them. The demands they have previously made are inclusion for caregivers in Taiwan's Labour Standards (ALSA), mandatory labour insurance, inclusion for domestic workers in Taiwan's long-term care system, vacation leave, a ban on illegal charges by third-party brokers, and paid overtime if employees are forced to work for some or all of their scheduled days off.
Black Lives Matter protest highlights discrimination against indigenous people
Nice to see Taiwan starting to have an open dialogue about domestic racial prejudice with its indigenous people and migrant workers.

"Taiwan Black Lives Matter protest gets indigenous twist" https://t.co/7yWhH3iZ7l

— Chen-Ying Tung (@tungchenying) June 14, 2020
On 13th June 2020, hundreds of protesters packed into a park in central Taipei for a Black Lives Matter protest, with a group of indigenous Taiwanese drawing attention to discrimination against them.
The rally, attended by more than 500 people, was peaceful with only a very light police presence. While its main focus was to show solidarity with anti-racism protests triggered around the world by the death in police custody last month of U.S. citizen George Floyd, organisers also wanted to draw attention to some of Taiwan's own problems.
Savungaz Valincinan, an ethnic Bunun from the group Indigenous Youth Front, took to the stage to detail the difficult past of indigenous Taiwanese and called for broad opposition to any form of discrimination. She said that many in Taiwanese society discriminate against them, for example by refusing to rent accommodation to indigenous people, said Savungaz. She added:
"We don't want any special treatment. What we want are the most basic rights that we deserve as human beings. We are coming out today to support this movement not because of sympathy - it is because we have also gone through the hurt of being discriminated against."
As previously documented, Taiwan's indigenous people make up about 2 per cent of its 23.5 million people and have long suffered marginalisation. In an unprecedented move, in 2016 newly elected President Tsai Ing-wen apologised to the indigenous people for "centuries of pain and mistreatment" and promised to improve their lives.
One step was to recognise their ancestral land: in February 2017, the government's Council of Indigenous Peoples (CIP) issued a regulation declaring 1.8 million hectares – about half of Taiwan's total land area – to be traditional territory. However, this is limited to state-owned land and does not include private land, which the group says denies them a sizeable piece of territory.
Taiwan celebrates Pride Month with march
Taiwan stages LGBT pride parade 'for the world' https://t.co/6WuUtopEgI

— BBC News (World) (@BBCWorld) June 28, 2020
Taiwan hosted one of the few pride marches around the world on 28th June 2020, as the island's LGBTQ+ community and their supporters took to the streets. Hundreds marched inside Taipei's Liberty Square for an hour as music played and many participants wore rainbow-coloured face masks.
Many of those attending held placards with the names of major global cities that have been unable to celebrate Pride Month this June because of the coronavirus.
Taiwan usually holds its main pride march in October but many in the island's LGBTQ+ community felt it was important to hit the streets in June when so many others around the world could not.
In recent years, Taiwan has forged itself a reputation for progressive politics in a region where LGBTQ+ people still face discrimination and legal barriers. As previously documented, in May 2019, Taiwan's parliament legalised same-sex marriage in a landmark vote that made the island the first in Asia to adopt such legislation. The vote was a major victory for the island's LGBTQ+ community who have campaigned for years to have similar or equal marriage rights as heterosexual couples.
Expression
Taiwan drops one place in press freedom rankings
Taiwan dropped down one position and is now ranked 43rd in this year's World Press Freedom Index published in April 2020 by Reporters Without Borders (RSF).
According to RSF, "political interference is rare and less tolerated, but Taiwan's journalists are suffering from a very polarized media environment dominated by sensationalism and the pursuit of profit". The organisation also noted that "Beijing is exploiting this weakness by putting pressure on Taiwanese media owners, who often have business interests on the mainland. Beijing is also suspected of orchestrating online disinformation campaigns".
Previously in May 2020, RSF urged Taiwanese president Tsai Ing-wen to undertake reforms to guarantee editorial independence and tackle conflicts of interest in the media.
Christophe Deloire, Reporters Without Borders (RSF) Secretary-general said:
"When journalists are given sufficient time and resources to adhere to the highest ethical standards and when editorial departments have the ability to reject commercial and political pressure, public trust in the media will naturally improve and manipulated content will fall on deaf ears."