Protests on labour rights and against discriminatory migrant worker policies in Taiwan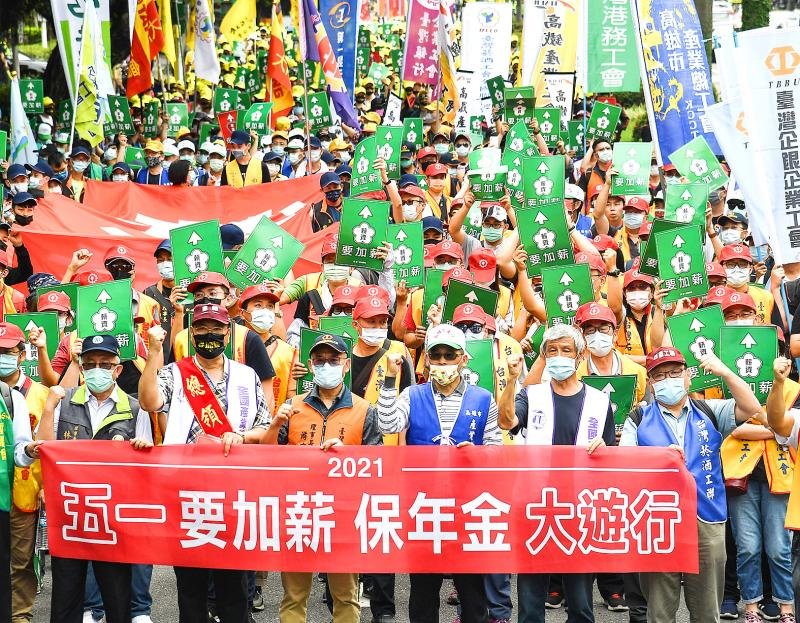 Taiwan's civic space was rated as 'open' in the December 2020 annual report by the CIVICUS Monitor and fundamental freedoms are widely respected and protected by the authorities.
Taiwan won plaudits for its successful containment of COVID-19 in 2020. However, an outbreak of community COVID-19 transmissions since April 2021 after months of few domestic infections forced the authorities to limit personal gatherings, close entertainment venues and restrict restaurants to take-out service. These measures were partially eased in mid-July 2021 as its domestic outbreak continued to stabilise.
In recent months, there have been protests by workers demanding that the government raise the minimum wage and fix its deficit-ridden pension programme. Migrant workers' groups have also been demanding a law to protect migrant home care workers. Civil society groups have also condemned local government authorities and businesses that have imposed restrictions on migrant workers because of COVID-19 that amounted to discrimination.
Peaceful Assembly
Workers protest calling for hike in minimum wage and pension scheme protection
Hundreds of workers took to the streets in a Labour Day protest on 1st May 2021, demanding that the government raise the minimum wage and fix its deficit-ridden pension programme. Holding banners that read "Raise salaries" and "Secure pensions," individual protesters and union members marched from Ketagalan Boulevard in front of the Presidential Office to Zhongxiao West Road, calling for improved labour rights.
Among the protesters who described themselves as underpaid and under-protected were nurses, artists, security guards, food delivery workers and elderly miners.
Chiang Chien-hsing, head of the Taiwan Confederation of Trade Unions and one of the protest organisers, said the country's current minimum wage level is unacceptable. "The government keeps touting Taiwan's economic performance, yet it is only willing to offer a monthly minimum wage hike of NT$200 (US$7)," Chiang said. In addition, state-owned businesses should raise salaries, which would prompt private companies to follow, he said.
Another problem facing workers in Taiwan is pension security, as the labour insurance retirement pension system is projected to go bankrupt by 2026, the protesters said. They urged the government to consult the labour unions and establish a system similar to the sovereign wealth fund -- a state-owned fund supported by the nation's revenues from commodity exports, foreign-exchange reserves and other investments -- to generate input and make sure that the pension scheme does not collapse.
The labour demonstration this year placed particular emphasis on vulnerable occupation groups, including delivery workers. With delivery workers having seen a recent drive to establish a national union, Foodpanda and Uber Eats delivery workers were present in force, wearing their uniforms and riding scooters.
In response to the protest, the Ministry of Labour said it had drafted a bill to better regulate the nation's minimum wage, and the draft is currently being reviewed by the Cabinet. The labour ministry also said it has been subsidising the pension fund since last year and will continue to study the issue.
Migrant workers urge for law to protect home care workers
On 3rd May 2021, more than 100 migrant workers and workers' rights advocates rallied outside the Executive Yuan in Taipei calling on the government to enact a "household service act" to protect the labour conditions of migrant domestic workers. The rally was organised by the Migrants' Empowerment Network in Taiwan (MENT) — a group of grassroots organisations advocating for the rights of migrant workers in the nation, with members including the Taiwan International Workers' Association, the Hsinchu Migrants' and Immigrants' Service Centre, and Caritas Taiwan.
While migrant workers who work in factories are protected by the Labour Standards Act, migrant home care workers earn less than the minimum wage with unregulated working hours and are not protected by labour laws, the MENT said. Some employers in the nation have long relied on the inexpensive labour provided by migrant workers for "24-hour care," it said.
Association
Restrictions on migrant workers discriminatory say civil society groups
On 9th June 2021, the Taiwan Association for Human Rights (TAHR) said a decision by the Miaoli County Government ordering all migrant workers in the region to stay inside because of COVID-19 amounted to discrimination.
The county has been hit by cluster outbreaks at several major electronics firms, leading to more than 200 migrant workers testing positive for the coronavirus.
TAHR called on Miaoli to revoke its order immediately, as it not only affected the rights of migrant workers but also those of more than 7,000 households dependent on caregivers. County chief Hsu Yao-chang announced the ban on migrant workers leaving home on Facebook without any consultation with the central government's Central Epidemic Command Center (CECC), TAHR said.
The measure considered all migrant workers as potential sources of infection, without regard to whether they had been listed as contacts or if they had to go into quarantine or self-monitor their health, the human rights group alleged. The indiscriminate order by the county government prevents foreign caregivers from going out to buy food or accompanying their clients to seek medical care at a hospital, TAHR said.
Taiwan factory forces migrant workers back into dormitories amid Covid outbreak https://t.co/G4MXZD45db

— Guardian news (@guardiannews) June 11, 2021
Also in June 2021, a major manufacturer in Taiwan forced some migrant workers out of private homes and back into shared accommodation, drawing accusations of discrimination and double standards. ASE, a semiconductor manufacturer, told its workers in the Taoyuan district of Chungli, about 50km (30 miles) from the capital Taipei, that those who live independently in private rentals must "move back to their dormitories immediately" or be given "a major demerit". Three such demerits are punishable by dismissal, the notice said
It also stipulated that migrant workers will be banned from leaving the dorms except to go straight to and from work. Those who are late face being locked out and penalised. The workers cannot do their own shopping or have visitors. Such restrictions do not apply to the broader Taiwanese community.
Lennon Ying-dah Wong, director of migrant worker policies at Taoyuan labour organisation Serve the People Association, said the decision to send workers back to dorms was "very questionable". "The COVID-19 virus won't be controlled merely by locking the migrant workers inside the factory." Wong said. "It's totally unfair and unjustifiable to continue this double standard for migrant and Taiwanese workers in the factory."
Taiwan's migrant worker population is considered vulnerable and unlikely to speak up against employers, according to rights groups, who also note weak labour laws in Taiwan. As previously documented, migrant workers often face incidents of ill-treatment by migrant brokers and beatings and rape by employers. Derogatory terms have also been used against them.