Protests on environment, against racism and pandemic lockdown in New Zealand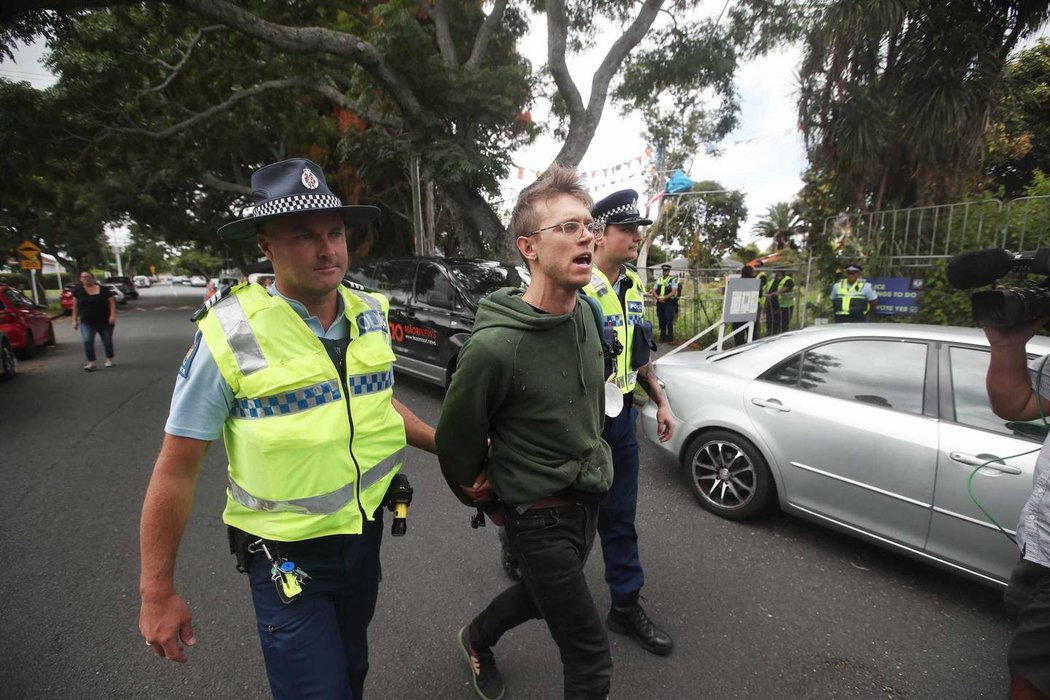 Peaceful Assembly
Eight arrested at Auckland protest over felling of native trees
On 9th March 2021, eight people were arrested as they tried to stop the felling of dozens of mature native trees at a central Auckland development site. The group, Mana Rakaū - Save Canal Road Native Trees, has been at the Avondale site since July 2020 in protest at the removal of the grove of 100-year-old native trees.
Area commander for Auckland City West, Grant Tetzlaff said eight arrests were made in relation to trespass and obstruction.
There were originally about 50 mature trees on the site - including tōtara, kahikatea, karaka and pūriri - but about half of these had been felled after the section was sold to developers to build houses.
The protest group had for months kept the contractors at bay but police surrounded the perimeter of the site and several protesters were arrested.
Activist and former Green Party candidate Steve Abel said more protesters were detained by police after climbing into the site to try and stop the felling of the trees.
Auckland's urban tree loss has been under increasing scrutiny in recent years. The problem stemmed from changes under the previous National-led government to the Resource Management Act in 2012, which removed blanket protection of trees in urban areas. This meant that trees without any formal protection on private land could be legally removed, regardless of their age or biodiversity value.
Protest against racism
#CultureFrontPageTopStoriesAucklandRegion Hundreds march against anti-Asian racism in Auckland - New Zealand Herald https://t.co/VNK7pTgttU

— EveryWebLive © (@FlaShBloGLive) March 27, 2021
On 27th March 2021, hundreds of people took to the streets in Auckland to protest anti-Asian violence in the United States and calling on New Zealanders to speak up against racism. Organisers say the protest was a show of solidarity with Asian-Americans after the 16th March spa shootings in Atlanta that killed eight people, six of them Asian-American. It was also to create awareness of the pain that Asians in New Zealand face, said the organiser on the event's social media page.
Protesters chanted "stop Asian hate", "love our culture, love our people" and "We belong to Aotearoa (New Zealand)".
Steph Tan, one of the organisers said: "When people are attacked based on their skin colour, we see ourselves there, we share that pain".
A report released by the New Zealand Human Rights Commission in February 2021 revealed that the Maori people, along with the Chinese communities, had reported the highest rates of discrimination since the start of the COVID-19 pandemic.
According to the research, four in ten respondents reported having experienced discrimination since the start of the outbreak, with higher rates for Maori people (55 per cent), Chinese (54 per cent), Pacific Islanders (50 per cent) and other Asian (49 per cent) respondents.
Anti-lockdown protestors gather at parliament
Billy Te Kahika supporters at Parliament - protesting lockdowns, vaccines and the Covid 19 Public Response. @NewshubPolitics @NewshubNZ pic.twitter.com/UBIqEi63v7

— Alexa Cook (@AlexaCook_) January 13, 2021
Previously in January 2021, about 150 protestors descended on Parliament, calling for an end to COVID-19 lockdowns in New Zealand. Members of the group held Donald Trump flags, anti-CCP trade agreement banners and also held signs that were against face masks.
Members of the group also wielded banners and placards describing the coronavirus as a scam and decrying vaccines and lockdown measures, echoing online conspiracy theories.
One of the protest organisers, Billy Te Kahika, addressed the crowd, accusing the government of "tyrannical behaviour" and that they stood together against the "gang of corruption" that exists in Parliament.
Billy Te Kahika, the Advance New Zealand party co-founder has been accused of spreading misinformation about the coronavirus. In October 2020, Facebook shut down the page of conspiracy-embracing political party Advance New Zealand just two days out from a general election due to fears that misinformation about COVID-19 could lead to "imminent physical harm".