Protests against police brutality and harassment of Black and First Nations people across Canada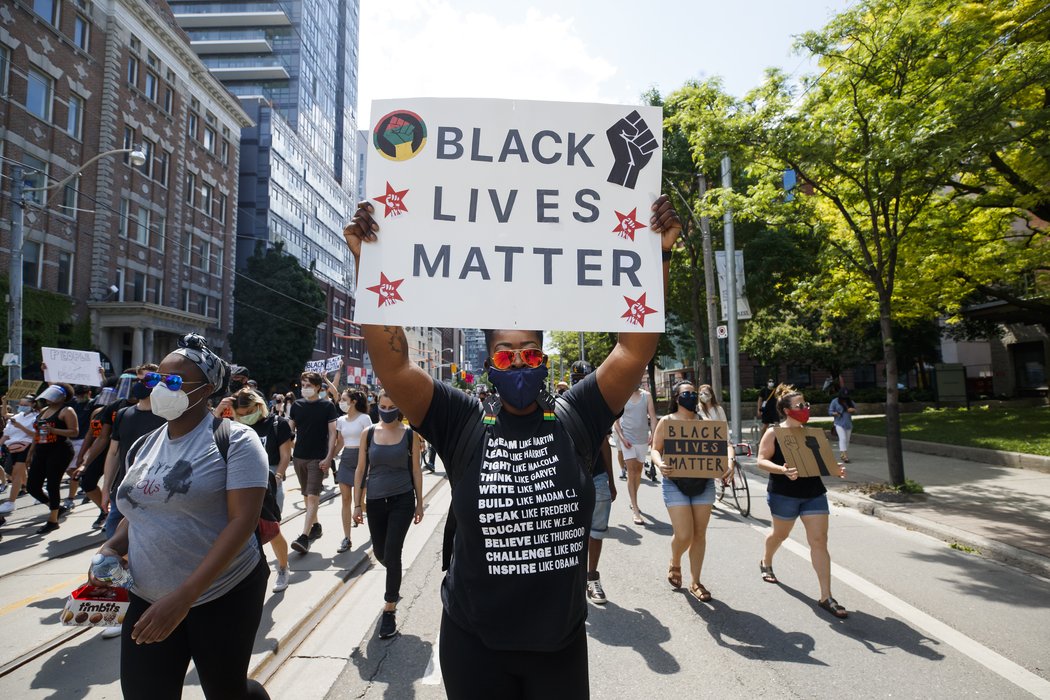 Peaceful Assembly
Black Lives Matter solidarity protests
The crowd now chanting #BlackLivesMatter the crowd, mostly young, has grown significantly over the past 20 minutes at the Vancouver Art Gallery. pic.twitter.com/ZWvfrO25Ef

— Tina Lovgreen (@tinalovgreen) June 1, 2020
In solidarity with those protesting in the U.S., tens of thousands of people participated in protests to oppose police brutality and to denounce state-sanctioned violence and harassment of Black and First Nations people by law enforcement. Protests to address systematic racism have been ongoing in cities across the country, also demanding justice in Canadian cases such as those of Regis Korchinski-Paquet, a Black woman who died after falling from her balcony in Toronto while police were at her home on 27th May 2020, and other victims of police violence like Abdirahman Abdi and Ejaz Choudry.
In Vancouver on 31st May 2020, thousands of people participated in a Black Lives Matter protest outside a major art gallery. In Toronto, protests held on 6th June 2020 against police violence and racism also drew thousands to different events in the city. Online, protesters used #JusticeForRegis to tell stories and to share videos from the demonstrations. On the same day in Niagara Falls, the Whirlpool Bridge was closed temporarily so that hundreds of people could protest. In Calgary, at least 4,000 people gathered for a Black Lives Matter vigil, where the names of people killed by the police in Canada and the U.S. were read aloud. "Just to have all these Caucasians, East Indians, people from different races, Spanish, come together and support Black lives is incredible," said one of the vigil's organisers.
Pour un deuxième dimanche de suite, des milliers de manifestants se sont rassemblés dans les rues de Montréal pour sensibiliser les politiciens à l'urgence d'agir face au #racisme

Des milliers de manifestants ont manifesté dans le calme jusqu'au Square Dorchester pic.twitter.com/Q2zc1VtHZo

— Radio-Canada Info (@RadioCanadaInfo) June 7, 2020
Chants of "Je ne peux pas respirer" ("I can't breathe") and "Il faut que ca cesse" ("This must stop") went up at protests in Montreal and other French-speaking cities in Quebec after Premier François Legault claimed that racism is not a major problem in the province. "He talks like he knows it all, like he is one of us. He has no idea about our life experiences," one protestor said. There were reports that police used tear gas to push back some protesters demonstrating near a police station.
At the "No justice = No peace" rally in Ottawa on 5th June 2020, Prime Minister Justin Trudeau joined thousands to kneel for eight minutes and 46 seconds – the same length of time that U.S. police officer Derek Chauvin kept his knee on George Floyd's neck, resulting in his death. "Anti-Black racism is real," the Prime Minister said after Floyd's death. "It's in the United States but it's also in Canada and we know people are facing systemic discrimination, unconscious bias and anti-Black racism every single day." Protests were also held near statues of John A. MacDonald, Canada's first Prime Minister, who is said to have held anti-Indigenous views.
On 28th June 2020, about 1,000 people gathered near Toronto's City Hall to mark Pride weekend and to call for a 50 percent reduction in the city's policing budget. Organised by the No Pride in Policing Coalition (NPPC), the rally brought together members of several communities, including Indigenous and transgender groups, for an event called "Abolish Police in Canada: A Pride Rally and Teach-in." Because of concerns over the coronavirus, many Pride Day activities moved online, including a virtual parade, speeches and performances.
While protests were largely peaceful, there were also incidents of protesters detained for offences such as looting and property damage. In Montreal on 31st May 2020, at least 11 people were arrested for vandalism related charges following protests. In Alberta, two people were detained at a Fight for Equity rally near the province's legislature attended by about 10,000 people on 5th June 2020. At least seven people were detained at an anti-racism demonstration blocking two viaducts in Vancouver on 15th June 2020.
Responding to the public's demands, Public Safety Minister Bill Blair told news outlet National Post that the country's justice system needs reforms, including to the largest police unit in the country, the Royal Canadian Mounted Police (RCMP). Between 2007 and 2017, Indigenous people accounted for more than a third of people shot to death by RCMP officers, despite making up no more than five percent of the population.
Activist killed during vigil in Ontario
Activists marching through the streets of Toronto to Queens Park to demand #JusticeForReganRussell ✊✊✊⠀#GoVegan4Regan⠀#MarchForRegan pic.twitter.com/tfPeb0vaFP

— TorontoPigSave (@TorontoPigSave) July 18, 2020
On 19th June 2020, animal rights advocate Regan Russell was killed after being hit by a truck while she and others were protesting in front of a slaughterhouse in Burlington, Ontario. The activist was a member of Toronto Pig Save and was reportedly trying to provide comfort and water to pigs that had been boarded on a transport truck, when she was struck. An investigation into her death is ongoing.
Russell's death came just days after the province passed Bill156, legislation that increases fines for trespassing on farms and other agriculture facilities, and also essentially criminalises undercover filming on a farm. The Canadian Association of Journalists (CAJ) has raised a number of concerns about the bill, its impacts on freedom of expression and the public's right to know. According to the association, its provisions enable targeting of investigative journalists, expose whistle-blowers to risk and criminalise activities that have previously led to public accountability for wrongdoing.
Further protests: mental health, religious freedom, coronavirus measures
'We need help now': Peaceful protesters draw attention to Nunavut's mental health crisis https://t.co/5rPqH9DUi9 pic.twitter.com/wegQWYzVtY

— CBC North (@CBCNorth) June 26, 2020
On 26th June 2020, about 150 people participated in a demonstration in Iqaluit to call on local authorities and the federal government to address the rising numbers of suicides in Nunavut, the country's most northern territory, by helping connect people with mental health services. "We need to fight for those people who are silenced, who want to be heard," said a student who spoke at the event. People held signs with messages like "fund healing like mining," and "our pandemic matters", and some marched to the Legislative Assembly where people chanted, "we need help now." A report released in 2019 found that the suicide rate among First Nations people in Canada was three times as high as non-Indigenous populations, showing that this is a long-standing crisis.
On 14th June 2020, dozens of people gathered outside the Quebec Premier's Montreal office to protest the province's ban on religious symbols that they say discriminates against people of faith. Organised by Justice Femme, the protest called for ending Bill 21, a law that bans many civil servants from wearing religious symbols such as a hijab or kippah. As previously reported on the Monitor, civil society groups are challenging the law in court.
On 16th May 2020, a few hundred people participated in an anti-lockdown protest near the Ontario Legislature in Toronto. Several people carried signs with messages like, "Government is non-essential" and "I have an immune system". As previously reported on the Monitor, protests were also held in other cities by people calling for an end to quarantine measures in response to the coronavirus outbreak.
On 9th and 12th May 2020, about 100 fish harvesters and their supporters protested in St. John's to voice their opposition to decisions made by the Fish Food and Allied workers (FFAW) union and concerns over work conditions related to the coronavirus. Protesters said that projected crab prices are too low to earn a decent living, and also pointed out safety risks and guidelines which would make their work more expensive.
On 10th May 2020, one person was arrested at a protest in Edmonton after refusing to show police his identification. He was reportedly dragged out of the Alberta legislature grounds and charged with two offences under the Public Health Act's pandemic orders. The Alberta government said it was looking into the circumstances surrounding the arrest.
Restrictive legislation in Alberta
Thanks to @_AUPE_ for taking a stand against the Kenney government's absurd anti-protest law. As @Indigenous_ca notes, the Act is an intimidation tactic against Indigenous Peoples and other racialized communities. There is much work to be done.#abpoli https://t.co/IJ57GbR5dt

— Council of Canadians (@CouncilofCDNs) June 30, 2020
Alberta's largest union filed a lawsuit claiming that provincial legislation to keep people from protesting near critical infrastructure sites violates the Charter of Rights and Freedoms. The Alberta Union of Provincial Employees says Bill 1 – the Critical Infrastructure Defence Act – which went into effect on 17th June 2020, violates freedoms of expression, assembly and association by criminalising protests and chilling free speech. The legislation was tabled in February 2020 following weeks of protests supporting Wet'suwet'en hereditary chiefs opposed to the construction of a pipeline. "As we know, peaceful protest is a cornerstone of our democracy, keeps our democracy active, and it should be protected," the union's president said. The lawsuit also argues the bill's definition of critical infrastructure is too vague and could open the door for power abuses.