Protests against immigration policies and new environmental regulations in New Zealand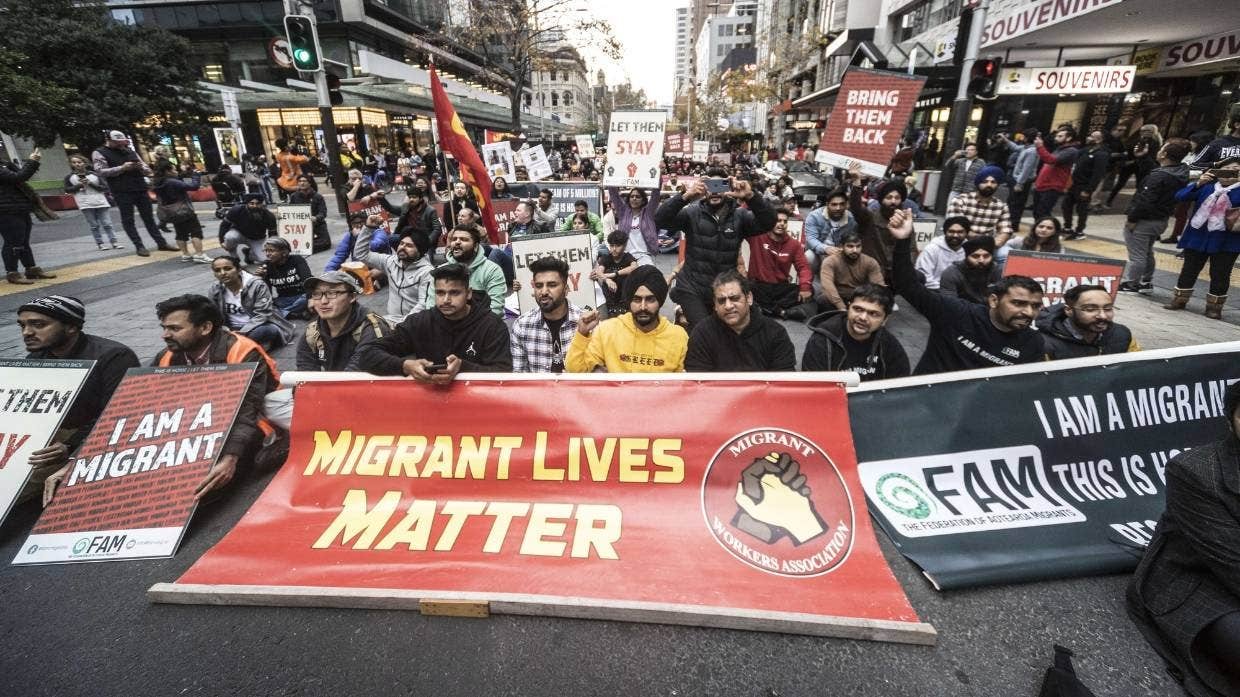 In recent months, thousands have participated in protests across New Zealand against government policies. Protesters including migrant workers have mobilised against immigration policies that they say are 'broken' while farmers have protested against a swathe of new environmental regulations.
Protest against immigration policies
On 13th May 2021, hundreds of migrant workers and supporters rallied outside New Zealand's parliament in Wellington to protest the Labour Party-Greens coalition government's anti-immigrant policies.
The day before, hundreds attended protest vigils in Auckland, Christchurch and Hamilton. About 60 demonstrators also gathered in Queenstown, a tourism centre where many migrants lost their jobs last year due to the COVID-19 border closure and the economic collapse. Thousands of migrants were unable to access unemployment benefits.
The events expressed mounting anger among immigrants, who make up a large portion of the population - about one in four people in NZ was born overseas. Thousands of migrant workers and international students, whose visas entitle them to live in New Zealand, have been stranded for more than a year outside the country. Many have been separated from their families, jobs and homes in New Zealand. Meanwhile, thousands who live in New Zealand are facing interminable delays after applying for residency.
The NZ rallies were organised by the Federation of Aotearoa Migrants (FAM), a recently formed umbrella group. It includes Migrants NZ, which began as a Facebook group for migrants to share their stories; the Migrant Workers' Association, which is linked to the trade unions; the Migrant Rights Network NZ; and the Association of New Kiwis Aotearoa.
On 5th June 2021, hundreds of protesters marched through central Auckland in support of migrant rights and demanding changes to "broken" immigration policy. Among their demands is that border restrictions be lifted to allow in workers who had been trapped overseas as well as the families of those who were stuck here when the pandemic hit.
The group is also calling for the process of attaching visas to employers to stop, as it made it easy for employers to exploit migrant workers. Also among their demands was that border restrictions be lifted to allow in workers who had been trapped overseas. People came to Christchurch, Wellington, Tauranga and Rotorua for the march.
Greens MP Ricardo Menéndez March told the crowd it was "unacceptable" that migrants were waiting years for residency, especially when the government relied on migrant workers. Unite Union advocate Mike Treen, who has joined the movement in solidarity, said resolving the "crisis for migrants" who have made New Zealand their home was an "urgent necessity" that had not been dealt with by the government.
Farmers protest new government regulations
New Zealand farmers stage huge protest over environmental rules https://t.co/w8JTBF2MtO

— Guardian news (@guardiannews) July 16, 2021
More recently, thousands of farmers mobilised in dozens of towns and cities across New Zealand on 16th July 2021 on their tractors in a nationwide protest against a swathe of new environmental regulations.
The policies were introduced after reports showed 60 percent of rivers were polluted with run-off and that wetland areas had shrunk by 10 percent due to over-abstraction. New Zealand has also faced international criticism for its lack of action over carbon reduction.
Farmers drove tractors, bearing placards, from the outskirts of Auckland into the city centre causing gridlock on the motorways. In Whangarei, protesters took over a sports field, while in Dunedin, a five kilometre long convoy snaked its way through the city, bringing it to a standstill.
The protest was organised by Groundswell NZ, a grassroots organisation made up of farmers, growers, contractors and tradespeople, who said they were frustrated with the interference in private property rights, unworkable climate-change policies and unfair costs.
Protest leader Bryce McKenzie said while farmers accepted that changes were necessary, the policies had not been thought through. McKenzie told national radio station RNZ that farmers were working hard to address environmental concerns, but the rules would hit businesses without achieving their goals.
Protesters are demanding the government loosen new regulations on managing waterways, and ease some border controls, to allow more overseas workers into the country.