Protests against COVID-19 measures, Extinction Rebellion Facebook page suspended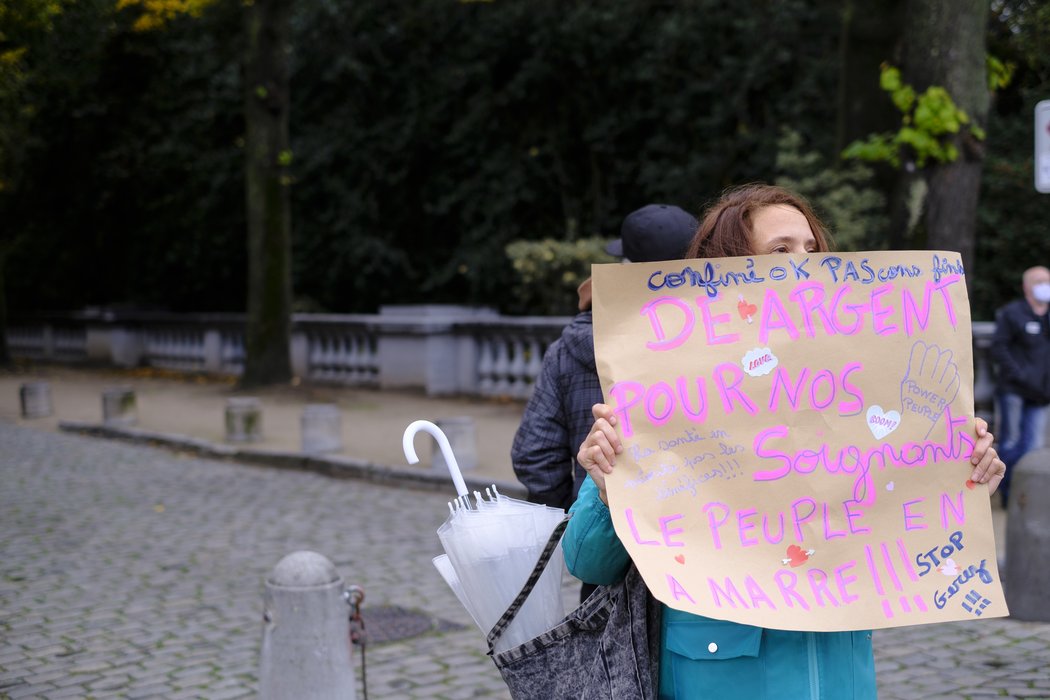 Background
In late September 2020, after a 16-month deadlock, seven political parties agreed to form a coalition federal government that replaced the caretaker administration. The new prime minister, Alexander de Croo, is a Flemish liberal who was deputy prime minister in the caretaker government. This was considered a breakthrough as the country has not had a formal government in two years.
In October 2020, during the first weeks of the second wave of the coronavirus pandemic, Belgium was one of the worst-hit countries in Europe. Between 9th and 15th October 2020, the country saw a sharp rise in COVID-19 cases with an average of 7,900 new cases recorded per day. The spike prompted the government to take further restrictive measures (e.g., closing bars and restaurants, curfew between midnight and 5 a.m., alcohol sales being prohibited after 8 p.m.) to control the spread of the disease.
In late October 2020, de Croo announced a national "reinforced" lockdown with remote working to become mandatory, with shops deemed non-essential to close and family visits outlawed.
Peaceful Assembly
Similar to several other European countries, several protests erupted in Belgium after the measures against the second wave of the coronavirus pandemic were enacted. On 26th October 2020, a few hundred took to the streets in Brussels to attend unauthorised gatherings. 71 people were reportedly arrested.
Although demonstrations are allowed in the country during the lockdown, a maximum of one hundred people may attend and organisers must receive authorisation from the competent municipal authority. Moreover, people must comply with social distancing norms and wear a face mask where social distancing cannot be guaranteed.
Expression
At the end of October 2020, a primary school teacher was suspended in the Brussels neighborhood of Molenbeek for showing a cartoon by Charlie Hebdo's cartoonist Coco, depicting the Prophet Mohammed kneeling naked. The teacher reportedly told the studentsnot to look at the picture if they felt offended by it. Nonetheless, some parents denounced the event to the school management and the municipality decided to intervene and suspended the teacher.
J'espère que cette information n'est pas exacte. Si c'est vrai, ce serait simplement inacceptable et intolérable. La liberté d'expression n'est pas négociable ! Le @MR_officiel y sera particulièrement attentif. #molenbeek #PresidenceMR #fierdetreliberalhttps://t.co/45uLY1sPCR

— Georges-L BOUCHEZ (@GLBouchez) October 30, 2020
Molenbeek's socialist mayor, Catherine Moureaux declared that the punishment has nothing to do with freedom of expression and that the decision was taken because "obscenities" were shown to sixth graders.
This episode takes place in the context of a tense debate around freedom of expression in France and around the world. A few weeks before the Belgian incident, a French teacher, Samuel Paty, was beheaded in Paris after showing caricatures of the Prophet during his civics class discussion.
Extinction Rebellion Facebook page suspended
XR Belgium has again been suspended from @facebook 🚫

The platform has been suspending XR groups and other environmental orgs worldwide 😑

We demand that our page be reactivated and that FB stop its systemic suppression of green groups 📢https://t.co/4pJOCDqvDZ

— Extinction Rebellion Belgium (@XR_Belgium) October 5, 2020
During October 2020, climate change group, Extinction Rebellion (XR) Belgium issued a statement noting that the groups Facebook page has been suspended, without prior warning. This isn't the first time that Facebook has acted against the group. In September 2020 its page was also suspended after it posted content about a Women's Rights March which was flagged as "hate speech". The statement said:
"Facebook has systematically been suspending pages of multiple Extinction Rebellion local groups across the globe, as well as from other environmental organisations, with little explanation."
The group called on Facebook to republish its page, and to provide a clear explanation for the suspension. It added that Facebook must stop the "systematic suspension of grassroots environmental groups from its platform."