Protesters return to the streets ahead of constitutional referendum in Chile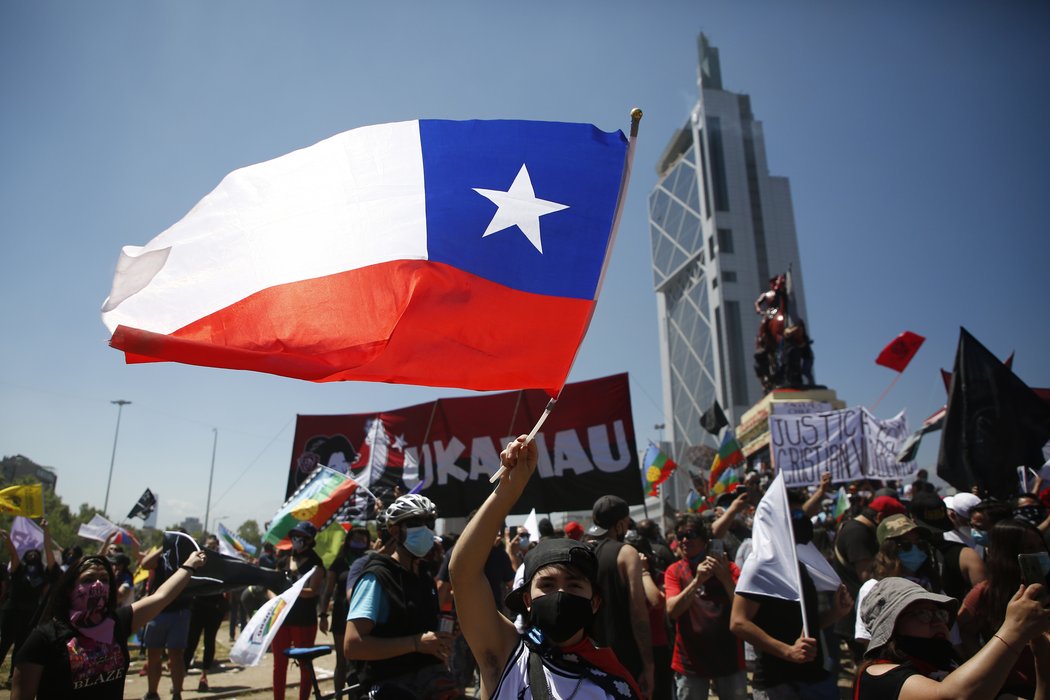 On 25th October 2020, Chile is scheduled to hold a plebiscite to decide if the country will draft a new constitution, a key demand of the mass protests that started at the end of 2019. For many, this process would represent the hope of establishing a new social pact founded on human dignity and pluralism, replacing the current constitution which dates back to the country's military regime.
In this initial vote, Chileans will also decide on their preferred format for an eventual constitutional convention. If the constitutional process is approved, a second vote in April 2021 is set to elect members for the constitutional convention.
Peaceful Assembly
Noticia en desarrollo/

Continúan llegando manifestantes a la Plaza de la Dignidad. El tránsito está completamente cortado entre Salvador y Los Héroes por el eje Providencia - Alameda.
Vía @primeralineaprensa #plazadignidad #18octubre #justiciaportodosloscaídos #baquedano pic.twitter.com/1VbcedNsjH

— El Ciudadano (@El_Ciudadano) October 16, 2020
On 4th September 2020, about 400 people protested against inequality in Santiago's Plaza Dignidad, the epicentre of 2019's massive protests. It was the largest demonstration after Chile began lifting restrictions implemented during the COVID-19 pandemic, at the end of August 2020. Police forces intervened, resorting to water cannon to disperse protesters. At least 20 people were arrested.
Days later, on 11th September 2020, people once again took to the streets to commemorate the 47th anniversary of the coup d'état that ousted socialist president Salvador Allende and ushered in 17 years of dictatorship. Several groups organised marches, vigils and direct actions to mark the date and honour the many who were killed and disappeared during military rule. Police reported that over a hundred people were detained in clashes in different areas of Santiago, and that at least two civilians and 16 police officers were injured. In some regions of the city, law enforcement officers used water cannons and tear gas to disperse protests.
On 2nd October 2020, police used excessive force against anti-government protesters in Santiago, sparking outrage as a police officer was filmed pushing a protester from a bridge into the Mapocho river. The victim, a 16-year-old protester, was reportedly severely injured with multiple fractures and a concussion. New protests against police brutality were convened the next day, while opposition politicians called for the resignation of the head of the Carabineros police force. The officer responsible for pushing the young protester was detained and charged with attempted murder.
On 12th October 2020, hundreds joined the Mapuche Resistance march in Santiago. Police again used tear gas and water cannon to repress demonstrations, following reported clashes with protesters in some regions of the city. Throughout August and September 2020, there were several reports of Mapuche marches repressed by police officers in La Araucanía in the context of regional conflict, reported under the "Association" section of this update.
On the first anniversary of the protests that inspired thousands of Chileans to occupy the streets demanding change, people once again rallied to commemorate and show their support for a new constitution. While the demonstrations on 18th October 2020, joined by thousands of protesters, were largely peaceful and celebratory early on, they were later marred by incidents of violence and clashes with police. Two churches were set on fire, including one often used by the Carabineros police force for institutional ceremonies. According to news reports, 580 people were detained in protests across the country – most of whom were arrested for disorderly conduct, endangering public health and looting.
Bill to ban use of pellets in crowd control
"La evidencia científica sobre la composición y el daño producido por balines debe motivar a la prohibición de este armamento como método de control de multitudes. El uso de estos proyectiles no está cumpliendo su propósito de evitar lesiones graves y fatales" dice @rosarioasoto pic.twitter.com/z9TzBwTx19

— Los Ojos de Chile (@losojosdechile) September 3, 2020
On 3rd September 2020, deputy Jorge Brito (Revolución Democrática) and other opposition parliamentarians presented a bill that would prohibit the use of pellets and gas canister projectiles by police in the control of crowds or "public order". The legislative proposal was developed in collaboration with Fundación Ojos de Chile (Eyes of Chile Foundation), a civil society organisation that provides support to victims of eye trauma. The organisation's director, Rosario Soto, said: "Scientific evidence on the composition and damage produced by pellets should drive the prohibition of this ammunition as a crowd control method. The use of these projectiles is not serving its purpose of preventing serious and fatal injuries, leading to visual impairment and ultimately blindness in a large number of cases".
As reported in the CIVICUS Monitor, during Chile's wave of demonstrations in 2019, several protesters were completely or partially blinded after the disproportionate use of force by police. According to the country's National Institute of Human Rights, about 460 people in Chile developed some form of eye trauma as a result of aggression during the protests.
In a related development, on 21st August 2020 a former police officer was preventively detained on a charge of "unlawful coercion with extremely grave injuries" after being identified as the alleged perpetrator of shots that permanently blinded protester Gustavo Gatica on 8th November 2019. "Why did they shoot me? For exercising my right to protest," said Gatica on an op-ed. "I'm glad progress has been made and am now waiting for the justice system to do its job and also charge those who allowed the Carabineros to come out and shoot us day after day".
On 14th October 2020, Amnesty International launched a report on police violence during Chile's 2019 social protests, calling for an investigation into the responsibility of high officials in the Carabineros police forces for the thousands of violations documented at the protests.
Association
Mapuche conflict escalates
🔴 Hoy en Temuco se realizó marcha por la infancia mapuche libre de violencia de Estado. Entre los detenidos está Brandon Hernández Huentecol, joven que con 17 años fue baleado por el carabinero Cristián Rivera, dejando 180 perdigones en su cuerpo.

— Centro Sur CIDSUR (@CIDSUR) September 16, 2020
In August 2020, the longstanding conflict between Indigenous Mapuche and the Chilean State boiled over in the La Araucanía region, also known as Wallmapu to Mapuche communities. On 4th May 2020, nine Mapuche community members serving sentences in Angol prison, including spiritual leader (Machi) Celestino Córdova, began a hunger strike to denounce the discrimination they face in prison and the alleged abusive measures which have kept them detained. In solidarity, on 6th July 2020, 12 Mapuche started a hunger strike in Lebu prison and on 20th July 2020, seven more in Temuco prison.
As news outlets began reporting on Córdova's declining health in July 2020, following over two months on hunger strike, members of Mapuche communities mobilised in support. At the end of July 2020, groups of Mapuche leaders occupied municipal buildings in Curacautín, Ercilla, Traiguén and Victoria.
On 1st August 2020, after six days of occupation, extremist civilian groups in Curacautín, armed with sticks and stones, violently attacked members of the Mapuche community to force them out of the government facilities. Amid the unrest, the "anti-Indigenous" residents also burnt and overturned vehicles belonging to the Mapuche. According to media reports, news of clashes in Curacautín quickly spread through the region, with unrest also taking place in other municipalities. In the Victoria municipality, a Mapuche Chemamüll statue was burned down and a local resident denounced that hostile residents brutally beat up Mapuche people.
Some of the violent actions were allegedly coordinated by the far-right group Asociación por la Paz y la Reconciliación de la Araucanía (Association for Peace and Reconciliation of Araucanía - APRA), whose spokesperson sent messages calling on local residents to act against the Mapuche community members.
On 3rd August 2020, the National Institute of Human Rights (INDH) issued a public statement condemning the attacks on Mapuche Indigenous peoples and calling for a proper investigation into those responsible. Chile's Chamber of Deputies also approved the setting up of an investigative commission on public security in La Araucanía.
On 4th August 2020, police in Temuco used water cannon and military trucks to disperse a protest organised by Mapuche communities against racism. Similar cases of police intervention and repression of Mapuche protests continued in August and September 2020, including a crackdown on a protest for Mapuche children's rights.
In the following weeks, tensions continued in the region with reports of continued violence associated with the conflict, including several arson attacks by alleged Mapuche supporters against commercial trucks. For a week, beginning on 27th August 2020, driver unions conducted a national strike and blocked highways to protest and demand that the government take action to ensure their safety. Human rights groups such as Amnesty International and the National Human Rights Commission questioned the government's differentiated treatment of the driver's strike, which took place without police intervention, vis-a-vis the consistent repression of Mapuche and anti-government protests.
In a related development, the Mapuche spiritual leader Celestino Córdova decided to end his hunger strike after 107 days. On 18th August 2020, Córdova reached an agreement with the government to improve conditions for Mapuche peoples deprived of their liberty. On 31st August 2020, the police reportedly used force to remove from their cells the 12 Mapuche still on hunger strike to take them to a hospital. They were later moved to a different penitentiary.
Expression
Criminalisation of feminist collective
#LasTesis Las feministas creadoras de la performance "Un violador en tu camino" son denunciadas por los Carabineros de #Chile por "pretender crear una animadversión intencionada hacia dicha institución con una clara intimidación hacia sus integrantes"https://t.co/3pVRYu8abO

— Calala Fondo de Mujeres (@FondoCalala) June 22, 2020
Chile's national police force filed a lawsuit against feminist collective LasTesis for allegedly inciting violence against police officers. The suit refers to the lyrics of a song titled "1312", released by the group in May 2020 together with Russian punk-rock feminist group Pussy Riot. In the song, the groups denounce police violence as well as entrenched inequalities and the rise in domestic violence in the context of COVID-19.
LasTesis is a feminist artivist collective based in Valparaiso, Chile, which became widely known through the performance "A Rapist in Your Path" denouncing rape culture. As reported by the Monitor, this became an anthem for women's movements worldwide in 2019. The lawsuit filed by the Chilean police alleges that performances of LasTesis' song were partly responsible for inciting public disturbance and aggression toward law enforcement officers during the country's wave of protests.
Feminist groups started a campaign in support of LasTesis, calling this criminal suit an act of intimidation and artistic censorship. On 24th August 2020, UN rights experts also called on Chile to drop the criminal charges against LasTesis and emphasised the role of the State in the protection of human rights defenders: "The State has an obligation to protect human rights defenders. It should not prosecute them for exercising their freedoms of expression and peaceful assembly".