Protesters demonstrate in solidarity with Ukraine, anti-fascists march against Lukov march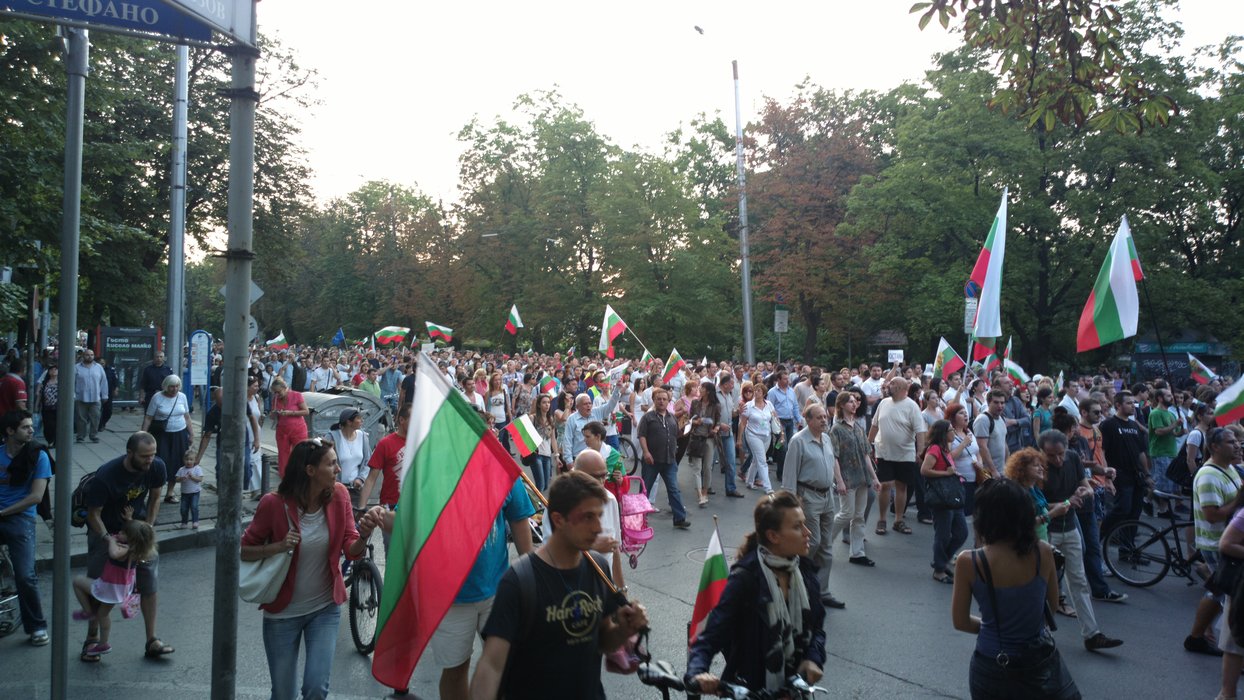 Peaceful Assembly
Protests held against Russian invasion of Ukraine
Several protests against Russia's war in Ukraine took place in Bulgaria after the invasion began on 24th February 2022. In Sofia, protests were held in front of the embassy of the Russian Federation. A second protest was held near the monument to the Soviet soldier, while more anti-war protests were held in Varna and Plovdiv. Senior officials also made statements against the invasion, with parliament issuing a statement condemning Moscow's actions. In March 2022, protests continued in various cities, including one by the American University in Bulgaria where students scheduled a protest on 2nd March 2022, and also organised humanitarian aid for refugees fleeing Ukraine.
The Embassy of Israel in Bulgaria strongly condemns the Lukov March that has taken place today in the center of Sofia, despite efforts undertaken to prevent it.
Lukov march is a neo-Nazi procession in honor of a person who propagated antisemitism, xenophobia and hate speech.
1/3 pic.twitter.com/Hi2XbSdKjE

— Israel in Bulgaria - Израел в България (@IsraelinBG) February 12, 2022
Anti-fascist march held to counter Lukov march
Each February since 2003, followers of the Nazi collaborator Hristo Lukov have organised an event to commemorate him. Although the public condemns the procession, and authorities prohibit the march, the event occurs each year, as previously documented. In response, this year, as with previous years, an anti-fascist march was also held on the streets of Sofia where several anti-fascist and political organisations joined the demonstration condemning the fascist procession.
The fascist organisations are commonly reported to disseminate Nazi ideas, and are also involved in sabotaging other peaceful demonstrations, especially those by minorities in the country.
More anti-COVID-19 protests recorded
Protests against anti-COVID-19 measures continued in Bulgaria in February 2022, after a strong wave of protests against the restrictions erupted in January 2022, as previously reported.
The protesters rejected the government's a gradual plan to remove the restrictions this time, and instead demanded the immediate removal of the obligation to wear face masks and called for the cancellation of mandatory vaccination certificates in enclosed spaces. Protesters also demanded the resignation of several high-ranking officials for failing to contain the pandemic crisis.
Bulgaria has seen sustained protests against COVID-19 restrictions since the early months of 2020, as reported severally on the Monitor.
Expression
CSOs urge EU to combat Russian propaganda
The Association of European Journalists, of which the AEJ-Bulgaria is a member, co-signed a statement urging EU authorities to take necessary measures to combat Russian propaganda, especially about the war in Ukraine.
This is after Russia refused to recognise that it had indeed started a war against Ukraine, instead insisting on calling the aggression a "special military operation." The AEJ's appeal, launched on 26th February 2022, denounced Russia's brutal suppression of independent press and its promotion of misinformation.