Protesters continue to face arrest, excessive force in Sri Lanka as new UN resolution maintains international scrutiny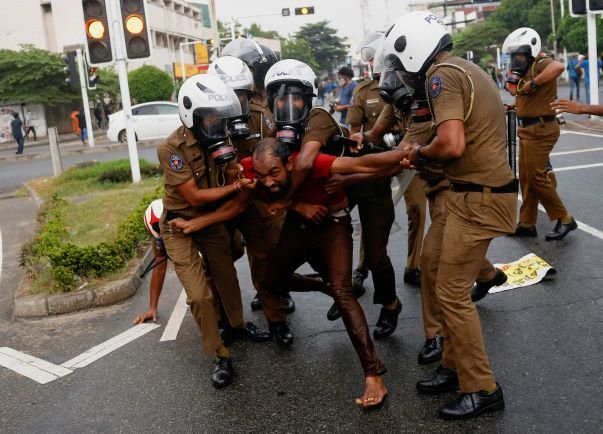 In June 2022, Sri Lanka was added by the CIVICUS Monitor to a watchlist of countries that have seen a rapid decline in civic freedoms. This was due to arbitrary arrests, attacks on journalists and the use of excessive and even deadly force by the security forces as part of a crackdown on anti-government protests by the Rajapaksa government, following its worst economic crisis in decades.
The country was retained on the watchlist in September 2022. Following the appointment of Ranil Wickremesinghe - a close ally of the Rajapaksa family – a state of emergency was declared that gave sweeping powers to the police and the armed forces to search and make arrests of "suspects" without due process safeguards. Security forces forcibly removed parts of the rolling peaceful protest and severely beat protesters and lawyers. They also sought to harass, arrest or detain activists and protesters seeking political reform and accountability, including student activists, a prominent trade union leader, social media activists and others. Three student activists have been detained under the draconian Prevention of Terrorism Act (PTA).
In early September 2022, a human rights group slammed the President for appointing at least three individuals into his new administration who are implicated in serious rights abuses.
A report by the UN, published on 6th September, called for accountability and deeper institutional reforms to prevent a recurrence of past violations. It called on the government to "immediately end the reliance on draconian security laws and crackdowns on peaceful protest, reverse the drift towards militarisation and show renewed commitment to, and deliver on, security sector reform and ending impunity". In the absence of progress towards accountability at the national level, the report urged other countries to cooperate in accountability efforts, including by using available avenues of extraterritorial and universal jurisdiction, to investigate and prosecute crimes under international law committed in Sri Lanka.
On 13th September 2022, human rights groups called on the UN Human Rights Council to adopt a strong resolution on Sri Lanka that strengthens current UN mandates on accountability for crimes under international law and monitors the country's deteriorating human rights situation. The government has said it will oppose a new resolution on its human rights accountability, especially an external investigation mechanism. 
However, the resolution was adopted by the Human Rights Council on 6th October 2022. The 19-point resolution was brought by 37 countries and was passed with 20 votes in favour and seven against. The resolution strengthens and extends the accountability mandate of the Office of the High Commissioner for Human Rights.
Over the last month, protesters have continued to face excessive force - including tear gas and water cannon - from security forces. Dozens have also been arrested. Activists such as Lahiru Weerasekara have also continued to be picked up. A regulation to restrict protest was introduced and then revoked after massive criticism from civil society groups. Tamil activists and journalists continue to face harassment.
Peaceful Assembly
Student protesters arbitrarily arrested after facing tear gas, water cannon
The Police fired tear gas and water on a protest in Maradana today.

Read the full story here https://t.co/l46aRxSg7d

via @colombogazette #Srilanka #lka #ProtestLK

— Colombo Gazette (@colombogazette) August 30, 2022
On 30th August 2022, police used excessive force to disperse a protest by students in Colombo with scores arrested.
The demonstration was organised by the Inter-University Student Federation (IUSF) who had been mobilising for months, calling for reforms as part of the larger protest movement. They had gathered opposite the Elphinstone Theatre in Maradana to protest against the arrest and detention of three of their members - Wasantha Mudalige, the convener of the IUSF, Hashantha Jeewantha Gunathilake, member of the Kelaniya University Students' Union and Galvewa Siridhamma Thero, the convener of Inter University Bhikku Federation - under the draconian Prevention of Terrorism Act (PTA).
Civil rights activists had joined them as well. The protestors carried placards reading "Stop abductions and imprisonments" and "Release all activists immediately".
According to the authorities, the organisers had only notified the police of the location where the protestors would be convening and not where they would be headed. The protest march proceeded despite being denied by the police and was met with police tear gas and water cannon fire and the arrest of 25 university students. The protestors were detained at the Colombo Fort Police Station
Activist Lahiru Weerasekera arrested
National Organiser of Youth for Change, Lahiru Weerasekara is currently detained at #Maradana police station after he was arrested while returning from a vigil held at @Colombo Galle Face promenade to remember those who died during 4 month long anti-govt. protest campaign. pic.twitter.com/r4RZhbmDOG

— JDS (@JDSLanka) September 9, 2022
On 9th September 2022, the National Organiser of Youth for Change (YFC), Lahiru Weerasekera was arrested by Maradana police as he was returning on his bike from a peaceful protest at Galle Face. According to Front Line Defenders, three police officers in uniform stopped his bike and forced him into a police jeep. He was assaulted inside the jeep and ordered to hand over his mobile phone, which he refused to do. He was taken to the Maradana police station. The police state that his arrest was based on a peaceful protest held by the IUSF on 30th August. He was granted bail the following day.
Lahiru Weerasekera is a prominent youth activist, former student leader and human rights campaigner. He has been active in the peaceful protests taking place in Sri Lanka linked to the economic crisis and in the campaign against ongoing reprisals against protesters, including violence, and persecution of peaceful protesters under the anti-terror law.
Actor-turned-activist detained
Damitha Abeyaratne, actor and one of the leading voices of Sri Lanka's anti-government protest movement was arrested by the Colombo North Divisional Crime Detective Bureau on 7th September 2022. She was accused of "obstructing duties of a senior police officer" on 10th July at the Presidential Secretariat when the police requested protesters to vacate the premises after they had occupied the premises. She was arrested at an event where she spoke critically of President Ranil Wickremesinghe's administration. On the following day the Fort Magistrate's Court further remanded her till 14th September.
Regulation to restrict protests
On 23rd September 2022, the Sri Lankan government invoked the Official Secrets Act to designate public streets and government buildings in central Colombo "high security zones," where written permission from the police was required to hold any public gathering. Under the regulation, police have wide-ranging authority to arrest anyone inside these zones and only the High Court can grant bail to those detained.
Rights group, the Centre for Policy Alternatives (CPA) responded by stating that these regulations are not within the scope of the Act, and their purpose was "clearly illegal and contrary to the fundamental rights guaranteed by the Constitution. Furthermore, these fundamental rights cannot be restricted merely by regulations promulgated under the Official Secrets Act."
The Human Rights Commission of Sri Lanka, an independent government body, said that the regulation "grossly violates the fundamental rights of the people of this country" while the Bar Association of Sri Lanka said the order "seeks to significantly curtail the liberty of the citizen, without any reasonable or legal basis."
On 1st October 2022, the President and the Minister of Defence Ranil Wickremesinghe issued a gazette revoking the order declaring the High-Security Zones.
Dozens arrested in Colombo following restrictive order
84 individuals arrested by Sri Lanka Police for taking part in the protest organized by the Socialist Youth Union against suppression pic.twitter.com/WySq4cfWpz

— NewsWire 🇱🇰 (@NewsWireLK) September 24, 2022
On 24th September 2022 police arrested 84 protesters, including activists of the Socialist Youth Front, for taking part in a protest march against the government and its recent moves to use a controversial anti-terrorism law to detain individuals for exercising the right to democratic protest.
Police also fired tear gas and water cannon at the activists of the Socialist Youth Front as they started to move from central Colombo's Lipton Circus to the Colombo Fort railway station. Several protestors were injured and were admitted to the Colombo National Hospital. During those protests, several journalists were also reportedly attacked by the security forces.
Though the demonstration had been planned for a long time, it came a day after the Sri Lankan President Ranil Wickremesinghe issued the regulation declaring several key government building areas as high security zones, prohibiting any kind of protests in the locations (see above).
Tamil activists arrested for protest
🚨'One law for Tamils, another for Sinhalese' – Tamils protest after Sri Lankan arrests activists

Protests have taken place in Mullaitivu and Jaffna to condemn Sri Lanka's arrest of two leading Tamil rights activists.

Read more⬇️https://t.co/ISE8EY8i8J pic.twitter.com/a7liSgiyxJ

— Tamil Guardian (@TamilGuardian) September 23, 2022
Two leading Tamil rights activists were arrested just hours after they demonstrated against the illegal construction of a Buddhist vihara. According to the Tamil Guardian, former Northern Provincial Council member T. Ravikaran and civil society activist R. Mayuran were arrested and accused of "criminal coercion" for taking part in the protest on 21st September 2022.
The men were part of several Mullaitivu locals and activists protesting against the illegal construction of a Buddhist vihara in Kurunthurmalai. Sri Lankan authorities have continued with the construction of the Buddhist shrine on Kurunthurmalai, a hill-top site of an ancient Tamil temple in the district's Thannimurippu area, despite a court order barring any new construction.
Expression
Tamil journalists face harassment
Tamil journalists in Sri Lanka continue to face harassment and interrogation on suspicion of "terrorism".
According to Reporters Without Borders (RSF), two journalists based in the eastern city of Batticaloa, Balasingham Krishnakumar and Selvakumar Nilanthan, were ordered to report to the headquarters of the Counter-Terrorism Investigation Division (CTID) in the capital, Colombo, on 14th September 2022 for questioning about their alleged support for the former Tamil armed separatist group, the Liberation Tigers of Tamil Eelam (LTTE).
Both Krishnakumar and Nilanthan are active press freedom defenders in Batticaloa and both belong to the Tamil ethnic minority, in a country with a mainly Sinhalese population. The authorities accuse them of trying to revive the rebel movement that led to a civil war from 1983 to 2009.
Nilanthan, who works for the Tamil Guardian newspaper, is one of those Tamil journalists who has been used to getting judicial summonses and he has been questioned on several occasions in the past. He is the secretary of the Batti Press Club and has been actively reporting on social, political and environmental injustices in the Eastern province. He has been supportive of issues concerning human rights