Protest violations on the rise: excessive use of force, killing and arrest of protesters
Sociedade
Polícia detém dezanove mulheres em Maputo durante uma manifestação#prm #manifestacoes #observatoriodasmulheres #opaisonline #opais #gruposoico https://t.co/XXBg3I2S5O pic.twitter.com/XE93bmA3gw

— O País Online (@opaisonline) December 8, 2021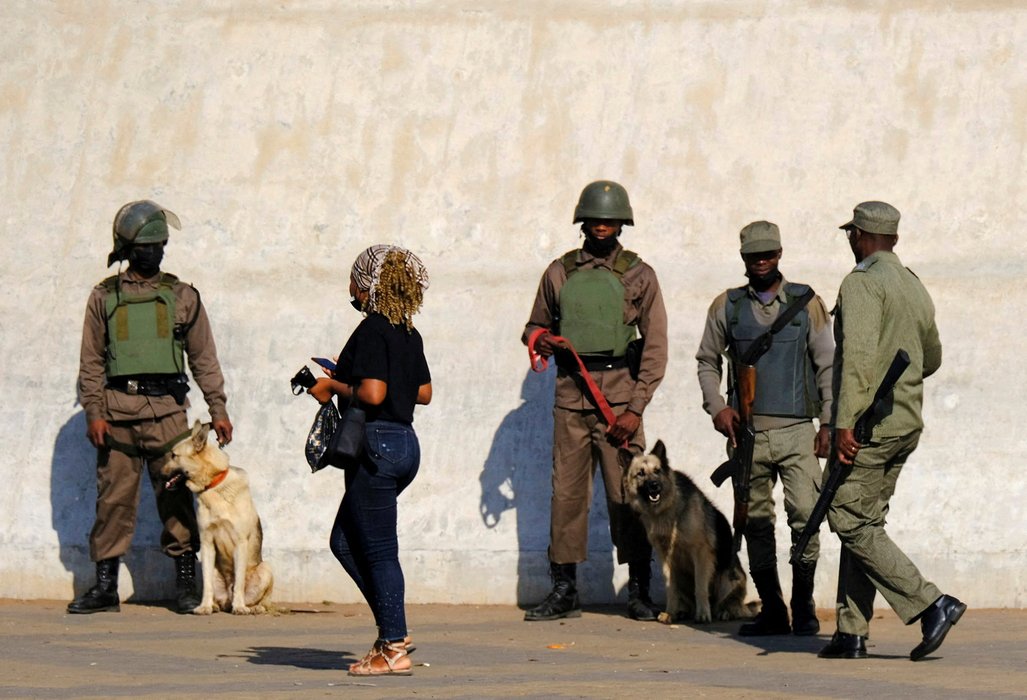 Peaceful Assembly
WHRDs attacked, arrested during protest against gender-based violence
Twenty well-known women human rights defenders (WHRDs) and members of CSO coalition Observatório das Mulheres(Women's Observatory)were attacked and assaulted by police officers, who reportedly beat the activists and arrested at least 17 WHRDs during a peaceful protest against gender-based violence on 7th December 2021 in Maputo. The 17 activists were released later in the day. Some of the activists sustained injuries as a result of the beatings. Police justified the violent dispersal of the peaceful protest, organised as part of the UN campaign '16 Days of Activism Against Gender-Based Violence', by saying the protest was not authorised by authorities, despite article 3(1) of Law 9/91 of 18 July 1991 only requiring prior notification of protests.
On 31st January 2022, Observatório das Mulheres and Action Aid Mozambique filed a criminal complaint against the police for "interference and making it impossible to exercise the right to demonstrate". They also requested compensation for the "illegal acts" of police agents.
Protest violations: excessive use of force, protesters killed, injured, arrested
On 8th March 2022, security forces killed two people and seriously injured at least one other person while using live ammunition to disperse a protest in Molumbo District, in the province of Zambézia, near the border with Malawi. People reportedly gathered to demonstrate against a ban on the use of the Malawian currency, the kwacha, at the Administrative Post of Coromana, next to the border with Malawi, although some protesters said that the manifestation was against the excessive use of force by the police the previous day. During a press conference, the provincial commander of the police claimed that police officers fired at the protesters to avoid the destruction of the police station. Four protesters were reportedly arrested.
Police prevented a protest, planned for 5th February 2022 against toll fees in Maputo. Early in the morning, armed police officers occupied strategic positions in the city, surrounded the place where the protest was to take place and dispersed those attempting to protest. The protest organisers were reportedly detained, and released a few hours later.
In another incident, a teenager was shot and killed when police officers attempted to disperse a protest on 6th April 2022 in Chimoio, in the province of Manica. Security forces reportedly used live ammunition and tear gas to disperse a group of angry residents who gathered and started destroying the properties of a local trader, whom they suspect of kidnapping the children of his employees, motivated by organ trafficking. Dozens of people were injured, while at least 54 people were reportedly arrested in relation to the protests. According to news reports, 16 minors who were arrested during the protests, were released. Four other people were released due to lack of evidence, while criminal proceedings were initiated against 34 people. They are accused of 'theft' and 'instigating justice by their own hands'. Police further said they were going to pay for the funeral of the teenager who was shot and killed by their officers.
A 13-year-old girl was critically injured when police officers reportedly used live ammunition during a protest on 11th June 2022 in the Murrapaniua neighbourhood of the city of Nampula. That day, residents gathered in front of offices of the public electricity company to demand electricity connections in their neighbourhood. Nine people were reportedly arrested.
Minister of the Interior condemns freedom of assembly violations in National Assembly
In response to a parliamentary question by opposition party RENAMO, the Minister of the Interior, Arsénia Massingue, said on 20th April 2022 that authorities will hold to account police officers who illegally impede the freedom of peaceful assembly. He further said that "protests are constitutionally enshrined and cannot, under any circumstances, be prohibited or interrupted, except in cases of lack of strict observance of the law".
Protests against the rising cost of living
The increase in the fuel price and cost of living has sparked several protests in Mozambique since March 2022. On 4th July 2022, drivers of 'chapas', the minibuses that function as public transport in Maputo, protested against the rising prices of fuel, demanding an increase in fares. Bus drivers gathered at main terminals in the outskirts of the city, paralysing public transport for hours.
Novas leis minam liberdade de expressão e de imprensa em Moçambique https://t.co/YqBwNXKUkH

— GlobalVoices em PT (@gvlusofonia) May 26, 2022
Expression
Amendment to anti-terror law threatens freedom of expression
On 19th May 2022, Mozambique's National Assembly approved an amendment to Law 5/2018 on the Prevention, Suppression and Combating of Terrorism and Related Actions. While the tougher anti-terrorism regulation was lauded by some, in the context of a prolonged and ongoing insurgency in Cabo Delgado, media freedom advocates raised concerns on certain clauses which could violate freedom of expression. Article 19 (2) of the amended law criminalises the public reproduction of false statements relating to terrorist acts, with prison sentences of between two and eight years, which could affect journalists as the reproduction of statements is part of their job. Ernesto Saúl of Mozambican press freedom organisation Instituto de Comunicação Social da África Austral (Media Institute of Southern Africa – Mozambique; MISA-Moçambique) commented to the Committee to Protect Journalists (CPJ):
"We just have to remember that the government had denied terrorist acts in Cabo Delgado for months after the first reports, and many journalists were at the time accused of spreading lies, so the government can very well use this to silence coverage altogether".
On 22nd June 2022, President Felipe Jacinto Nyusi signed the amended Law 5/2018 into law.
Journalist briefly detained
On 8th March 2022, police officers detained community radio journalist Jaime Constantino Albino in Mabote district, Inhambane Province, while he was covering a riot by residents following the discovery of a dead body in a warehouse, presumed by residents to have been murdered by his employer after money went missing. The journalist was released the following day. According to news reports, 13 other people were arrested during the violent protest, while police reportedly used tear gas to disperse the protesters.
Journalists impeded from reporting during trial of former Minister
There were several attempts to prevent journalists covering the trial of former Labour Minister Helena Taipo and other accused of embezzlement at the Judicial Court in Katembe, Maputo, on 15th March 2022, according to MISA Mozambique. Journalists reported to MISA Mozambique that they were invited by the court to leave the premises. In a broadcast of STV Television, an official of the court said that there was no defined time to capture images. According to MISA, journalists at the trial were only authorised to take notes, not images and sound.
A Rede Moçambicana de Defensores de Direitos Humanos denuncia ameaças contra o advogado João Nhampossa. A organização convida o Presidente Filipe Nyusi para um encontro para perceber as reais intenções dos ativistas. https://t.co/6iY3OpUaYd

— Madalena Sampaio (@madalenasampaio) January 27, 2022
Association
In a statement issued on 27th January 2022, the Mozambican Human Rights Defenders Network (RMDDH - Rede Moçambicana de Direitos Humanos) said that João Nhampossa, a lawyer and human rights defender (HRD), had his office broken into after weeks of receiving threats. On the night of 22nd January 2022, unidentified individuals broke into Nhampossa's office and stole his work computer, mobile phone and work documents. RMDDH believes the break-in was related to Nhampossa's work as a human rights lawyer, as mainly work related items were taken by the perpetrators. The HRD works on the rights of communities affected by extractive industries and other mega-projects, and has recently commented on the sale of the company Vale Moçambique on a television channel. Nhampossa has also worked on other public interest cases.