Protests over COVID-19 lockdown; court denies access to abortion medication via mail during pandemic
Association
According to newly published data by the Dutch National Bureau of Statistics, 2019 marked a 25-year peak in the number of working days lost due to strike action. There were 26 strikes which took place in 2019. Although the number of strikes was higher in 2017 and 2018, with 32 and 28 respectively, an estimated 319,000 workers were involved in the 2019 strikes, a higher turnout than previous years. About 90% of the workers who participated in strikes were healthcare or education professionals and 24 out of the 26 strikes were called by trade unions.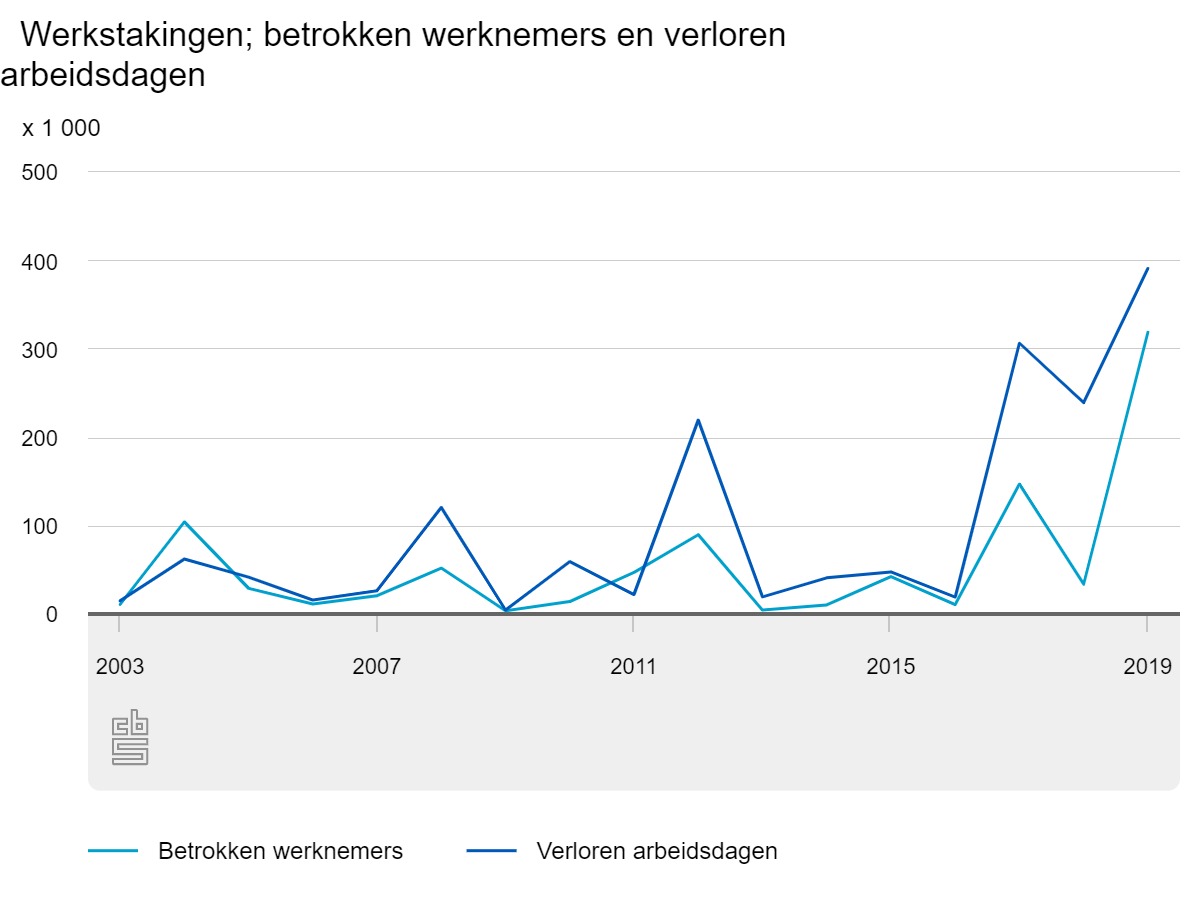 Court denies access to abortion pill by mail during COVID-19
On 10th April 2020 the district court in the Hague dismissed a case brought by women's rights organisation Bureau Clara Wichmann, with support from Women on Waves, on behalf of a mother who requested to receive medication for inducing an abortion via post. The single mother, who has a daughter displaying coronavirus (COVID-19) symptoms, is unable to leave her house to go to an abortion clinic. Under normal circumstances the medication would be administered in front of a doctor at an abortion clinic. There are several other women who shared their stories of being unable to access abortion services due to the pandemic.
Our friends @WomenOnWaves_ released a report last week of a Dutch judge refusing access to the abortion pill. This is especially cruel during the pandemic. Abortion Rights extends solidarity to women in the Netherlands who have had abortion access denied.https://t.co/J8T7HGMjVY pic.twitter.com/kC9vdnf2YB

— Abortion Rights (@Abortion_Rights) April 15, 2020
An online petition, which has now reached over 15,000 signatures, was created calling on the Dutch government to find an emergency solution.
Wij staan #Trix (alias)bij met @WomenOnWaves in haar zaak om tijdens #Covid-19 toch toegang te krijgen tot de abortuspil. Zij zit in thuisisolatie door besmetting in haar gezin. Ze moet toegang met krijgen tot de abortuspil die per post gestuurd kan worden. 1/3 pic.twitter.com/WjN7xOSMOG

— Bureau Clara Wichmann (@clara_wichmann) April 11, 2020
Peaceful Assembly
On 5th May 2020, people took to the streets in several Dutch cities to protest the confinement measures that the government has put in place to limit the spread of the coronavirus. In doing so, they defied the temporary ban on public gatherings of more than two people.
In Utrecht, around 100 protesters drove through the city honking their horns. Besides the lockdown measures, some participants were also seen protesting against 5G networks, vaccines and the public broadcaster. The organiser of the protest in Utrecht told a local TV station that they were not protesting against anything per se, but rather that they were protesting in favour of personal 'freedom'. Police said that despite some warnings to people who failed to respect the 1,5-metre distance rule, there was no need to take action.
The largest demonstration took place in The Hague, where police estimate that around 200 people gathered. Although the authorities had not been notified of the demonstration in advance, Mayor Remkes initially decided to allow the protest to take place on Koekamp square as long as the participants respected the 1,5-metre distance rule. However, according to officials, protesters did not keep their distance from each other and tried to move the protest away from Koekamp square. Eventually, police put an end to the protest and arrested around 80 demonstrators.
Video | Politie grijpt in bij demonstratie tegen lockdown in Den Haag: https://t.co/z2c3bLtAtm

— NU.nl (@NUnl) May 5, 2020
Climate protest at The Hague
Due to the temporary ban on public gatherings of more than two people, Extinction Rebellion (XR) activists used a symbolic form of protest to send a message about the climate crisis. The group collected shoes from all over the Netherlands and filled the square of the House of Representatives in the Hague with a thousand shoes.
Expression
The Netherlands has dropped one place in the Reporters Without Borders (RSF) World Press index ranking from 4 in 2019 to 5 in 2020.