Proposed law threatens CSO space, opposition faces brutal repression ahead of elections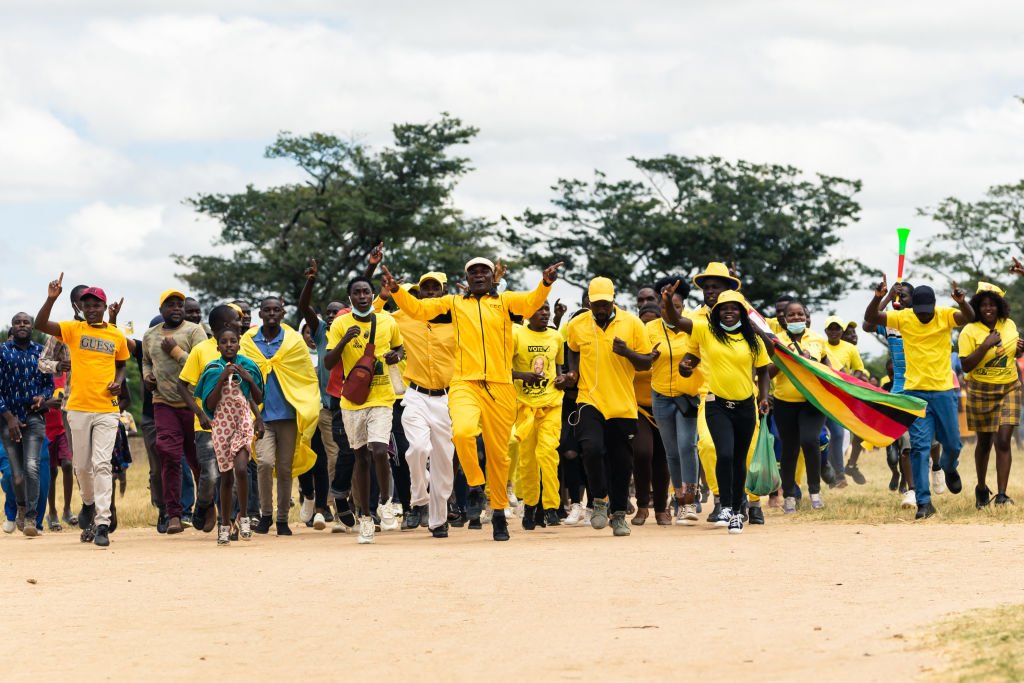 Zimbabwe wants to criminalise and ban non-governmental organisations through the proposed Private Voluntary Organisations Amendment Bill. https://t.co/n8iymFliBT

— Times LIVE (@TimesLIVE) March 8, 2022
Association
Private Voluntary Organisations Amendment Bill Poses Serious Threats to Human Rights and Civic Space
In November 2021, the Parliament of Zimbabwe tabled the Private Voluntary Organisations Amendment Bill, which seeks, amongst other things, to provide the government with unfettered discretionary power to overregulate and interfere in nongovernment organisations' governance and operations. For example, the provisions of the Bill provide the government with unchecked power to designate any PVO as "high risk" or "vulnerable" to terrorism abuse, thereby allowing them to revoke a PVO's registration and remove or replace its leadership.
The Bill also seeks to include a provision which will prevent PVOs from supporting or opposing any political party or candidate in a presidential, parliamentary or local government election.
President Mnangagwa Issues Stern Warning to Civil Society Actors
Related to the above developments, while campaigning for the by-elections which took place on 26th March 2022, President Mnangagwa issued a stern warning to civil society actors whom he believes are "overstepping their boundaries" by interfering in the political affairs of the country.
According to the President, many civil society organisations in Zimbabwe have been working closely with opposition political parties and Western embassies with the aim of encouraging a regime change. As a result, President Mnangagwa warned civil society actors that they would be kicked out of the country for "destabilising the prevailing peace, unity and harmony through dabbling in politics" if they continue to act beyond their mandate.
Police arrest Opposition Political Party Members for Election Campaigning
A few days before the March 2022 by-elections, on 21st March 2022, members of the Zimbabwe Republic Police arrested four supporters of the newly formed Citizens Coalition for Change (CCC), for conducting door-to-door campaigning in the Kadoma Municipality.
The four who included interim Kadoma CCC chairperson Edson Muzira,later appeared at the Kadoma Magistrates Court to answer to charges of illegal gathering and disorderly conduct. They were later released on bail and ordered to appear in court on 5th April 2022.
In his address to the media, CCC Mashonaland West spokesperson Blessing Mandava, condemned the selective application of law by the police, noting that ruling party Zanu-PF supporters were also conducting similar activities in the area but were never punished for their conduct. He further added that "as citizens of this great nation, who are protected by freedoms and liberties as enshrined in the Constitution, we therefore call for the unconditional release of these four and other political detainees."
A month earlier, in Masvingo on 19th February 2022, the police arrested 80 supporters of CCC for holding door-to-door election campaigning. At a political rally held by ruling political party Zanu-PF prior to the arrests, President Mnangagwa told thousands of his supporters that no opposition would rule the country anytime soon.
In a separate incident that occurred a few days earlier, the police arrested 13 youth supporters of CCC for inciting public violence. While in police custody, the supporters were severely tortured and denied access to food or water.
Popular CCC Supporter Arrested for 'Improper Dressing'
A few days before the holding of the by-elections, the CCC party reported on the arrest of one of its supporters, Godfrey Chidhawu Kanembere, popularly known as 'Madzibaba', for "improper dressing". While in police custody, Madzibaba sustained multiple injuries and was admitted to hospital after being tortured by the police.
Represented by Zimbabwe Lawyers for Human Rights, Madzibaba is facing a charge of disorderly conduct for allegedly wearing yellow regalia and telling members of the public to vote for Nelson Chamisa, President of CCC. Madzibaba was detained for more than 48 hours without being taken to court for a bail application. He was later released on bail on condition that he present himself to a police station twice a week.
Judiciary Overturns Several CCC political rally bans
In more positive developments, the courts in Zimbabwe played a crucial role in safeguarding the rights of opposition members and supporters to associate and assemble. In the build-up to the by-elections, the Zimbabwe Republic Police prevented political rallies organised by the CCC on numerous occasions. For example, on one occasion, the police refused to grant permission for a rally to go ahead after the party proposed to conduct a mini car rally ahead of the event. On another occasion, the police denied a request to host a rally on the basis that the ruling political party, Zanu-PF, was hosting two similar rallies in the district of Masvingo.
As a result, CCC filed different applications with the courts in Zimbabwe in a bid to overturn the decisions of the police. In one of the orders of the High Court in Masvingo, the police were directed not to interfere with the rallies. "Respondents and all those acting through them be and are hereby interdicted from interfering with or cancelling applicants' by-election campaign launch at Rujeko A open Grounds on the 20th of March 2022 between 1000hrs and 1600hrs," read the interim relief order.
Teachers Strike over Wage Increase
For several months, Zimbabwe's largest teacher trade union, Zimbabwe Teachers' Association, has engaged in strike action to demand, amongst other things, salary increases and better working conditions for teachers in the country. This has been a long-standing dispute between the trade union and the government as a result of the government's decision three years ago to switch from paying civil servants in US Dollars to Zimbabwean Dollars. For a long period, Zimbabwe's economic situation has been in decline, resulting in a deterioration in the delivery of basic services such as education and health. At present, the average salary for a teacher in Zimbabwe is 28,800 Zimbabwean dollars, which translates to approximately US $120.
In one of the recent strikes which occurred on 7th February 2022, teachers continued to demonstrate peacefully and demand salary increases following a shutdown of schools to restrict the spread of the COVID-19 virus. However, in response to their demands, the government suspended approximately 135,000 teachers for three months without pay. An application challenging the suspension, including the withholding of salary payments, has been filed with the High Court by the Rural Teachers Union of Zimbabwe. 
Zanu-Pf Violence rocks opposition CCC Kwekwe rally in Zimbabwe, one ki…https://t.co/4lXXCPjAlt

CCC leader Nelson Chamisa chats with some party supporters injured after suspected Zanu PF youths attacked an opposition rally in Kwekwe yesterday #Zimbabwe #UkraineRussiaWar

— Radio Chimurenga (@ChimurengaRadio) February 27, 2022
Peaceful Assembly
Opposition Political Party Rally attacked
In late February 2022, the CCC held a political rally in Kwekwe, which however ended tragically after more than 20 of its supporters were violently attackedand one killed by being stabbed to death. According to reports, a group of armed men who were allegedly Zanu-PF supporters, invaded the rally and attacked the crowd of supporters with spears, machetes, iron bars and stones.
The attack occurred a day after Zanu-PF held a peaceful rally in the same town, where current Vice-President Constantino Chiwenga informed party supporters that they would crush Chamisa (President of the CCC party) and his party like lice "on a flat stone and then flatten it to the extent that even flies will not even make a meal out of it".
A few days before the attack in Kwekwe, CCC supporters were also teargassed at a rally in Gokwe, a rural post 100km from Kwekwe. Addressing the media, Chamisa said this was a "premeditated attack" by Zanu-PF.
As a result of the attacks in Kwekwe, 16 suspects were arrested. However, a few days later, the police released 11 of the arrested suspects, without reasons.
Zimbabwe National Students Union Protest over Fee Hikes
In a demonstration led by the Zimbabwe National Students Union (ZINASU), thousands of students at the University of Zimbabwe denounced fee increments that were effected twice within one month. In March 2022, 10 ZINASU students were arrested for peacefully demonstrating against the fee hikes, and in further protests, another student was arrested on 4th April 2022.
Expression
Trial of Clapaton Redi begins
Zimbabwe Lawyers for Human Rights (ZLHR) is representing Clapaton Redi, a Zimbabwean citizen, who is currently on trial on charges of undermining authority by insulting President Mnangagwa. Redi was charged after he was allegedly overheard by an employee of the Zimbabwe Anti-Corruption Commission making derogatory remarks against President Mnangagwa.
As reported by ZLHR, Redi is among a dozen people who have been arrested and charged for allegedly passing derogatory remarks against the President. In another ongoing matter, Mehlo Mpala is currently facing charges of contravening Section 33(2)(a) of Criminal Code, which concerns undermining authority. Any person found guilty of the crime may be fined or imprisoned for a period not exceeding one year.