Pro-democracy activist Makomborero Haruzivishe released on bail after months in detention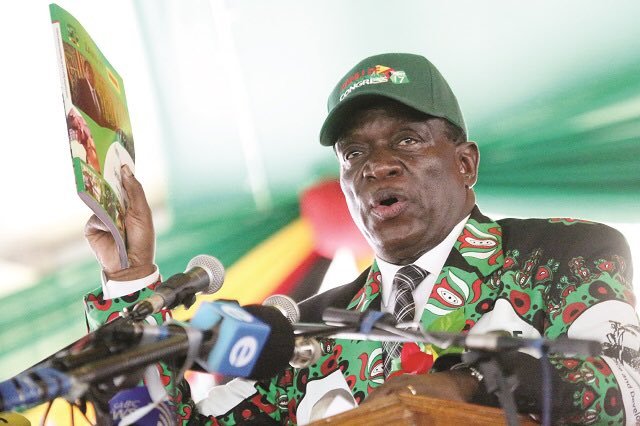 1. The arrest of Headman Chiadzwa and 28 others for protesting against Anjin Investments - a joint venture between AFECC and Zim Defence Industries - takes us back to 1890 when the British settlers illtreated our ancestors for defending their land pic.twitter.com/TF6jsXWI8h

— Farai Maguwu (@FMaguwu) November 3, 2021
Peaceful Assembly
Marange residents arrested for peaceful protests
In early November 2021, 28 residents from the Marange area of Manicaland province and their traditional leader, Headman Chiadzwa, were arrested for holding a peaceful demonstration against Chinese diamond mining company Anjin, in protest against the company's failure to consult them in its activities, and its human rights abuses. The 28 community members were charged with inciting public violence under the Criminal Law Codification and Reform Act.
According to a statement released by the Green Governance Zimbabwe Trust, the community members were turned away and met with violence by company management, even though they had scheduled a meeting with the mining company to express their grievances over their constitutionally protected rights. On 4th November 2021, they were released on bail.
Trial of pro-democracy activists begin
On 1st November 2021, the trial of pro-democracy activists and MDC-Alliance members Makomborero Haruzivishe, Denford Ngadziore, Stanley Manasi Manyenga, Cecilia Reval Chimbiri and Alan Moyo began in Harare. This was after Magistrate Mangosi dismissed an application by the Zimbabwe Lawyers for Human Rights seeking to have the charges against the accused dropped.
The group is charged with participating in public demonstrations with the intention to incite public violence, in relation to a protest they held on 19th February 2020. According to the prosecution, the accused persons, together with other members of the MDC-Alliance youth held a demonstration with placards inscribed "Respect our Constitution" and "ED Enda, ED must go" amongst other things.
Freedom fighters arrested for demanding increased pension earnings
In October 2021, Zimbabwe police arrested 40 freedom fighters who held a peaceful demonstration against poor pension earnings. The veterans were detained for a period of four days after they tried to petition President Emmerson Mnangagwa about the low monthly pensions which are insufficient for them to make ends meet.
They were charged with inciting public violence and released on bail with a condition to report to the police station once a week.
Expression
Activist freed after two months in prison
On 27th October 2021, student and pro-democracy activist Allan Moyo was released from remand after spending more than two months in detention for calling for a revolt against President Mnangagwa's government in December 2020. His lawyer had applied to have him released since the prosecution was yet to start his trial since his arrest in December 2020.
Continued imprisonment of pro-democracy activist raises concern
Makomborero Haruzivishe, a pro-democracy activist and MDC Alliance youth leader, was imprisoned after being sentenced 14 months for allegedly inciting public violence when he whistled at Harare's busy Copa Cabana terminus in April 2021. In his appearance in court, the activist pleaded innocent to the charges and was then moved from Chikurubi Maximum Security Prison to Harare Central by the High Court. Makomborero's incarceration continued despite a court order granting him bail pending appeal, raising concern with civil society.
Commenting on the arrest and detention, the Minister for South Asia, the United Nations and the Commonwealth at the Foreign, Commonwealth & Development Office (FCDO), Lord Tariq Ahmad, said:
"The British Embassy in Harare is in touch with Makomborero Haruzivishe's lawyers as we await the outcome of his appeal. The UK regularly urges the Zimbabwean government to meet its international and domestic obligations by respecting the rule of law and the freedoms and rights enshrined in the Zimbabwean Constitution, safeguarding human rights, and committing to genuine political and economic reform for the benefit of all Zimbabweans".
According to MDC-Alliance Spokesperson Fadzayi Mahere, Makomborero expressed complaints "that he is being attacked at night by "fellow inmates" who choke him". He was eventually released on bail on 8th January 2022 after spending almost a year in prison.
Police officer arrested for free speech
On 28th October 2021, police officer Maxwell Guvava was arrested and charged with insulting or undermining the authority of President Mnangagwa after he told ZANU-PF supporters that "nyika yaora" (Zimbabwe is a rotten country) and also questioning the President's ability to solve the ongoing economic crisis.
Represented by Zimbabwe Lawyers for Human Rights, Guvava was later released on bail set at ZWL5 000 (USD 13) and ordered to report at a police station once a week as part of his bail conditions.