Positive press freedom rankings for Taiwan but ban on Chinese flag and book raises concerns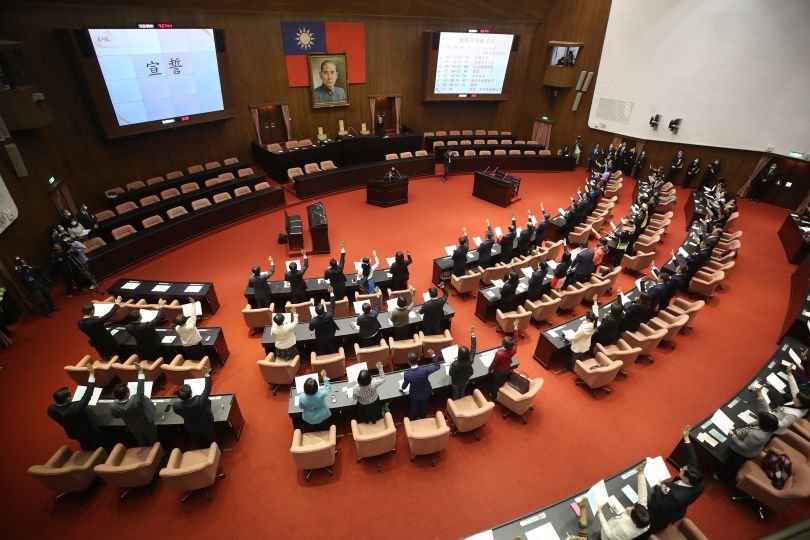 Taiwan's civic space was rated as 'open' in the December 2020 annual report by the CIVICUS Monitor and fundamental freedoms are widely respected and protected by the authorities.
In recent months, Taiwan ranked highly in the Asian region in the Reporters Without Borders (RSF) World Press Freedom Index. However, there are civic space concerns about the proposed ban on the display of the People's Republic of China (PRC) flag as well as a children's book from China.
Expression
Press freedom rankings remain positive
Taiwan remained in 43rd place in the 2021 World Press Freedom Index announced by Reporters Without Borders (RSF) on 20th April 2021. The country was ranked the second highest in Asia after South Korea.
According to RSF, "political interference is rare and less tolerated, but Taiwan's journalists are suffering from a very polarised media environment dominated by sensationalism and the pursuit of profit. Although President Tsai Ing-wen has said she wants to continue developing press freedom in Taiwan, few concrete measures have been taken to improve journalists' editorial independence and encourage media to raise the quality of the public debate".
Further, RSF said that "Beijing is exploiting this weakness by putting pressure on Taiwanese media owners, who often have business interests on the mainland. Beijing is also suspected of orchestrating online disinformation campaigns – a threat that could lead to questionable retaliatory measures by Taiwan such as refusing visas to Chinese journalists regarded as hostile".
Security officials propose to criminalise display of flags
Taiwan Security Officials Propose Ban on Chinese Flag – The Diplomat https://t.co/O3Sla6OSJT

— EuroDiplomat (@eurodiplomat) April 25, 2021
On 24th April 2021, it was reported that Taiwanese national security officials want to criminalise the display of the five-star People's Republic of China (PRC) flag on national security grounds.
Lawmakers are deliberating a bill proposed by Democratic Progressive Party (DPP) legislator Wang Ting-yu that would amend Taiwan's National Security Act and criminalise certain actions deemed hostile to the nation. The bill would ban "raising, lowering, hanging, displaying, holding or brandishing" a political or military flag of a hostile foreign power in public places. Those found guilty would be subject to fines of up to USD 1,782.
Wang proposed the amendment in October 2020 with support from 28 DPP lawmakers along with Chen Po-wei of the pro-independence Taiwan Statebuilding Party.
The Chinese flag is not commonly displayed in Taiwan, where a fractional minority of the population expressed support for unification. Among the general public, pro-unification protesters and activists are generally ignored or ridiculed.
As previously documented, China still sees Taiwan as part of its territory to be reunified, despite the two sides being ruled separately since the end of a civil war on the mainland in 1949. Taiwan considers itself a sovereign state, with its own political and judicial systems, but has never declared formal independence from the mainland. Beijing has warned that it would respond with force if Taiwan tried an official split. Beijing has made a multi-pronged attack to erase Taiwan from the international stage, including blocking it from global forums and pressuring its dwindling number of official diplomatic allies. 
Children's book banned by authorities 
Taiwan's ban on books, TV shows 'the work of the thought police', co-founder of ruling party says https://t.co/dcOZvFr3Oy

— SCMP News (@SCMPNews) January 3, 2021
Previously, on 2nd December 2020, it was reported that a children's picture book, "Waiting for Dad to Come Home", was ordered off the shelves by the Taiwanese culture ministry, which said it was considering censoring other books from the mainland.
The book was originally published in mainland China and republished on the island in traditional Chinese. It features a boy whose father is a doctor treating COVID-19 patients and prompted controversy in Taiwan when politicians from Taiwan's ruling Democratic Progressive Party (DPP) said it was a glorification of Beijing's efforts to fight the pandemic.
Current regulations in the Act Governing Relations between the People of the Taiwan Area and the Mainland Area require that Taiwanese publishers apply for a permit to re-publish books first published in China. They have to include an authorisation letter from the Chinese publisher.
According to the Ministry of Culture it did not receive an application for the book's publication, and therefore has banned it from distribution in Taiwan, effective immediately.
After the announcement of its decision to ban the distribution of the book, two major newspapers in Taiwan -- United Daily News and the China-friendly China Times -- criticised the ban in editorials.United Daily said that it is "absurd" that in Taiwan, while a person can "waltz into a bookstore" and buy books on Mao Zedong's teachings and communist theories, a "deeply educational" book about a child who learns how incredible his father's work is, has been banned.
The China Times editorial slammed the ban as a form of "green terror," implying that the DPP (whose representative colour is green) is regressing to White Terror-era tactics of suppression. This is the period from 1949 to 1987 when the then-Chinese Nationalist Party (KMT) government ruled via martial law.