Politically motivated trial of Cambodian opposition leader continues despite international pressure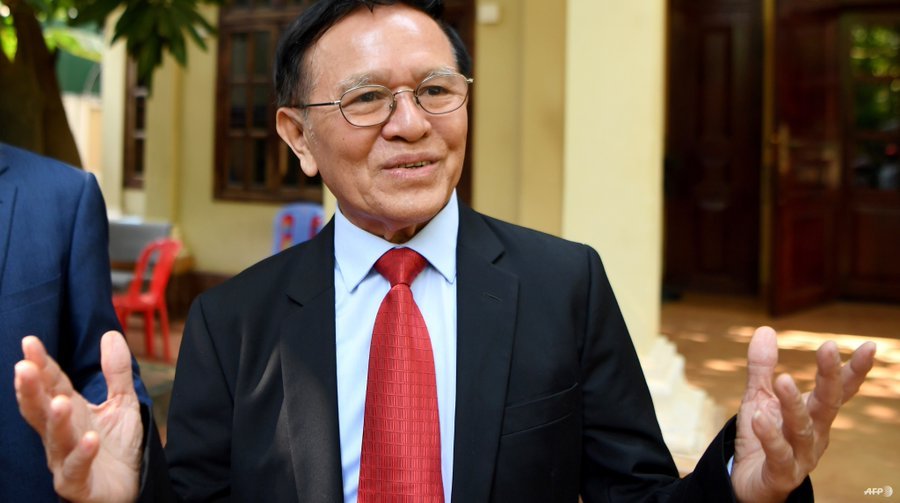 Over the last few months there have been continued attempts by the Hun Sen government to target the opposition. The trial of opposition leader Kem Sokha has begun, while many opposition members have been arrested and charged. The government has also failed to amend the NGO law, and two former RFA journalists continue to face judicial harassment.
On 12th February 2020, the European Commission announced the partial suspension of Cambodia's preferential trade terms with the European Union after the government failed to address serious human rights concerns.
The EU decision followed a formal year-long review of Cambodia's "Everything But Arms" (EBA) trade preferences. The EU's preliminary conclusion, sent to the Cambodian government in November 2019, stated that Cambodia has seriously and systematically violated the right to freedom of expression, restricted other civil and political rights, and failed to uphold labour rights. The partial suspension of Cambodia's EBA trade preferences will affect selected garment and footwear products, all travel goods and sugar.
Association
UN experts say opposition leader Kem Sokha's trial tainted
On 16th January 2020, the trial of a top Cambodian opposition leader Kem Sokha began. As previously documented, Sokha is the head of the main opposition party, the Cambodia National Rescue Party (CNRP). He was arrested in 2017 on treason charges, in a case widely seen as politically motivated. He has been accused of colluding with the US to conspire against the Cambodian government.
According to reports, almost no journalists or NGOs were allowed into the courtroom on the first day of the trial, drawing criticism from civil society groups. Human rights groups believe the proceedings are a sham and that there is little chance of Kem Sokha avoiding conviction. They have called for the charges to be dropped.
Three United Nations human rights experts on 17th January 2020 expressed concerns over the trial of Sokha, saying the entire process has been "beset by irregularities" and calling for an end to the charges against him.
UN Special Rapporteurs Rhona Smith, David Kaye and Diego Garcia-Sayan said in a statement:
"We have strong grounds to believe that the treason charge against Mr. Sokha is politically motivated and forms part of a larger pattern of the misapplication of laws to target political opponents and critics of the Government."
According to the UN experts the entire process of Sokha's arrest and detention has been tainted by irregularities and clear violation of international human rights law and Cambodian law. They stated that Sokha was apprehended without an arrest warrant and with disregard for his parliamentary immunity privileges. He was also denied access to a lawyer in the early stages of his detention, and was ultimately held in pre-trial detention for a period that exceeded the maximum period permissible under Cambodian law.
On 13th February 2020, four lawyers representing Kem Sokha,  walked out during his trial. The four lawyers – Meng Sopheary, Pheng Heng, Ang Odom and Chan Chen – claimed that the council of judges was not allowing them to raise concerns over the admissibility and veracity of the evidence given to them by the court.
Arrest and charges against opposition members
Cambodia: Repression of Opposition Increases https://t.co/bpVngnoVET #Rights2020

— Human Rights Watch (@hrw) January 14, 2020
In November 2019, Amnesty International reported that the Cambodian authorities were continuing their campaign of arbitrarily arresting and prosecuting former members of the banned Cambodia National Rescue Party (CNRP).
According to the organisation, since August 2019 at least 41 former CNRP members had been jailed and 88 were subjected to politically motivated charges, including "plotting against the state" and "attack" for allegedly supporting the return to Cambodia of CNRP leaders living abroad. Arrests have typically been conducted without due process and in the absence of arrest warrants.
On 30th October 2019, Sam Bopha, a CNRP activist, was killed while in police custody after being arrested at her home in Svay Rieng province. According to information received by Amnesty International, Bopha fell from a police motorbike as she was being transported to the local police station. She was arrested after her father-in-law, Hun Yap — a former CNRP commune councillor — filed a domestic violence complaint against her. Hun Yap had defected to the ruling Cambodia People's Party (CPP) a week prior to the arrest amid a nationwide campaign of coerced "confessions" and defections targeting former CNRP activists. Approximately 50 former CNRP members have "confessed" to plotting against the state in the past two months.
The Cambodian authorities have also attempted to thwart the return of CNRP leaders. On 1st November 2019, the Cambodian civil aviation authority threatened airlines with prosecution for supporting "a coup d'état" should they allow acting CNRP leader Sam Rainsy - who has been in self-imposed exile - to board a flight to Cambodia. CNRP deputy leader Mu Sochua was denied entry to Thailand by Thai immigration officials on 20th October 2019 after the Cambodian authorities issued warrants to fellow ASEAN states for the arrest of CNRP leaders.
On 8th November 2019, Rhona Smith, the UN special rapporteur for Cambodia said that "more than 200 cases of harassment and judicial action against members or supporters of the outlawed Cambodia National Rescue Party (CNRP) have been reported since January 2019".
CSO's call for NGO law to be repealed
After repeated meetings with some local NGOS, the Cambodian government has failed to show any will to meaningfully amending the Law on Associations and NGOs. We urge the Royal Government of Cambodia to repeal LANGO immediately. https://t.co/2eWeIif9JB

— LICADHO | លីកាដូ (@licadho) February 10, 2020
In February 2020, civil society groups urged the government to immediately repeal the Law on Associations and NGOs (LANGO). According to a statement issued by 100 groups, a fourth meeting held between the Ministry of Interior and some local NGOs in February 2020 failed to result in meaningful amendments to LANGO. They believed these actions highlight the government's lack of political will to amend this law.
Some in the government have said the diversity of opinion among thousands of civil society groups is the reason why suitable amendments cannot be passed. Civil society groups find the differences in structure, purpose and representation of various groups, associations and organisations to be the strength of a free, diverse and independent civil society. By arguing the need for absolute consensus, the Ministry of Interior is hiding its lack of will behind an impossible standard.
Prior to LANGO's passage in July 2015, the law was widely criticised by grassroots groups, unions, NGOs and the United Nations. The law criminalises all unregistered groups and makes registration dependent on an unclear and complex bureaucratic process. According to the statement, groups operating at the grassroots level have reported that local authorities regularly use LANGO to restrict their activities and it serves only to restrict the free assembly, organisation and expression of the diverse members of Cambodia's civil society.
Expression
Journalists face two years of judicial harassment
This morning's Appeal Court decision once again leaves former RFA reporters Uon Chhin and Yeang Sothearin in legal Limbo https://t.co/c7NO1F2pGi

— LICADHO | លីកាដូ (@licadho) January 28, 2020
On 27th January 2020, an appeals court in Cambodia's capital Phnom Penh rejected a request by two former RFA reporters Uon Chhin and Yeang Sothearin to drop a reinvestigation into espionage charges against them, extending their two-year legal limbo.
As previously documented by CIVICUS Monitor, the two former Radio Free Asia (RFA) journalists were arrested on 14th November 2017 and accused of providing information to foreign states or agents that could "undermine national defence" as per Article 445 of the Criminal Code. Pornography charges were added subsequently. The reporters were released on bail in August 2018. Upon their release, however, they were placed under court supervision, effectively preventing their free movement.
A trial judge ruled on 3rd October 2019 that there was insufficient evidence to convict Chhin and Sothearin. However, instead of dismissing the case he sent it for reinvestigation. On 30th December 2019, the appeals court rejected the defence's arguments against a delay in the verdict on the pornography charges based on the ruling that there needed to be a reinvestigation.
Phil Robertson, deputy Asia director of Human Rights Watch, said on 19th January 2020:
"Cambodian authorities have treated the former RFA journalists as criminals by manufacturing a farcical case against them. The authorities should drop the charges and end the ceaseless judicial harassment of these two journalists."
In May 2019, the United Nations Working Group on Arbitrary Detention concluded that the "violations of the right to a fair trial are of such gravity as to give the deprivation of liberty of Mr Uon and Mr Yeang an arbitrary character".
Access to information bill falls short of international standards
In December 2019, ARTICLE 19 and Human Rights Watch called on the government to amend the Draft Law on Access to Information to reflect international standards relating to the right to information.
According to the organisations, the Draft Law has numerous shortcomings, including a narrow definition of the type of information and institutions to which it applies, and failure to establish effective oversight mechanisms. These shortcomings contravene international standards on the right to information and Cambodia's obligations under international human rights law, and also threaten to undermine the law's potential. Further, the Draft Law has many ambiguous provisions and unclear definitions and omits key components of exemplary access to information legislation.
Peaceful Assembly
Court frees activist Kong Raiya on bail
Today the Municipal Court released Kong Raiya on bail. He was arrested in July 2019 and charged with incitement for advertising t-shirts on Facebook featuring the image of slain political analyst #KemLey. We call for the baseless charges to be dropped: https://t.co/tXgS16qlmj pic.twitter.com/5KlcfwTeK2

— CCHR Cambodia (@cchrcambodia) November 29, 2019
On 29th November 2019, the Phnom Penh Municipal Court granted bail to activist Kong Raiya, who was charged with incitement to commit a felony over the sale of t-shirts around the third anniversary of the killing of human rights defender Dr Kem Ley in July 2019. Judge Ouk Reth Kunthea said the court had decided to release Raiya, 28, but has banned him from using Facebook for political purposes or travel abroad.
As previously documented, on 11th July 2019, youth activists, students and representatives of unions and civil society organisations gathered at the Caltex Bokor gas station where Kem Ley was shot and killed in July 2016. They were met with a heavy police presence surrounding the gas station, with around 100 police and security force officers present.
Authorities prevented people from laying flowers in front of the gas station to pay their respects, and harassed activists who were peacefully drinking coffee inside the station, including by asking them to cover t-shirts portraying the image of Dr. Kem Ley. Authorities arrested seven people in total for commemorating the anniversary including youth activist Kong Raiya and Soung Neakpaon who is facing the same charges.