Political opponents and human rights activists still being targeted in Cambodia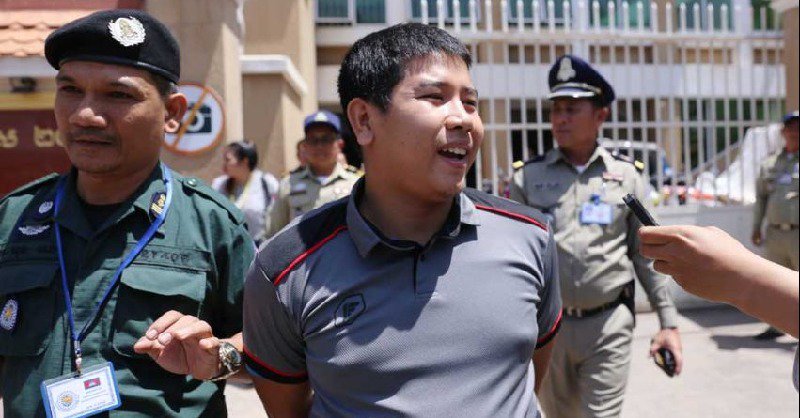 The CIVICUS Monitor has continued to document judicial harassment and attacks against political opponents since May 2019. Peaceful gatherings around the anniversary of the killing of human rights defender Kem Ley were disrupted with restrictions and arrests while journalists continue to be criminalised for doing their work.
In June 2019, Human Rights Watch called on European Union officials arriving in Cambodia to review the Cambodian government's rights record in connection with the Everything but Arms (EBA) trade privileges and to raise serious concerns with government officials about the renewed crackdown.
In August 2019, ahead of the 42nd session of the UN Human Rights Council in September 2019, 28 civil society organisations wrote a letter to members of the Council raising concerns about a range of human rights issues in Cambodia and to request support for a resolution ensuring strengthened scrutiny of the human rights situation in the country.
On 27th August 2019, the UN Special Rapporteur on the situation of human rights in Cambodia issued her report to the Human Rights Council. In the report she said that "a year on from the national elections of 29 July 2018, the human rights situation in Cambodia remains dominated by the repression of political rights. The Cambodia National Rescue Party remains banned, its former President, Kem Sokha, remains in detention, the political rights of its supporters and members continue to be denied and the Cambodian People's Party has consolidated its overwhelming dominance over State institutions".
Association
Opposition activists face harassment and arrests
Cambodia: Over 145 Opposition Members Summoned https://t.co/CTiuGssoq3

— Human Rights Watch (@hrw) June 3, 2019
Opposition activists continue to be targeted by the government and non-state actors. In September 2019, Human Rights Watch reported that at least 147 have been summoned to court or police stations. Local authorities have also continued to arrest opposition members and activists on spurious charges
As previously documented, in November 2017 the Supreme Court ordered the opposition Cambodia National Rescue Party (CNRP) to be dissolved on the unsupported pretext that it conspired with the United States to overthrow Prime Minister Hun Sen's government, a move seen as a government effort to ensure it won the July 2018 general election. Hun Sen's ruling Cambodian People's Party ended up sweeping all of the 125 National Assembly seats.
In May 2019, two supporters of the CNRP, Chan Sophal and his colleague Tuon Sam Ath were arrested in Pursat province for alleged engagement in illegal logging. However, human rights organisation Cambodian League for the Promotion and Defence of Human Rights (LICADHO) has reported that these arrests were an apparent attempt to intimidate opposition activists.

In June 2019, another CNRP supporter was beaten nearly to death in Kampong Thom province. Four unidentified men approached Sun Thun on 28 June to inquire about purchasing a plot of his land and attacked him when he took them to inspect the area.

In August 2019, authorities arrested a former CNRP provincial leader, Nuth Pich, in the Kampot province. The arrest was based on the 2017 Supreme Court ruling that dissolved the CNRP. According to Human Rights Watch, the authorities detained Nuth Pich for allegedly violating the court order by organising gatherings and meals with former CNRP elected officials and activists.

Also in August 2019, authorities arrested CNRP activist Mai Hongsreang. He was charged with insult and incitement for his activities on social media. Hongsreang had fled to Thailand after he was tipped off in May 2019 that he would be arrested. The tip-off came shortly after he posted a comment on Facebook about infighting between Prime Minister Hun Sen and Interior Minister Sar Kheng. He was arrested upon his return for planning "chaotic activities" within Cambodia.

It was reported on 16 September that the authorities had arrested six political activists over the weekend for "alleged plots to rally" in support of former opposition politician Sam Rainsy if he returns from exile as planned in November 2019.
In June 2019, 73 civil society organisations including CIVICUS issued a joint statement saying:
"We express serious concern regarding the recent and ongoing judicial harassment of former Cambodia National Rescue Party ("CNRP") elected officials and members through baseless arrests, summonses, and detentions across multiple provinces. We urge the Royal Government of Cambodia to immediately cease the harassment of members of the political opposition."
On 19th June 2019, UN human rights experts "expressed concern at an escalating trend of suppression by the Cambodian Government of dissenting opinions in what appears to be an attempt to intimidate or silence political opinion".
Case against environmental activist dropped
On 22nd August 2019, charges against founder of environmental NGO Mother Nature, Alejandro Gonzalez-Davidson, were dropped. Gonzalez-Davidson was charged under Article 29 and 424 of the Cambodian Criminal Code for allegedly being an accomplice in "threatening to cause destruction, defacement or damage, and inciting others to do the same," for protesting against sand-dredging in the coastal province of Koh Kong. His rare acquittal comes at a time when civic space continues shrinking in Cambodia.
Mother Nature, which has worked over the years to protect Cambodia's environment, exposing irregularities in Cambodia's trade in dredged sand with foreign countries and helping villagers organise to protect their land, dissolved in August 2017 citing harassment and pressure on staff from Cambodian authorities.
Several of the group's members have been harassed and jailed over the years. Three Mother Nature activists, San Mala, Sim Samnang and Try Sovikea, were sentenced in May 2019 to 18 months in prison for "threatening to cause destruction, defacement or damage". In January 2018, Dem Kundy and Hun Vannak, were sentenced to a year's imprisonment and fines of one million Riel (250 USD) for taking photos of dredging operations along the Cambodian coast carried out by a firm linked to the ruling Cambodian People's Party.
Peaceful assembly
Gathering to mark killing of human rights defender disrupted with arrests
Flash News:
Today July 10, 2019 a group of CSOs, Unions and Youths gather to show their respect at Caltex Star Mart, where Dr. #KemLey was killed last 3 years ago.
Read more: https://t.co/GyGBMW6WdJ#JusticeforKemLey pic.twitter.com/JQN7jCeNId

— Central Cambodia (@centralcambodia) July 10, 2019
In July 2019, the authorities disrupted a peaceful gathering marking the third anniversary of the killing of human rights defender Dr. Kem Ley.
Prominent political commentator and human rights defender Kem Ley was shot and killed while having a morning coffee at a gas station in central Phnom Penh in July 2016. On 23rd March 2017, after a half-day trial hearing, the Phnom Penh Municipal Court found Oeuth Ang – the suspect arrested by authorities - guilty of Kem Ley's murder and sentenced him to life imprisonment. However, significant gaps were highlighted in the investigation and trial.
On 11th July, youth activists, students and representatives of unions and civil society organisations gathered at the Caltex Bokor gas station. According to human rights group, Cambodian Center for Human Rights (CCHR), they were met with a "heavy police presence surrounding the gas station, with around 100 mixed police and security forces present." CCHR further noted that "authorities prevented people from laying flowers in front of the gas station to pay their respects, and harassed activists who were peacefully drinking coffee inside the station, including by asking them to cover t-shirts portraying the image of Dr. Kem Ley".
Authorities arrested seven people in total for commemorating the anniversary. Youth activist Kong Raiya was arrested on 9 July 2019 over Facebook posts selling t-shirts featuring the image of Kem Ley and providing details for a taxi service to the commemoration service the following day. Soung Neakpaon, another youth activist, was arrested on 10 July 2019 while attempting to participate in the commemoration service. They were charged with 'incitement to commit a felony', a provision commonly used to silence activists and human rights defenders. Authorities also monitored, disrupted or cancelled commemorations around the country and blocked approximately 20 members of the Grassroots Democracy Party on their way to Takeo province – Kem Ley's home province.
CSOs denounced the unjustified use of security personnel during the gathering and called for the immediate and unconditional release of Kong Raiya and Soung Neakpaon and the dropping of all charges against them.
On 31st July 2019, the Cambodian Human Rights and Development Association (ADHOC) expressed concern over the growing restriction on the right to peaceful assembly. ADHOC noted that in "the first six months of 2019 there were 71 recorded cases related to violations of the right to peaceful assembly by local authorities."
Expression
Verdict postponed for journalist facing espionage charges
The trial of two Cambodian journalists charged with espionage has begun.

Uon Chhin and Yeang Sothearin were arrested in November 2017, accused of supplying a foreign state with information https://t.co/JA3VC0garP pic.twitter.com/pgCzk818yD

— Al Jazeera English (@AJEnglish) July 26, 2019
In July 2019, the trial of journalists Yeang Sothearin and Uon Chhin began. As previously documented by CIVICUS Monitor, the two former Radio Free Asia (RFA) journalists were arrested on 14 November 2017 and accused of providing information to foreign states or agents that could "undermine national defence" as per Article 445 of the Criminal Code. Pornography charges were added subsequently. The reporters were released on bail in August 2018. Upon their release, however, they were placed under court supervision, effectively preventing their free movement.
The court concluded the trial in August 2019 but the verdict was postponed as the presiding judge had "to attend a meeting at the ministry of justice." Speaking to RFA on 29th August 2019, Yeang Sothearin expressed his dismay. saying "I would like the court to announce the verdict soon so that I can have my freedom back."
RFA closed its bureau in Phnom Penh in September 2017 amid a growing crackdown on independent media by Prime Minister Hun Sen's ruling Cambodian People's Party (CPP) ahead of national elections in July 2018.
Journalists charged for livestreaming a protest
ALERT. "Reporters Arrested Over Live Broadcast of Land Protest"https://t.co/IG6SqxEMoy#Cambodia #pressfreedom #journosafe pic.twitter.com/DYwdIq2hXI

— SEAPA (@seapa) July 24, 2019
On 23rd July 2019, Hun Sokha and Keo Rattana were arrested for incitement together with five others in Preah Sihanouk province. Hun Sokha is the publisher of the Facebook news page CPNTV and president of the Club of Independent Journalists (CIJ), while Keo Rattana is the editor of the online TV channel TN-TV. The two reporters were livestreaming a protest, where about 20 families tried to block a company's heavy machinery from clearing disputed land. According to a representative of the families, police told the reporters to halt the livestream and arrested the pair, along with five others.
After holding the two journalists for 72 hours, prosecutor Lim Bunheng nonetheless charged them with "incitement to commit felony" and "infringement of private property" under articles 29, 495 and 497 of the criminal code and article 253 of the land law, for which they are now facing up to two years in prison. They were subsequently granted bail.
Reporters Without Borders (RSF) condemned the increase in the judicial harassment of media personnel in Cambodia, saying:
"This latest of countless press freedom violations by the Cambodian authorities serves as a reminder of how dangerous it has become to operate as an independent journalist in Cambodia."