Police accused of mistreatment after climate activists arrested during protest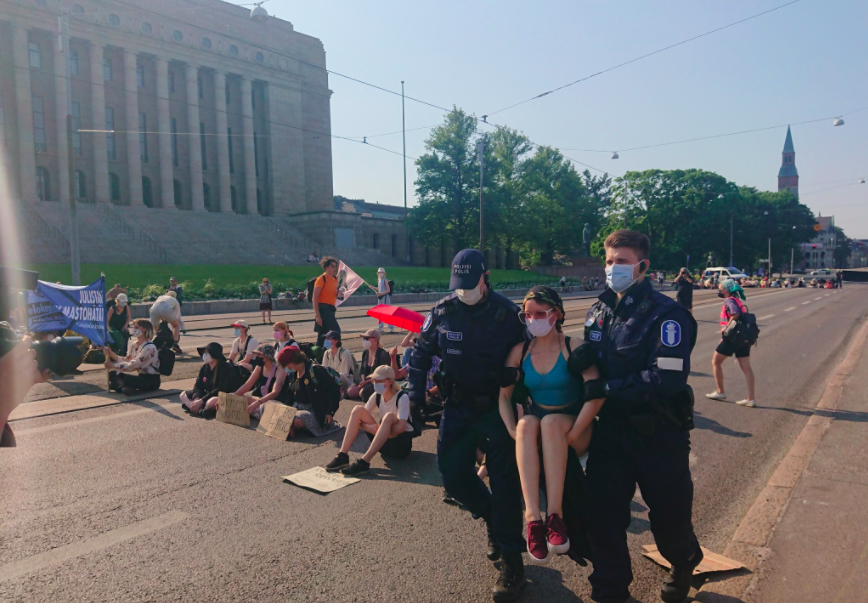 Peaceful Assembly
A protest was staged by Elokapina (Extinction Rebellion Finland) in central Helsinki, known as the August Rebellion, from 17th June 2021 called for urgent action from the government on the climate emergency. On 20th June 2021 police arrested over 100 people, in some cases by lifting and dragging protesters. Some protesters report that their rights were violated. For example, one of the protesters, Selase Queenselena, reported that she was dragged by police and sustained injuries to her knees and legs. In addition, she did not receive any first aid assistance. She alleges that she was treated more harshly by the police because of her race.
"I'm black, it's clear that it's about racism. This is not the first time I have been treated violently and aggressively by the police."
En saatana kestä miten vähemmistöjä kohdellaan @HelsinkiPoliisi jos mun kaltaisia etuoikeutettuja, kiinniottoon valmistautuneita kohdellaan todistajien läsnäollessa vittumaisesti&uhkaillen.

Kaikki tuki kuvan extemporeblokkaajalle! ❤️💔#kesäkapina @elokapina
Kuva:@anttiyr/@hsfi pic.twitter.com/IcFut5hJuf

— Joanna Kuru (@KuruJoanna) June 21, 2021
Expression
A recent report by the news agency STT shows that many representatives from Finnish political parties feel deterred from presenting their candidacy for elections for fear of being victims of hate speech. This trend was observed across the entire political spectrum, as representatives from many political parties confirmed that this issue affects their ranks. In addition, women politicians are more likely to face online harassment. The only Finnish parties that do not observe this phenomenon in their political groups are the Finns Party and the Christian Democrats.
A study commissioned by the government, published in 2019, (Viha vallassa) found that women are more affected than men by hate speech. Therefore, women's political activity is more jeopardised than that of their male colleagues. The same can be observed for minorities or people advocating for minorities' rights. Moreover, many respondents to the survey disseminated in the framework of the study report that this climate discourages them from participating in political or social dialogue. Overall, the study expresses concern about the health of democracy and democratic debate in Finland.